During Milan Design Week, Vibram invites you to embark on an experiential path to discover the company's values step by step. The sensory experience will be open to the public from the afternoon of 17 April to Saturday 22 April 2023. On the occasion of Milan Design Week, Vibram opens to the public the doors of the Vibram Connection Lab, since 2018 a spin-off of the company dedicated to research and development, design and creativity, located in the Tortona area. During Fuorisalone 2023, Vibram will present "To Connect" inside Vibram soles, an experiential and labyrinthine path to discover the spaces and values, research and technology that represent the company's DNA, actively participating in a series of research activities. Starting from Monday 17th April, enthusiasts and curious people will be able to take part in a real sensorial journey through all the spaces of the Vibram Connection Lab, between technological experimentation and innovation, testing and study of materials: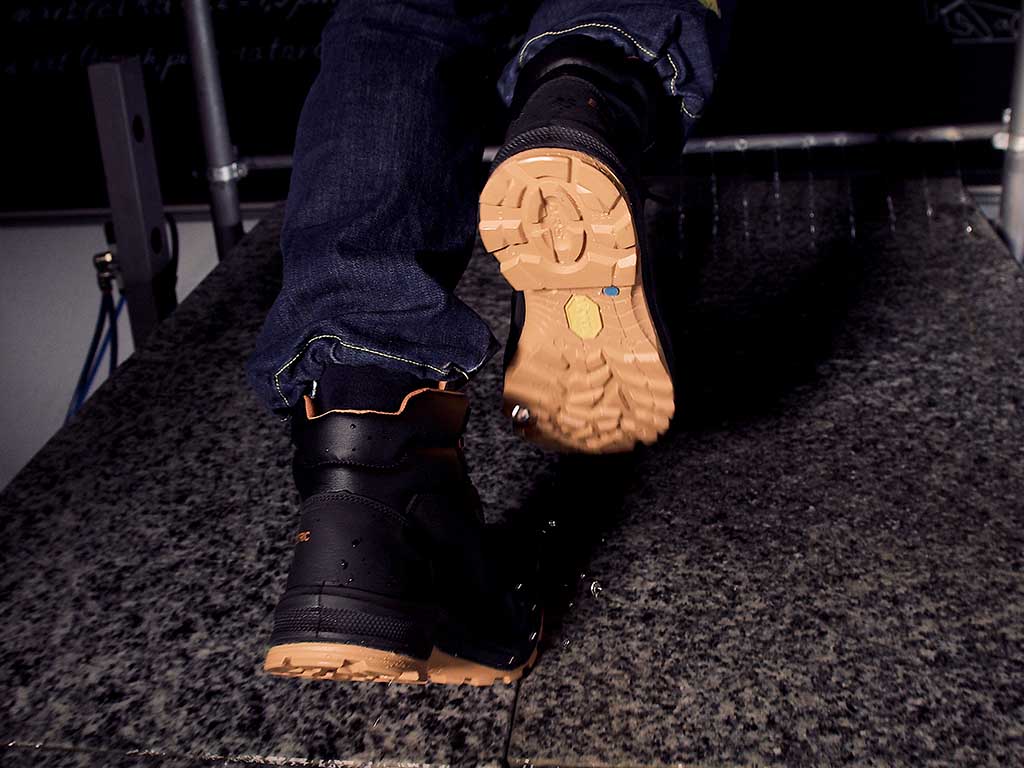 To Connect with Technology – Starting from the research and fast-prototyping laboratory overlooking via Voghera, it will be possible to carry out a functional evaluation of the foot's posture with a series of tests through which innovative soles and technologies for footwear are developed and evaluated. It will be possible to meet Vibram's experts, with whom a static baro-podometric assessment and biomechanics of the barefoot stride will be carried out. A summary report will then be issued to each participant. To Connect with Innovation – Continuing along the path, participants will be able to get to the heart of Vibram technologies, directly testing soles made with Vibram Arctic Grip technology and Vibram Megagrip compound, respectively on icy and rocky surfaces. Thanks to the help of the Vibram Tester Team you will be able to discover and test the soles first hand to fully understand their technological innovation.
To Connect with Design – What is the sole? The last step of the path will lead to the discovery of the design of Vibram soles, whose protagonist from a technical point of view is the "nail" , i.e. the protruding rubber element, which takes on various forms in terms of design, size, thickness and distribution depending on the use of the sole, allowing grip, traction and stability on various types of surfaces.
The lug is the element from which Vibram's innovation started, from the development of the first Carrarmato sole in 1937 to the latest generation Traction Lug concept. The experience continues at the Vibram flagship store in via Raffaello Sanzio 6 which, renovated last year by Storage Milano architects, includes a series of experience rooms where Vibram soles and products can be tested on various surfaces.
"To Connect" inside Vibram soles at Vibram Connection Lab, via Voghera 11, 20144, Milan
Monday 17 April from 2 p.m. to 6 p.m., Tuesday 18 April to Saturday 22 April, 11 a.m. to 1 p.m. and 2 p.m. to 6 p.m.
VIBRAM
Vibram is a world leader in the development and production of high performance rubber soles for outdoor activities, leisure, work, fashion, orthopaedics and repair. For over 80 years the yellow octagon that identifies Vibram worldwide has been synonymous with quality, performance, safety and innovation in the footwear industry. With international headquarters in Albizzate (Varese, Italy), Vibram produces more than 40 million soles a year, dedicates more than a million km to testing, is present in 120 countries and has production, research and representative offices in the USA, China, Japan, Brazil and Italy. vibram.com