The grit of the panther Kira, the sweetness of the lamp Candy and the charm of the silhouette Eva. One could summarise in this way, through some of its most iconic creations, the many souls of CANDYSLAB, a lifestyle project inspired by the pop style of Made in Italy design. A brand registered in 2019, thanks to the founder and creator Ying Cao, CANDYSLAB is an innovative business formula in the sector of trendy furnishing, lighting and accessories, which encompasses within the corporate structure the process of creativity, realisation, marketing and communication of the products.
CANDYSLAB creates articles at affordable prices, starting with design objects and ending with original and fashionable trendy accessories. The company handles various commercial aspects in-house, both B2B and B2C. For the B2B channel, CANDYSLAB chooses to interact directly with retailers, distributors, Concept Stores and category shops. In fact, it has participated as an exhibitor at various trade fairs such as Maison&Objet, Homi 2022, Homi 2023.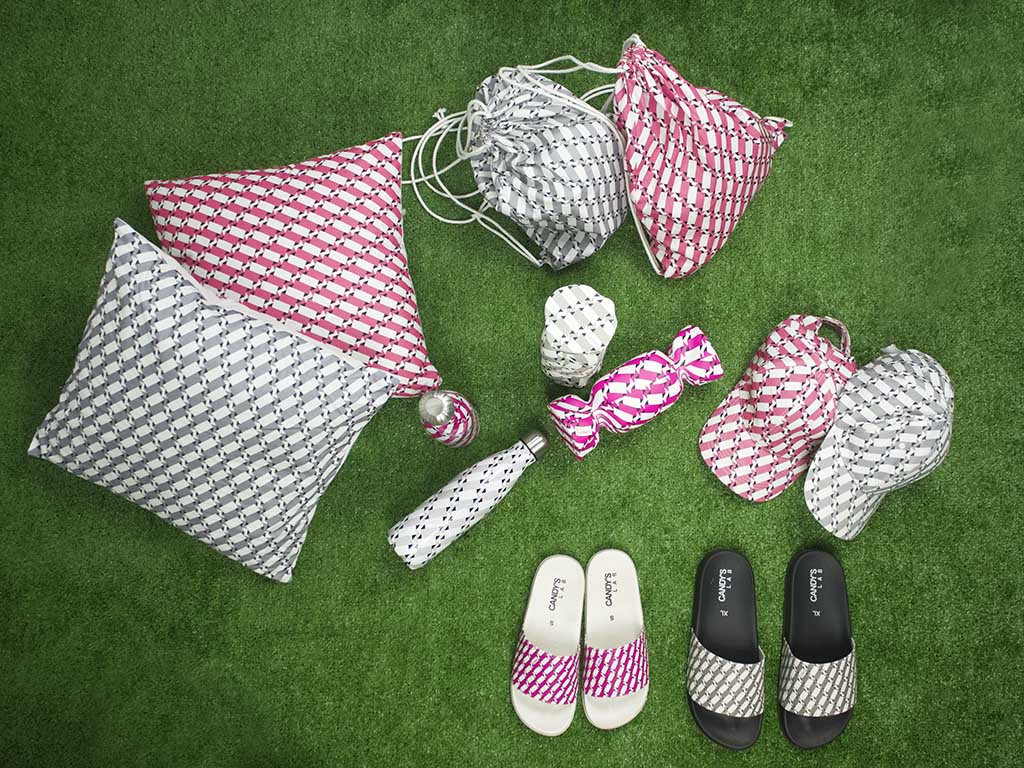 KIRA, THE ICONIC CANDYSLAB PANTHER
Kira is a statue, a decorative panther, characterised by its refined finish and elegant, sensual lines, which delineate its shape and make it one of CANDYSLAB's most desired design objects. Kira has indeed become a CANDYSLAB best seller!
Created using the industrial blowing method, Kira is designed to embellish environments with taste and originality and to give a touch of style to any type of furnishing, whether at home, in the office or in a public place. Kira is available in different finishes such as lacquered and flocked, and in several colour variants, to satisfy even the most imaginative tastes. Kira is an elegant yet fun design solution that adapts to any type of environment: it is perfect in the living room or garden of a home, looks good in a restaurant or a professional studio, and can even "take part" in a fashion show, giving a unique touch and making the context original, with a style and grandeur of modern taste.
Kira is one of the most important icons among CANDYSLAB's various design proposals, and for this reason its form has also been declined to give life to a series of accessories that expand the panther universe into small, functional and original objects. The Kira panther is also transformed into a key ring, a charm for a handbag, a ring and even becomes the iconic star of the CANDYSLAB t-shirt. The Kira series includes cool and functional objects, perfect for creating an original style at various times of the day, not only for oneself, but also being an excellent original and unique gift idea for anniversaries and occasions of all kinds.
Kira – Statue available in two finishes; Materials: industrial hot-blowing; Finishes: lacquered and flocked; Colours: Black, blue, fuchsia, pink, green, purple
Dimensions
Height 105cm; Width 35cm; Depth 67cm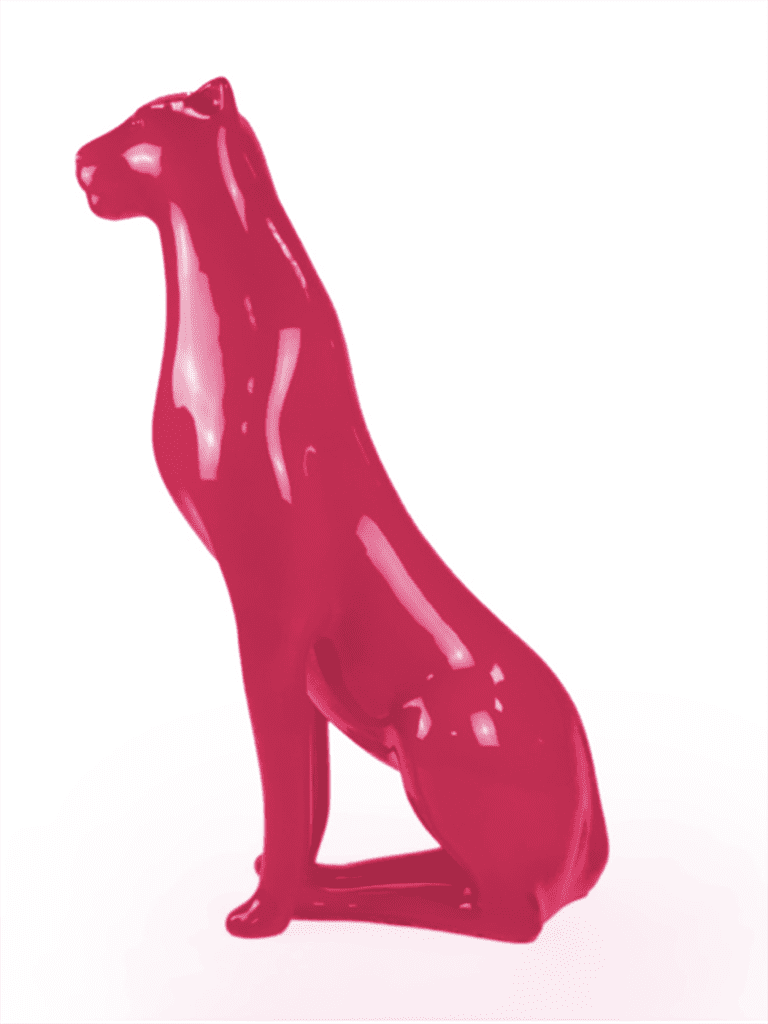 THE ICONIC CANDY SERIES
The candy is the institutional symbol of our brand and is synonymous with sweetness, grit and romance. This irresistible furnishing accessory was created as an elegant and refined ornament, offering a wide range of colours to suit all tastes. Available in gold and silver chrome, it lends a chic style; the black and white lacquered version fits perfectly in a minimalist environment, while the grey and fuchsia Candy pattern lends an original touch to any décor.
However, the candy is not limited to being just an ornament! To underline its importance, CANDYSLAB has created the Candy Lamp, a unique transformation that retains the same iconic shape. The Candy lamp is a true multifunctional object available in two variants: Kiss and Flower. Its wireless base allows the lamp itself to be charged to illuminate the room, but also to charge your smartphone. Thanks to this functionality, this lamp can be used both indoors and outdoors, offering trendy lighting. In addition, its silicone cord, available in 4 colour variations, allows it to be hung in an original way, adding a unique touch of style to the home.
The iconic candy, CANDYSLAB's symbol par excellence, has also been featured on a range of trendy accessories. Rings, t-shirts and key rings are just some of the items that complete the collection, allowing our symbol to be worn on every occasion. Finally, to pay homage once again to this shape, a new furnishing accessory has been created that is sure to catch the eye: small candy-shaped mirrors, perfect for decorating rooms with a unique style. Inside each mirror is printed a phrase that reflects your personality, making each piece original and special.
Candy – design ornament available in six variations; Materials: industrial hot melt; Colours: White, Black, Gold, Silver, Pattern Candy fuchsia, Pattern Candy grey
Dimensions
Height 25 cm; Width 12 cm; Depth 10 cm
Candy Lamp – Multifunctional table lamp; Materials: cold rotation; Colours: Pattern Flower, Pattern Kiss
Dimensions
Height 25 cm; Width 9.8 cm; Depth 9.5 cm
Candy Mirrors – Interior mirrors; Materials: Acrylic Mirror
Dimensions
Width: 281 mm; Width: 135 mm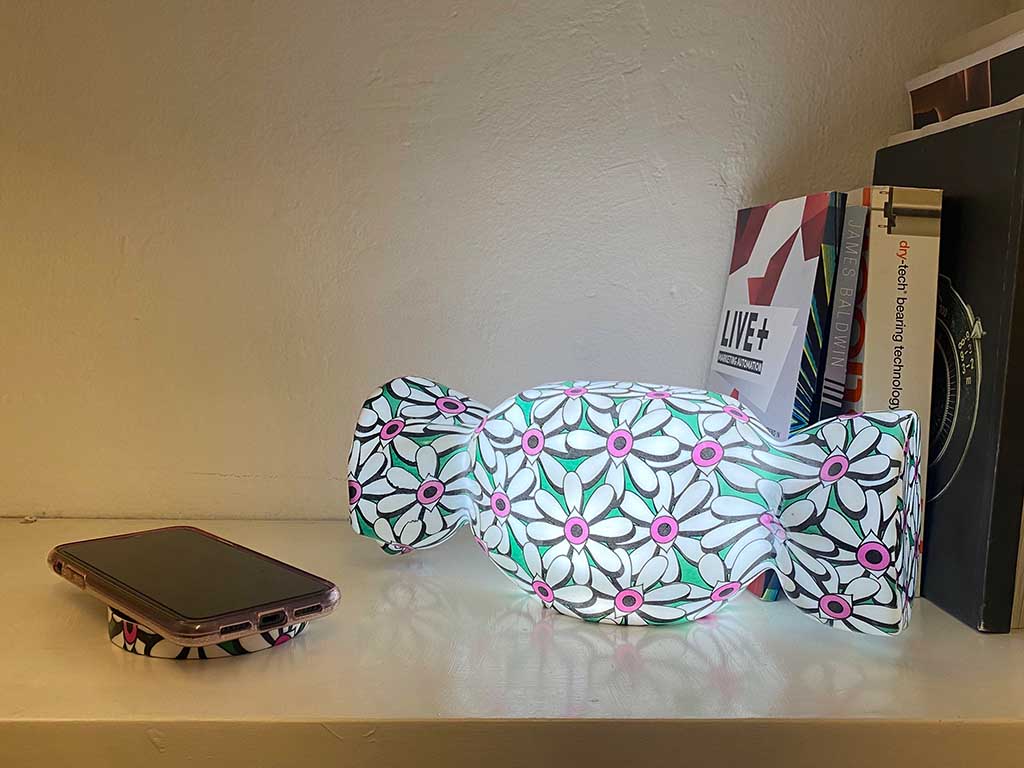 THE EVA LAMP
From the many years of experience developed in the realisation of showcase designs and mannequins for the world's largest luxury brands, the desire emerged to create another multifunctional ambient lamp, characterised in this case by the iconic image of Eva, a spectacle of femininity with an unmistakable silhouette that takes centre stage.
The Eva Lamp is rechargeable via its wireless base, allowing both the lamp itself and the smartphone to be charged, thus creating a design object capable of illuminating both indoor and outdoor environments. Three versions are available: Eva Blu, Eva Fucsia and Eva Vestita Black and White. This lamp can also be combined with furnishing accessories such as cushions and trendy accessories such as diaries and charms, allowing you to always carry the Eva silhouette with you.
Eva Lamp- Multifunctional table lamp available in 3 variants; Materials: cold rolled; Colours: Fuchsia, Blue, Black and White
Dimensions
Height 15 cm; Width 9,5 cm; Depth 9,5 cm

THE ICONIC KISS SERIES
The Kiss lamp recalls the lips, an institutional symbol of pop art, and represents sweetness and femininity. This product features vibrant fuchsia and red colours, and offers versatile functionality, such as an innovative charging system for lamp and smartphone. Once fully charged, with a battery life of about 6 hours, it can be used both indoors and outdoors.
The iconic kiss pattern, represented by the irresistible mark of a lipstick, is repeated on various trendy accessories such as water bottles, LED signs and also extends to furnishing accessories such as poufs. Also added to the collection are lip and tongue-shaped mirrors, a creative alternative to LED signs, perfect for enhancing home décor. There's nothing better than a selfie with these mirrors!
Kiss Lamp – Multifunctional table lamp available in two variants; Materials: cold rotation; Colours: Fuchsia, Red
Dimensions
Height 11 cm; Width 25 cm; Depth 9.5 cm
Kiss Mirrors – Indoor mirrors available in 5 variants; Materials: Acrylic Mirror; Colours: Blue, Yellow, Green, Fuchsia; Black
Dimensions
Width: 230 mm; Width: 135 mm
Mouth Mirrors – Interior Mirror; Materials: Acrylic Mirror; Colours: Fuchsia and Red
Dimensions
Height: 240 mm; Width: 135 mm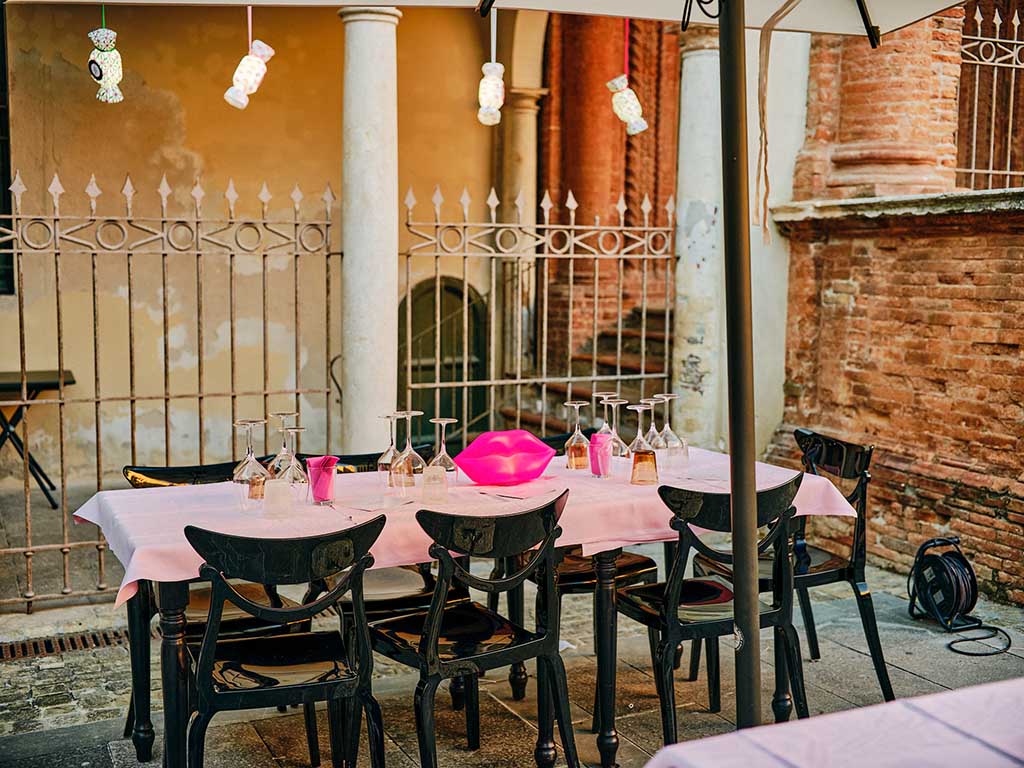 VICKY JEWELLERY BOX, CANDYSLAB
A jewellery box that combines design and practicality, it fits perfectly with anyone's personal style, perfect for placing on a bookcase, in a beauty corner or on a bedside table in the bedroom. It can also be a great addition to a study or a super trendy room!
Available in different lacquer colours: purple, white, red, black and fuchsia. This jewellery box will help keep your jewellery tidy and add a fresh touch to any room. It can also be used as a bookend! The bright colours of this jewellery box make it unique and will certainly catch the eye, offering multiple possibilities for use. Its affordable price makes it a fresh and original gift idea.
Vicky – Hand Jewellery Box available in 5 variants; Materials: Fibreglass; Finishes: Lacquered; Colours: Black, Purple, Fuchsia, Red
Dimensions
Height 26 cm; Width 12 cm; Depth 6.5 cm
THE ICONIC CHERRY AND ITS TABLE, CANDYSLAB
A striking piece of furniture with vibrant colours, truly one of a kind. This 'giant' cherry brings an aura of freshness to any space, is lightweight and can be placed anywhere in the home. Its shape recalls the sweetness of the cherry, a romantic and delicious fruit.
But there's more: it transforms "as if by magic" into a coffee table, a desire of many to decorate spaces in an original way. Whether you have a classic, modern or minimalist furnishing style, the Cherry Table fits perfectly, adding that special touch to any room.
Decorative Cherry Table; Dimensions: Clear acrylic top: Diameter 59 cm; Cherry: Width 40 cm Height 32.5 cm Width 41.7 cm; Petiole: Total length 83 cm of which outer length 45.5 cm; Table Base: Diameter 29 cm; Material: Polymeric
THE ICONIC NEW ENTRY: A LITTLE FURNITURE DOG
The doggie-shaped furnishing accessory is a unique and versatile element that can add a touch of cheerfulness and liveliness to any space. Available in six bright and lively colours, this decorative doggie is able to adapt to any furnishing style. This cute accessory can be considered the faithful companion of the renowned panther Kira, adding a playful and fun element to your home. Its presence makes environments original and cosy, conveying a feeling of lightness and carefreeness.
This furnishing accessory can be placed in any room of the house, from the dining room to the living room, from the bedroom to the bathroom. Its versatility also allows it to be used in the trendiest places in town, such as bars and restaurants, where it will add a touch of originality to the décor. Thanks to its shape and bright colours, the doggie is sure to be an eye-catcher for your guests, who will be sure to notice and appreciate its presence in your home or favourite venue.
Doggie – Furnishing accessory available in six finishes; Materials: industrial hot melt; Finish: lacquered; Colours: white, gold, fuchsia, orange, yellow, black
Dimensions
Height 45 cm; Width 18 cm; Depth 32 cm. candyslab.com