TRANSFORMATIO is a design line born from the collaboration between artist Michele Iodice and the Esprit Nouveau Gallery in Naples. Alberta Saladino, the soul of the Esprit Nouveau space and who has been dealing with 20th-century antiques and interior design research in Naples for about twenty years, invited Michele Iodice to reflect on and reinterpret some Art Deco-style furnishings from his private collection.
The TRASFORMATIO project has a pioneering soul, establishing the lines between past, present and future with the aim of exploring the interactions between art and design. The journey starts with the history of design and goes up to the present day, a narrative capable of embracing the new with wisdom. The leitmotif of the exhibition is dynamism: "for most people a piece of furniture is nothing more than a collection of flat elements moving in a vacuum. Yet for some it can be poetry'.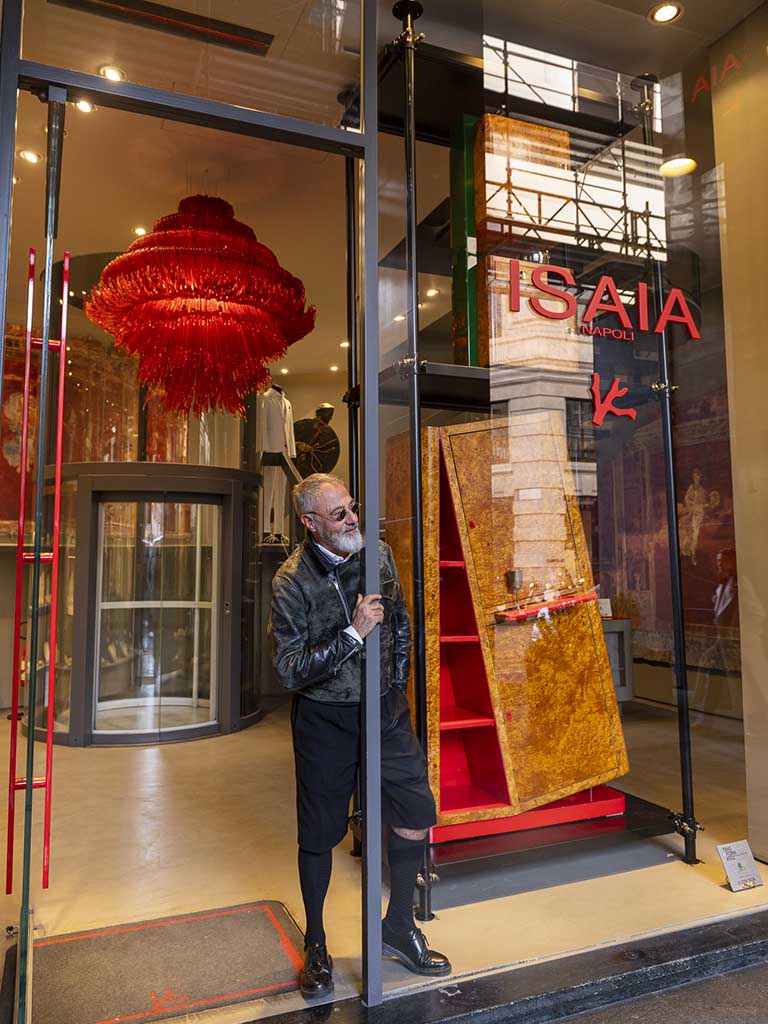 With these words Alexander Calder defined his most famous works, and Michele Iodice fully interprets this thought with his dynamically balanced and calibrated works, capable of overcoming the material limits of outdated furniture, characterising them with lightness and movement. The transformation action can be applied to any kind of support, it does not reproduce but re-proposes the object in a different context from the traditional one of its use. The set up, personally curated by the Neapolitan artist and designer, showcases a collection of pieces that narrate the close relationship between design and contemporary art, between cultural stratification and innovation. Each object signed Michele Iodice is made strictly by craftsmen and tells a story of care and attention to detail, in a process that enhances the values of 'conscious craftsmanship'. The materials range from a wide range of woods, parchment, Plexiglas and steel, composed in such a way as to reflect the complexity of the research that Iodice has been conducting for years.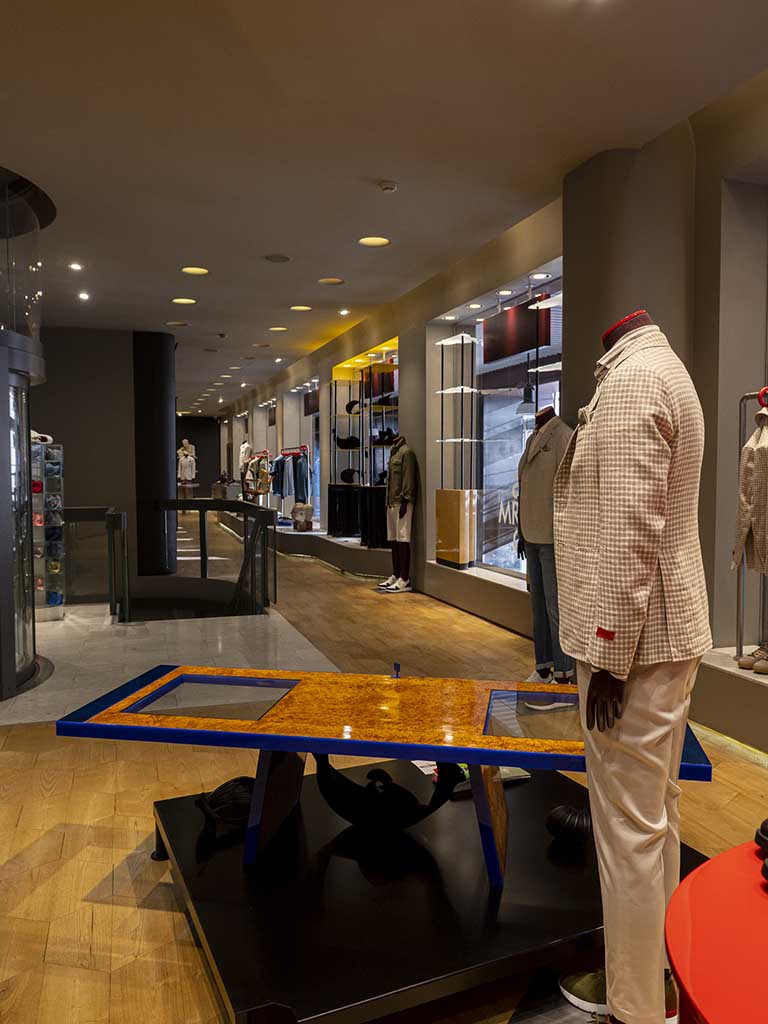 TRANSFORMATIO, A sustainable project
The Esprit Nouveau Gallery, as part of the TRANSFORMATIO project, has paid special attention to the sustainable aspects of the reinterpretation of the collection's complements. The awareness of operating in a more globalised, interconnected and competitive world has led Esprit Nouveau to manage environmental and social issues as an integral part of the company's overall quality as a necessary factor to compete successfully. Starting from the objective of the TRASFORMATIO project, i.e. transforming obsolete furniture into objects of contemporary design, we see a first step of sensitivity towards the reuse of objects that, through restoration, have taken on a new life, becoming to all intents and purposes contemporary thanks to Michele Iodice's design.
The restoration techniques applied, which are the traditional ones from the 16th century onwards, involve the use of isinglass and cleaning of the surfaces with spirit and shellac, with the addition of wrist elbow. Esprit Nouveau restorers, in fact, are the last of the older generations loyal to these techniques instead of the common polyurethane-based varnishes and sealers. The transformation process also includes various interventions in polymethylmethacrylate, commonly called Plexiglass, in coloured and recycled PMMA obtained through the distillation process of production waste to obtain the base monomer MMA that can be polymerised again.
The communication media, such as the TRANSFORMATIO brochure, also reflect all environmentally friendly regulations. The papers used are natural and recycled and comply with the FSC specification. The inks are free of harmful substances and once released into the environment do not release any traces. Various criteria are therefore applied by Esprit Nouveau in order to be recognised as an ESG reality, sensitive to the ecosystem through appropriate processing techniques, natural materials that can be recycled, and attentive and capable staff able to operate in full compliance with all current regulations.
TRANSFORMATIO, The collection
INSTABILE was born in the late 1930s as a wardrobe made of poplar-root wood. Artist Michele Iodice has revisited the object, converting it into an incredible bar cabinet with an unusual shape and oblique appearance. A transformation capable of conveying dynamism and uniqueness at the same time. A perfect balance of shapes, angles and slopes made even more lively thanks to the recycled red PMMA additions. Measurements: W117xD40xH190 cm.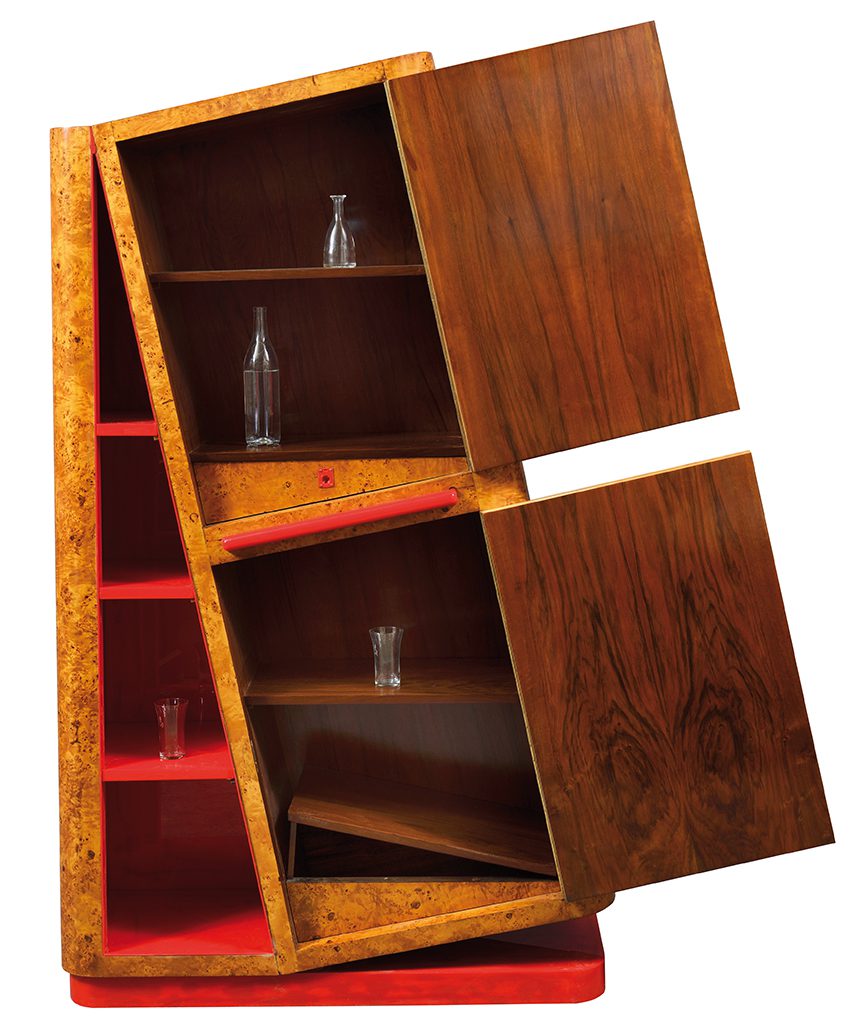 From a pair of bedside tables from the 1930s in poplar-root wood with eyelets, Michele Iodice has designed and created an attractive bar cabinet by mirroring the two objects. SOTTO SOPRA is a unique, whimsical and functional complement, where the two original bedside tables meet supported by an iron sphere and embraced by a recycled green PMMA frame. Measurements: cm L60xW42xH138.
FLAMANT VERT is a seductive console table characterised by asymmetrical elegance and functional elements. It was created in the 1930s as a small dressing table in poplar briar wood and was transformed by Michele Iodice into a console table through interventions in poplar wood and inserts and supports in recycled green PMMA. A transformation that has produced a fascinating object capable of furnishing both classic and contemporary taste environments with personality. Measurements: cm W91xD40xH91.
DILA'DIQUA' are two movable structures dating back to the 1940s revisited by Michele Iodice and transformed into multifunctional furnishing objects. Made of pre-painted iron in black and yellow, they are offered with shaped and ebonised wooden bases. They are elegant, original and easy to place freestanding structures that can be oriented according to one's taste. Measurements: cm W90xD45xH232 each.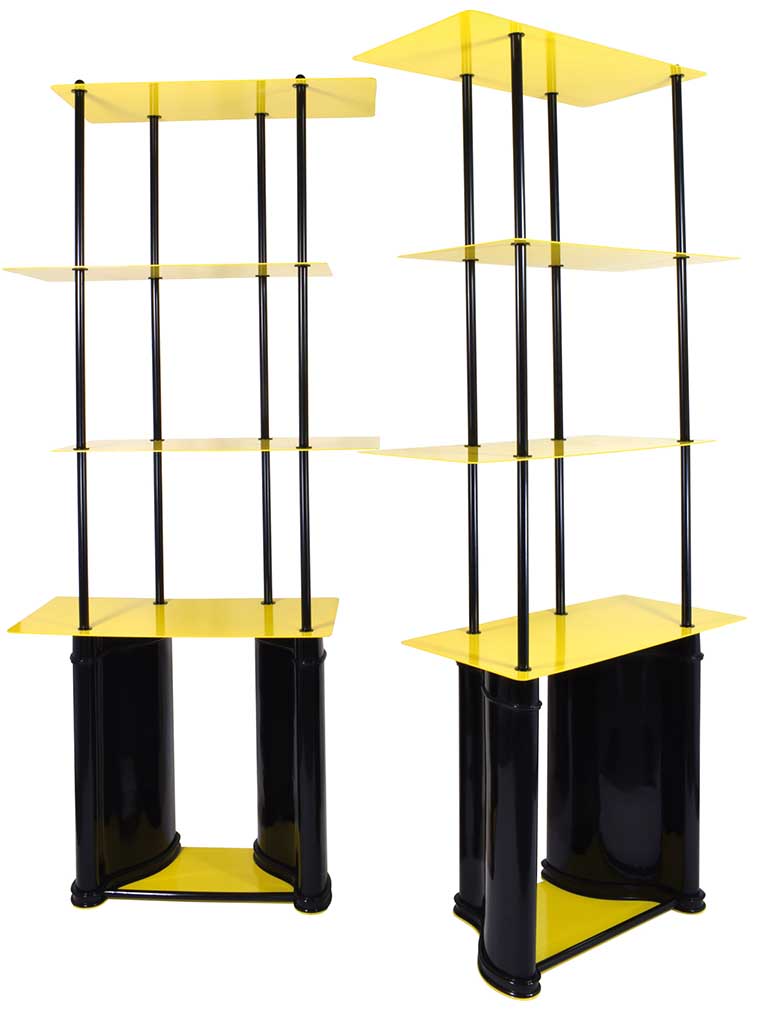 A unique table. OPEN DOOR finds its origin in a poplar-root wardrobe door dating back to the late 1930s. Michele Iodice's creativity led him to decompose the door by means of cuts cut-outs in the door itself and transformed into the feet of the table. The integrations of recycled blue PMMA and glass have made it possible to obtain a flat surface that can be used in a variety of contexts. Measurements: L190xP70xH50 cm.
A walnut-root wardrobe from the 1940s is reworked by Michele Iodice, sectioned and then recomposed by two elements that dialogue with each other inversely. This is how RELEVE' was born, a new vision of wardrobe, two separate elements, one upside down, joined by recycled steel rods. Measurements: W102xD45xH216 cm.
Originally a walnut bookcase dating back to the 1930s, now transformed into a special pair of storage furniture. TWINS are two complements that attract attention for the perception of balance conveyed through an important steel sphere that expresses suspension of form. They are completed with complements in iron as well as steel. Measurements: cm W55xD48xH195 each.
TANGO are two modular, free-standing structures that can coexist in pairs or alone. The maple wood bases, the result of Aldo Tura's 1960s design, have been revisited by Michele Iodice and integrated with pre-painted iron rods and shaped glass shelves. Measurements: W63xD31xH232 cm each. micheleiodice.org