The wALLPAPER floral and naturalistic motifs is a great decorating classic. From ancient China to William Morris's famous patterns, an evergreen that still continues to exert its fascination, on customers and creatives alike.
It is no coincidence that among the latest proposals from some of the most refined manufacturers, floral wallpaper occupies a very important space. This is why Villegiardini offers a selection of design models, with a decoration style that reinterprets botanical and naturalistic inspirations in a contemporary key.
Article Summary
Hermès
Jannelli&Volpi

Ambientha

InstabileLab
WallPepper
Wall&Deco
Hermès
Inspired by the famous Jungle Love silk yoke created by Robert Dallet for Hermès in 2000, Jungle Life is inspired by the jungle motif. The design reveals an imaginary universe of lush vegetation. The Jungle Life wallpaper comes in a multicoloured variant of 21 colours that joyfully extends a bright, living nature onto the walls.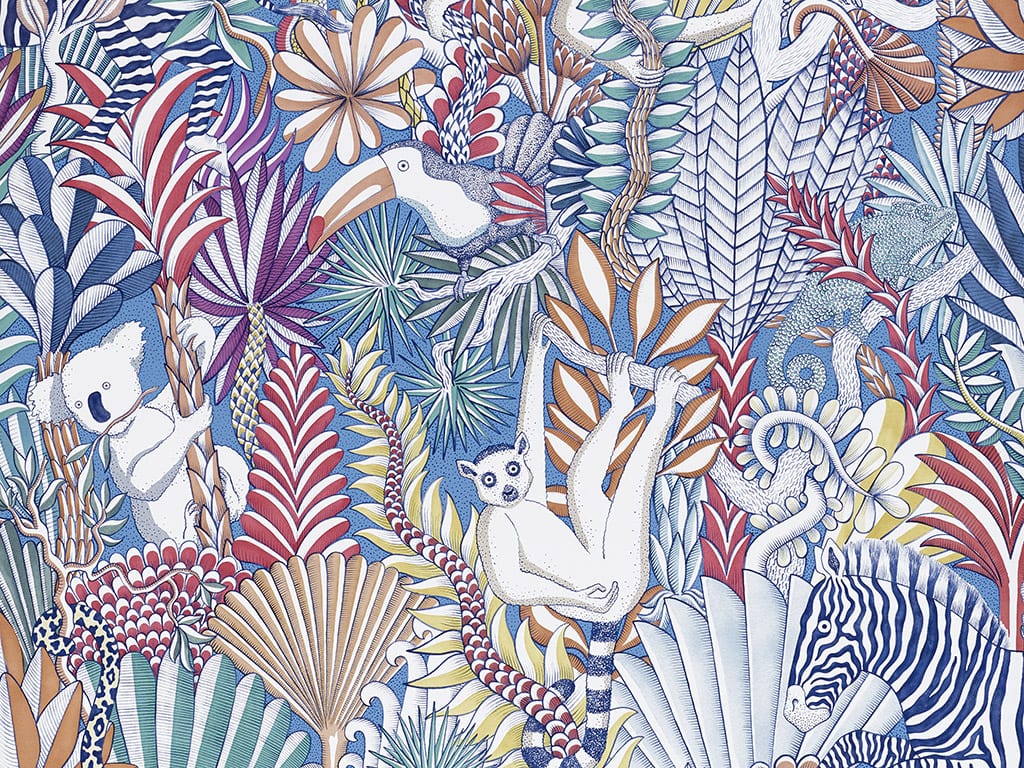 Animaux Camouflés is an imaginative and eclectic jungle. Jan Bajtlik has created a tropical camouflage in which flora and fauna coexist in harmony. Created in watercolour and rich in over 40 different colours, this vague nature comes in three variants illustrating three different moments of the day.
Jannelli&Volpi
Launched 10 years ago at Maison&Objet, the JV Italian Design line by Jannelli&Volpi line includes several collections for the international high-end and contract markets. Among its many proposals, Botanical is characterised by strong exotic and animalier inspirations.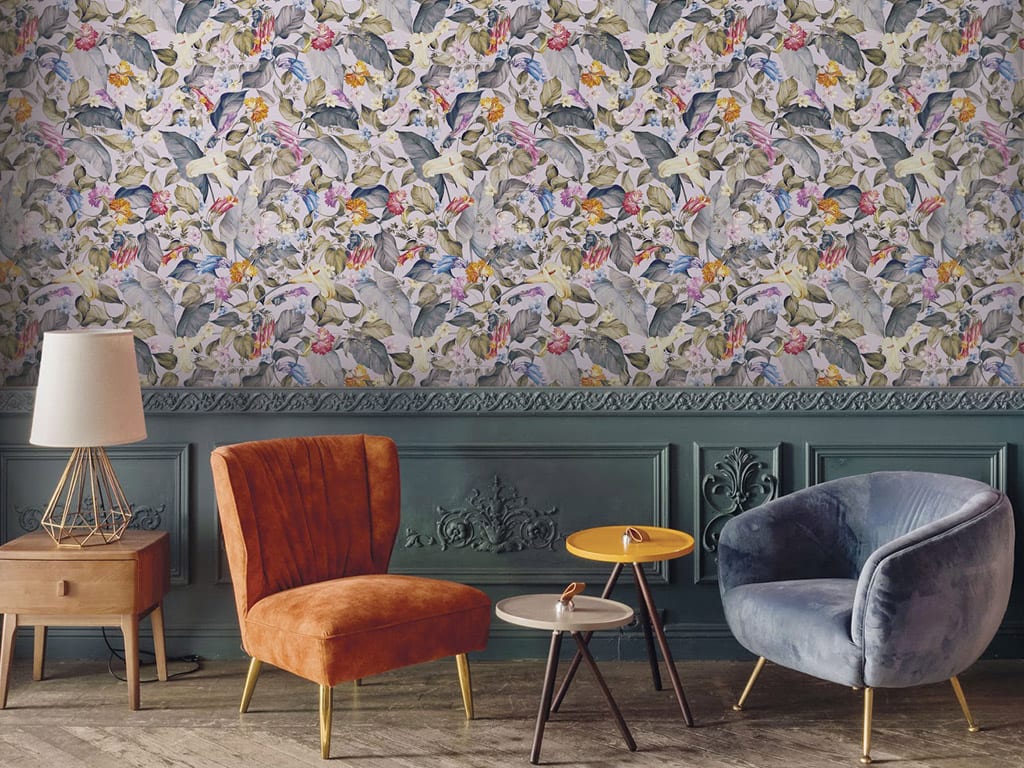 Textural colours in gold, silver and matt and shiny bronze stand out against backgrounds with full, intense tones. Large flowers with strong lines, ephemeral bouquets, animals hidden among the foliage and large stylised leaves animate the walls, transforming the rooms into a natural paradise.
The collection is available in the size 70 cm x 10.05 m in mixed media on non-woven fabric.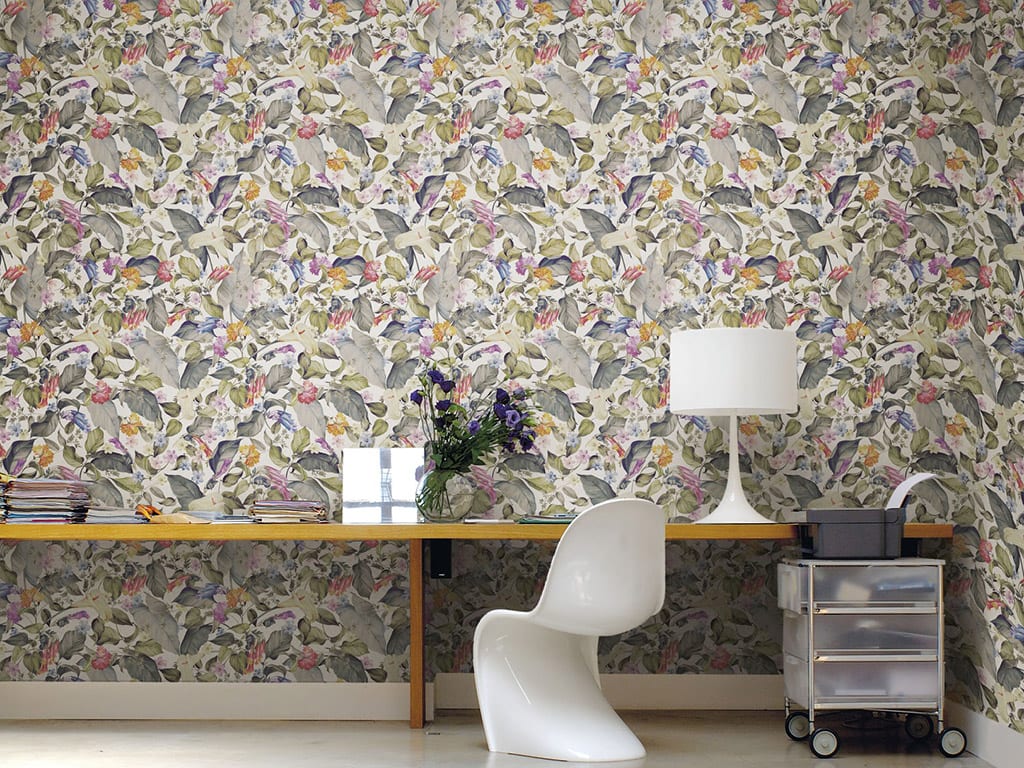 Ambientha
Ambientha is an interesting online startup that has been selling wallpaper and wallcoverings for interior design since 2019. A young and prolific brand, which commissions a new wallpaper from internationally renowned artists, both Italian and foreign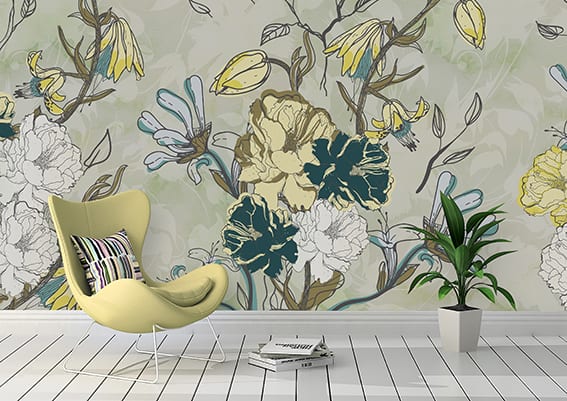 In the 2020 collections, nature manifests itself in all its extraordinary power, but also makes an appeal, reminding us to respect its fragile beauty. Lorena Nicolosi 's Beyond model features large flowers, drawn with soft strokes and coloured in vivid hues. The unfinished effect is refined, giving a touch of informality to a proposal that is both delicate and of great visual impact.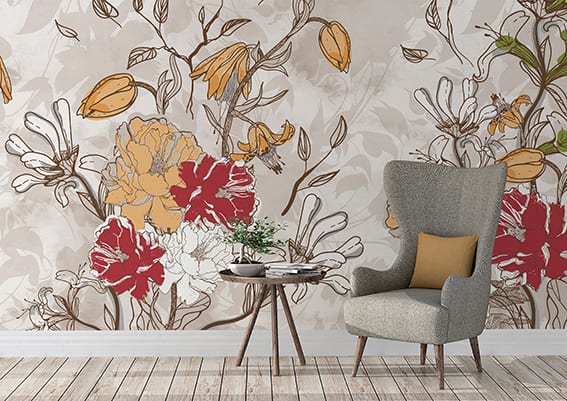 InstabileLab
Bursting vegetation, exotic animals, distant atmospheres. These are the times proposed by InstabileLab in the Jungle collection. It interprets a style that is particularly appreciated by those who love nature in its strongest and wildest expressions and colours.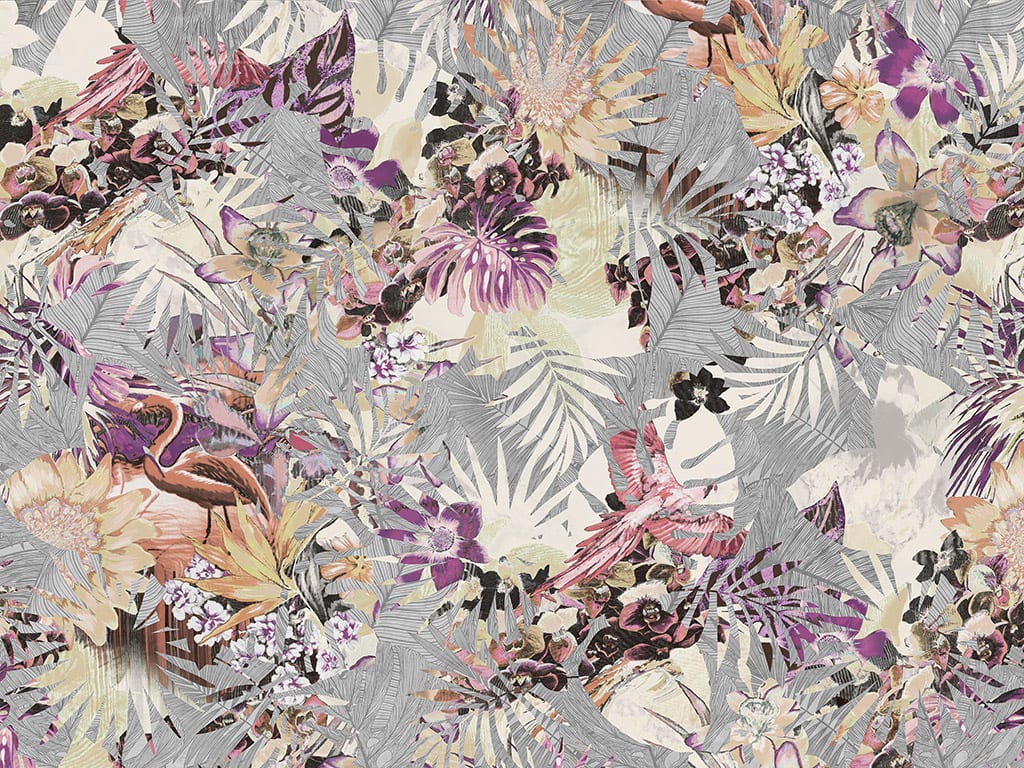 The protagonists of this wallpaper are showy leaves, palms, ficus, fleshy flowers, savannah animals and tropical birds. A lush nature that allows you to immerse yourself in distant, dreamy destinations. The collection is dominated by shades of green, evocations of wood and earth with browns, and the bright, sunny colours of flora and fauna.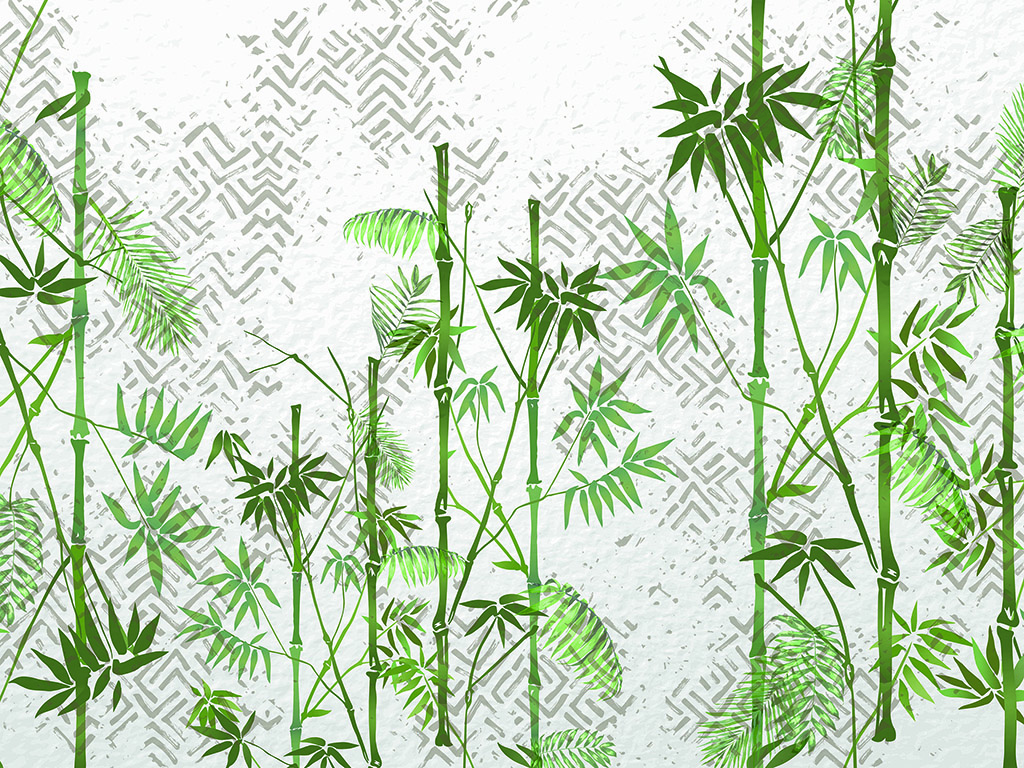 WallPepper
The collection Environment is a collection of decorative motifs that evoke the wonders of nature. A succession of images that reveal seasons, panoramas, evocative landscapes, exotic and distant places made up of colours, plants and flowers with a unique charm. Reinterpreted with a pictorial style that goes from quotation to impressionism, up to stylised creations like The Explorer or almost abstract, like Blowing in the Wind.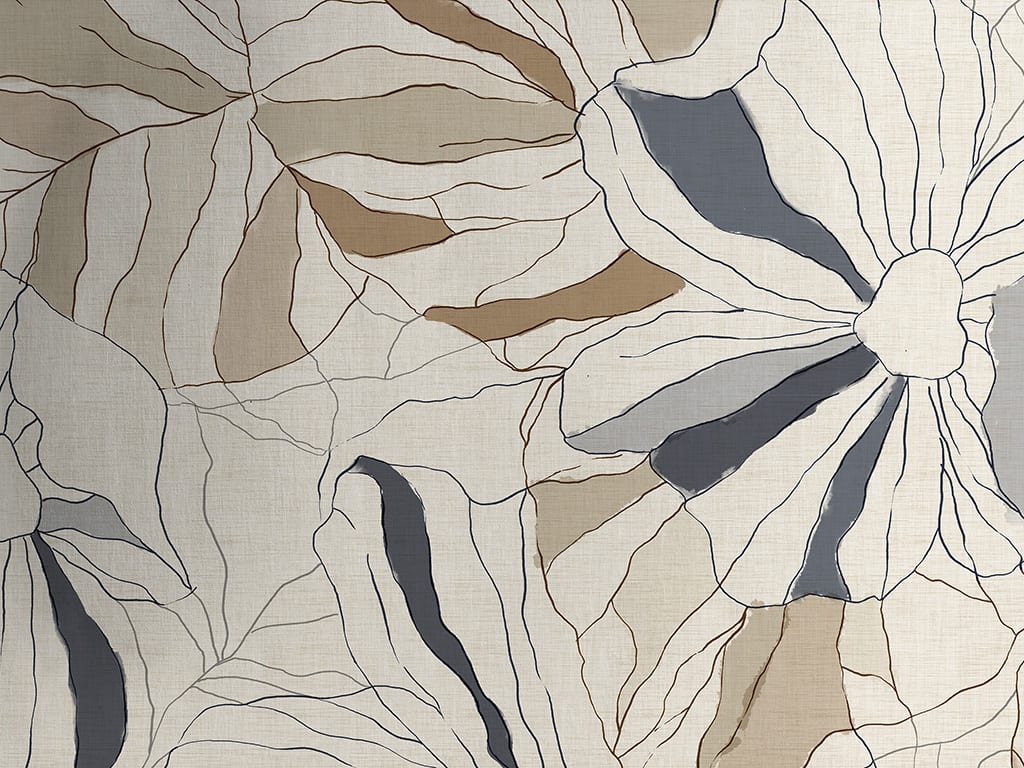 The decorative surfaces WallPepper® decorative surfaces are made only from natural, eco-friendly, PVC-free and certified materials. A wide range of designs allows us to respond to multiple aesthetic and taste preferences.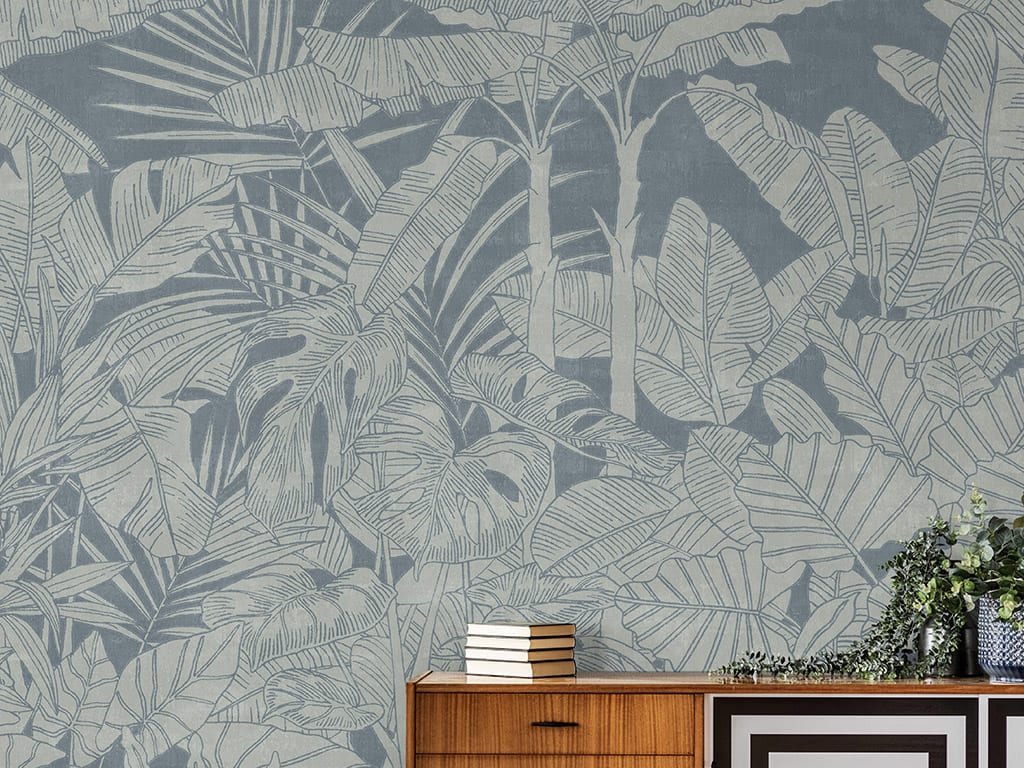 Wall&Deco
Wet System by Wall&Deco is a technical coating that combines wallpaper with water. It is a water-repellent decorative sheathing system that prevents the passage of water to the wall, which is thus waterproofed. An idea to bring floral wallpaper and other decorative inspirations, even in environments hitherto unsuitable for this type of covering: bathrooms, shower cubicles and spas.