At the Salone del Mobile.Milano 2023 S-CAB expands its range of proposals, between already consolidated collaborations and new points of view, where sustainability becomes the central theme, addressed both from a technical side – linked to the choice of materials and the use of furnishings – and sometimes in a symbolic and emotional way with allusive shapes. Outdoor and indoor furnishings increasingly contaminate each other to create coherence of style in spaces that are highly customisable thanks to the proposals of finishes, materials and fabrics. Undoubtedly designs to last!
The visual reference to the world of nature and its harmonious and attractive lines, but also the ecological theme finds synthesis in an easily recognisable form: this is the sign of the Mentha seating, the result of Archirivolto 's first collaboration with S-CAB. The studio's thirty years of specialisation in the design of furniture and accessories (especially chairs), combined with an entrepreneurial vision that looks to the large-scale success of products, has given rise to a concept summarised by the designers as follows: "Two leaves coupled by means of a technical joint that revolutionises the vision of the plastic shell by introducing a broken shape with a unique identity. The central cut in addition to being an aesthetic detail that recalls the leaf, it is also a structural element that strengthens the chair, and makes it usable both in a domestic context and in high intensity use such as catering, working on different bases and an upholstered version." Archirivolto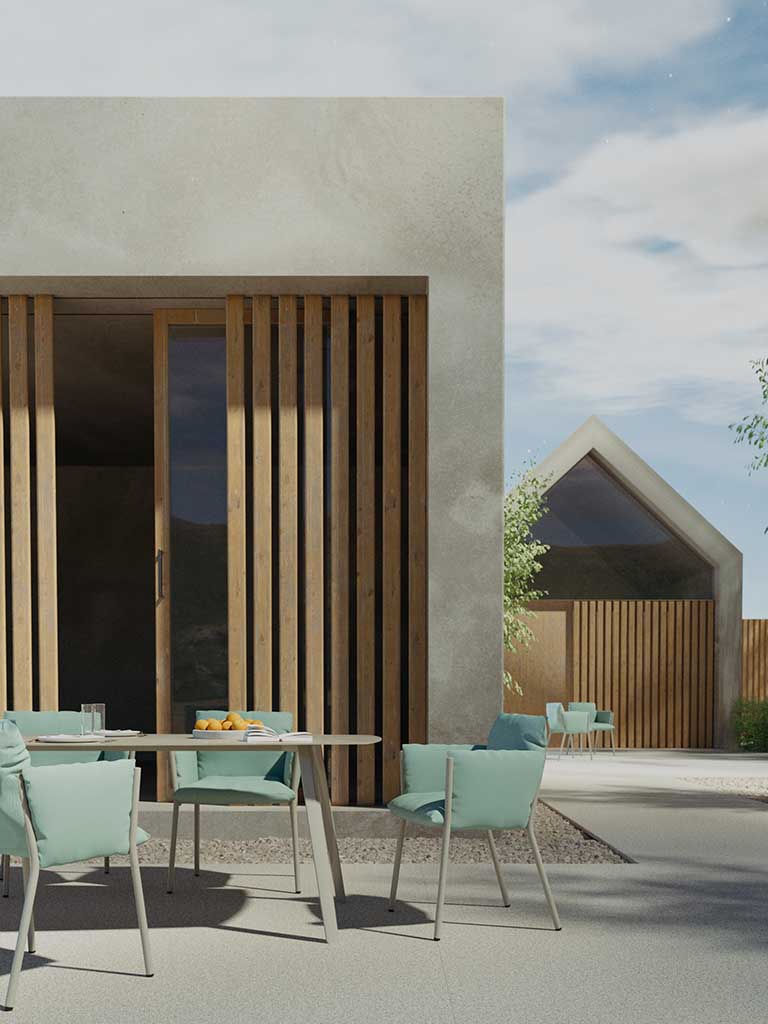 Mentha is a fresh, practical, comfortable and cosy chair, just as its name suggests. In the upholstered version it is perfect for indoors, in the essential technopolymer version it is suitable for both indoor and outdoor use. Of no less importance than the form is the material used: certified recycled plastic, a material now increasingly evolved and used by the company. The Mentha collection includes a wide variety of chairs for different uses: a contemporary chair suitable for all types of public and private spaces, from residential to hospitality, including restaurants. It also finds its natural habitat in offices, auditoriums, through to conference or waiting rooms and educational establishments. Mentha represents a seating system. The exclusively designed polypropylene shell is available in 6 colour variants, with and without upholstery, and is mounted on different types of frames, making it a highly versatile collection.
Description: The chair consists of a technopolymer shell, which is assembled on different bases. Three versions are available: plastic, with upholstered seat or fully upholstered. The frame is 4-leg or sled, with or without armrests, or swivel with or without castors. In steel or wood. Technopolymer frame in the colours linen, dove grey, anthracite, caramel and sage green. Steel frame in the colours linen, dove grey, anthracite, caramel and sage green. Wooden frame in natural stained oak and black stained ash. Wide range of indoor fabrics.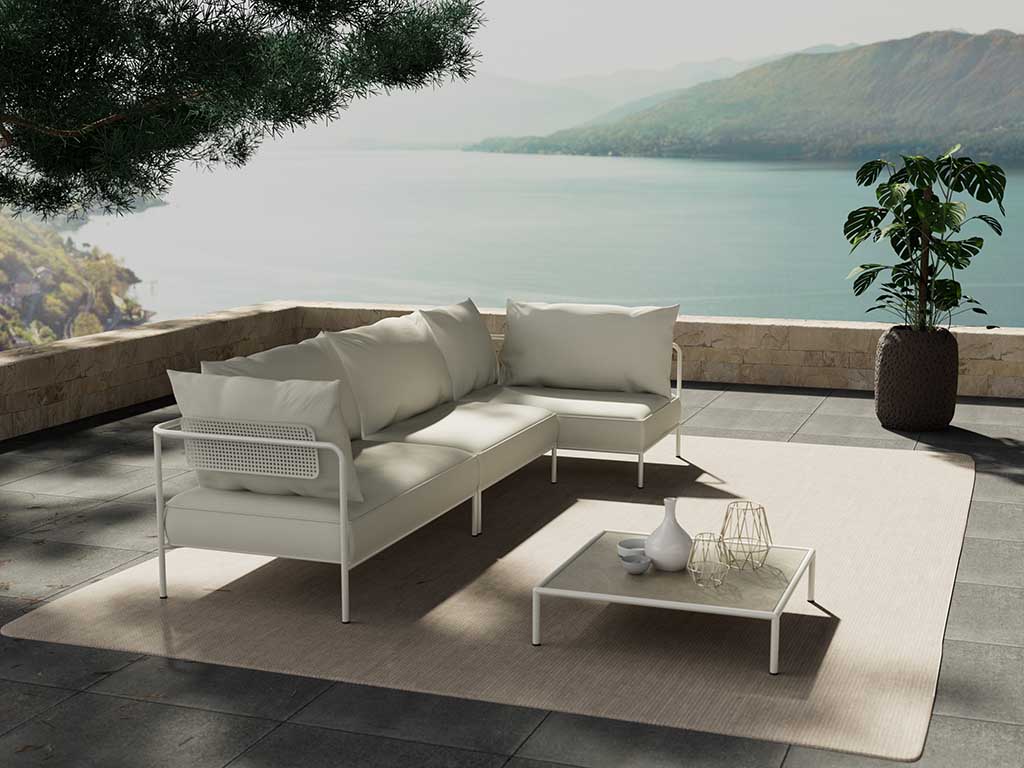 It is another first for S-CAB with Alessandro Stabile, a young talent on the Made in Italy industrial design scene who has already been nominated for the Compasso d'Oro in 2022. His is the Brezza armchair, a project conceived with outdoor comfort in mind, in which frame and cushioning dialogue in an unprecedented way: the upholstered parts are inserted into the frame and can be easily fixed by fitting together. The generous upholstery leaves the round metal legs visible, giving the armchair strength and recognisability. The seat is thus very practical: a gesture is all it takes to remove the upholstery and wash or replace it, benefiting durability. Brezza communicates solidity and strength and an innate informal elegance.
For the designer, innovation, ethics and elegance must coexist in every good contemporary design. Ecological sensitivity also guided Brezza in his choice of materials: "I selected fabrics with recycled yarn, then designed an assembly of the various elements without the use of glues. The frames are stackable so as to minimise bulk in transport with consequent reduction ofCO2." Alessandro Stabile. It was born as an outdoor chair, but who knows: maybe it can have a second life!
Description: The seat has a metal frame in the colours linen, dove grey, anthracite, olive green, mocha and terracotta. In combination with a wide range of fabrics including a pull-out of recycled ecological fabrics, ecological fibres derived from recycled waste reworked and transformed into new products. Measurements: 62 x 55 x h. 79 cm
The indoor/outdoor distances are also shortened for FLAP, by Meneghello Paolelli, the first collection of modular upholstered furniture in which the seating elements are combined in compositions with table tops. Elements reminiscent in shape of aircraft flaps are attached to the essential structure in the backrest part, with the function of supporting the rear cushions.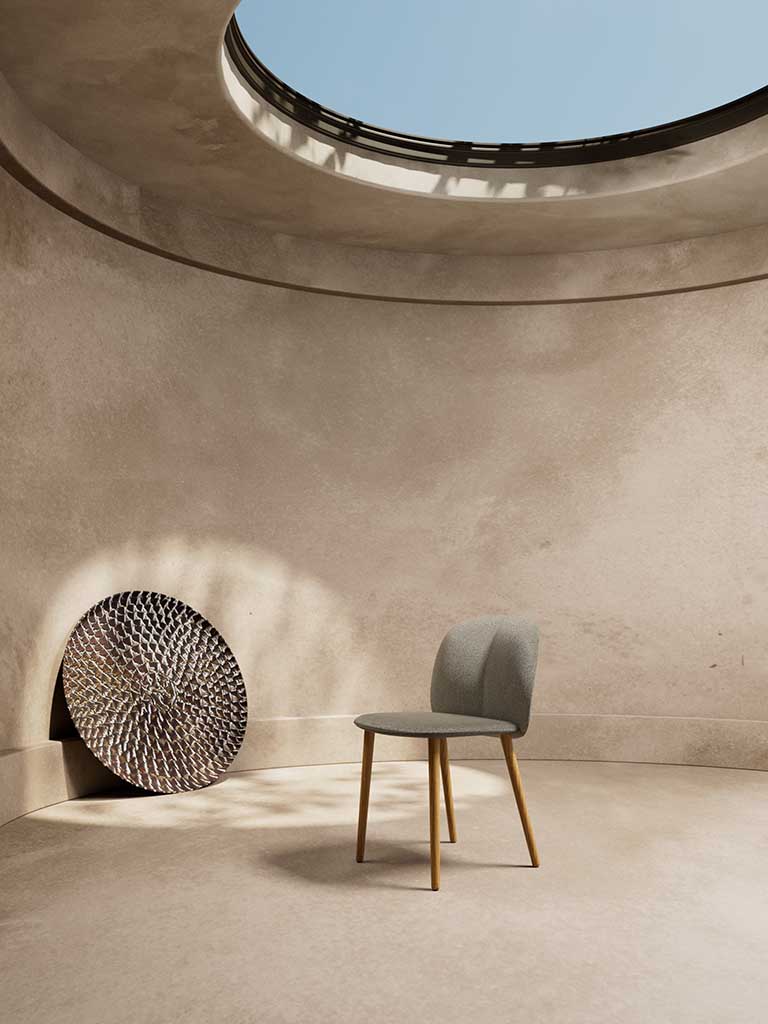 The designers declare: "We werehappy to support the company in this new sector, also thanks to the experience we have gained in outdoor design. We made all our skills available to be able to create an innovative project for S-CAB, a company with which we already have an ongoing relationship and which has given rise to projects for accessories and furniture. It is from this well-established relationship that FLAP was born, a modular collection of upholstered outdoor furniture, characterised by the lightness and freshness of its design. The element that distinguishes the system and from which the collection takes its name is the mobile backrest, a FLAP, which rests on the tubular structure and can rotate on its axis by about 15 degrees, allowing the support cushion to have different inclinations to achieve the best possible degree of comfort.
The frame with the support of the Flaps seems to wrap around the line of cushions that delimit the perimeter of the upholstery, acting on a continuous antagonism between the softness and "fullness" of the upholstery and the lightness and "emptiness" of the structure that envelops it. The system consists of a total of four modules that allow for a variety of compositions. We deliberately thought of a flexible proposal, suitable for different contexts of use in both residential and contract." Sandro Meneghello and Marco Paolelli
Description: Modular sofa starting with 4 basic elements:
Right-hand element measuring 130 x 84.5 x h.90 cm
Left-hand element measuring 130 x 84.5 x h.90 cm
Linear element measuring 110 x 84.5 x h90 cm
Small table measuring 84.5 x 84.5 x h.23 cm with HPL top.
Metal frame in the colours linen, dove grey, anthracite, moka and terracotta.
Wide range of outdoor fabrics.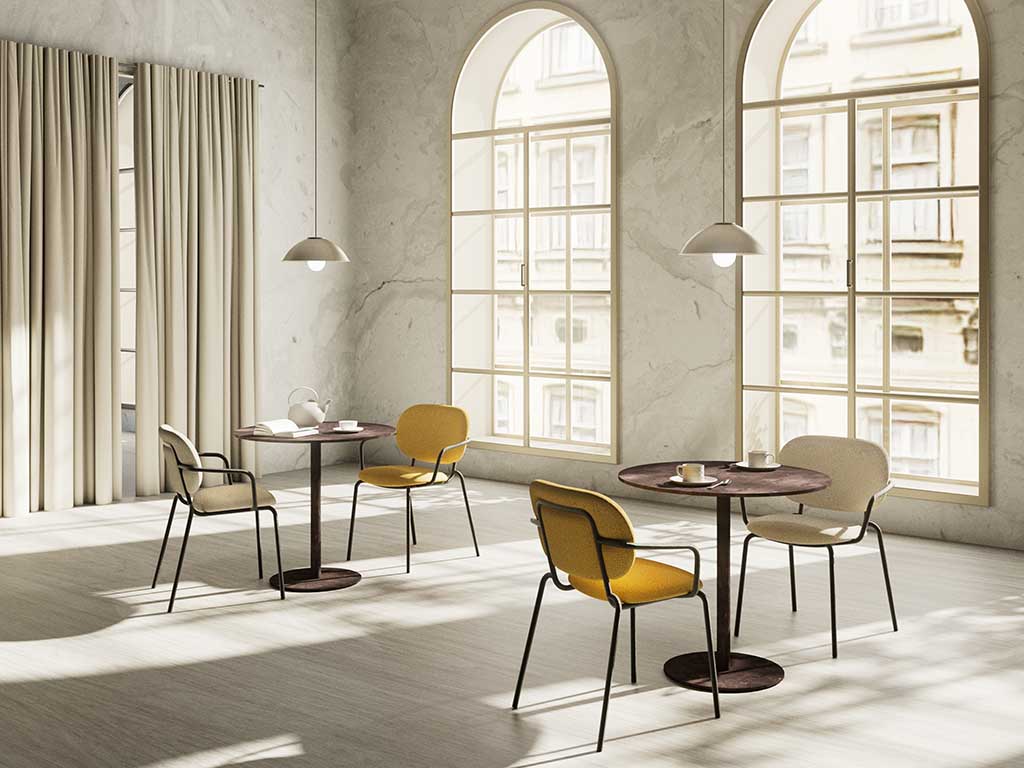 After having appreciated the versatility of its outdoor setting and the functionality of its basic concept (two identical elements that act indifferently as a seat or backrest, once attached to the frame) the SI-SI chair, designed by Meneghello Paolelli, is now enriched with the SI-SI Bold version, with a comfortable padding that makes it suitable for indoor settings. This completes a family of chairs that, starting from the archetype of a tubular structure and a curved sheet metal, both in steel, with the addition now of the feel of fabric, has translated the more pragmatic requirements of the outdoor world with a smart approach. The designers state: "As a natural evolution of the SI-SI outdoor chair, in 2023 SI-SI Bold will be born, a sister that will join it in the contract and indoor retail scene. The chairs are twins, the design matrix and basic frame are the same. Unlike the SI-SI outdoor, the Bold version does not have a single backrest and seat but two dedicated packages to make the design more suitable for indoor environments. For the backrest, the 'biscuit' aesthetic is accentuated and the seat is raised considerably to gain character and comfort." Sandro Meneghello and Marco Paolelli
Description: SI-SI Bold is available in the chair and armchair version. Measurements chair 54 x 55 x h.82 cm. Dimensions armchair 62 x 55 x h.82 cm. Frame in metal painted anthracite or bronze, or with galvanic treatment polished black nickel or matt gold. Wide range of fabrics, including a wool-blend fabric made from recycled materials, in compliance with environmental criteria extended to all stages of the production chain. scabdesign.com