The Pole to Pole expedition kicked off today from the heart of the Arctic glaciers, the extraordinary journey of adventurers Chris and Julie Ramsey who will travel more than 27,000 km from the North Pole to the South Pole in a Nissan Ariya e-4ORCE. After a full safety assessment, the team set off from the Magnetic North Pole 1823*.
The Nissan Ariya e-4ORCE is the first 100% electric car to embark on this adventure, a journey that will last 10 months across the entire American continent, arriving in Antarctica in December. The aim of the expedition is to demonstrate the potential of electric vehicles and how exciting it is to drive them, so as to facilitate their rapid deployment and help combat the climate crisis. To enable the Nissan Ariya to tackle glaciers, mountain passes and desert dunes, braving temperatures ranging from -30⁰C to 30⁰C, the exterior was reinforced with suspension specially developed for off-road driving, and the wheel arches were adapted to accommodate 39-inch BF Goodrich tyres.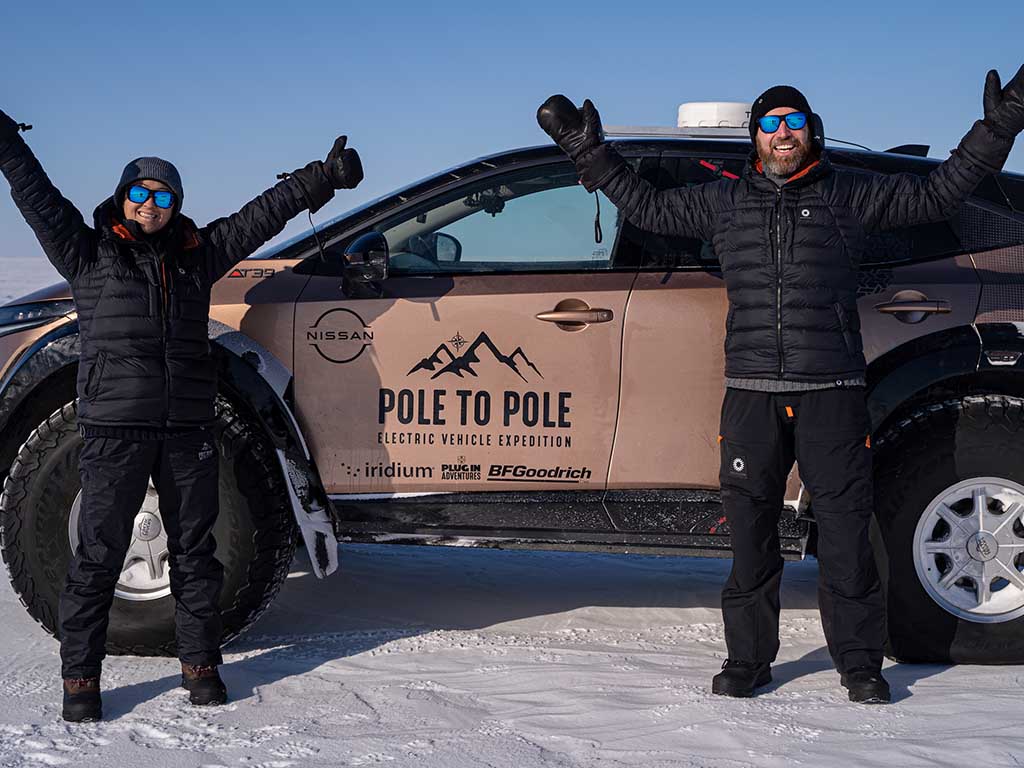 The modifications made by the Nissan engineering team, with the support of Arctic Trucks – a company specialising in equipping vehicles for polar expeditions – have been kept to a minimum. The battery is standard, as is the dual-motor configuration, one on each axle, and e-4ORCE all-wheel drive, the 4WD system developed by Nissan specifically for electrified powertrains. To recharge the battery in polar regions with strong winds and many hours of daylight, the team will use an innovative renewable energy system, a towable prototype comprising an extendable wind turbine and solar panels. The hope is that this charging innovation will have a positive legacy, inspiring a shift to electric vehicles for future polar exploration.
"Over the past 10 years, Julie and I have tackled several adventures in electric vehicles, but Pole to Pole is definitely our biggest challenge. Our expedition Ariya is fun to drive and performed well during the 5,000 km journey to the starting point of the expedition. This gives us the confidence to tackle any scenario and driving conditions in the coming months," commented Chris Ramsey. Julie added: "With this expedition aboard the Nissan Ariya we will shine a light on courageous initiatives to combat climate change and fascinating communities harnessing renewable energy. We'd love everyone to be part of Pole to Pole; so please follow and join the adventure on our social channels."
*Coordinates: N70 38′ 37.820″, W98 28′ 0.541″. nissan.co.uk