A circular micro-universe is the one conceived by studio MILO for Fuorisalone 2023 at Masiero in Via Statuto 16. "Beyond form" is the name, defining the overcoming of canons, the fragmentation of a single open space into many secret spaces, capable of generating amazement. Exploring the circular path of the installation, enhanced by the curved walls and broken by the optical stripes of the floor, one savours the view of one interior after another.
One feels as if suspended in a dreamlike, evocative and surreal world in which the new 'Visio' collection, designed by the young designer duo Nava + Arosio, takes on various fluid forms and unexpected configurations. The spoked arrangement of the exhibition, ideally recalling the structure of a merry-go-round and the thrill of kinetics, unveils niches and uncovers corners in which organic and luminous silhouettes in the shape of mouths, eyes, noses and ears speak to each other, observe each other, listen to each other through the inverted-arch perspective wings.
The visitor experiences the wonder in the distortion of proportions, in the fragmentation of organic shapes, suspended as in a dream and involved in the dialogue with the lamps on display.The expressiveness of the "Visio" collection, bright and fluorescent in its special 80s colours, and with the same root of the word "vision" not by chance, is amplified by the eclectic installation that mixes geometry and colour. Visio's concept recalls the surrealist world, layers of meaning to be discovered one by one in the many different possible configurations of its facial geometries, a hymn to the iconographic apparatus and expressiveness of the face. Polished painted metal tubing is curved to generate a face in its entirety or compositions of elements in the form of suspensions, floor lamps and wall compositions; mixing mysticism and geometry, unpredictable variations on the theme of imagination.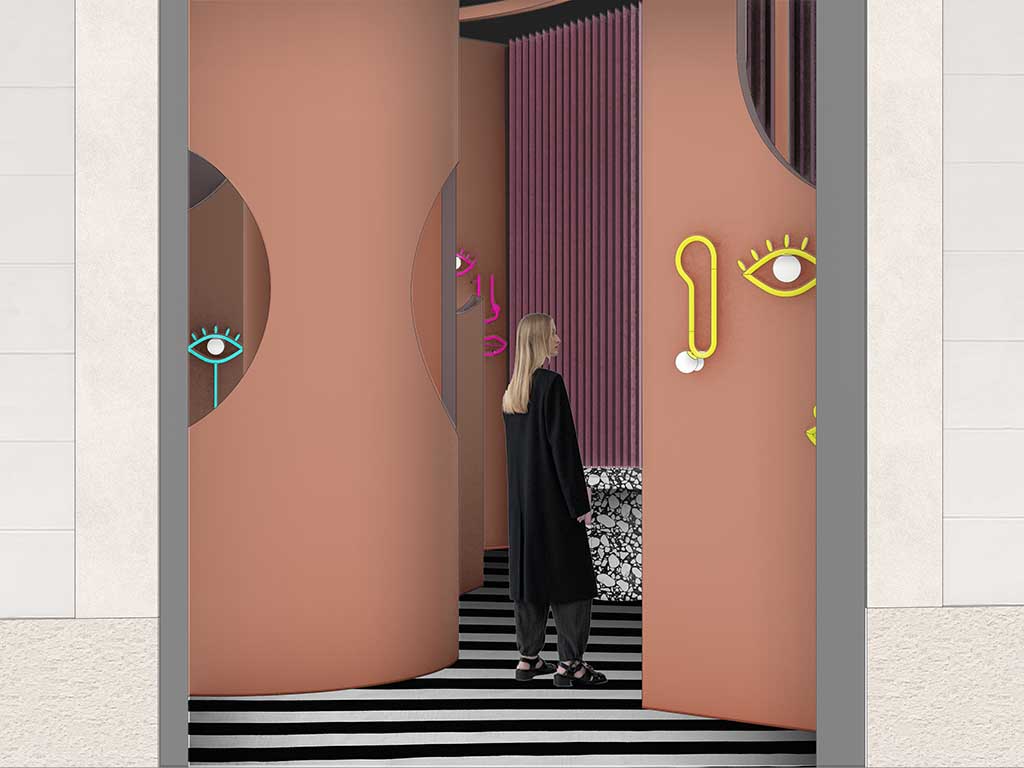 In the dehors of via Statuto, the installation maintains the avant-garde atmosphere of stage design: the trait d'union is the sinuosity of the arched panels, through which hang the "Cordea" suspension lamps, the new indoor and outdoor collection designed by Favaretto&Partners, here declined in unique finishes, created ad hoc for Milan Design Week. masierogroup.com