Intimate and secluded, the bathroom is the space dedicated to the well-being of those who live in the home, a true sanctuary designed down to the smallest detail. In addition to the purely functional aspect, the sensation of wellbeing and calm, the pleasure of living in the environment, are a direct consequence of the aesthetic and style choices.The priority is to create a pleasant and functional space, but one that is consistent with personal tastes and, in particular, with the style of the home, without, however, excluding striking choices or limiting creativity.
Even the bathroom, in fact, lends itself to refined decorations, selected to create harmony and continuity through the colours with the rest of the house or to introduce a contrasting element, completely unexpected, so as to give dynamism to the whole.
Article summary
Neutral Bathroom Colours: From White to Greige
Pink and dusty bathroom colours
Deep tones to define space
Warm, bright colours
Neutral Bathroom Colours: White to Greige
When defining the aesthetics of the bathroom, it is essential to choose the colour palette for the bathroom, which should be carefully calibrated according to the style to be achieved, but above all, to the type of atmosphere you want to create. Whether it's a bathroom bohowith a vintage feel, a delicate style shabby-chic or ultra-modern, colours set the pace and define the spirit of the space. Today's trendy bathroom colours can embrace different styles and needs, while ensuring a sophisticated and modern style . A palette of 20 shades enhances the perception of the room with an impeccable aesthetic that emphasises the emotional aspect.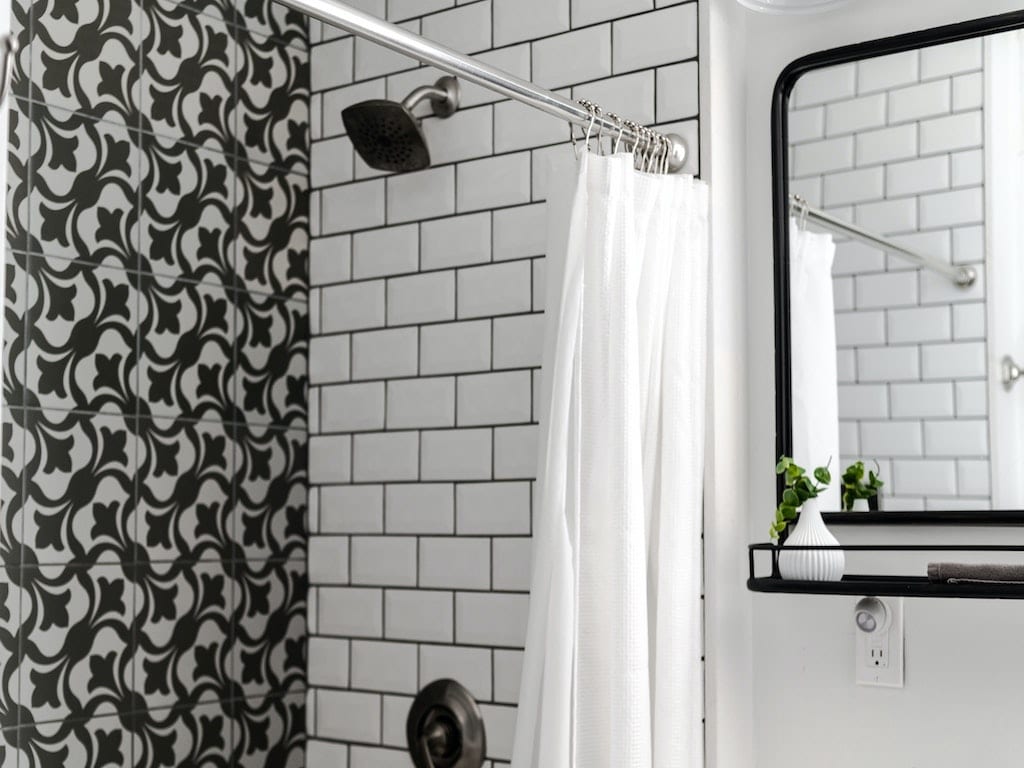 White, Cream, Beige, Taupe and Greige: neutral colours are an extremely refined and elegant choice, ideal for a minimal and timeless style. We start with white, in all its shades, from cold and crystal clear tooff-white, a trump card for small bathrooms, especially if used in all its purity and combined with furnishings with slim, essential lines, wood details and mirrors
Neutral colours are the protagonists of a bright and fresh bathroom, they give an illusion of spaciousness, they are the starting point for building a sophisticated colour palette and for playing with combinations of shades and materials.
From soft, fresh combinations of pastel shades to the optical effect of black and white, which is modern and highly aesthetic, especially if well modulated and built on small contrasts
In addition to colour combinations, a bathroom with neutral tones can create dimension with materials, incorporating stone and wood surfaces, natural elements that harmonise perfectly with the palette.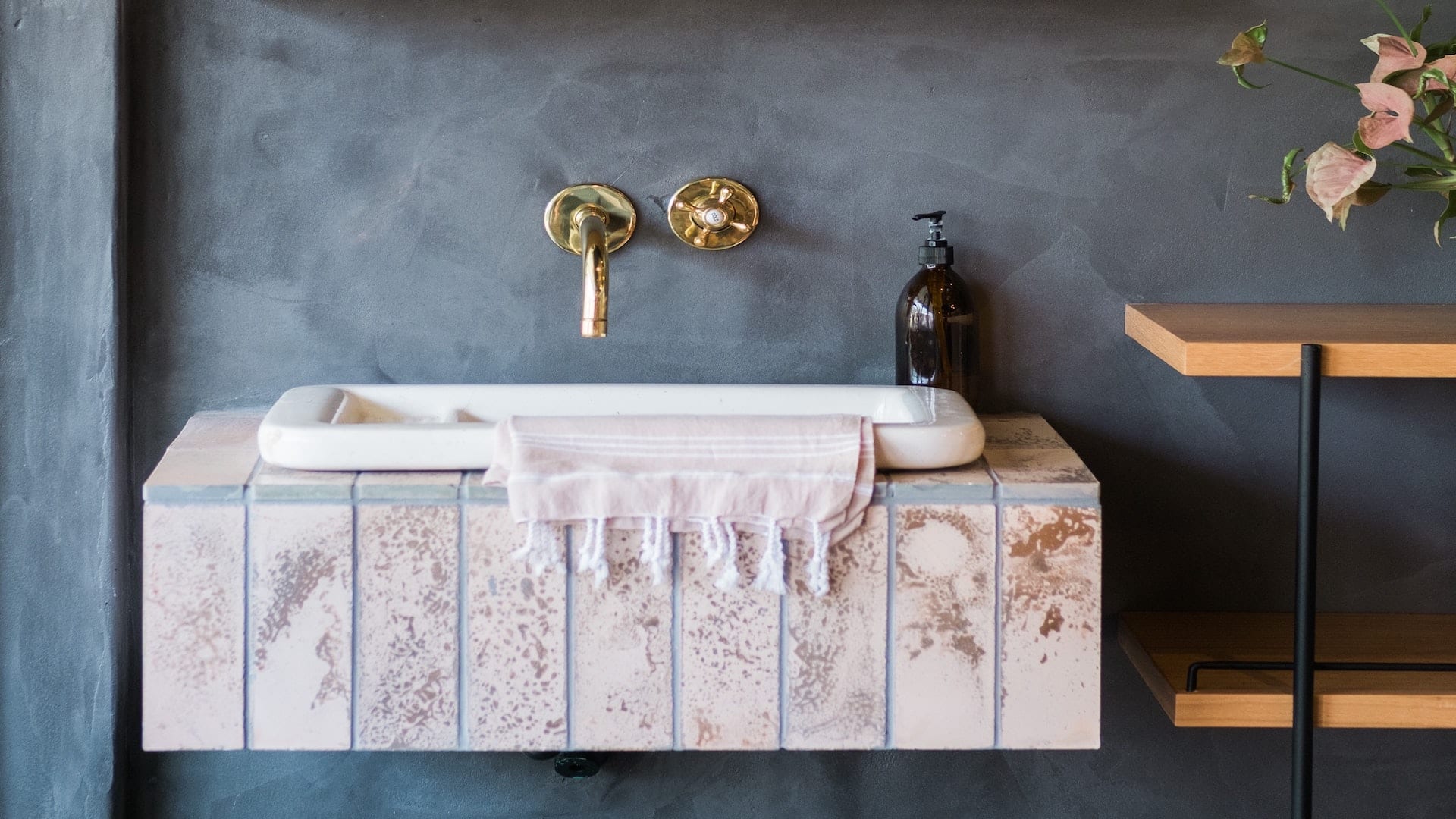 Pink and dusty bathroom colours
Dusty tones ofblue, sage green, pistachio, mint and pink colour bathrooms with an appealing aesthetic. Pink, the star of the trendiest bathrooms, is extremely trendy and is chosen for walls, tiles and furniture elements. A modern colour that transmits positivity and lightness, it combines perfectly with white, light wood and elements in yellow gold with a matt finish
A playful, versatile colour with great personality. Extremely modern when combined with geometric lines but which, in the most delicate nuances, also elegantly embraces a vintage style space, characterised by retro furniture and the inevitable Victorian bathtub.
Powder blue and greens, in shades of sage and mint green, on the other hand, are the right choice for a reassuring and pleasant environment, lending themselves to delicate and elegant combinations, as well as lively and characterful choices.These are the right colours for those who want to turn their bathroom into a small private spa
Deep tones to define space
Strong, intense colours such as deep blue, navy blue, anthracite grey, deep green, teal and black define the space with striking contrasts, create dimension, and transform the bathroom into a refined, luxurious treasure chest. The ideal is to balance them with bright colours, playing with the alternation of light and dark, combining materials and finishes. The dark walls are splendid bases ready to house a small gallery of paintings or mirrors in different shapes, a canvas for mixing and matching styles to achieve a unique effect.
Warm, bright colours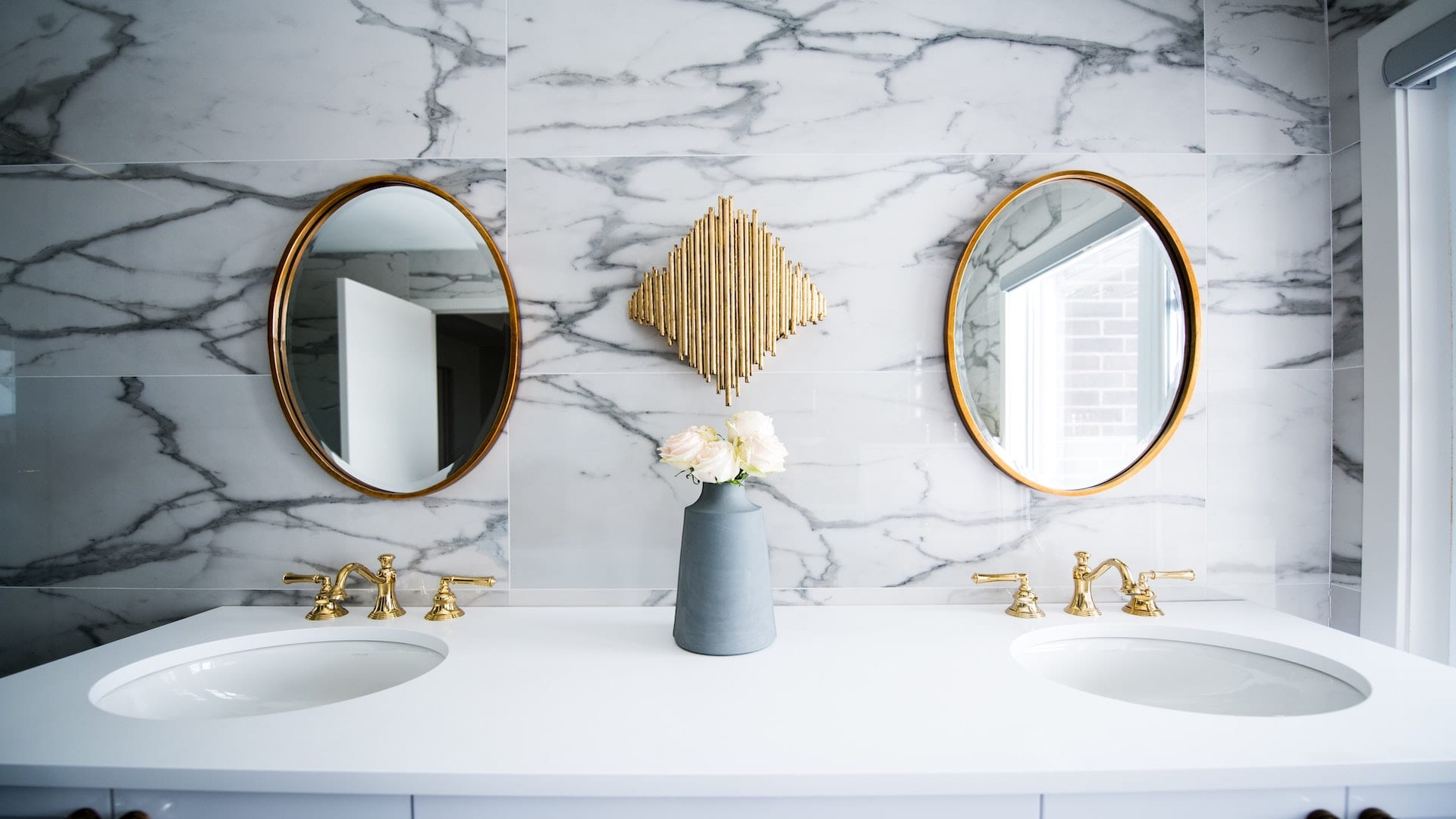 Far from the cool shades generally favoured for the bathroom, often in shades of blue, warm colours are not to be excluded, which are suitable for homes with a young, lively and sunny style
The bathroom, in this case, as a relaxing place, is charged with an energy and positivity reminiscent of summer days. Colours such as yellow, peach pink, coral, mustard yellow and terracotta transform the bathroom into a bright and welcoming space. They are versatile colours, suitable for both a boho-style bathroom and a minimalist retro bathroom. The ideal is to dose them wisely, choosing them for tiles, details or together with white. The colours of the earth are fully enhanced when combined with oak wood, the copper of the bathtub and taps, wicker baskets and the green of small plants