The diffuse design of Charles Eames is intended as a tribute to a great master of the discipline, inspired by a democratic vision of the product.
Passionate about architecture, cinema and photography, he represents the ideal trait d 'union between American and Scandinavian designers.
A few biographical notes
Born in Saint Louis, Missouri, he trained in his hometown at the Faculty of Architecture at Washington University. Unfortunately (or fortunately, given the results), his university career was interrupted due to the conservative environment, which did not appreciate his propensity for modernity.
Fortunately, he met the architect Eero Saarinenfinnish-born architect Eero Saarinen, who provided him with a scholarship and induced him to move to Michigan, to the Cranbrook Academy of Art. On that campus, he found an environment much more congenial to his innovative streak.
The Cranbook Academy represented, in terms of cultural exchange, workshop facilities and focus on 'making', an environment comparable to the Bauhauswhere one could grow in freedom of thought and confrontation.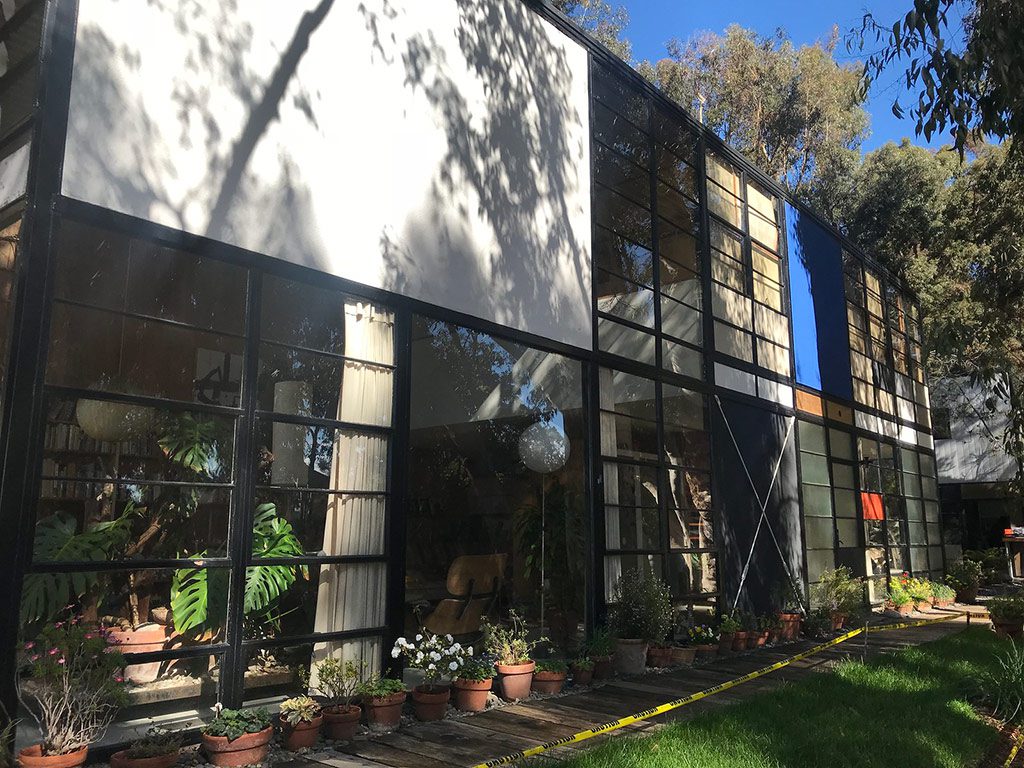 Bauhaus contaminations
In the early stages, his studies often alternated with manual labour, which was indispensable for supporting his family (his first wife and daughter). It was precisely that path between thecraftsmanship that aligned his creative spirit with the Bauhaus mood.
In tandem with his new mentor, in 1941, Eames succeeded in winning a competition organised by the MoMA (Museum of Modern Art) in New York, with the theme of design of organic material for furniture.
The curved wood
Their project was based on the modelling of wood – treated and curved – to make furniture. It drew inspiration from the Scandinavian school and, primarily, the work of Alvar Aaltosaarinen 's famous compatriot and a key figure in the movement.
At the same time, Eames divorced his first wife and remarried the painter (and his academic assistant), Ray Kaiser. With her he formed a creative duo capable of leaving their mark on theinterior design.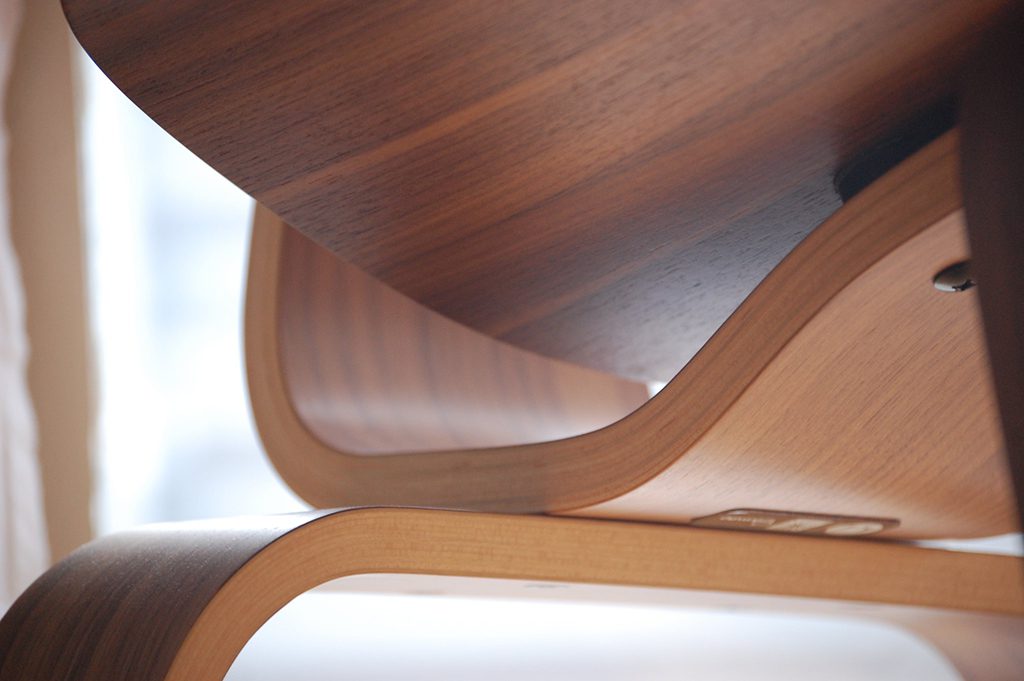 Their professional approach found a centre of gravity in the wood modelling and fibreglasswith an intuitive approach that Eames himself called
"a stroke of genius that lasted thirty years"
That path of inspiration and design, developed in the daily confrontation of two, recalls that of another great (Italian) design couple: Tobia Scarpa and Afra Bianchin. We talked about them in a recent article.
The widespread design of Charles Eames – working with Ray
During the Second World War, Charles and Ray Eames suspendedinterior design and concentrated on a large-scale production of furniture legs for the navy.
In 1948, MoMA again crossed their fate, in the form of a new competition of ideas. The two won the contest dedicated to the creation of furniture at a popular costlinked to the slowly recovering economy.
From then on, the spread of Charles and Ray 's formal sign was uninterrupted. Important collaborations were established with companies that developed their ideas and exported them to Europe and Asia.
Among these, we must certainly mention the Vitra, a brand that has branded so many of their iconic and timeless creations.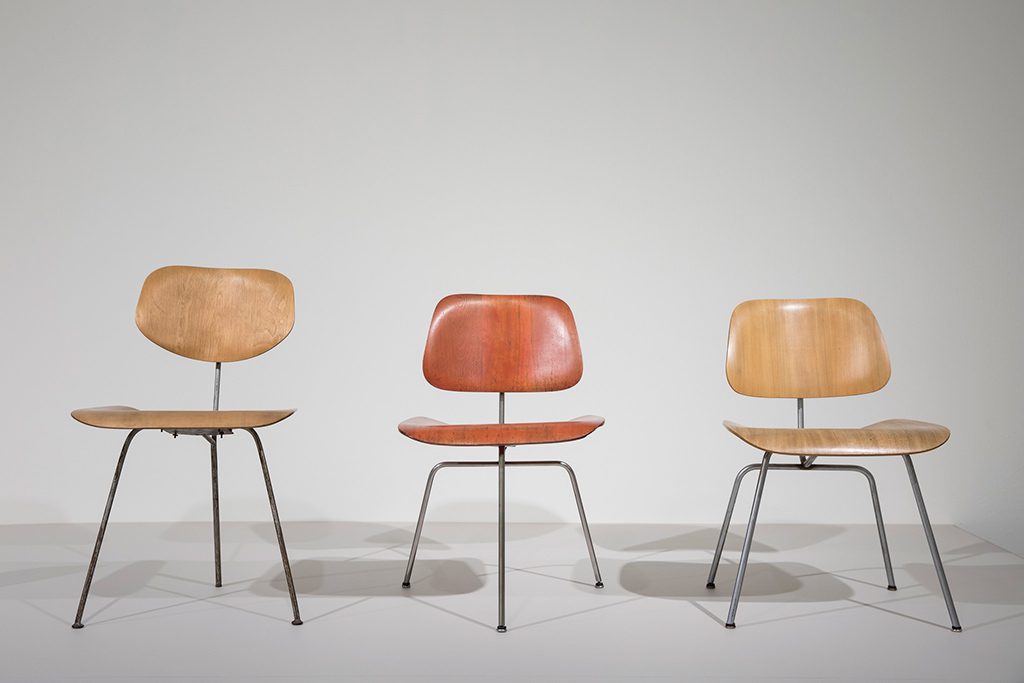 The Eames' signature products and design icons
The list announced by the title is very demanding and we do not pretend to go through it exhaustively. We will limit ourselves to mentioning the most striking pieces and designs.
The Vitra Lounge Chair
The lounge chair produced in 1956, in its first version, by Vitra, is one of the most interesting proposals.
Its profile is that of a 'baseball glove' – an element visual popular in the United States. The shaping of the seat in favour of the body it accommodates recalls a glove deformed by time and use.
It suggests a comfort related to relaxation, on the wave of free roaming of thoughts, and was created as a solution for private homes and public waiting areas.
The armrests, perfectly integrated into the seat, recall the 'outer fingers' of the glove. The whole rests on a multi-swivel base with runners, made of polished die-cast metal.
The historical and, in any case, most commonly used colour is a dark shade, declined in the classic pantone colours of chocolate, white or brown, with a black variant.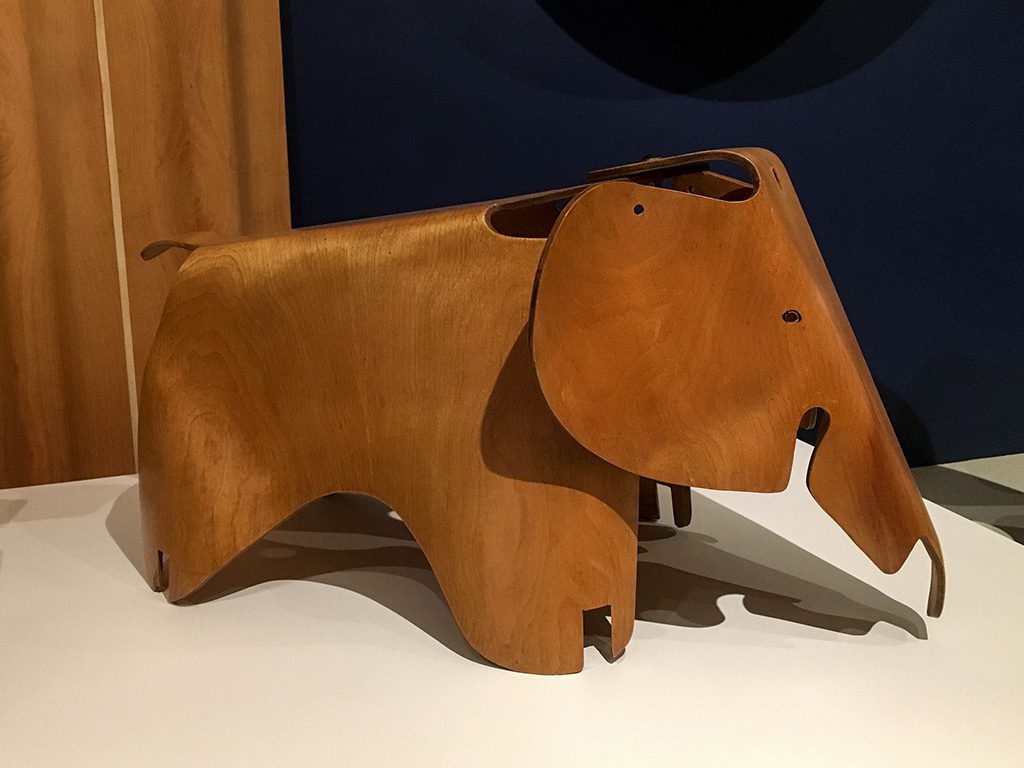 The Eames Occasional table
The eames LTR Occasional table by Vitra is a piece of furniture that echoes the Finnish-Scandinavian inspiration that permeated the Cranbook Academy.
It was designed by Charles and Ray in 1950 and the acronym embedded in the name stands for Low Table Roda locution related to itslow height and metal support structure.
It is characterised by versatility, elegance and minimal. Its multifunctional quality (it is also used as a bedside table) makes it suitable for many furnishing solutions.
Museum pieces
Even Mr and Mrs Eames used it in their own home, which over time became a visiting space for the magazine Arts & Architecture. The idea was to narrate and enhance the iconic environments of contemporary North American architecture.
Incidentally, even Vitra has also created a museum and, in those halls, products designed by Charles and Ray Eames can be found among the featured pieces or in the focus of dedicated retrospectives.
From interior design to toys: the Plywood elephant
The widespread design of Charles Eames, refined and linear , was not only embodied in furniture objects. Charles and Ray also designed toys, conceived in a stylistic key suited to interior decoration.
In Vitra Design Museumyou can admire theplywood elephant, son of 'the toy' and a playful , modular approach to wood and coloured panels for modelling. Plywood is a small, fascinating sculpture, enriched by the lines of the curved plywood in which it is moulded.
©Stiledesign. Reproduction reserved
You might also be interested in: