A stimulating and creative partnership for a new bathroom collection under the banner of luxury and design, Glass Design is pleased to announce the agreement signed with Tonino Lamborghini for the creation of a new, unconventional bathroom line. Glass Design debuts at ISH 2023 with a preview of what will be an iconic and timeless bathroom collection, a combination of clean, decisive lines, dynamic shapes with high quality finishes, a mix of refinement and style inspired by the DNA of the Lamborghini family.
Glass Design is an Italian excellence in the production and design of washbasins and furnishing accessories. With a long tradition in the processing of crystal and artistic glass, it has distinguished itself in recent years not only in the use of traditional materials, but also in the interpretation and processing of technologically advanced materials such as steel or silicone, and in the production of innovative and unique materials such as Vetrofreddo®.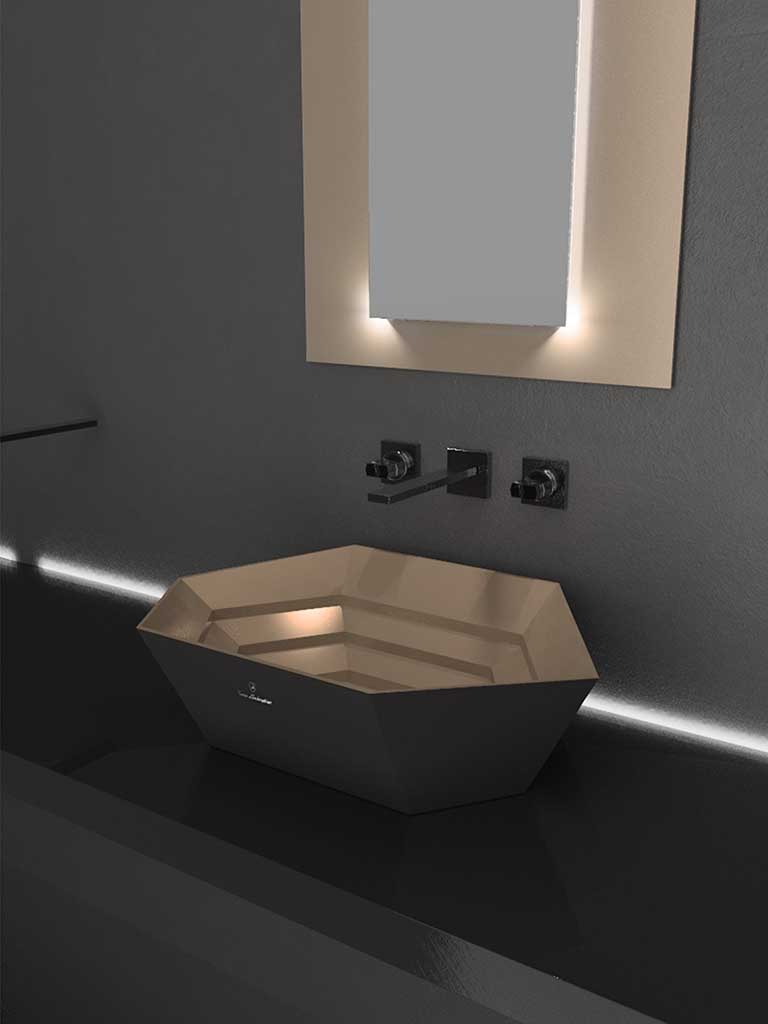 Tonino Lamborghini, since 1981, has been a worldwide ambassador of an all-round Italian lifestyle, ranging from luxury accessories to furniture, from food & beverage to electric golf and utility carts, to branded hospitality with 5-star hotels and resorts, residential and commercial buildings, cafés and restaurants. Sharing the same values of design quality, design aesthetics and luxury with the Tonino Lamborghini brand, Glass Design has been identified as an ideal partner for the development of exciting new bathroom projects. The precise and aerodynamic lines, the chromatic details and the mirror elements that recall the Tonino Lamborghini Heritage have been reinterpreted by Glass Design to create VISION, an iconic collection with a sophisticated and elegant soul.
THE TONINO LAMBORGHINI COMPANY
The Tonino Lamborghini company was founded in 1981 by Commendator Tonino Lamborghini, heir to the Lamborghini family. Today, the company is based in the splendid 'Palazzo del Vignola', a Renaissance villa on the outskirts of Bologna designed by the famous architect Jacopo Barozzi, known as 'Il Vignola'. Drawing inspiration from his family heritage and his professional experiences in the field of mechanical engineering and automotive design, Comm. Lamborghini has created a 'lifestyle experience brand' with a wide range of luxury products: watches, eyewear, leather goods, mobile phones, perfumes, furnishings, clothing, sports accessories, golf&utility carts, beverage products, 5-star hotels, real estate projects, branded cafés and restaurants. For more than 40 years, Tonino Lamborghini has interpreted a universe of Italian style, remaining faithful to the tradition and history of the Lamborghini family. All products are distinguished by the 'Charging Bull' symbol on a red background.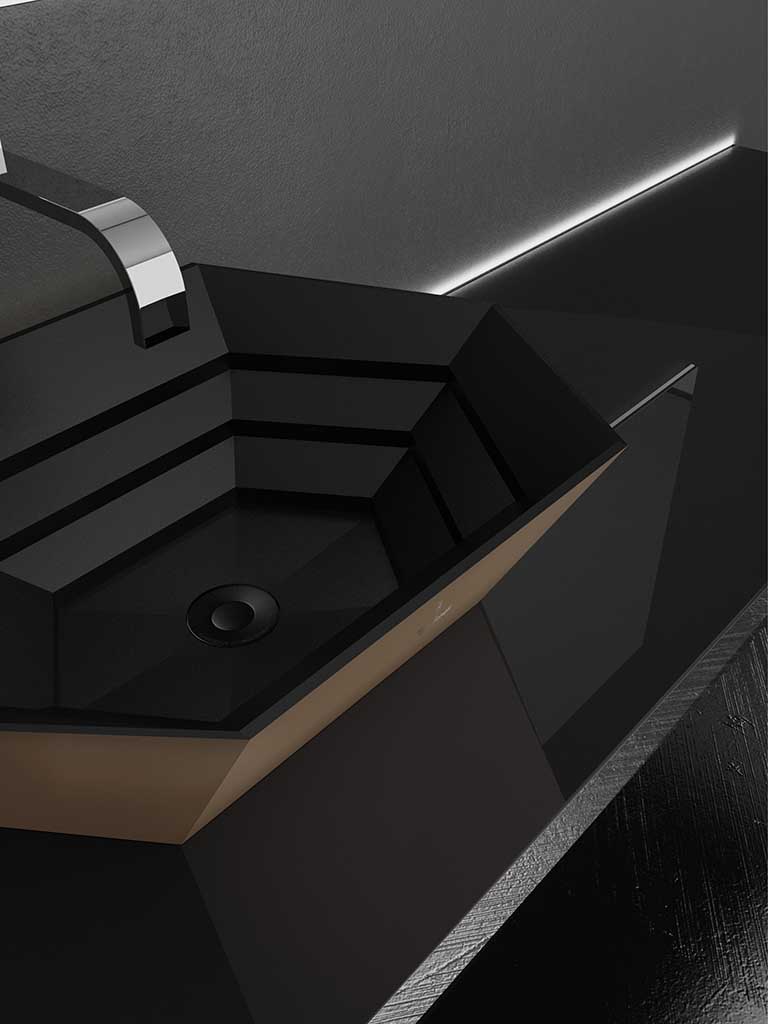 We would like to remind you that the companies of Comm. Tonino Lamborghini and the "Tonino Lamborghini" branded products are not connected in any waywith the company Automobili Lamborghini, now owned by the Audi-VW Group, founded in 1963 by Cav. del Lavoro Ferruccio Lamborghini, father of Tonino Lamborghini. Thank you.
VISION is a collection of countertop and freestanding washbasins, made of Vetrofreddo®, an innovative material composed of glass pigments and precious resins, which enhances creativity without any limits thanks to its main characteristic of versatility in adapting to any type of shape and the possibility of expressing itself in multiple glossy and matt colours. It is also a material with an 'antiscratch' treatment that allows the integrity of the coloured surface to be maintained over time. The inside of the washbasin, which is black in colour, features unprecedented scaling achieved through a special machining process. The exterior, rigorously smooth and textured to the touch, comes in the brand new Rosa Sahara colour finish, elegant and seductive, which goes well with any wood or lacquered shade. The Tonino Lamborghini logo, placed with sophisticated discretion on the front of the washbasin, contributes to delineating a strong and recognisable identity in the luxury sector.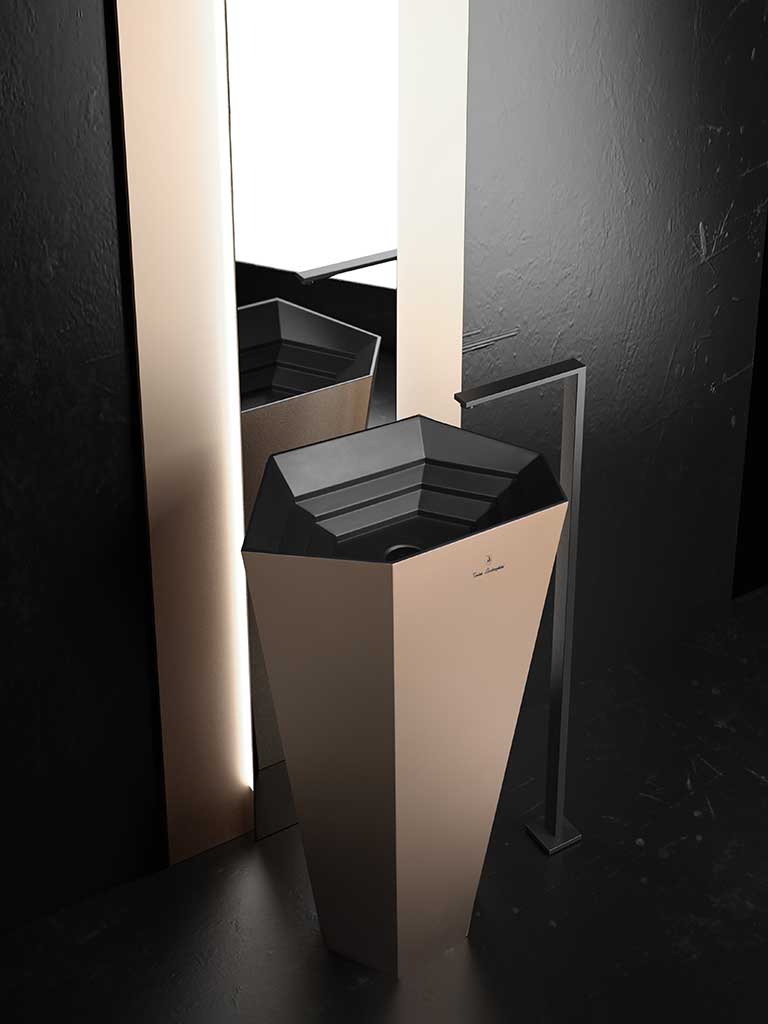 A cutting-edge technological detail is the new automatic drain with integrated overflow, which does not require an overflow and allows the water to drain when a predetermined level is reached. VISION Concept, the countertop washbasin, and VISION Edition, the freestanding version, are each offered in combination with their own mirror, creating a truly emotional total-look. The mirrors, in their function as a finely coordinated accessory, with their LED side lighting, actually enhance the finishes and shapes. The VISION collection presents itself on the market with a decisive and uncompromising style: a geometric composition where the material is developed in trapezoidal shapes to create taut, converging surfaces. Luxury and design for a collection characterised by a strong and decisive personality. glassdesign.it