DOM Edizioni has recently opened its new flagship store in Milan. The space is located in the historic centre of the city, in a flat on the first floor of a 1950s building in the heart of the fashion district.
Dedicated to interior designers and architects, it develops in six large rooms where customers have the possibility of a full immersion in environments entirely furnished with DOM Edizioni collections. Over 200 square metres with high ceilings, stuccoes, vaulted windows and mouldings on white walls in dialogue with an original nailed oak floor create an elegant setting, ideal to tell the collections and the philosophy of the maison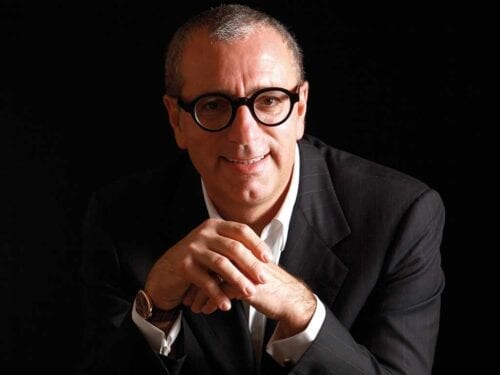 On the occasion of the inauguration, StileDesign interviewed Domenico Mula, founder and artistic director , and asked him about his experience and the philosophy that inspires his creations.
You chose to devote your life to design at the age of 20. What prompted you to embark on this path?
The love of beauty, undoubtedly. I started around the age of 13 to keep photos, newspaper cuttings, flyers and other things I found on the subject of art, fashion and design. My own mother was amazed at this passion for a child of my age. And it was this passion that made me embark on the path of 'creative' around the age of twenty. With a bit of luck and great determination, I was able to follow my natural inclination in life, and for this I am grateful.
Where does the creative research for the realisation of your projects come from?
Archives. I have spent, and still spend, a lot of time in archives. Be they fashion, figurative art, cinema and of course design. I also spend a lot of time in modern and antique shops. In fact, over time I have built up private collections that I sometimes use for the fittings in our showrooms, such as the most recent one in Milan. I try to surround myself with beauty, which is always a great source of inspiration. Whether it be from the 1950s, which is my real preference, or ancient art. It is no coincidence that DOM Edizioni's headquarters are located in a wonderful deconsecrated church in Cesena, with perfectly preserved original frescoes.
If you had to describe your creations in 3 words, which ones would you choose and why?
I was once asked a similar question and I quoted "Luxury, calm and voluptuousness", a formula made famous by Baudelaire and Matisse. In my opinion, these three words sum up the work that DOM Edizioni wants to do on beauty and living spaces. I, and my children Ludovica and Filippo with me, do not work so that DOM Edizioni furnishings will be "in fashion". We create them so that they will live forever. They are timeless objects, expressions of an authentic luxury that infuses calm and a full sense of voluptuousness.
Your training includes lessons from the great Italian, American and French masters. How have they influenced your concept of style? How has it evolved over the years?
From my constant research came an admiration for the 1950s. I often find myself watching old American films from that period. It was a time when I find the greatest sophistication in the world of fashion and design: from Coco Chanel to Frank Lloyd Wright. And in Italy Castiglioni, Magistretti, Albini, just to name the most famous. So this passion has certainly influenced me in the creation of the DOM Edizioni collections, sometimes unconsciously, sometimes just as a distinct reinterpretation for certain products. Over the years the collections have certainly evolved, integrating more and more proposals. In fact, we now have a catalogue of around 300 products. And the finishes, which meet contemporary needs with great attention to detail.
How and when was the DOM Edizioni project born?
Formally, it was about ten years ago, in 2011 if I remember correctly, that DOM Edizioni, as we know it today, was born. But the project can be traced back a long time before that. My experience in France, which I like to think also made me a little French, as designer of Modenature laid the foundations for what was to come. The confrontation with foreign clients, whom I met at international fairs such as the Salone del Mobile, and the architects I worked with on interior design, certainly gave a spur to starting production in Italy and formally founding DOM Edizioni.
DOM Edizioni's Milan showroom is divided into six large rooms, four of which are dedicated to the maison's collections. How did the project come about and what philosophy did you follow to realise it?
Having a Milanese home for DOM Edizioni has been a personal desire of mine. And when a couple of years ago I found this 1950s flat, my favourite period, in an elegant building in the centre, I had no doubts. We have kept the original structure and finishes, such as the high ceilings, the old fixtures and doors, and above all the original parquet, the ideal setting for the DOM Edizioni collections
We immediately used it for an event, and after a closure of more than a year today we are finally presenting it to the public. With the due care that the period imposes on us, we are in fact able to welcome customers, architects and decorators, willing to live a whole DOM Edizioni experience, which only a fully furnished flat can offer
What new projects are you working on?
DOM Edizioni continues, also thanks to the presence of my children Ludovica, chief designer and brand strategist, and Filippo, who works in the commercial department, to create new collections for the most beautiful houses in the world. We are working on residential projects, both in Italy – one in Capri and two in Milan to be precise – and abroad – in Monte Carlo, Saint Barth and London. Unfortunately, for confidentiality reasons, these projects cannot be revealed.
Personally, as well as continuing to design new products for DOM Edizioni, and I anticipate that by September 2021 we will have lots of new products, I have resumed pure design and am working side by side with internationally renowned architects on restaurant and hotel projects
Gallery
DOMEdizioni-Filippo