Costume is the new sustainable safe created by Magis that can be adapted to any situation. Can a piece of furniture such as a sofa be completely rethought? This is the question posed by Magis, a company founded in 1976 in northern Italy and devoted to the most innovative and sophisticated design; for more than 40 years it has been creating design products for the home, office and contract sectors.
In order to respond to such a complex demand, the company's path crossed with the studio of designer Stefan Diez, and after 4 years of work and research, they created COSTUME, a sustainable and customisable sofa.
Sofas in most cases are made of several materials joined together, making it difficult to repair and recycle the various components, and their modular design offers flexibility at the time of purchase, but little customisation afterwards.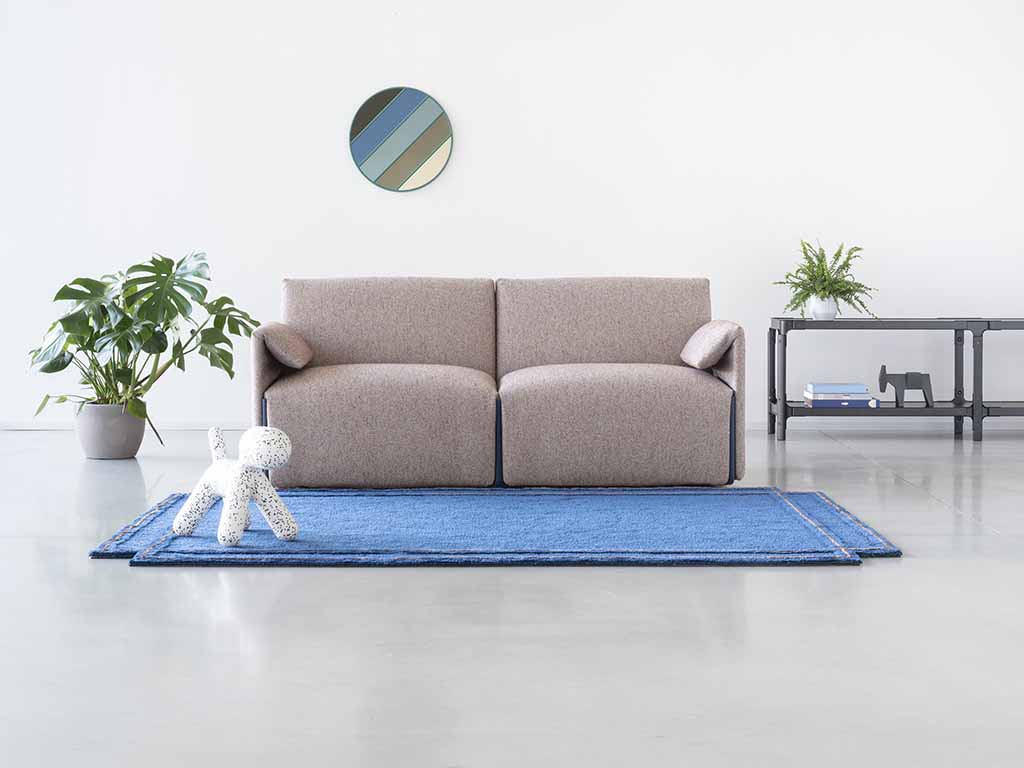 At a time like this, when pollution is taking a worrying turn, it is right that every company should rethink its products in a more sustainable way. Our lifestyles are changing and even a piece of furniture has to meet certain requirements: it has to be able to adapt and transform over time, it has to be durable and it has to be made of simple, carefully chosen materials. All in order to obtain a piece of furniture in line with the principles of circular economy.
Article summary
Costume
Magis and Stefan Diez
Costume
COSTUME is a modular sofa made up of four elements in total: the seat, to which a left and right armrest can be attached, and an ottoman. Its central body consists of a shell made of recycled and recyclable polyethylene, obtained from industrial waste from the furniture and automotive industries. The padding of the seat and backrest consists of pocketed springs with a thin layer of foam on top, all held together by a fabric cover attached with straps (separable at any time).
Connecting element for the various modules is a plastic connector which can be inserted into the slots at the four corners of the seat. Connectors are available in different colours that contrast with or match the wide variety of fabrics and colours of the COSTUME upholstery.
COSTUME upholstery is available in a variety of materials: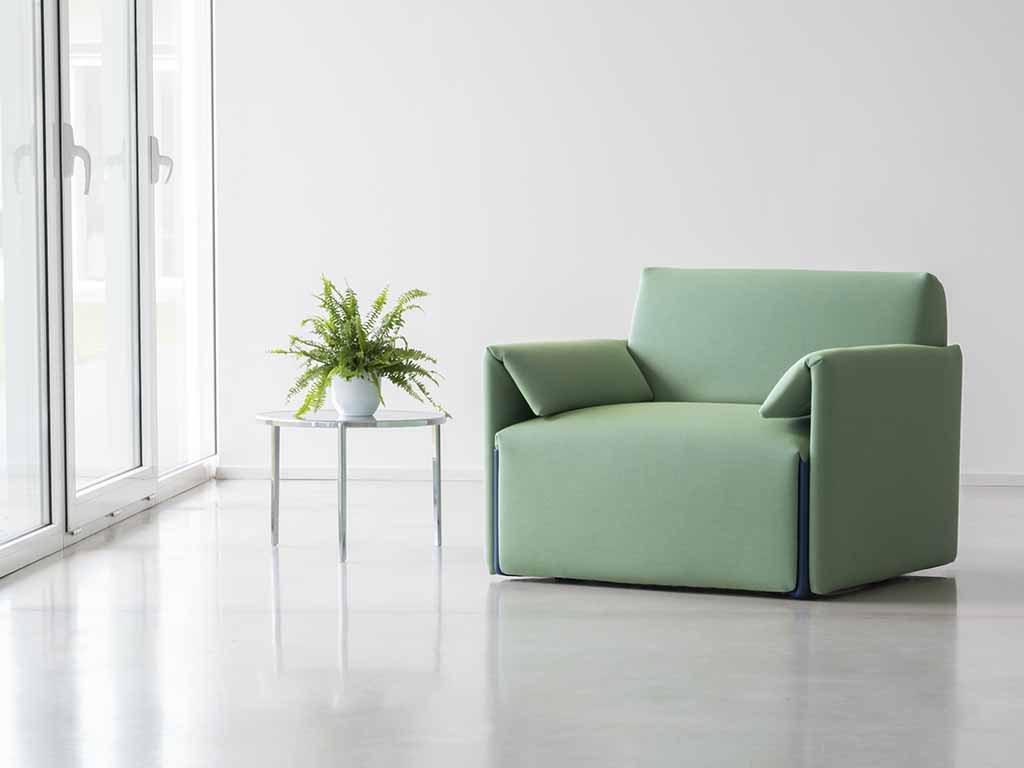 One, a coating made of polyester recycled from bottles, particularly resistant, developed by Fidivi;
Dato, an upholstery made from a combination of BOUCLÈ micro wool and FRISEE yarn, developed by Torri Lana;
Uniform Mélange, a versatile fabric with a knitted covering designed by Febrik.
COSTUME's design allows it to be structured in multiple ways, adapting to any environment; a simple 2 or 3-seater sofa or an infinite length. The ottoman allows it to make a chaise longue, create corners or simply be used on its own Magis and designer Diez have not created a finished product, but an infinite one. Users will be able to design and modify their sofa over the years, without ever getting bored. Stefan Diez, in fact, says "My interest is not so much in providing ready-made answers, but elements with which to put together words, phrases and stories", underlining the philosophy of his studio, characterised by innovation, technical know-how, instinct and a passion for experimentation.
Magis and Stefan Diez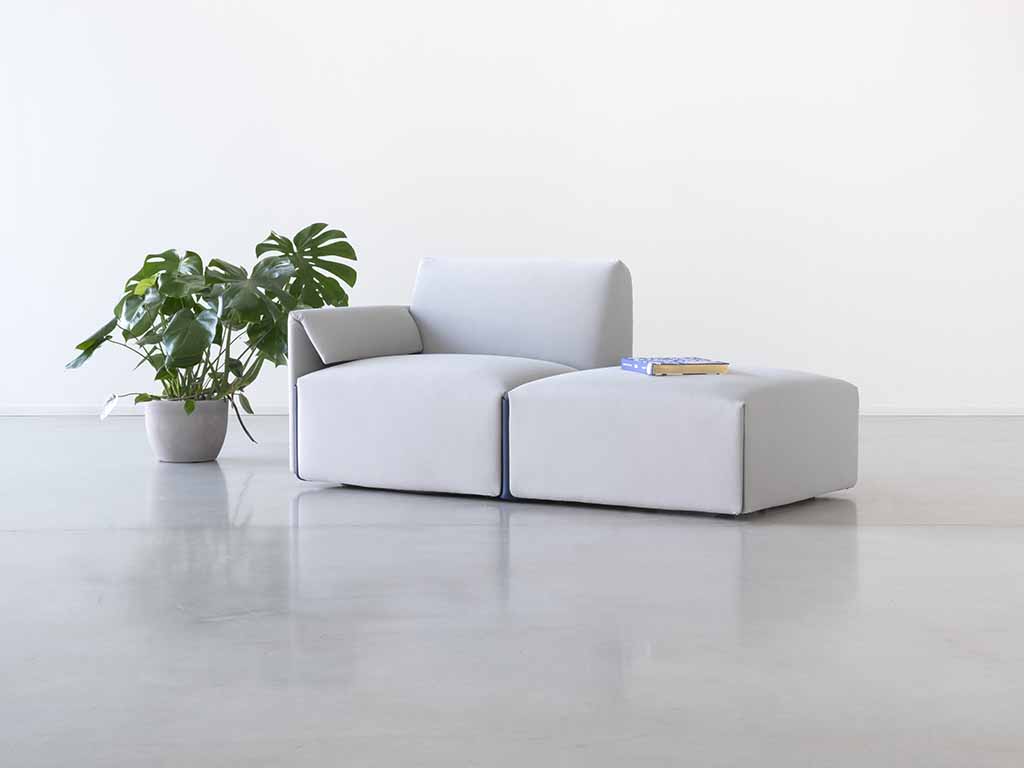 The COSTUME sofa was the first collaboration between the Magis company and the Diez studio, two different realities with a single objective, "to make the journey the destination."
Magis always manages to put itself on the line, with product innovation as its central point. Eugenio Perazza and his team are always looking for new ideas and goals, always putting forward curiosity and continuous research, working with passion and enthusiasm.
Studio Diez is a contemporary team that is dedicated to projects where the result is not obvious, as was the case with COSTUME, a completely rethought sofa. Stefan Diez lets himself be carried away by his work, always learning new things.
COSTUME is an avant-garde piece of furniture that meets the needs of contemporary lifestyles. A versatile, responsible and fashionable sofa!
Gallery
Magis costume