A simple, primary colour, but able to surprise with its many shades and combinations: yellow illuminates the embroideries and textures of the rugs in the Battilossi collections. As if rays of golden sunlight had penetrated the fabrics, giving life to designs and patterns inspired by nature, yellow awakens a sense of cheerfulness and optimism, heralding the arrival of the most carefree season of the year, summer.
Avita, Battilossi
DESIGNED IN ITALY AND HAND-KNOTTED IN PAKISTAN
The desire behind the Avita collection is to give a flat-weave carpet, usually associated with Kilim and Dhurrie, a more refined and sophisticated taste. To achieve this, different weaving and embroidery techniques (soumak) have been identified and experimented with, implementing a more pronounced and consistent flat surface.
The use of phenomenal shades with exceptional colour variegation, mixed weave knotting techniques (soumak) and the finest quality of hand-spun Ghazni wool give the carpets of the Avita collection a unique taste, offering an additional level of depth. Design. Drizzle (Colours: Mint, Haze, Fire, Slate), Ember (Colours: Glow, Orchid, Jade), Flash (Colours: Cadetgrey, Mulberry, Silverblack), Selva (Colours: Coral, Reef, Walnut, Coal), Stelig (Colours: Baraf, Slate), Storm (Colours: Cactus, Salt, Passionfruit, Nila).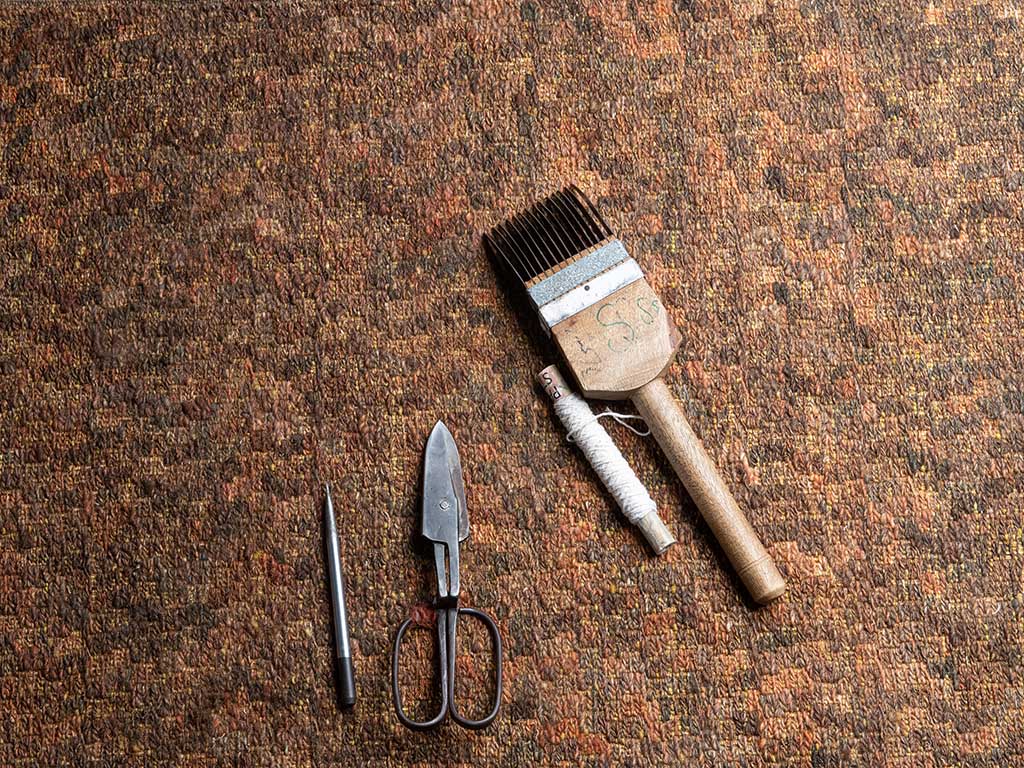 Caleido Concept No.2, Battilossi
DESIGNED IN ITALY AND HAND-KNOTTED IN PAKISTAN
Caleido Concept No 2 is an interpretation of the concept of complementarity. The latter plays a key role in the collection and makes the rug a modular element in continuous dialogue with the environment in which it fits. Caleido Concept No 2 represents a further step towards a style strongly oriented towards interior design professionals, lighting up the colour spectrum and offering unexplored aesthetic outcomes, in the sign of a new sophisticated decorativism.
Three new designs (Akira, Mifune and Kitano) freely inspired by the iconic patterns of vintage Japanese fabrics and kimonos. Three extremely advanced knotting techniques (Tango, Ibiza and Gamla) to give body and materiality to the carpets, in a perfect balance between textures and sculptural surfaces. Three shades (Pastel, Vibrant and Deep) that are easily matched in a harmonious complementarity and designed to work in continuity with Battilossi patterns and qualities. Design. Akira (Colours: Dove, Falcon, Galah, Owl, Sparrow, Starling, Toucan, Turkey, Warbler), Kitano (Colours: Barbet, Blackbird, Flamingo, Heron, Hornbill, Jay, Mackerel, Quail, Trout), Mifune (Cardinal, Grappa, Greenfinch, Malabar, Monal, Ostritch, Peregrine, Trogon, Woodpecker).
Kalash, Battilossi
DESIGNED IN ITALY AND HAND-KNOTTED IN PAKISTAN
With a bold and sophisticated spirit, the Kalash collection takes its inspiration from the Verneh carpets, woven between the 19th and 20th centuries in the Soumak style, an ancient technique used to create a thick and durable textile surface. With this collection, Battilossi emphasises the value of complexity, embellishing the base of each carpet with intricate embroideries that give three-dimensionality and dynamism to dense decorative patterns derived from reinterpreted classical sources. Dense Baroque motifs are rendered more spacious and the curvilinear signs typical of 16th and 18th century Caucasian carpets that used to depict dragons are simplified, becoming geometric traits and giving rise to S-shaped and helical abstractions.
Hand-knotted in pure Ghazni wool, the carpets in the Kalash collection have a wonderful palette of dark reds, ochres and light blues which, combined with the abrage effect, give them an evocative and refined vintage look. Some of the carpets in the collection, on the other hand, present intense shades of purple and teal in perfect balance with the bright golden accents in the borders and fields. There are three main designs (Joya, Kara and Venta), all characterised by a dense repetition of patterns. Design. Joya (Colours: Ivory, Medium Blue, Ochre, Rubi), Kara (Colours: Cheri, Light Grey, Medium Blue and Purple Grey), Venta (Colours: Enji, Indigo, Light Blue, Orange, Olive Ochre, Purple).
Series #1, Battilossi
DESIGNED IN ITALY AND HAND-KNOTTED IN NEPAL
Series 1 finds inspiration in contrast, but it is the colour and its interaction with the materials to the touch that determines its success. The geometric and linear design is achieved through an innovative weaving technique and a carefully chosen mélange of materials. What makes the collection stand out is the particular interaction between the colours and the emotions aroused to the touch: silk backgrounds alternate with woollen parts in a play of material contrasts that give the carpets in this collection a softer texture.
Each Series 1 carpet is in fact elegantly complemented by solid-coloured sari silk, a fabric that blends with the others to create an unexpected and equally harmonious design. The high quality makes the collection perfect for elegant and formal interiors. Design. Edge (Colours: Charcoal, Grey), Flame On (Colours: Silver, Natural White, Indigo, Green, Blue), Niwas (Colours: Brown, Charcoal), Pipes (Colours: Blue, Red, White), Rhapsody (Colours: Blue, Purple Brown, Red), Skyfall (Colours: Blue, Grey, Red).
Series #2, Battilossi
DESIGNED IN ITALY AND HAND-KNOTTED IN NEPAL
The common thread running through the Series 2 collection is the quest for innovation that has led to the design and creation of rugs that reinterpret tradition. The handcrafted and organic feel is combined with the craftsmen's ability to weave intricate patterns and fine materials according to the traditional Nepalese knotting technique. Designed in Italy and hand-knotted in Kathmandu, in Tibetan wool, natural silk and linen.
Each composition, each design has its own finish, which means that each Series 2 carpet has its own character and uniqueness. The collection is designed to be placed in elegant and sophisticated contexts. Design. Arrival (Colours: Charcoal Brown, Dark Blue), Hendrix (Colours: Cream, Purple Haze, Red), Orma (Colours: Brindle, Poppy B, Turtle), Pixel (Colours: Blue, Fog, Silver), Quantum (Colours: Ivory, Magenta, Rasperry), Spiro (Colours: Beetle, Slate).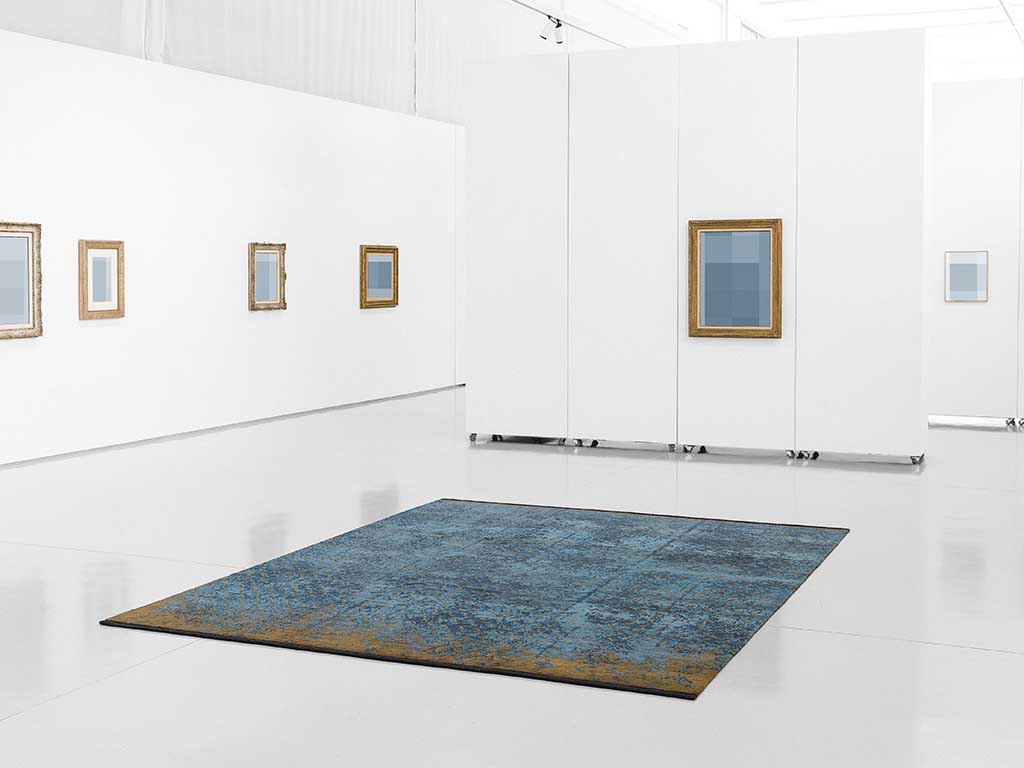 Touch, Battilossi
DESIGNED IN ITALY AND HAND-KNOTTED IN NEPAL.
Perfectly matched colours, seductive textures, subtle designs, a complex weave and precise details. The design of Tocca is characterised by an extremely complex weaving structure, with more than six layers that create works of craftsmanship that are unique to the touch. The Tocca collection is made of the highest quality Tibetan wool and linen and is hand-knotted in the Kathmandu valley. It is designed to be placed in urban and elegant contexts that are well suited to the richness of colours and quality of materials that this collection offers.
In the Tocca collection, geometry, colour and texture dialogue, creating a movement, a true dance of elements that give life to a harmonious and elegant result. Design. T1 (Colours: Lemon Grey, Shadow, Silver), T2 (Colours: Silver, Dune), T3 (Colours: Grey, Spring, Steel Dune), T4 (Colours: Orange, Persian Plum, Sahara), T5 (Colours: Copper, Petrol), T6 (Colours: Cream, Pearl, Smoky Quartz).
Milton Glaser, Battilossi
DESIGNED IN THE U.S.A. AND HAND-KNOTTED IN PAKISTAN, UNIQUE PIECES
Precious yarns, passion for colour and curiosity in exploring parallel universes: Battilossi presents the carpet collection of the legendary American graphic designer Milton Glaser. famous for inventing the "I Love NY" logo and revolutionising graphics in the 1960s by creating the iconic image of Bob Dylan with psychedelic hair, with forays into the world of design such as his collaboration with Ettore Sottsass for the launch of the Valentine typewriter.
An all-encompassing talent, Glaser has conceived a miscellaneous series of carpets where one cannot read a common thread, but multiple keys to research and inspiration, from impressionism to tribal painting, from abstract art to graffiti art. A series of stunning hand-knotted carpets from Nepal made of soft Tibetan wool and fine silk characterised by unique designs, which catch the eye with graphic strokes, animalier flowers and mystical symbols. VDesign. Applique (Colours: Salsa/Radish), Art Noveau (Colours: Alpine, Swan), Eclipse (Colours: Chalk), Mandala (Colours: Air, Earth, Water), Monster (Colours: Onyx, Poplar), Paper Dragon (Colours: Stratus, Shiraz), Paper Flower (Colours: Jasmine/Petal), Snakes (Colours: Charcoal, Barley), Stems (Colours: Guava), Tantra (Colours: Tomatillo), Vines (Colours: Beryl/Pond). battilossi.com