'Argento' is the futuristic concept chosen by Leonardo Talarico for the debut of Alice Ceramica in his new showroom in Milan, in the central Brera district, a hotbed of innovation, trends and design.
An exclusive showroom in Via Goito 3, in which the collections of the young design brand from Civita Castellana, recent protagonist of a rebranding that makes it recognisable in the panorama of the production of new generation washbasins and sanitary ware, will be interpreted from 17 April and on a permanent basis after the conclusion of the Salone del Mobile. The star of the Fuorisalone, which will take place from 17 to 23 April 2023, will be Alice's ToTem installation with ceramic washbasins from the Equilibrium collection, designed by Massimiliano Braconi, in the total matt black version. A metal rod accommodates the conical geometries of the innovative washbasins, which – with a base of only 10 cm – stand as a sophisticated technological object, defying the laws of stability: never before has a ceramic washbasin been in production with such proportions!
Superimposed in strict geometric order, they transform their original function as everyday objects to become emblems charged with meaning. Immersed in an evocative environment completely dominated by silver, they become a symbolic installation, a messenger of values: purity and truth, justice and temperance, not by chance synonymous with balance. The installation invokes well-being and evokes water, the most precious life-giving commodity, to which we must do justice by preserving it. With ARGENTO the material has become a symbol, the object has been transformed into a message: a totem is a spiritual being, a sacred object just like the evoked water to which the world of Alice Ceramica owes its mission.

Alice Ceramics Equilibrium
The basin with a conical profile and 10 cm base that defies the laws of stability! design Massimiliano Braconi.
Harmonious curves and essential volumes: the basin of the washbasin is circular but has a conical profile and an original design to become the protagonist of the bathroom environment. It is called Equilibrium and is the collection designed by Massimiliano Braconi for Alice Ceramica that is expressed in 3 different types of washbasins and is available in as many design proposals: countertop, freestanding or complete with UNI structure. Equilibrium was born from the study of the conical shape and the development of its functionality in space. Three washbasins with three different heights – 20 cm, 17.5 cm and 15 cm – for as many elegant aesthetic solutions that are in line with the company's philosophy: to produce artefacts with character, practicality and rationality while always paying great attention to research. The Equilibrium washbasins are developed on a base of only 10 cm and stand as a technological object, defying the laws of stability: no ceramic washbasin is in production with similar proportions!
The result is a winner: not only aesthetically pleasing washbasins, but above all washbasins in which it does not become bothersome to wash daily – as is often the case – with cramped basins that only return unpleasant splashes.The conical line, with its lightness and elegance, meets maximum expressiveness in the Equilibrium h20 washbasin with its perfect design geometry that in its profile recalls a delicate inverted funnel. Equilibrium h17.5, on the other hand, plays with volumes, celebrating their expressive creativity: the Ø 10 cm washbasin base rises to suddenly expand into a Ø 40 cm bowl. Finally, the line of the Equilibrium h15 washbasin is softer and also more compact to the eye : embellished with a 5 cm high square edge that gives its profile a solid appearance, it offers a design that fades towards the base.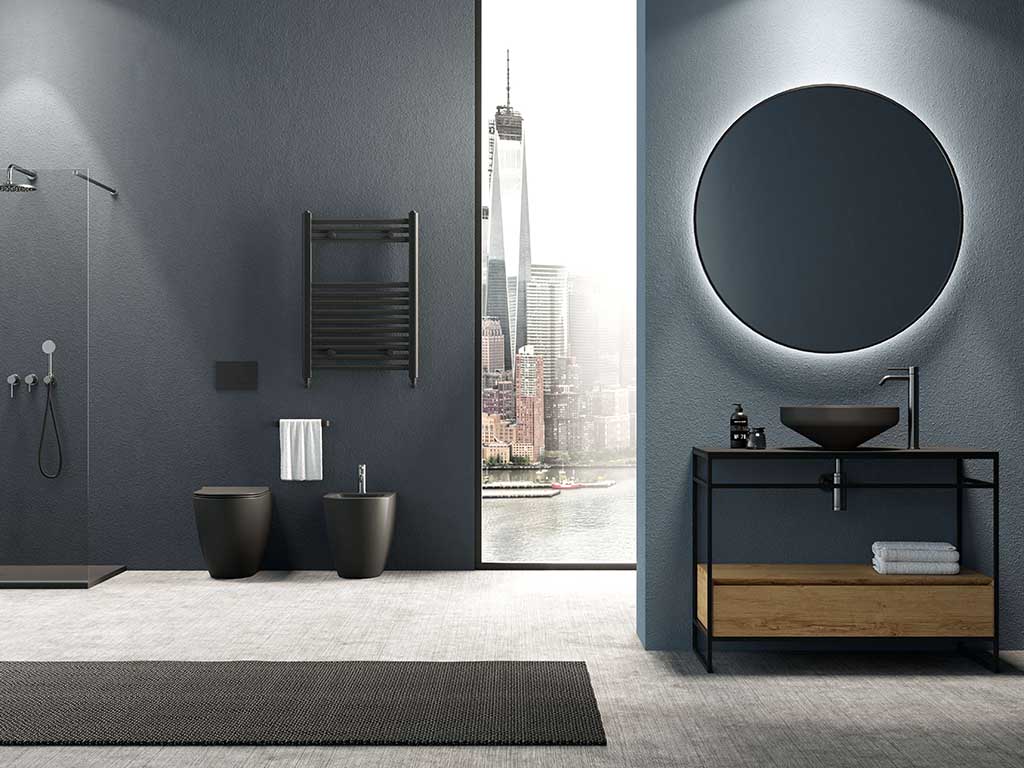 All three washbasins have an internal basin with an excellent capacity with a minimal 5 mm rim and a ceramic drain in a matching finish. They are available both in the simple wall-hung solution with a visible siphon (chrome or matt black) and in two modular solutions. The first is a freestanding solution with a 72.5 cm high ceramic column. Conical in shape, it too is statuesque and elegant (Ø 22.5 cm base, Ø 10 cm top) and is available in both the floor and wall drainage versions. The second is a countertop solution combined with UNI structures in three different widths 50, 75 or 100 cm. The structures are made of powder-coated stainless steel and come with an integrated ceramic top, both available in all Alice colours and finishes. Practical and functional, they feature a wooden drawer with 45° cut-out and slow-closing mechanism, available in oak, white or black finish. With Equilibrium, no limits to the imagination and space for creativity with all the available finishes for an always original mix&match. There are 9 colour solutions in Matt finish: White, Black, Coffee, Anthracite, Grey, Sand, Ash, Alpine Green, Pink and 4 colour solutions in Gloss finish : Tabasco, Myrtle, Pine, Honey. Refined and elegant, finally, are 4 solutionsin Materia finish obtained by an exclusive production treatment called decalcomania, a special film applied to the pieces before the last firing step in a kiln at 900° to make the Carrara; Marquinia; Bronze and Amazon versions.
Alice in brief
A young company with consolidated know-how, ALICE CERAMICA produces new generation washbasins and sanitary ware with a strong vocation for design in the historic industrial district of Civita Castellana (VT). 1000 pieces produced per day; 30 different steps for each single article (from casting to the finished product); 20 finishes; 2 advanced technologies aliglaze+ and aliflush+ and 15 collections in the catalogue, these are the numbers of a production of excellence that has obtained the most important international quality certifications. Company values, mission and entrepreneurial vision are now identified in a new logo and communication materials devoted to a contemporary spirit and language, while remaining faithful to the artisan soul that characterises the company. aliceceramica.com