After its presence at the Milan Design Week, Abet Laminati confirms its participation at Interzum 2023 (Cologne, 9-12 May), in a new edition, full of ideas, inspirations and innovations. Giulio Iacchetti and Matteo Ragni, the company's design curator, have designed an exhibition space that will showcase all the latest innovations.
TheAgora, re-proposed in a new radial formula and realised with laminates produced only with 100% recycled kraft paper, will as always be the fulcrum of the exhibition area. To frame the central area, Abet has chosen to arrange a series of displays, on which it will be possible to observe a selection of decors and finishes from the Abet range. The exhibition space closes with a wall, above the reception desk, on which a large A is composed of more than 400 sample tiles, all decors from the Colours Collection.

THE PROTAGONISTS OF THE STAND
For its presence at Interzum, Abet Laminati envisaged a stand designed to best showcase its various proposals and realisations. Externa in the shade 475 Pearl Grey was chosen for the floor, the light shades of Diafos were selected for the vertical section and the counter, 726 from the Metalli Series was chosen for the display bases, and again MEG-H for the Agorà. For the exhibitors, the real protagonists of the kermesse, the proposals of the Legni and Rocks collections join the new Polaris Contemporary proposals, which presents itself as the great novelty of Abet, with its 12 decors. Polaris, in fact, taking its cue from the Abet collections, is tinged with new colours and textures for Polaris Contemporary. Agave 1947 and Circè 1834, which are among the nuances in line with the interior trends for 2023, are joined by Brick Red, Shark, Forest Green, White Birch and others. Polaris Contemporary is a material with unique characteristics starting with its deep and full surface effect.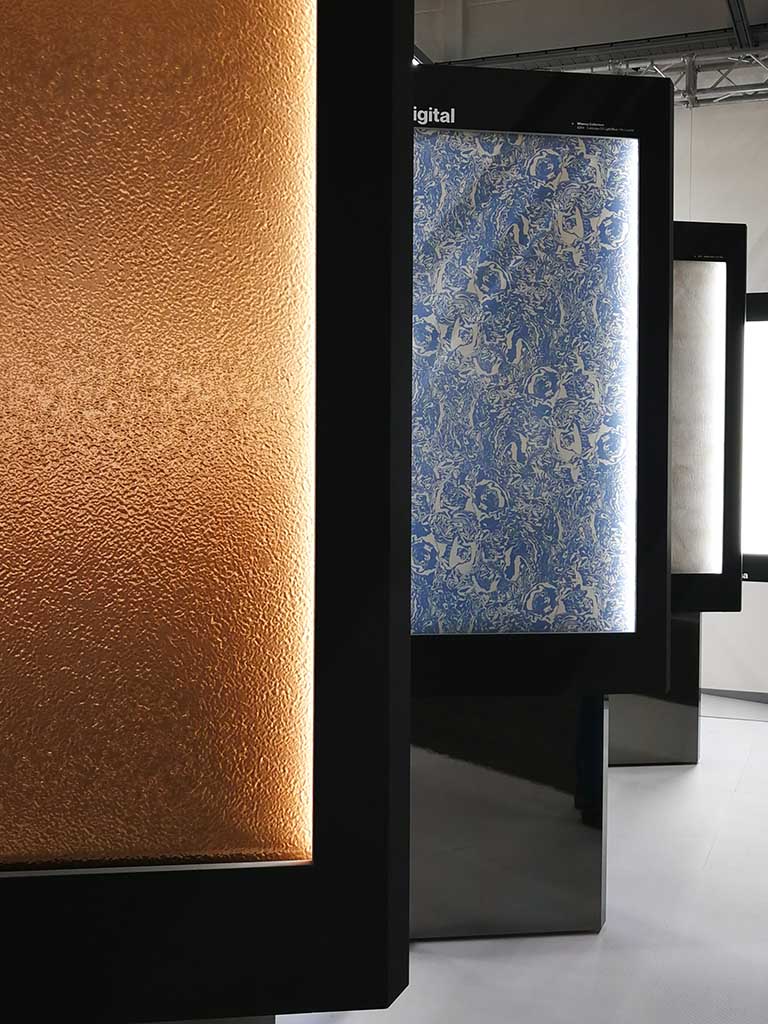 Polaris Contemporary is a decorative laminate that is warm and velvety to the touch, highly resistant to scratching, heat and is fingerprint resistant. The metal series, on the other hand, is enriched with new finishes: Magma, Pluriball and Surfline, with a strong personality, able to emphasise the brightness and character of the surfaces. Not to be forgotten are the finishes that characterise the other Abet surfaces such as the latest GEO, with PAPIER, CLIMB and the youngest of the proposals, OSTUNI, combined with the surfaces on show from the Rocks collection. Also present are ROOT and BARK with their decisive character capable of giving the decors of the Legni collection a material and markedly wooden texture. To close the exhibition, the ever-present digital print decors. For the event, the decors of the WHIMSY COLLECTION by Arthur Arbesser, the latest collection in digital print, presented at the Milan Design Week 2022, were chosen.

ABET LAMINATES
Founded in Bra at the end of the 1950s, today Abet Laminati is one of the most important manufacturers of decorative laminates present in Italy and in over 90 exporting countries. With a wide range of collections that combine structure and image, cutting-edge technology and aesthetic research, Abet Laminati listens to, responds to and anticipates the numerous requests of a constantly growing and defining market. Under the guidance of current design curators Giulio Iacchetti and Matteo Ragni, today the company promotes projects of free creative exploration of surfaces, inspired by the desire to look at each material beyond what it appears, to think of it in a different context, to give it new and disruptive dignity. abetlaminati.com