Ernestomeda presents an absolute preview of HiD™, a patented system for under-floor induction cooking developed in collaboration with FENIX, the innovative materials that have revolutionised the world of interior design. The result of painstaking research and experimentation, the HiD™ system has found in FENIX® the ideal partner for the application of induction cooking hitherto impossible on this type of material.
A prestigious innovation that Ernestomeda will be pleased to present at Fuorisalone 2023 on the Obliqua model, with a FENIX top in Etna Grey, created exclusively for the company. In this successful triangulation between design and technology brands, a perfect combination of style, new trends and avant-garde will open up. Throughout Design Week, the renovated Ernestomeda Milano by Misura Arredamenti showroom in Via Larga 9 will open its doors to visitors to the Milan event, who will be able to admire all the brand's new products up close. Ernestomeda, a leading company in the market for high-profile designer kitchens, was founded in 1996 and produces high-value products at competitive prices, with a style that harmonises design, technology, sustainability and safety. The range now includes multiple programmes characterised by a wide variety of finishes and materials. The headquarters in Montelabbate (PU) cover over 32,000 square metres and employ 140 people, efficiently covering every single stage of the production chain.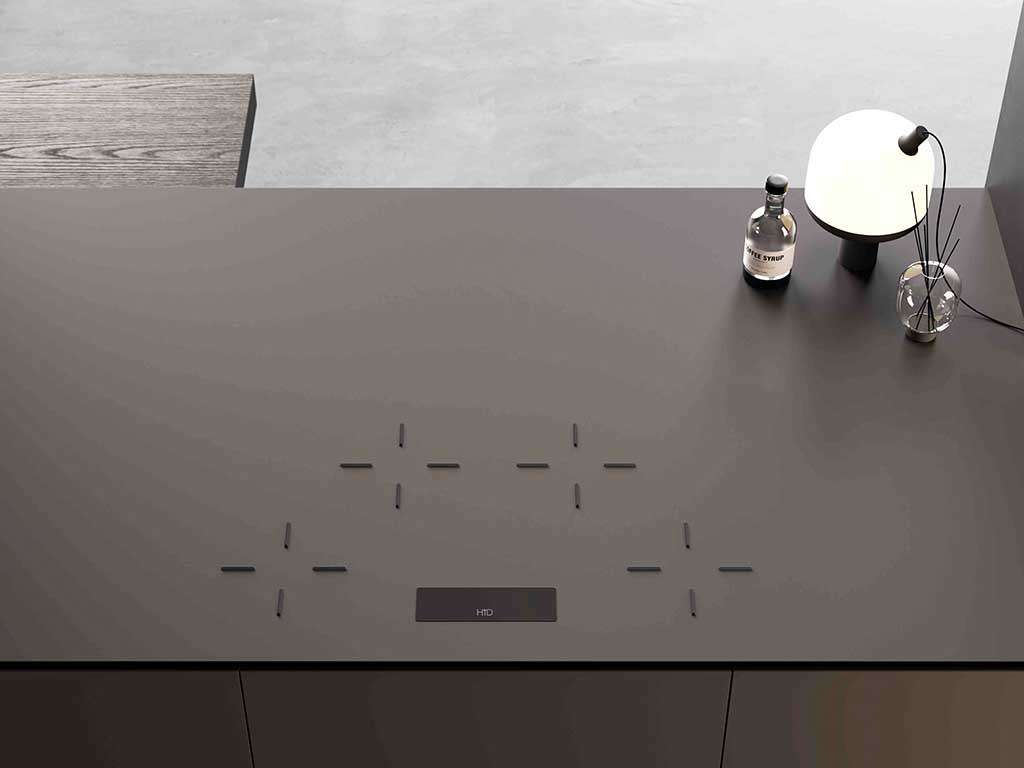 Ernestomeda's mission to make design and quality accessible to many is well represented by its continuous drive towards research, safety and technological innovation, as testified by the important certifications obtained (Quality Management – UNI EN ISO 9001; Environmental Management – UNI EN ISO 14001; Worker Health and Safety Management – BS OHSAS 18001, later replaced by UNI ISO 45001; Certification of Italian origin of COSMOB furniture – reference standard UNI 11674). In addition to the numerous certifications obtained over the years, we have recently added the important Certification for Product Circularity, in compliance with the regulation on environmental declarations UNI EN ISO 14021. The new certification is part of a virtuous path taken by the company, which has always been sensitive to environmental and sustainability issues and has long been committed to reducing its footprint on the planet. Ernestomeda LEED Compliant for credit EQ 4.5 "Low Emitting Materials – Furniture and seating".
FENIX®
FENIX are the innovative materials created by Arpa Industriale for interior design. Launched in 2013, they are suitable for both vertical and horizontal applications. FENIX materials have been developed by a multidisciplinary international team. The outer surface of FENIX, based on proprietary technologies, uses new generation acrylic resins, hardened and fixed through an Electronic Beam Curing process. With low light reflection, FENIX's surface is extremely opaque, anti-fingerprint and pleasantly soft to the touch. In 2018, a new FENIX factory following an Industry 4.0 approach was inaugurated within the Arpa Industriale production site. As of December 2021, innovative FENIX materials are carbon neutral. FENIX is distributed in over 70 countries and has won numerous awards and prizes, including: Compasso d'Oro Honourable Mention, ADI Design Index, Interzum Award 'Best of the Best' and 'High Product Quality', Red Dot Product Design and Iconic Award 'Best of Best'.
HiD™ Patent
The HiD™ system, a patent owned by the company Latini Elio e C. sas, allows the concealed application of special induction cooking, specific for domestic use, on different types of materials. Through the technical and technological solutions achieved, which are the subject of the patent, an important containment of the criticalities that the materials of the tops are forced to endure, during operation, has been obtained. The discreet and refined charm that the system offers, leaves it to the details to make HiD™ an icon in time, freeing design from old constraints. ernestomeda.com