An exciting interplay of luxurious materials and simple forms is the common thread running through the interior of this penthouse. The design is inspired by the location and features of the approx. 165 m² living area and the 380 m² terrace, which houses an outdoor sauna, whirlpool and infinity pool. Located on the 9th and 10th floors of a new building, the flat and its three-sided terrace sail like a yacht over the rooftops of Vienna.
Many of the bespoke wooden fixtures are perceived as floating – from the dressing room to the en-suite bedroom to the boudoir with a luxurious dressing table, while storage space and hidden doors have been invisibly integrated into the wall using laminated walnut.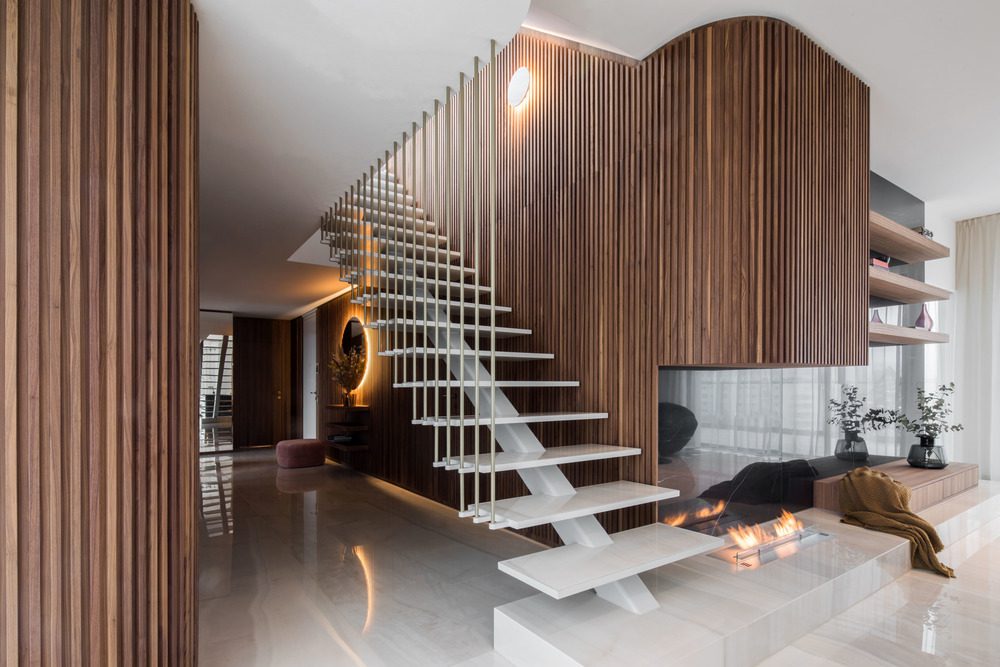 Thewooden elements form a stark contrast to the floors: bright, large-format polished porcelain tiles (with a marble-like appearance) in the reception rooms and high-pile velvet in the private rooms. These materials offer subtle nods to the 1970s, with backlit mirrors. Even the spacious eat-in kitchen has a ship-like appearance. Behind the glossy white fronts, its dark walnut interior is intricately designed, down to the smallest detail. Thecentral element of the living room is the bioethanol fireplace. Slightly raised, set in a light marble base, it is supported by a large, dark porcelain stoneware wall with a marble appearance, which, in addition to the flames, also reflects the aesthetics of classical modernism. The base is also the first step of the metal staircase to the upper floor, whose filigree railing takes on a supporting role and makes the structure appear weightless.