A style without boundaries, between avant-garde and innovation
Gaetano Pesce's art and design represent a unique style, without disciplinary boundaries. A world-renowned architect, urban planner, designer and artist, he knows how to unite all disciplines in a marriage of avant-garde and innovation. For over forty years Pesce has been designing and exhibiting public and private works in the United States, Europe, Latin America and Asia.
Inspiring his work is the principle that modernism is not so much a style as a method for interpreting the present and anticipating the future, in which individuality is preserved and celebrated. For Pesce, the boundaries between art, design and industry are not relevant. In fact, he conceives art itself not as an object to be put on a pedestal, but as a product, the creative response to the needs of the time in which we live.
Multifaceted by nature, he has a vast production of works and projects to his credit.
Life
Gaetano Pesce was born in La Spezia in 1939 and graduated in Architecture from the University of Venice in 1963. During his university years, he was part of Gruppo N, a collective that dealt with programmed art on the Bauhaus model. In 1962 he embarked on a career as a designer, starting his collaboration with the company C&B (today B&B Italia).
In 1972 he took part in the exhibition Italy, The New Domestic Landscape at the Museum of Modern Art in New York. It was in New York that Pesce moved to 1983, founding, among other things, the company Fish Design.
In 1996, the Centre Pompidou in Paris dedicated a large retrospective exhibition to him. Today, his works are exhibited in some of the world's most important museums. Pesce is in fact present in the permanent collections of the Centre Pompidou and the Louvres in Paris, as well as the MoMa in New York and San Francisco, the Metropolitan Museum in New York, the Vitra Museum in Germany and the Victoria and Albert Museum in London.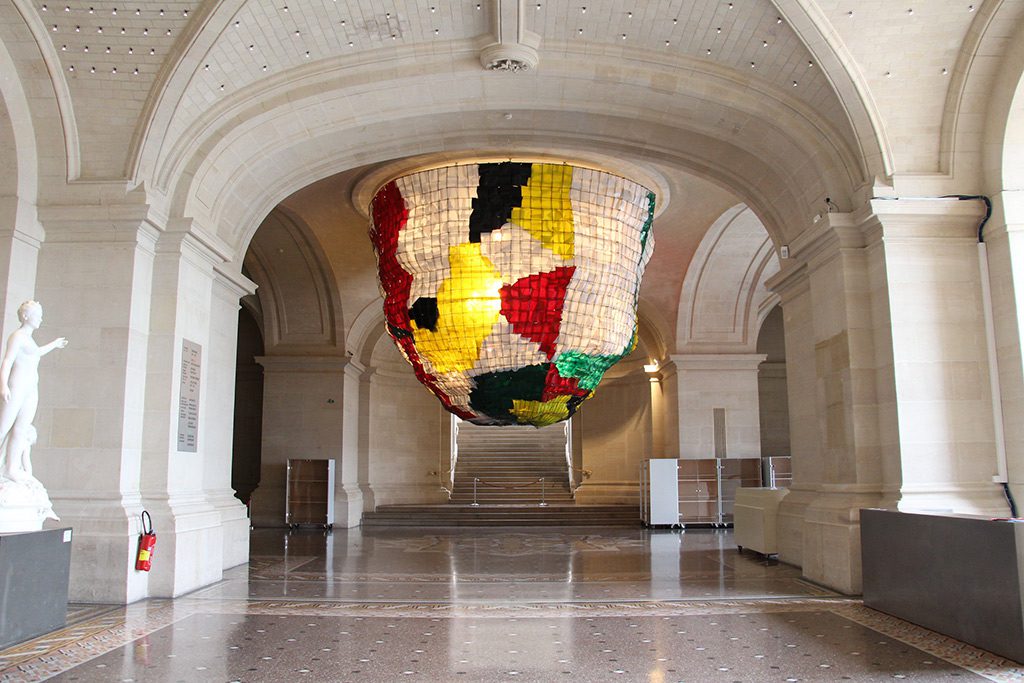 A design free of canons
Gaetano Pesce's career as a designer began in the early 1960s. Colourful and 'biomorphic', his style takes up the legacy of pop culture and new trends in design: no longer merely functional, objects and architecture are now freed from formal rigidity. The result of his first collaboration with B&B Italia is the Series UPa series of seven models of polyurethane foam armchairs that immediately became Made in Italy industrial design icons .
The most famous of the series is the UP-5inspired by the sinuous shapes of votive statuettes of fertility goddesses. The choice of this reference is not accidental, but a true manifesto in support of gender equality, in a society that still relegates women to second-class roles. The same series was revived by B&B in a new edition in 2000. In 2010, on the occasion of the celebration of the 150th anniversary of the Unification of Italy, the work Sixty-one. It consists of sixty-one tables handmade from painted resin and assembled in the shape of a 'boot'. The project was created for Cassina s.p.a.
In addition to the two mentioned above, some of Gaetano Pesce 's most famous industrial design works are:
Moloch, lamp for BraccioDiFerro (Cassina group company) (1971)
Sunset in New York, sofa for Cassina (1980)
Sansone, table for Cassina (1980)
Dalila I,II and III, chairs for Cassina (1980)
I Feltri, for Cassina, cosy, mouldable felt armchairs (1987)
Cannaregio, set of ten modular seats made for Cassina (1987)
La Michetta, modular sofa for Meritalia (2005)
L'Abbraccio, collection made for Le Fablier in wood and resin (2010)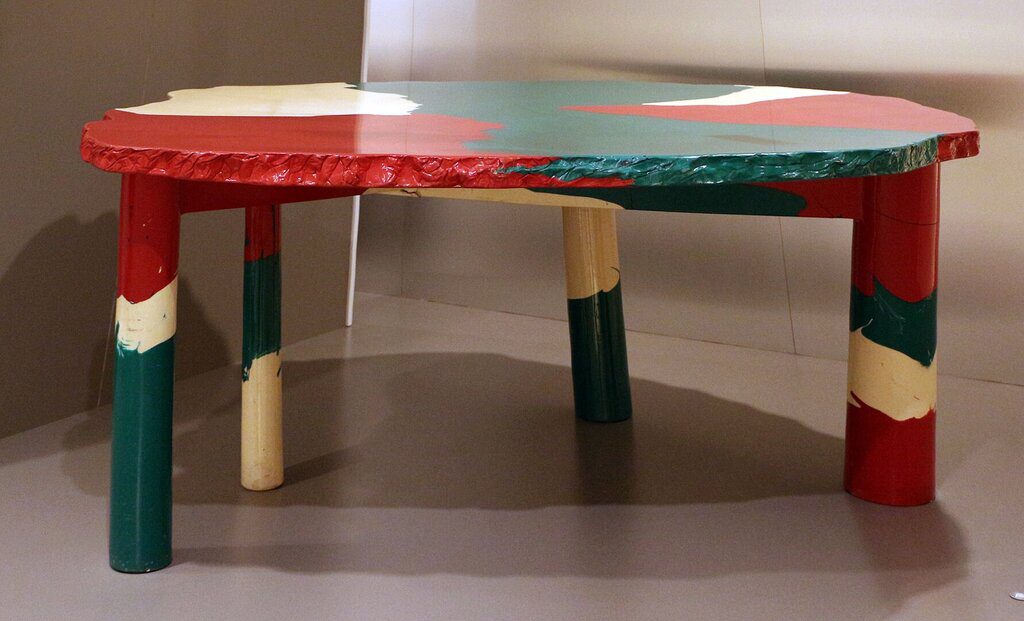 Sculptor and architect
Design and sculpture are two disciplines that Gaetano Pesce pursues in parallel: he often fuses them together, in line with his interdisciplinary approach. Since his early years, he has worked on sculptures and installations. One of his latest works, in this sense, isItaly on the Cross (2011), a sculpture in which a bleeding Italy hangs from the Cross according to Christian iconography. Like Christ, Italy has the hope of resurrection.
In architecture, Pesce embraced the trend of the radical movement, an experimental movement that developed between 1960 and 1975 with the intention of giving a new creative thrust to this discipline. Proposing a new relationship between form and function, the trend opened up to the use of new technologies and a 'theoretical' rather than real type of functionality. The organic element is central to Pesce's work, as he states with his Organic Building realised in Osaka, Japan, in 1993.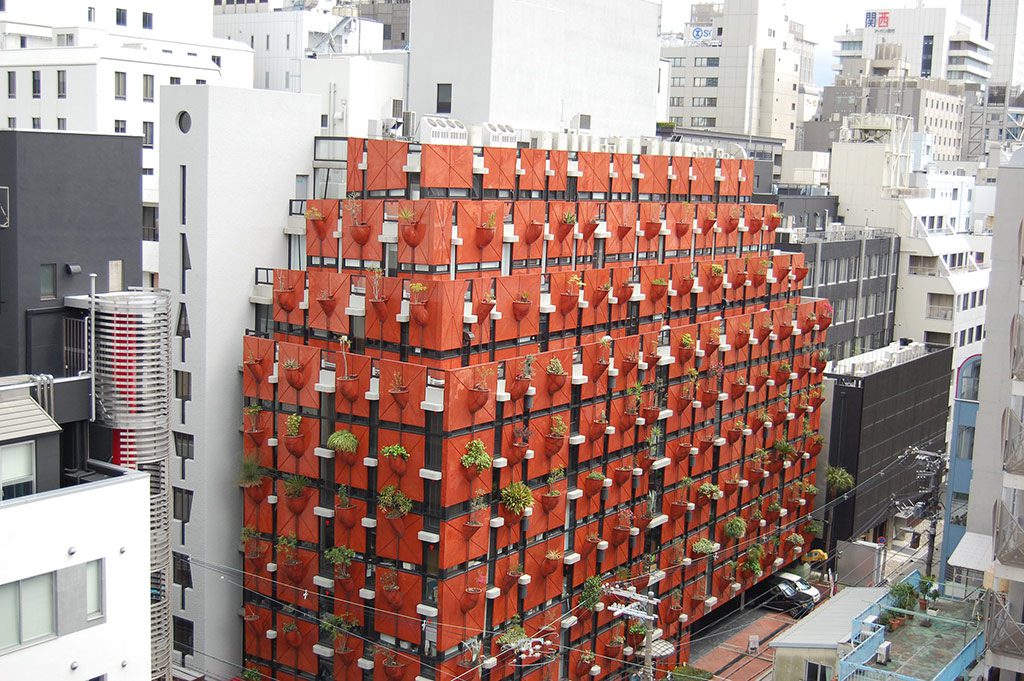 University lecturer
Parallel to his design and artistic activities, Gaetano Pesce has also taught architecture at numerous universities. These include the Institut d'Architecture et d'Etudes Urbaines in Strasbourg, Carnegie Mellon in Pittsburgh, the Domus Academy in Milan, the Hong Kong Polytechnic, the Architectural School in São Paulo and Cooper Union in New York City.
Fiammetta Cantini @Stiledesign. Reproduction reserved
You might also be interested in: