The days are getting longer and it is finally time to think about holidays. On 18th May 2023, the Isamar Holiday Village season opens in Isolaverde di Chioggia, in the province of Venice, with many novelties for a holiday in the open air, in nature, by the sea. For large families or groups of friends Isamar offers the new Nova 3XL luxury chalets, while for those who want to experience their holiday in a more intimate dimension here are the brand new Sirio Junior, real junior suites in nature. Awaiting the youngsters will be the Pump track, a fun track for 2 wheels, skateboards and skates with parabolic curves and exciting whoops, without forgetting the fabulous water park, which will be the protagonist of their holiday: 14,000 square metres of fun with pools for the little ones such as the Laguna pool, adrenaline-filled descents with the multi-slide and heated pools for a guaranteed dive even on cooler days.
Nova 3XL, luxury chalet for large families
Isamar also thinks of large families or groups of friends travelling together. Last season, the revolutionary Nova 3XL, an extra-large mobile home for 10 people, was met with great enthusiasm by guests. The Nova 3XL features a very special and innovative design. The interior space is entirely reserved for the sleeping area, while the outdoor space becomes a large open-air living room with an open kitchen. In the sleeping area there are 2 double bedrooms and 1 "children's" room all with their own en suite bathroom, for a total of 10 beds. The huge terrace/living room has a super-equipped, hi-tech kitchen, with a column fridge, induction hob and dishwasher, and a large relaxation area with dining area and sofas.

Junior suite in nature
A small hotel suite, but in nature. The glamorous touch makes it stand out among the tree-lined avenues and colourful flower beds. It is the latest addition to the Isamar house and is called Sirio Junior. It has two rooms with high-comfort mattresses and two spacious bathrooms with rainfall shower heads, one of which is en suite in the master bedroom, a hi-tech kitchen with the best appliances.Anelegant terrace, with shading curtains and protected on both sides by a wall of adjustable wooden panels, transforms it into the ideal place to relax, dine al fresco and enjoy moments of privacy with the family.
New in 2023, guaranteed fun with the Pump track
Ready for new challenges and tests of dexterity? At Isamar, summer 2023 opens with a great new attraction: the Pump track, an amazing track for bicycles, skateboards, roller skates and scooters, with parabolic curves and exciting whoops. In the Pump track you ride your bike without pedalling, you have to find the right way to move your body and your bike. A dynamic playground that promotes a healthy and active lifestyle, bringing children closer to physical activity, but also an attraction suitable for all ages. For experienced bikers it becomes a perfect training ground where they can improve their riding technique and challenge their friends to powerful workouts.
A plunge into the blue!
14.000 square metres of fun and relaxation. The water park appeals to the whole family: those who want to relax by the pool and those who are looking for the thrill of sliding on the multi-track. Surrounded by sea-view terraces, it promises unforgettable moments of fun. A favourite with everyone is the splendid Laguna pool: almost 2,000 square metres entirely dedicated to the little ones and to relaxation for the whole family. The fun continues with the adrenaline-filled descents in the Olympic-size pool: 6 simultaneous slides from a single 7-metre-high launching ramp. A little further on is the baby pool with a castle and 3 slides, a swimming pool with lane and counter-current swimming, a whirlpool, a beauty centre with massages and treatments, and a gym open to all and free admission, with staff on hand for personalised training. The baby pool and the one with the slides will have heated water in the cooler season: they maintain comfortable temperatures for swimming during the day, between 25 and 28 °C, with or without sunshine, allowing children to spend carefree hours in the water park and adults to enjoy water sports.

Isamar new Sport & Fun Park
20.000 square metres entirely dedicated to sport and play, for all ages. Pack your passions, at Isamar Holiday Village fun is guaranteed with tournaments and challenges to the last breath, day and night. A gigantic green oasis with four tennis courts and one football pitch, two five-a-side football pitches, a basketball court, a volleyball court and a professional 18-hole miniature golf course. All the courts are illuminated at night until 11 p.m. and are of regulation size, especially the tennis, football and miniature golf courts, which are affiliated with the respective Federations. For anyone wishing to try their hand at a new sporting discipline, Isamar offers free football, tennis and basketball Academies, led by professional instructors. Children have a huge play area with inflatables, merry-go-rounds, mini basketball, trampolines and a large grass park to run around and have fun. The playground is located right next to the restaurant, allowing parents to dine in relaxation while the children play freely a few metres away.
Playground: 10,000 square metres of fun for the little ones
A large play castle with slides and climbing, inflatables, trampolines and jumping, merry-go-round and baby-car track. A paradise for children surrounded by lots of green space where they can run free, perfectly lit at night. This is Isamar Holiday Village's enormous playground: a 10,000 square metre area entirely dedicated to fun, which always leaves the little ones spellbound and which, thanks to the direct connection with the restaurant, allows parents to dine in peace while the children have fun a short distance away. Children and teenagers will feel like the stars of the village thanks to the exciting activities organised by the mini club (4 to 10 years) and the teen club (11 to 17 years) run by an international animation staff. For those who want to continue the sports activities carried out during the year or want to try their hand at a new discipline, Isamar offers the opportunity to attend free football, tennis and basketball Academies, led by professional instructors.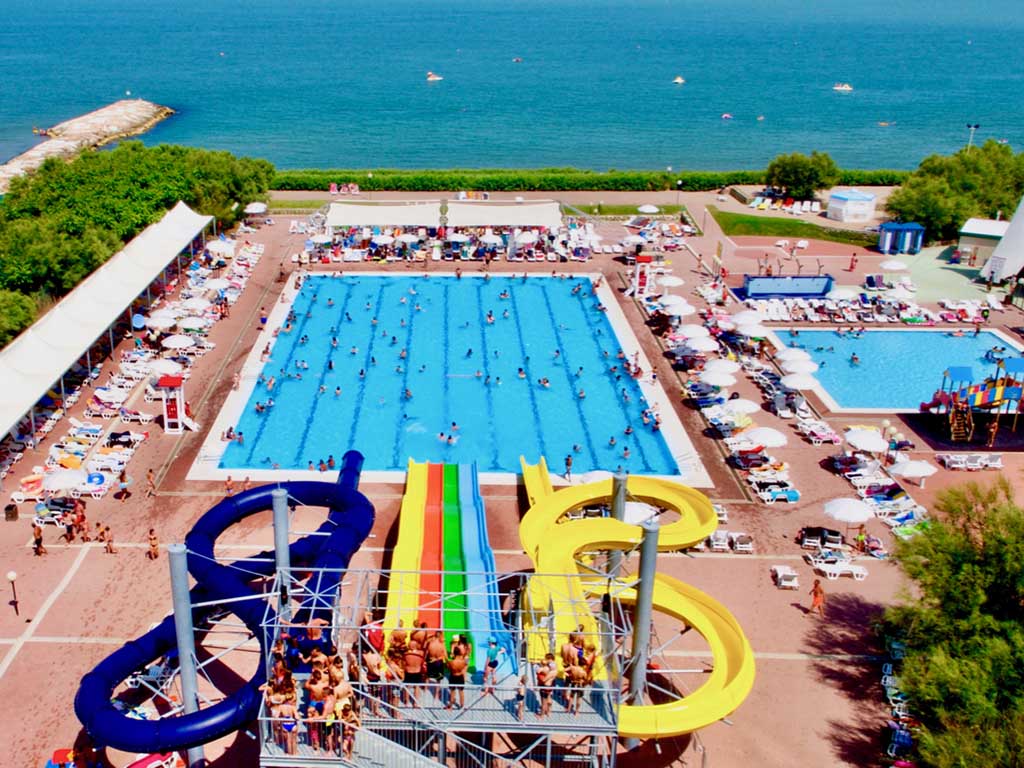 Discover the Tegnùe Marine Park with Isamar Diving Centre
Isamar has a special surprise in store for its guests who love the sea and its depths: Isamar Diving Centre. Affiliated with CMAS, it is a guarantee of safety and professionalism. It organises diving courses for adults and children, for beginners eager to embark on a new adventure, but also for those who are already qualified and want to take their licence. Younger children can start with the Baptism of the Water, equipped with tanks and customised equipment, in the village swimming pool. Isamar Diving Centre also organises open-sea dives, to get to know a fascinating and still little-known naturalistic area, the splendid Tegnùe marine park in Chioggia . Fishermen have always called them Tegnùe because of their ability to hold and break nets. They are the submerged rocks of the northern Adriatic, real natural reefs, occupying an area of about 35 km and becoming a reference point for the most passionate divers for the life forms that can be admired by diving in these depths. An area of high naturalistic value, which in 2002 was declared a biological protection zone, with a fishing ban. Particularly popular are dives in search of wrecks lying on the seabed, including the merchant ship Eudokia II, a cargo ship that sank in 1991 following a collision, 6 miles off the coast. 100 metres long and 12 metres high, it is now entirely covered by marine flora and is home to many species of fish, crustaceans and molluscs.
Isaresidence Holiday Resort
Those who wish to experience their holiday in a more intimate and peaceful setting can choose Isaresidence. A residential complex of 130 design flats with swimming pools and private beach, set in a large green park overlooking the sea. Isaresidence opens the season with a major restyling of the terraces, which are more shaded and protected to guarantee greater privacy. Guests can enjoy all the services of the village, which is reached by a short 300-metre walk along the beach. Many, however, prefer the tranquillity of Isaresidence, with its equipped private beach and swimming pool area with the new Laguna, a sort of large 500 square metre bathing area with a depth of 40 cm, where you can relax in the sun. villaggioisamar.com