The Hotel Hanswirt reopens on 31 March – here are the offers for an early spring stay. Charm and tradition at Hotel Hanswirt, the historic resort between Merano and the Vinschgau. Hotel Hanswirt is a modern and luxurious resort ****S but with old-world charm, whose roots go back more than 700 years to 1357. Owned by the Laimer family for over 400 years, today Hanswirt is a blend of historical tradition, luxury, wellness and modernity, while in the kitchen, ancient dishes are skilfully revisited.
The hotel is located at the beginning of the Vinschgau Valley but at the same time only a few kilometres from the spa town of Merano, which guarantees the possibility of immersing oneself in nature but not renouncing the pleasures offered by a small town, such as the thermal baths and the Botanical Garden. On 31 March it will reopen its doors after the winter break, and the months of April and May are undoubtedly one of the best times to devote time to oneself, to nature or to regain energy.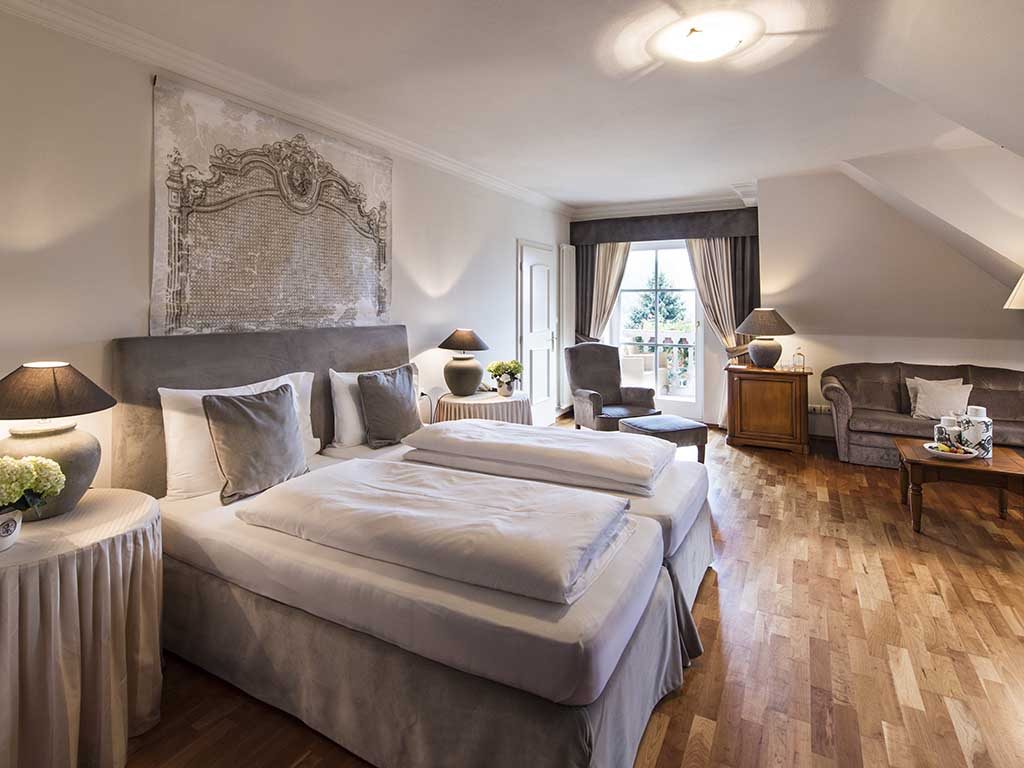 The two heated swimming pools (indoor and outdoor), the five saunas, the wellness trails and the relaxation gardens take on an even more pleasant flavour after the winter, as the new season blossoms. The panoramic windows of theHotel Hanswirt offer a view of the 6,500 sq m wellness park with its palm trees, maple trees and lavender plants. The Kelo sauna, on the other hand, is truly unique. It was built inspired by Nordic tradition, from real Kelo wood of arctic origin, i.e., 100-year-old logs from Finnish forests.
Inside the sauna you can breathe deeply, enveloped in a fresh, pleasant resin aroma, and the 85°C does not strain your breathing: Finnish-style well-being. The Val Sarentino dwarf pine steam jets promote detoxification, clear the respiratory tract, tone and relax, and after the session, it is worth regenerating yourself with a cold mist shower, ice crash or cold water immersion. The soft sauna in theHotel Hanswirt is suitable for those who do not like high temperatures and prefer not to stress the cardiovascular system. The Turkish bath, on the other hand, can be used to prepare the body for the sauna, while the hay bath – Heukraxenbad – exploits the benefits of the essential oils contained in the hay and mountain flowers, which release all their strength and delicate fragrance.
Many of the spa's treatments, massages and beauty packages are also inspired by the TEAM DR JOSEPH method, which works deep into the tissues. By following the natural functional laws, the skin's metabolism is balanced, the nervous system is relaxed, and microcirculation is normalised, to heal and maintain the feeling of well-being. hanswirt.com