Graziano Prà's estate, with its refined and cosy interior, has only two rooms and a shared lounge overlooking the hills and a few steps from the vineyards and woods. A new facet in the winery's wine tourism proposal, for a relaxing break in the tranquillity of nature.
At Graziano Prà, conviviality is at home, and the winery's hospitality is now enriched with a new addition thanks to the Monte Bisson estate. The winery has in fact recently completed the renovation of an old estate, giving life to a comfortable and elegant agriturismo, with just two rooms, dedicated to those seeking a relaxing break in the Soave hills.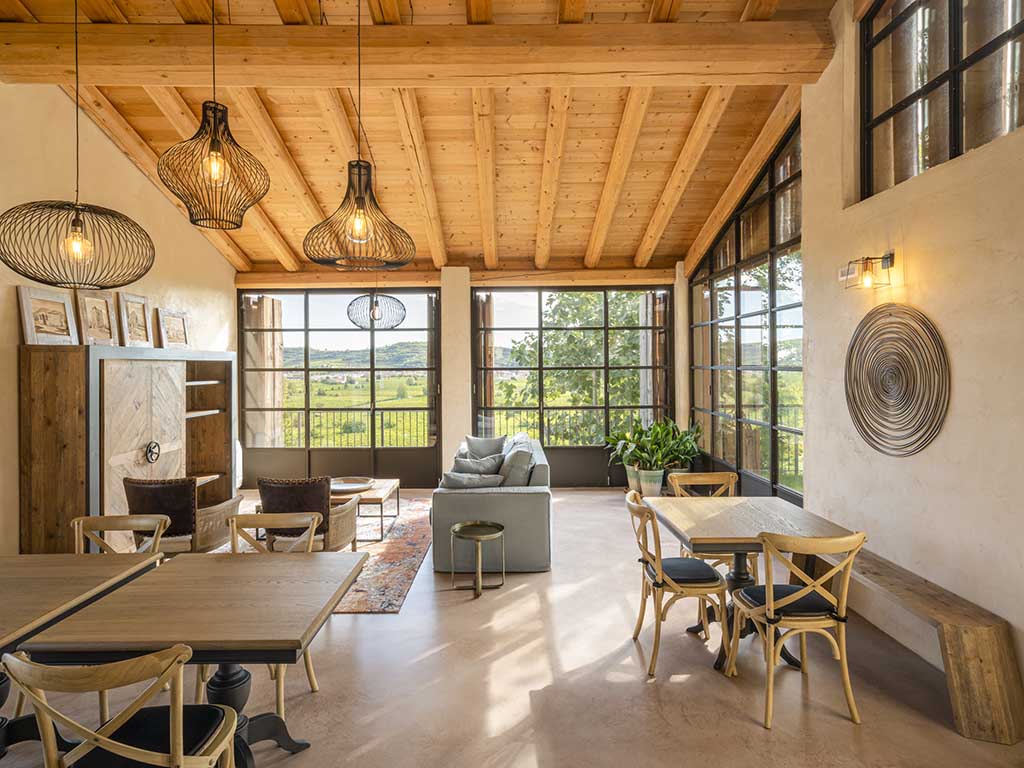 The reference to the world of wine cannot be missed, so the rooms bear the names of two iconic wines for Graziano: Staforte, like his steel-aged Soave Classico DOC, and Monte Grande, the estate's cru. Both are furnished in a classic style, with wooden floors and soothing natural colours, to preserve the tranquillity of the place. Monte Bisson is located a few kilometres from the Prà winery and is immersed in an estate of 15 hectares, 7 of vineyards and 8 of woodland, a unique setting among the vine-covered hills just three kilometres from the medieval town of Soave, not far from Verona.
The farmhouse has been completely renovated by Studio AcMe in a contemporary style in which the warm, enveloping colours of wood dominate. The ground floor consists of an entrance hall, where there is no lack of a sofa and fireplace for winter evenings, and a bright shared lounge, where guests can have lunch or relax in front of a large window overlooking the vineyards and hills of Soave. Outside, a large contemporary kitchen-garden has been created that hosts 85 different species of plants and flowers, to which some vegetables are added seasonally. The ideal place to stop and enjoy the peace and biodiversity of the nature surrounding the estate, just a few steps from the vineyards and woods.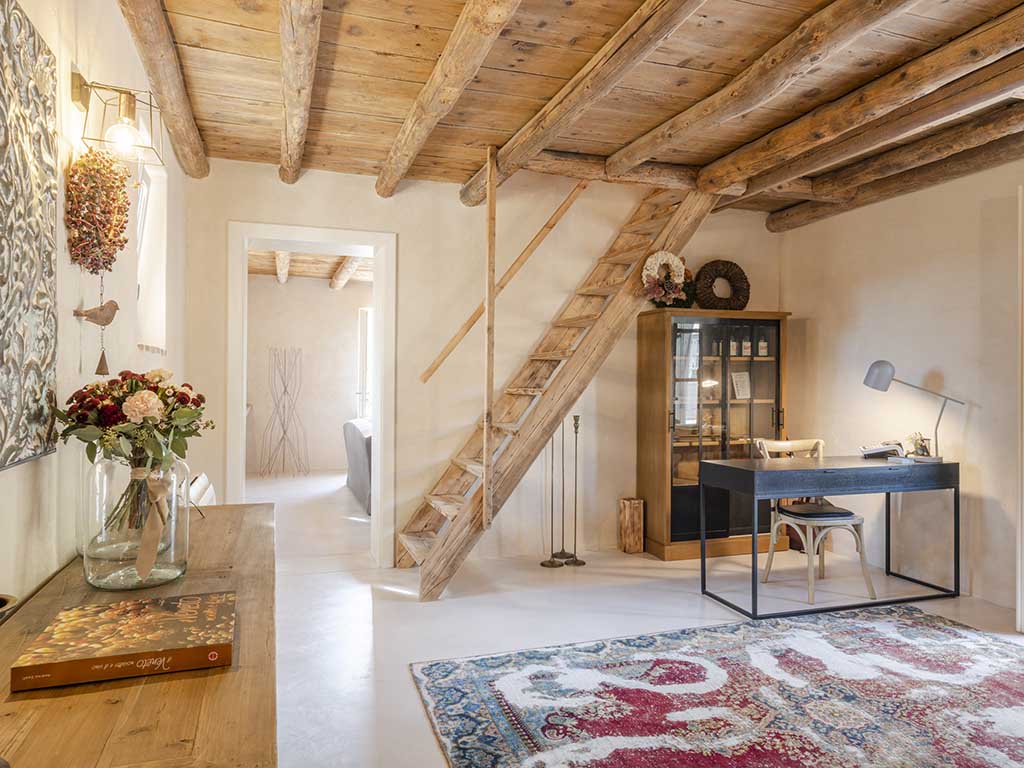 "During winery visits and tastings, we are very keen to convey our idea of feeling at home and the conviviality that is created around a glass of wine," explains Graziano Prà. " Monte Bisson is another facet of this story, the ideal place to welcome our guests and all those who want to spend a few days resting or discovering this splendid territory."
Monte Bisson is the starting point for the Percorso Natura, a nature trail with a passage through the vineyards to the surrounding woods, along which it is possible to visit the 1400s Venetian tower. A hiking trail within everyone's reach to discover the biodiversity of the hills in search of wild orchids, squirrels, hedgehogs, badgers and foxes. A short distance from the estate there are also two beehives, which are not used to produce honey, but to increase the pollination of flowers in the vineyard and thus protect the biodiversity of the area.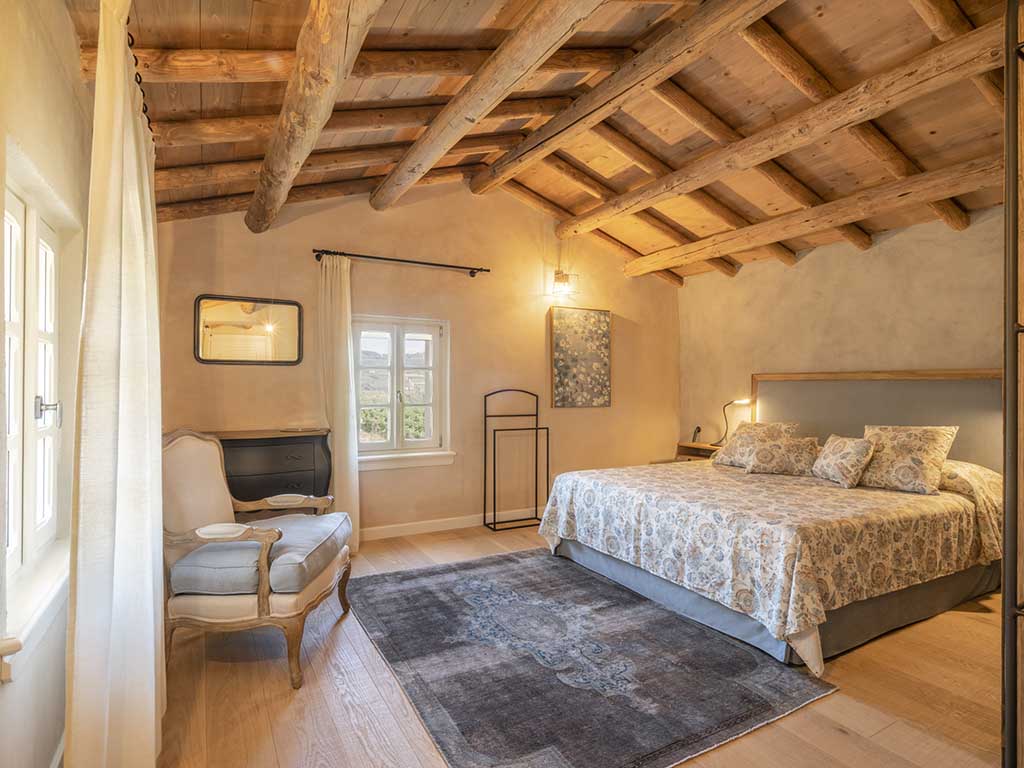 The opening of Monte Bisson is part of the winery's already extensive wine tourism offer, which since the beginning of the year has been offering six different guided tours to experience the wine and the Soave territory during all seasons with excursions and e-bike tours, not forgetting tastings with the winery's wines: from the Soave Classico DOC, with the Otto, Staforte and the iconic Monte Grande labels, and the Morandina line, with the Valpolicella, Amarone and Ripasso. vinipra.it