Reminiscent of a clear spring sky, the Heritage Sea collection from Weissestal. Produced in the highest quality porcelain, Heritage was created as a modern and pop reinterpretation of the typical 1950s floral decoration. It comes in three other colours in addition to Sea, which pick up on some Pantone shades from the recent past: Illuminating (sand yellow, 2021), Living Coral (coral orange, 2019) and Emerald (aqua green, 2013), the perfect mix of vivacity and style.
Heritage is inspired by the years of full skirts, the birth of rock'n'roll, drive-ins and the first bikinis to create a table setting that is always refined and original. In addition to plates, the collection includes other extremely versatile accessories for elegant every moment of the day: the salad bowl, coffee and tea cups and the sugar bowl. Heritage brings to the table a delicate vintage taste that never goes out of fashion.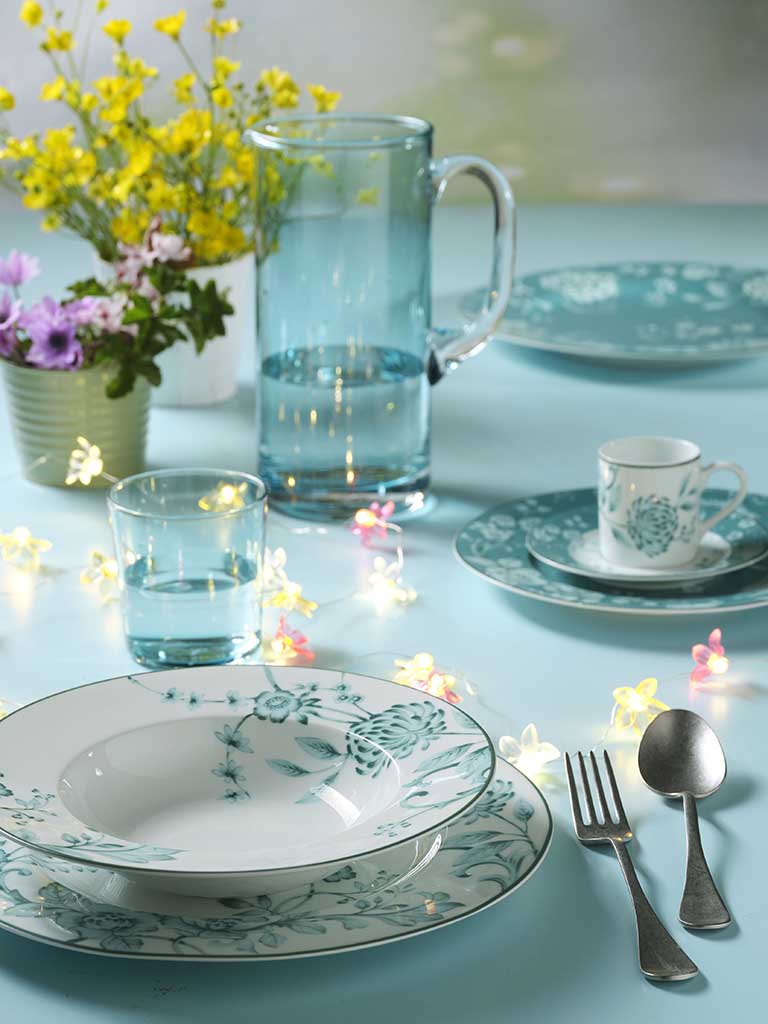 Weissestal
Since 1983 Weissestal has been synonymous with the art of the table, but not only. Attention to detail, quality research and innovative style are the key words that characterise the company's activity, which proposes unique collections capable of always elegantly reinterpreting the pleasure of conviviality. Present throughout Italy thanks to an extensive network of retailers and with its own shop-online on the company website, Weissestal not only proposes trends, but also offers small everyday luxuries: characterising the over one thousand references in the catalogue are the finishes that make each item unique. Gold decorations, reactive or satin enamels, natural effects to the touch and original to the eye make each collection truly iconic, giving each one a well-defined soul capable of meeting tastes and trends, satisfying every need from an elegant dinner to an informal lunch with friends. With Weissestal's porcelain collections and lines of goblets, glasses, cutlery and table accessories, everyone can fully express their own style, letting themselves be inspired by the workmanship, shades and nuances, to set up a mise en place with a unique personality, but always in the name of the pleasure of being together.
The company has recently expanded its offer with the new W°pots brand, dedicated to quality, Made in Italy cookware. Design, functionality and craftsmanship characterise all the cooking utensils in the W°pots collection, with a focus also on the environment in a circular economy perspective thanks to the innovative Eco-logical handle line. weissestal.it