Versace Home pays homage to the iconic codes of the Fashion House with its new collection on show at Milan Design Week from 18 to 23 April.
Versace Home is the protagonist at the Salone del Mobile and Milan Design Week with its new collection of furniture and accessories, created together with Luxury Living Group and designed under the creative direction of Donatella Versace by architects Roberto Palomba and Ludovica Serafini of ps+a studio. The 500 square metre exhibition area at the Salone del Mobile was conceived as a total black box, with a reflecting ceiling and backlit panels in silk crepe that give an almost theatrical architecture. The Versace Home collection thus enters the scene within a succession of display modules, one of which is entirely dedicated to the products of the 2023 line.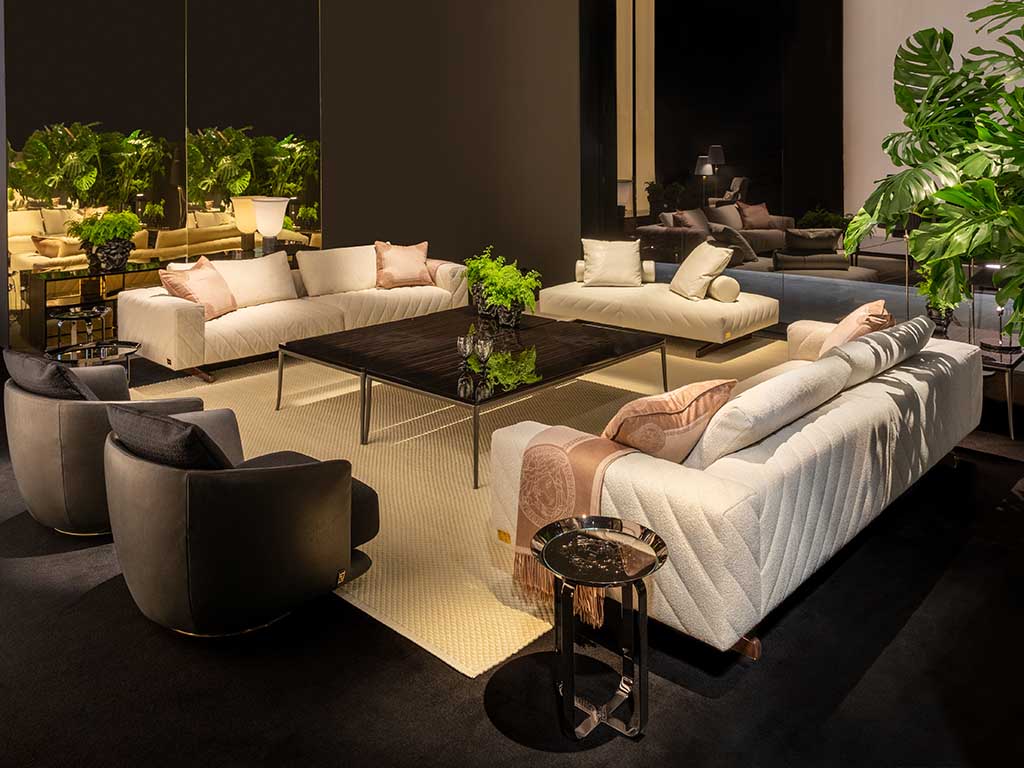 The modular Zensational sofa, one of the most important pieces in the new collection, takes its name from its relaxed mood and is inspired by the Versace cornerstones, with references to Classicism and mythology. The modules are conceived as pure geometries that wink ironically at the past. A tangram of shapes, patterns and materials that become protagonists together with the decorative panels of the Fashion House and are declined in unexpected combinations. Crocodile-printed leather recalls the Versace Autumn-Winter 2023 collection and is combined with Barocco prints and jacquards. The Discovery sofa reproduces a contemporary herringbone pattern with visual references to Versace's V, and can be covered in fabric or leather. The cushioning has the dual role of backrest and comfortable cushion, while the couch version can be transformed into a modern chaise-longue. The Discovery table is distinguished by its sinuous leather-covered leg, decorated at the base with a golden ring and embellished with a golden Medusa. It is available in different colours, from glossy white to matt red, and with wood, lacquered wood or marble finishes. The Discovery chair is born in the sign of the Stiletto collection and becomes even more essential in form and more solid at the ends. A comfortable backrest dialogues with an upholstered seat with a minimalist shape.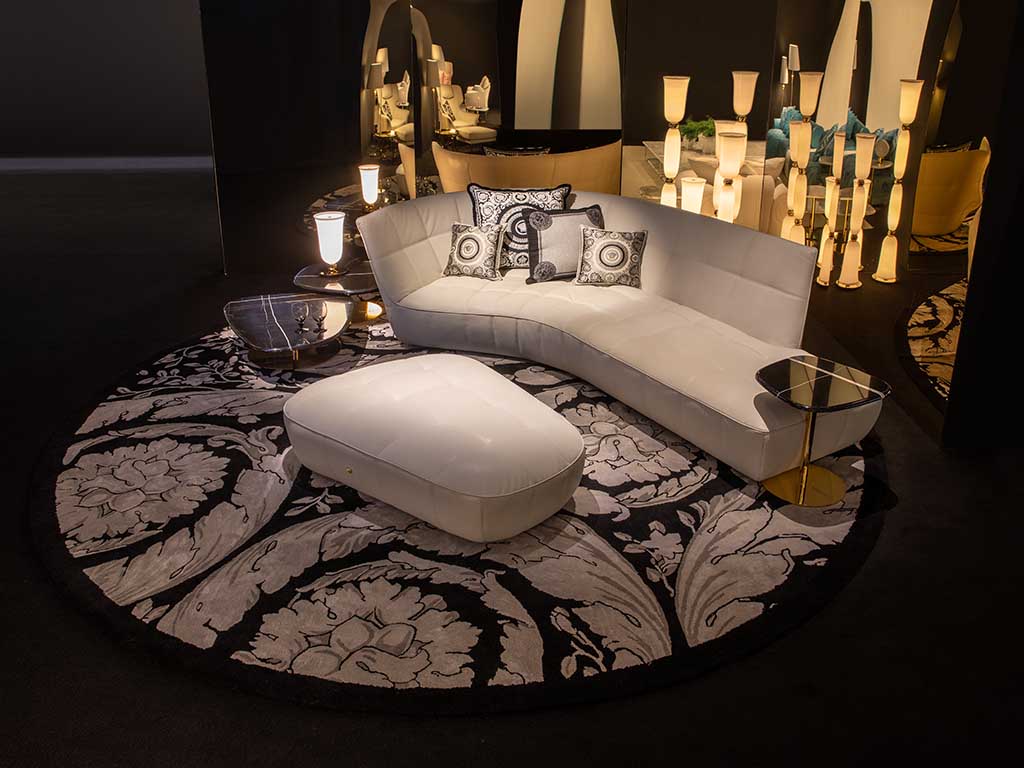 Alongside the 2023 novelties, Versace Home is presenting family extensions of some of its best-selling furnishings, including the La Greca line, the protagonist of a large area of the stand at the fair and in the store on Via Durini. Among the novelties is a large armchair with a deep seat and swivel base. Stiletto is completed with a table with a new leather-covered top, a tapered stool and a bergère armchair combined with a comfortable footrest. The contemporary, soaring lines of the armchair enhance its dynamic form: the high back, shaped like a mermaid's tail, tapers to the feet, evoking the iconic Versace stiletto heel. Other items on show include the Signature and Goddess collections and the La Medusa bed, now available with fabric upholstery and not just in leather. Lamps include the new Goddess LED, which embraces a contemporary use of domestic space, and the Versace Galaxy chandelier, with its cascade of transparent, opalescent and golden spheres embellished with the Versace logo. versace.com