With the start of the spring season comes an increased desire to celebrate and create the right atmosphere, both indoors and outdoors. It is the ideal time to organise lunches and parties and to decorate gardens and terraces, including with lighting. Twinkly smart lights from Twinkly, the world leader in app-controlled decorative lighting, allow you to create the perfect atmosphere in any room in a matter of moments thanks to colours, gradients, pixel art and animations. Twinkly lights are world-famous for their unique ability to decorate with light, thanks to their special 16 million-colour LEDs and the app that controls them. A real feast for home décor and outdoor decoration: from light braids to light curtains to light mosaics, all Twinkly devices can be virtually grouped together to create complex and synchronised light installations. The colours and images typical of the spring and Easter period can decorate any light installation, thanks to special themed effect sets, available free of charge on the Twinkly app.

Twinkly Strings
Twinkly Strings is the revolutionary LED light string that brings the latest technology to home decoration. The lights can be controlled with extraordinary accuracy via your smartphone to reproduce fully customisable effects and animations. RGB colours are emphasised by the special Twinkly lens finish: matt and flat, it gives an even spread of the colour components without altering their expressive power.
Twinkly Festoon
Twinkly Festoon reworks classic streamers of light by giving them the power of Twinkly technology. Capable of playing special effects, changing the tone and even synchronising with music. All controllable via the Twinkly app. Suitable for indoor and outdoor use, each bulb can be individually controlled and can reproduce 16 million colours. Festoon is ideal for a relaxing dinner party or a hectic party.
Twinkly Squares
An interactive mosaic composed of bright 'mega' pixels, Twinkly Squares combines the magic of technology with the sophistication of interior design. It consists of a series of reproducing a colour gamut of 16 million colours and designed to be visible even in broad daylight. The panels make it easy to create interactive decorations and luminous mosaics, perfect for unleashing one's creative flair by enriching any room in the home without limits. Whether reproducing a wonderful work of pixel art, creating an eye-catching ambient effect or projecting a functional widget such as a weather forecast, the opportunities to dynamically customise one's surroundings are boundless.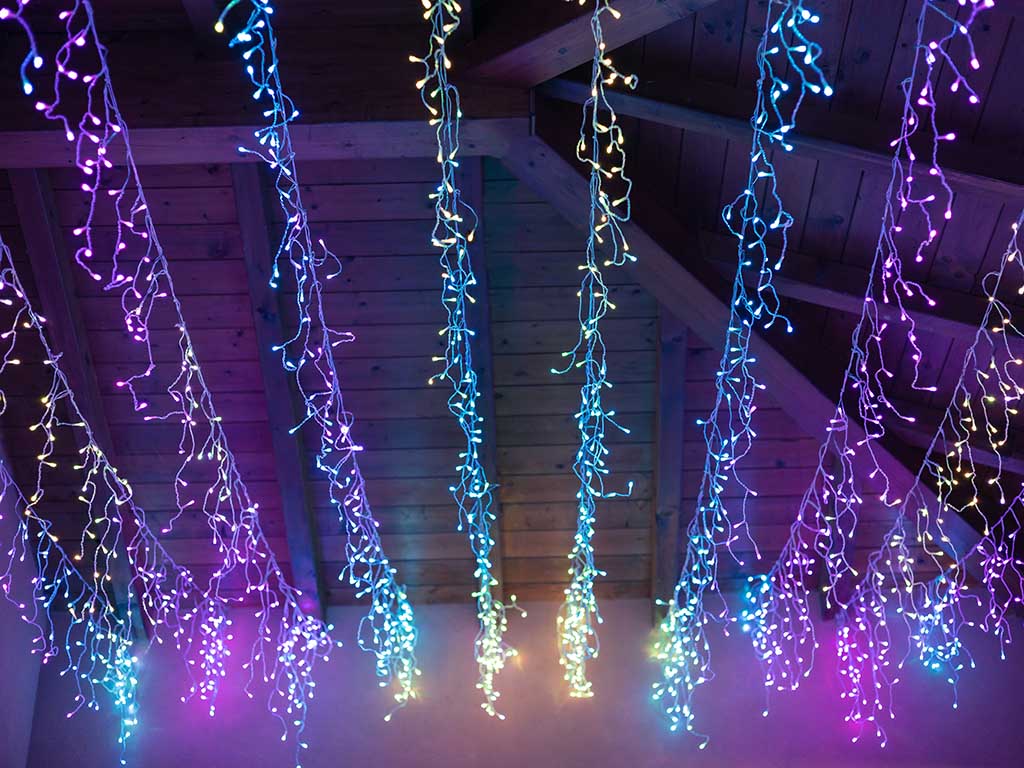 Via the smartphone app, available for iOS and Android, every single LED can be individually controlled. Thanks to the patented mapping function, the app recognises the exact position of each LED in space via a camera, allowing effects and animations to be reproduced with extraordinary accuracy, turning your lighting into an interactive screen. Twinkly lights are compatible with popular voice assistants such as Hey Google and Amazon Alexa, and Apple HomeKit, and integrate with Razer Chroma RGB and OMEN Light Studio to synchronise with gaming consoles.
Twinkly is a leading Italian tech company in the smart lighting sector, which was founded in 2016 and has become a global brand in just a few years. Based in Milan and present in over 40 countries, it has revolutionised the world of decorative lighting with a range of technologically advanced, patented and internationally awarded products. From Christmas decorations to the facades of entire buildings, from smart homes to theme parks, from luminous furnishings to concerts and scenic installations, Twinkly's technology makes the possibility of decorating with light within everyone's reach. In 2023 it enters the prestigious Financial Times FT1000 ranking as one of the fastest growing companies in the world. twinkly.com