AW_ chair, the seat with character by Tonelli Design. Created by Massimo Castagna, Art Director of the brand, it combines aesthetics and strength in an innovative way.
Fresh from its success at Milan Design Week, Tonelli Design, the iconic brand specialising in high-end glass furniture and more, presents the practical and versatile AW_ chair. Signed by renowned designer Massimo Castagna and made of solid wood, this novelty is the combination of meticulous manual workmanship and the use of state-of-the-art machinery. As always for Tonelli Design, attention to detail is fundamental; from the metal detail on the backrest to the special shape of the legs, to instil greater solidity and resistance, to the combinations with exclusive fabrics, each piece contributes to making this chair a refined element with character.
In addition to the shape, the textile element also contributes to making AW_chair a sophisticated and refined piece of furniture. A wide selection of fabrics, four different categories, all of high quality and made in Italy. From trendy bouclés, through tone-on-tone textures, to delicate pastel colours, which can be combined with the different wood essences to suit every need.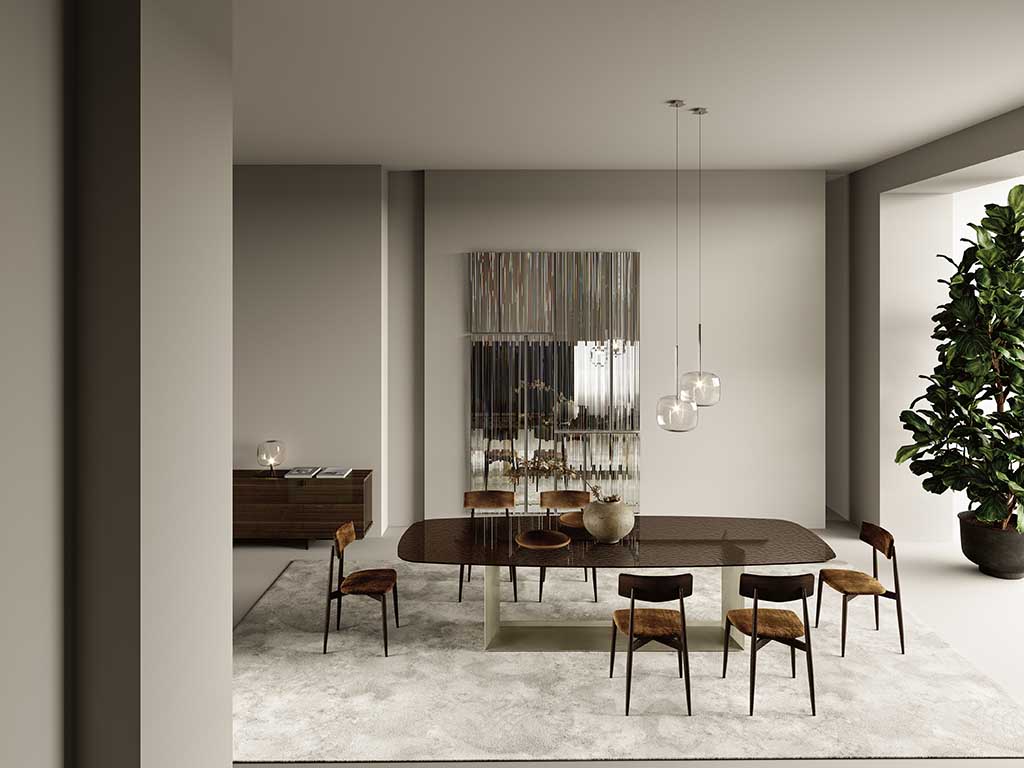 The technical detail
Chair in solid ash wood with turned legs and a cross-beam structure. Available in Siberian Ash, Eucalyptus, Natural Oak and open-pore black lacquer finishes. Shaped, upholstered seat covered in fabric. Upholstered curved wooden backrest upholstered and covered in fabric on the front, closed by a cordon seam on the edge to leave the wood visible on the back. Joint between backrest and frame in polished metal.
The designer
Art Director of Tonelli Design since 2019, architect Massimo Castagna is a name that needs no introduction. Born on 13 November 1957, he graduated in architecture in 1984 from the Milan Polytechnic and began his professional career in 1986 by founding the AD architecture studio. He has many professional experiences in the field of architecture: residential buildings, hotels, interior design, consultancy, design and artistic direction of furniture shops. For Tonelli Design, he has realised several collections introducing the concept of 'The new modernism' and signing many of the brand's latest novelties.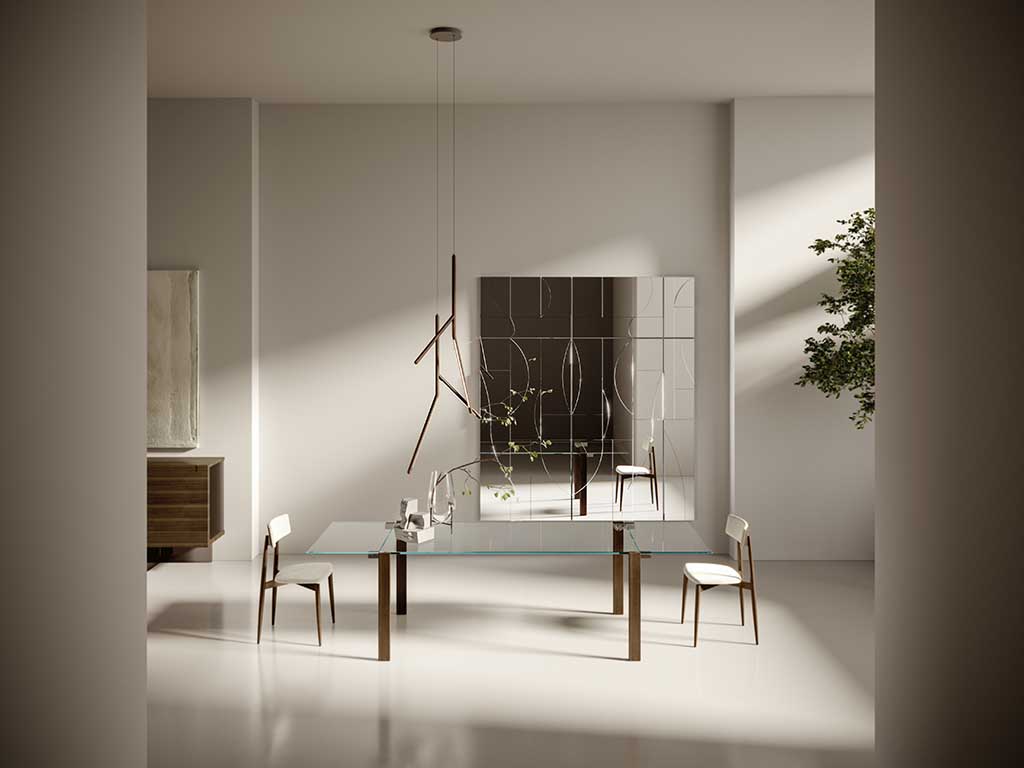 Tonelli Design
Tonelli design has been producing glass furnishing accessories – including bookcases, sideboards, tables, lamps, mirrors and much more – since the 1980s, with the collaboration of international designers, adopting an approach based on respect for one of the oldest and noblest materials in human history. In 2020, Tonelli adds an important step to its growth by announcing the artistic direction of Massimo Castagna and a further expansion of the catalogue with new products and new materials. In 2022, on the occasion of the International Year of Glass, it presents an original Vademecum to guide the public in the discovery of this incredible material with a thousand faces. tonellidesign.it