The collaboration between Tectona and designer Martin Szekely resulted in a new collection, Soleil, conceived and developed in the Tectona Atelier, where his extraordinary ideas became reality.
"A matter of people with experience and knowledge at the service of high fashion work that will last. This project takes me back to the trade I learnt as a young man in carpentry workshops, in French 'menuiserie', whose etymology is 'menus travaux' (minor works) or 'ouvrages de bois délicats' (delicate wooden works). These are those products that, made with all due care, will intrude into our environments for the pleasure of our senses and our bodies on 'holiday'. Soleil!". Martin Szekely.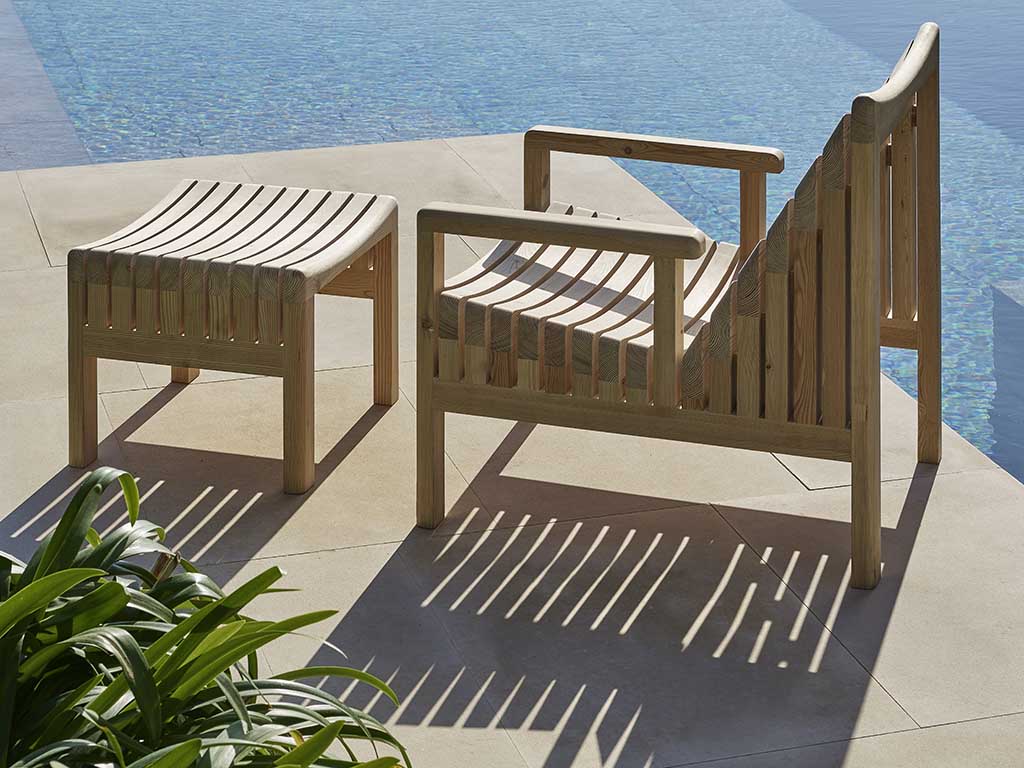 Destined to become emblematic, this first collection in larch wood is the result of a collaboration between Tectona and Martin Szekely, an internationally renowned designer of objects and furniture and a true professional cabinetmaker. The combination of traditional woodworking techniques and numerically controlled machines allows for extreme precision in the assembly of the various elements that make up a piece of furniture. The Soleil collection is a perfect synthesis of MSz's rigorous approach, as he likes to call himself. The armchair, footstool and bench respond to archetypal forms that are immediately recognisable and perfectly functional. The extreme refinement of the woodwork, in this case larch, revives the great cabinet-making tradition in combination with numerically controlled machines to create a collection with absolutely pure lines.
Larch wood, a question of sustainability
Tectona wants to be a sustainable and environmentally friendly company. That is why it decided to start using larch, a coniferous tree from the temperate regions of the northern hemisphere, which is not endangered and offers qualities comparable to teak. Particularly resistant, its wood, which is rot-proof and extremely dense, is mainly used in the mountains to build chalets and furniture.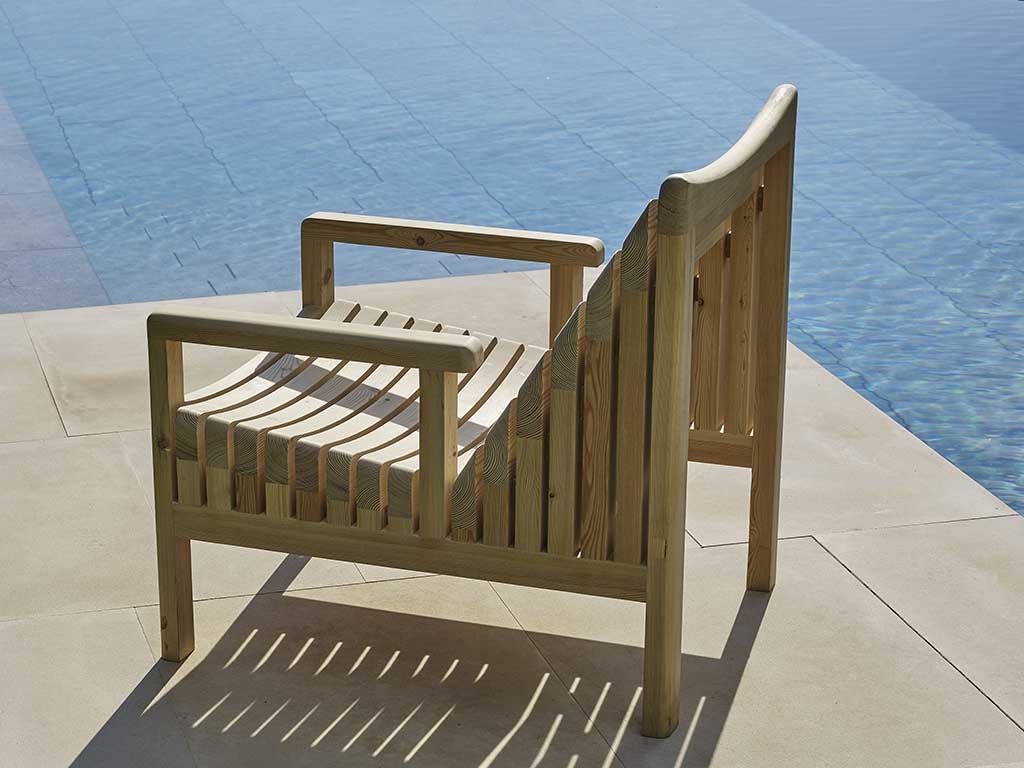 MARTIN SZEKELY
Since the end of the 1970s, Martin Szekely has explored all fields of design, from consumer objects to more experimental furniture. His training began at the École Estienne, where he took his first steps in steel and copper engraving. He then enrolled at the École Boulle, where he attended evening classes before becoming an apprentice in a carpenter's workshop. In 1987, he received the 'Designer of the Year' award at the Salon International du Meuble in Paris. Since then, many of his objects and furniture have been part of prestigious museum collections, including those of MOMA in New York, MAD and the Centre Pompidou in Paris, which dedicated a monographic exhibition to him in 2011.

TECTONA PARIS
Tectona, a French brand specialising in outdoor furniture, was founded in 1977. It arrived in Italy in 2013, opening a showroom in Milan on Via della Moscova, located in one of the city's most central areas. An unmistakable style, made up of innovation and tradition, distinguishes the brand, which from its very beginnings has made a name for itself in the outdoor furniture market, quickly achieving leadership in the sector in France. With a constantly evolving DNA, Tectona today offers both collections inspired by French-British neoclassical aesthetics, the Arts & Crafts movement and the Country Life style from across the Channel as well as the most innovative, elegant and refined trends in contemporary design. There are therefore numerous collaborations with some of the most important designers on the French and international scene – such as Ronan and Erwan Bouroullec, BIG-GAME, Pierre Charpin, Christophe Delcourt – who reinterpret its creations in a contemporary key without betraying the brand's historical and cultural roots. Wood, woven resin and aluminium are the materials of choice, worked according to traditional cabinet-making techniques to guarantee the products strength and durability. From the outset, Tectona developed a mail-order system, now flanked by e-commerce and a series of showrooms, which eliminates any intermediary with the end customer so as to guarantee a fast and efficient service. After France and Switzerland, Tectona's market is now expanding to southern Europe with open tectona.net