FuoriSalone 2023: Amazon, in collaboration with Stefano Boeri Interiors, participates in the Interni Design Re-Evolution exhibition-event. The installation in the Cortile della Farmacia at the University of Milan will be inspired by play and leisure and dedicated to biodiversity. Inside the Cortile della Farmacia, visitors will be able to discover a selection of products available on Amazon.it, including accessories and designer home furnishings, as well as Climate Pledge Friendly certified products. On the occasion of FuoriSalone 2023, as part of the exhibition-event Interni Design Re-Evolution, Amazon will give life to "The Amazing Playground", a large interactive and experiential space starring "SWING", an installation curated by Stefano Boeri Interiors, which includes a selection of home design furniture products available on Amazon.it.
Located in the Pharmacy Courtyard of the University of Milan, from 17 to 26 April, "SWING" is a special swing with a circular shape that draws inspiration from early 20th-century Spanish Surrealism and the American Circus in Madrid, where performances by artists who read while seated on a swing were the protagonists, playing on the ambiguities of an oratory literally "suspended" between humour and delirium, joy and culture. "SWING" brings together space, time and rhythm and also wants to be a celebration of free time, an opportunity to rediscover the pleasure of light-hearted and fun time dedicated also to online shopping for furniture products, today an increasingly simple and pleasant experience like playing in the open air.
"SWING", designed by Stefano Boeri Interiors, is also a playful counterpoint to the abstract rhetoric on sustainability, in favour of a national urban forestation project, such as Parco Italia, promoted with Amazon Italia by Stefano Boeri Architetti and AlberiItalia, which aims to increase, improve and protect Italy's natural capital and its biodiversity through precise research and implementation of ecological – forestry – and biodiversity-enhancing connection systems. Amazon has committed to fund Parco Italia with EUR 2 million, as part of a EUR 20 million allocation across Europe for nature-based projects that help make cities more resilient to climate change, improve air quality and increase biodiversity, while bringing social benefits such as job creation and increased access to natural areas. The first project supported by Amazon, as part of Parco Italia, was Forestami, through which it contributed to planting more than 6,000 trees in the metropolitan city of Milan in 2022.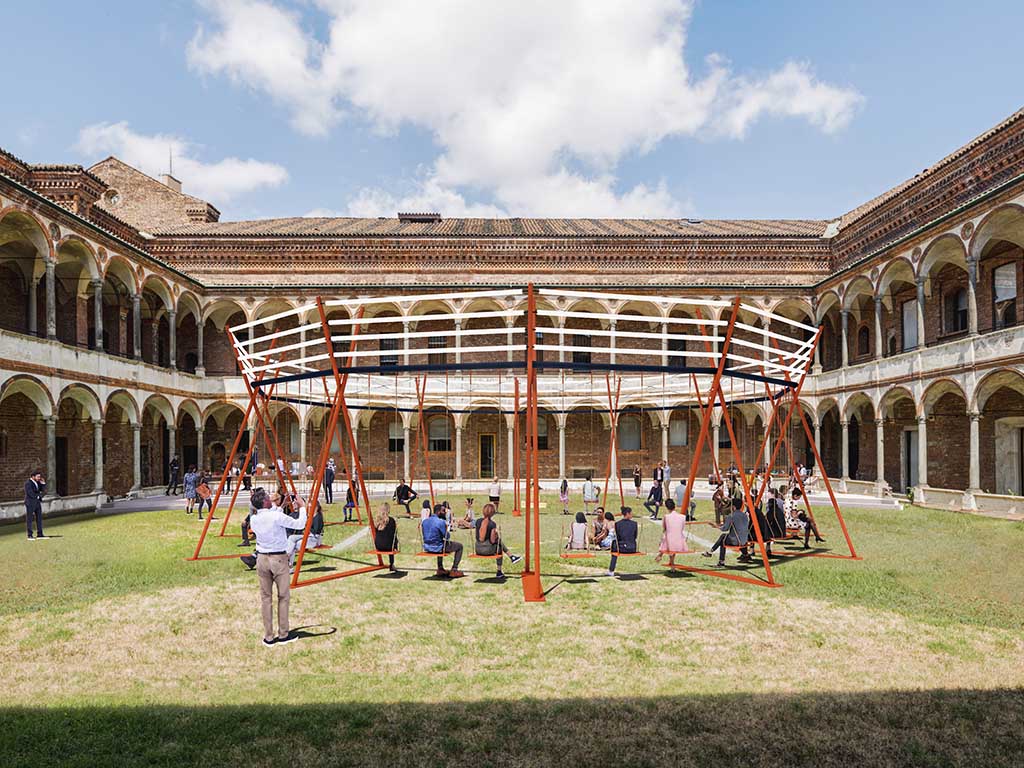 The installation is designed with a view to sustainability: the materials chosen can, in fact, be reused in other contexts thanks to the possibility of breaking down and recomposing the individual modules that form the installation, either respecting the original circular configuration, or reinventing their shape and size according to the needs of the project and the location. "We are proud to return for the second consecutive year at the FuoriSalone, at the Interni exhibition-event, with 'The Amazing Playground', in an iconic location such as the Pharmacy Courtyard of the University of Milan and with a prestigious partner such as Stefano Boeri Interiors. We hope that visitors will enjoy the feeling of being a bit of a child again by spending some time in our installation, and that, with interest and light-heartedness, they will discover our wide selection of design products for the home," comments Michele Marini, EU Director of Amazon's Furniture and Large Appliances categories. "Through this installation, we also want to tell people about our support for projects related to the preservation, improvement and restoration of the natural environment, which are part of our commitment to sustainability enshrined in the Climate Pledge friendly programme . This includesParco Italia, an urban forestation project through which we want to generate a positive impact for the communities where our employees and customers live."
Inside the Pharmacy Courtyard, in addition to interacting with the installation, visitors will be able to discover a selection of products available on Amazon.it including designer home furnishings and, by framing the QR code associated with each product, they will be able to get all the information in detail. These will also include some of the more than 100,000 products that meet sustainability standards and help preserve the environment, labelled Climate Pledge Friendly, available to Amazon customers in Europe. In the backyard, Amazon also presents technological solutions that facilitate the shopping experience of furniture products. Both on the site and in the Amazon app, Amazon customers can take advantage of Amazon Augmented Reality, which allows them to visualise products within the space in which they wish to place the product; Amazon 360 Spin, which allows a 360° view of products; Discover, the feature that allows customers to filter items according to their style preferences and provides personalised recommendations from a selection of thousands of products; and Showroom, which allows customers to personalise and furnish their room with the furniture items of their choice, in absolute comfort thanks to additional services such as online booking of delivery time and even installation, depending on the type of products.
In addition to the products shown in 'The Amazing Playground', including Amazon brands and products made by small and medium-sized Italian companies, on Amazon.co.uk customers can find a wide selection of accessories and designer furniture for the home, both from well-known brands and more niche brands, available in a variety of sizes, colours, finishes and prices, as well as home automation solutions, including lighting proposals, Echo devices and products integrated with Alexa. Convenience and speed of delivery are key aspects of the shopping experience for furniture products: Amazon makes available a delivery feature for large items, which allows customers to plan the time and day of delivery according to their needs and receive the products in the room of their choice. Amazon.co.uk customers can also choose to split payments into monthly instalments by requesting the opening of a line of credit with Cofidis S.p.A., to be used as a payment method on Amazon.co.uk for orders with a value between EUR 100 and EUR 3,000. All information is available on the help page Terms and Conditions for Payments in Instalments.
The Amazing Playground event is realised thanks to the collaboration of numerous partners: Bialetti, De'Longhi, Groupe SEB with the brands Rowenta, Moulinex and Lagostina, Samsung Home Appliances, Alessi, Baroni Home, Bellissima (Imetec), Blomus, Composad, Driade, FontanaArte, Ichendorf, Inoxlm, KARE, LEGO, Motorola, MSI, Philips Hue, Sony, Steelcase, Swarovski, THUN, Umbra, Zafferano, Zinus. Technical partners: iGuzzini, Intel, Lenovo, Samsung Home Entertainment, Samsung Mobile Experience.