Maison Mambo
Luxurious outdoor living for everyday comfort
The call of sinuous curves, warm wood and plush cushions is irresistible. Sit back, relax, let time flow by as you curl up in your Mambo Lounge. Mambo is Royal Botania's answer to the fast pace of work and endless to-do lists. Exclusive outdoor designs in soothing colours with a bohemian touch invite you to treat yourself, indulging in a luxury born to last. Run your fingers over the smooth wooden frame, grab your favourite chenille blanket and curl up with a good book. Guests will arrive soon, but for now you just need to let yourself go. Just relax.
Luxurious, modular, with extra-comfortable cushions
Hard lines, cold steel, bare chairs that tempt you to escape into the house or find shelter by the pool … Some people have a bizarre idea of outdoor furniture design. Before you get those ideas, Royal Botania would like to introduce you to its Mambo Lounge 2022 collection – the super-comfortable solution for terraces. Its plush cushions and warm wooden frames with sinuous curves take you to seventh heaven with a feeling of indescribable indulgence. Mambo takes your imagination to delicious Mimosa cocktails, lazy afternoons of reading (no one will mind if you fall asleep…) and evenings under a blanket of stars with the family. Mambo by Royal Botania perfectly combines comfort, luxury and versatility. Choose a comfortable two-seater sofa for an intimate tête à tête. Add the graceful slatted coffee table and you have a place to rest your steaming cup of jasmine tea and your favourite magazine. Or you can stretch out on the comfortable dormeuse …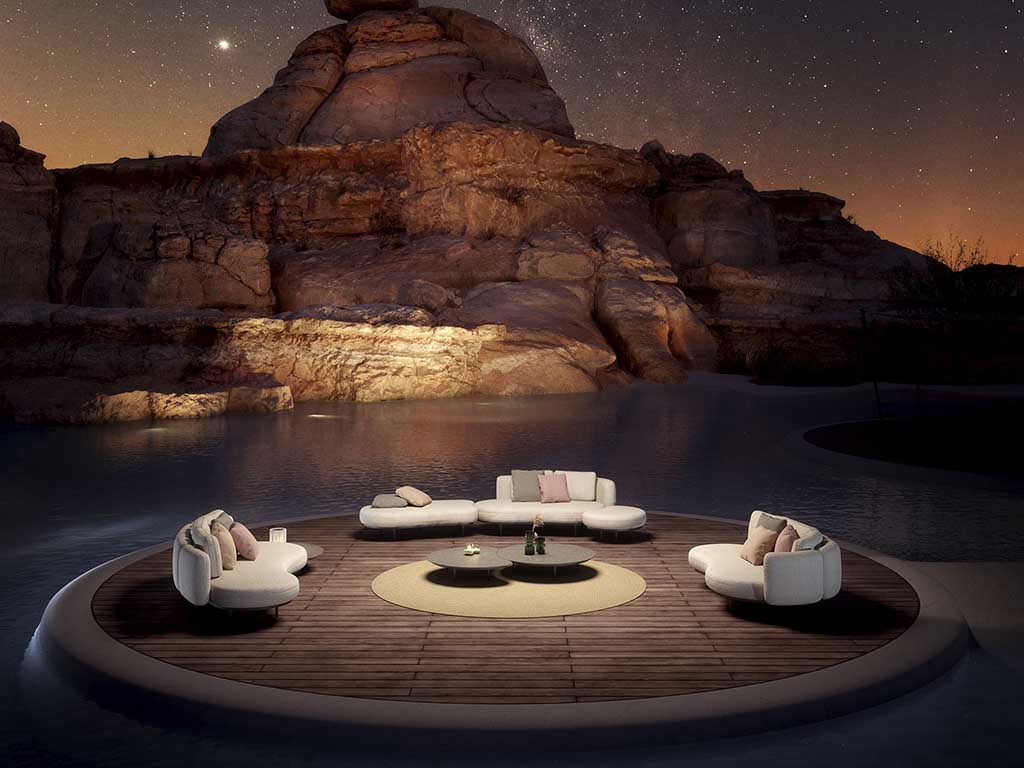 Available in 74 different fabrics in a mix of colours and textures, the new Royal Botania collection is the luxury lounge you can't do without. And why should you? Mambo's enveloping vibes convey the robustness of its solid steel and wood structures for a lifetime of comfort.
A bohemian paradise awaits you
Turn your terrace into a bohemian paradise. Extravagant comfort? Versatility? A glass of Pinot Noir with a warm lentil salad? You deserve only the best! Now, go find those decorative silk cushions.
Seaside Serenade
Soak up the sun and relax in your own private retreat
Polished stone patios, the dense foliage of wild olive trees, a blue sky in the background and the sparkle of warm ocean waters as far as the eye can see: the splendour of the Mediterranean is here. Royal Botania's Styletto collection, top in style and sophistication, transforms your terrace into your own private beach. Elegant, seductive and with unlimited comfort, Styletto is your corner of Mediterranean paradise. Royal Botania has added new elements to its collection of designer outdoor furniture to take your experience to the next level. Read on and discover how to enrich your outdoor living space with style.
Don't think about tomorrow and let your senses run free
From the vantage point of the new Styletto 195 lounger by Royal Botania, the world is in your hands. Lie down for a nap under the parasol or relax with your feet up and a cool drink in your hand. Listen to the cries of the seagulls, inhale the saltiness and let your thoughts drift away while gazing at the gently rippling water. Here you find all the components of comfort and sophistication you could wish for. Slender, tapered legs. Adjustable backrest. A sense of smoothness to the eye and touch that invites you to leave the world behind, if only for a little while. And now? Now you can catch those beautiful spokes and shelter from them at the perfect angle. The smooth rear wheels allow for effortless perfect adjustment. All that remains is to enjoy the pleasure.

Beautiful seats with breathtaking views
A touch of elegance, the bouquet of sensations when the view all around conveys pure pleasure. The new Royal Botania high dining tables are an invitation to indulge in that experience. The Styletto stools, with their curved, slender backrests and elegantly tapered legs, enhance the sense of contentment. The high seats add a sense of exclusivity to any meal or drink in company. Make it a part of your décor with a table top to choose from eleven colours and seven sizes. And with a choice of five colours for the frame, your designer terrace is bound to echo the melodies of a seaside serenade.
SpUne space to stretch out, curl up and snuggle pleasantly for hours on end
Sit back. Take a seat. Now sink in a little more with your legs down or lie down on the seat next to you. Three new 90 cm deep seating elements make the Styletto Lounge simply irresistible, like a siren's song inviting you to lose yourself in beauty and well-being. Place a bead coaster on the new side table for your drink and don't forget your favourite dish or snack. Snacks, especially when shared with friends, ignite the spark of Mediterranean warmth. The new elements of Royal Botania's Styletto collection offer you a luxurious experience to enjoy on your terrace. Inhale. Exhale. Now leave all thoughts behind.

Fensi
The lines of our QT chair, popular for more than ten years now, can be found in the stackable aluminium frame of this new addition to our collection. Fensi is distinguished by the lightness of its woven backrest. This is on the surface. In reality, the backrest consists of a skilfully crafted thin wire weave. The loss of ergonomic support, caused by stretching, does not alter the appearance of the natural woven rope. Yet another brilliant idea from Royal Botania that guarantees perfect seating comfort in the long term. Structure available in 4 colours to find the perfect match for all table lines. Are you planning a pleasant outdoor dinner with friends?

Ostrea
It is easy to guess that 'Ostrea' is inspired by the word 'oyster'. Designer Matthias De Ferm was probably enjoying a plate of seafood when he imagined the lines of this highly original chair. He then translated the natural forms into a chair with exceptional ergonomics. Only an artist is capable of creating a masterpiece by coiling, bending and welding stainless steel tubing. Fortunately, Royal Botania can rely on the expertise of skilled craftsmen. Two cushion options are available for Ostrea: a rounded seat cushion or a padding of the entire surface that traces both the shape and ribbing of a shell. For you and your guests, the experience of comfort and relaxation is assured. royalbotania.com