Liu Jo Living opens its Milan Flagship Store in the heart of the historical artists' district. Liu Jo Living Brera Showroom officially opens on the occasion of MDW 2023, coinciding with the presence of the brand at Salone del Mobile.Milano (Hall 18 – Stand C18) . The two entrances are strategic: the main one on Via Fiori Chiari 28 and the second from the inner courtyard on Via Pontaccio 19. Designed to directly reach the public who will immediately be intrigued by the showcases designed to give voice and soul to the versatility of Liu Jo Living furniture. The layout, designed under the artistic direction of Simone Cagnazzo, focuses the spotlights on the micro-environments, with window spots dedicated to the products. This is to give space to the stories that each product or collection can tell.
The shop windows on the Via Fiori Chiari side give a glimpse, from the entrance, of the essentiality and elegance of the two sideboards Caillou to continue with an initial relaxation corner guaranteed by the versatility of the benches Caillouin ash wood, which can be easily transformed into a seat or small table. All accompanied by one of the undisputed protagonists of this 2023: Coquille day bed, in white/grey lozenge fabric, ton sur ton, in the next room shows all its iconographic research in the armchair Caillouthe flagship product of the entire collection, here proposed in black/white barbed fabric. Both products express the ease of changing clothes, an essential feature of the entire Liu Jo Living philosophy.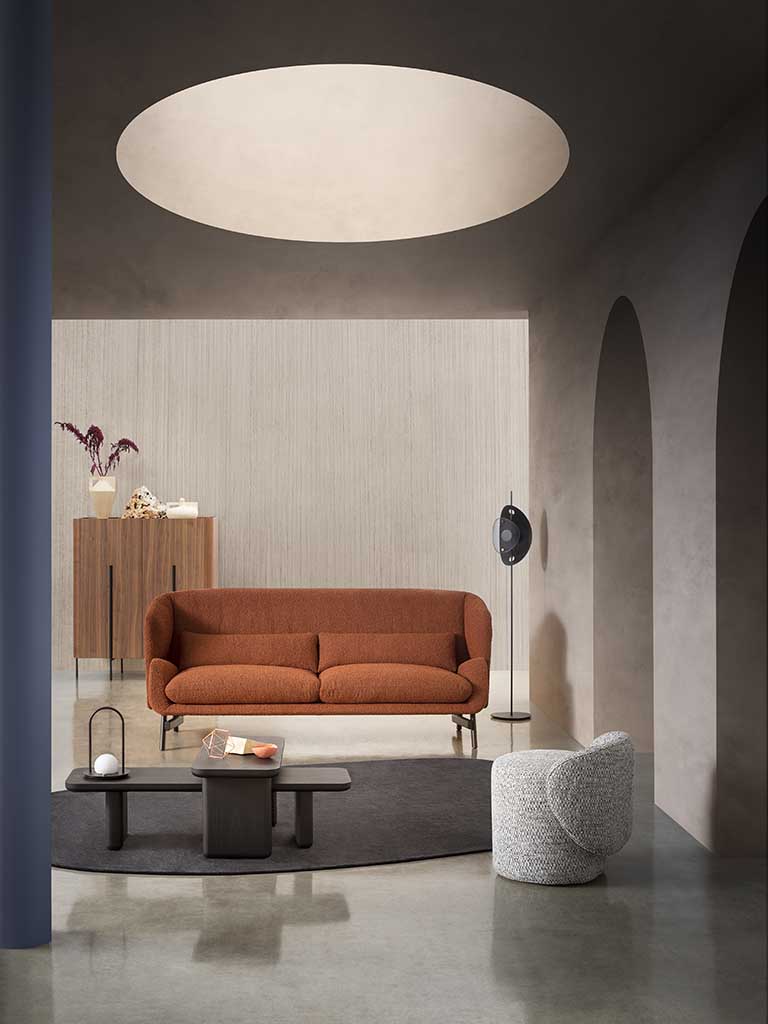 The third showcase features the scenic presence of the sofa Tetù, another novelty for 2023. Its defined line and marked shapes are anticipated by the very name of the collection: têtu, translated from French, means stubborn. The balance between the elements lies in the irregular structure with suspensions between apparently heavy forms that manage to be light. Tetù finds its counterpart, slightly more towards the centre of the showroom, in the chaise longue version, again juxtaposed with the equally new coffee tables Medusaborn this year from the union of a veneered wooden top with a Tripolino fringe, a detail of the trimmings used as a decorative element in bourgeois living rooms. The fringes that allow a glimpse of the supporting structure, equipped with a concealed table top, make the object iconic and functional with a strong aesthetic impact.
A true marriage of classic and modern.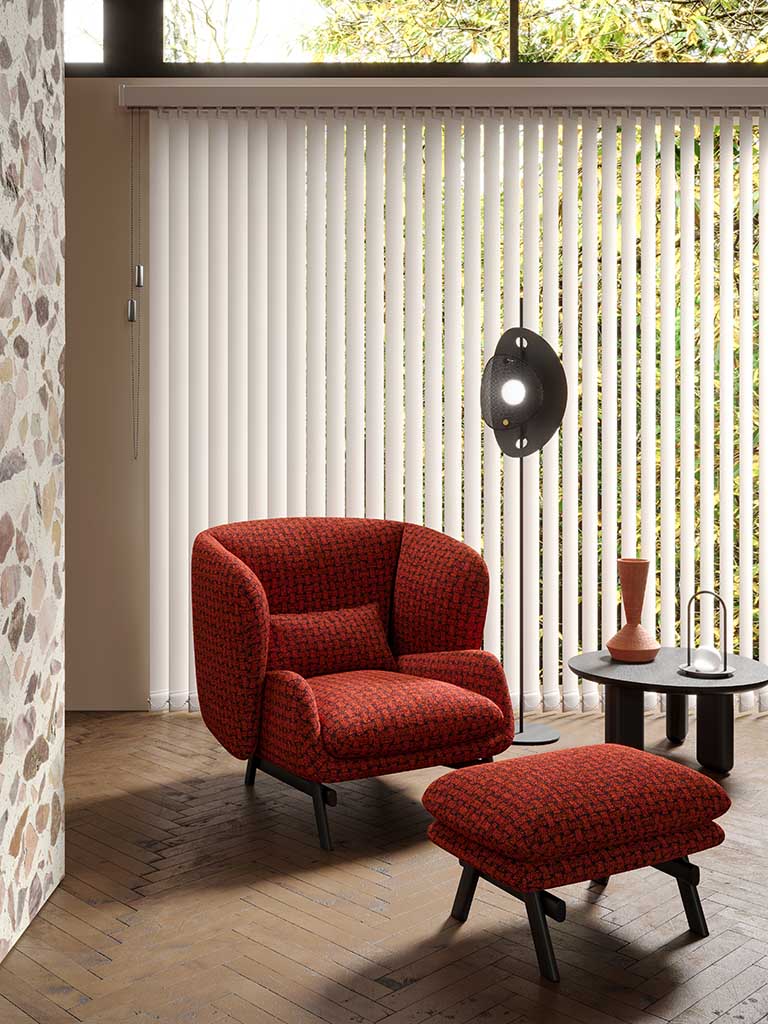 The fourth showcase reveals another , decidedly larger living proposal with Coquille in the armchair and 2 and 3-seater sofa versions, positioned around two benches Caillou in Frassino carbone finish. The micro-environment is completed by another sideboard, also in Frassino carbone, and a bookcase, both from the Caillou.
The story of the total look by Liu Jo Living continues in the transversality of the collections on display, encroaching on a dining room with the furniture Caillou or in a bedroom area positioned right above the area dedicated to the showroom's operative offices. Here the know-how of the brand is displayed in the bed Guestthe absolute protagonist of relaxation. As with all the elements in the collection Guestthe bed also becomes immediately recognisable through the detail of the shell-shaped back that embraces the structure. The tailoring of Liu Jo Living borrows the concept of changing clothes from fashion to apply it to the dimension of interior design: renovating the home with Liu Jo Living is synonymous with sustainable design. This is recalled by the furnishings themselves, which are entirely removable. liujoliving.com