Surprising collections, aesthetically involving and technically performing, the result of incessant research on the material from which expressive opportunities for refined projects emerge. Lea Ceramiche has always proposed collections inspired by materiality in which aesthetics are combined with refined taste and details with a precise and distinctive personality that are able to renew even contemporary and mainstream trends with their own language. An example of this is Side Stone, whose starting point and inspiration is Ceppo di Gré, the stone extracted from Lake Iseo and protagonist of Milanese building in the 20th century and made popular again in the last twenty years in prestigious modern buildings.
Traditionally, this stone is distinguished by the rich heterogeneity of its composition, made up of clasts with highly variable characteristics and dimensions. With its interpretation in Side Stone, Lea Ceramiche has decided to enhance its unexplored and more elegant side, the native version. What emerges is an unprocessed quarry stone, in which the macro-inclusions are not decisively marked and remain, rather, more permeated by limestone cementation. The result is a more graceful and homogenous variant than the classic natural version, which is markedly heterogeneous and uneven. The aesthetic strength of the stone, finished with a diffuse sandblasting graphic to increase its sophistication, lies in its greater compactness that makes it architecturally more eclectic and versatile.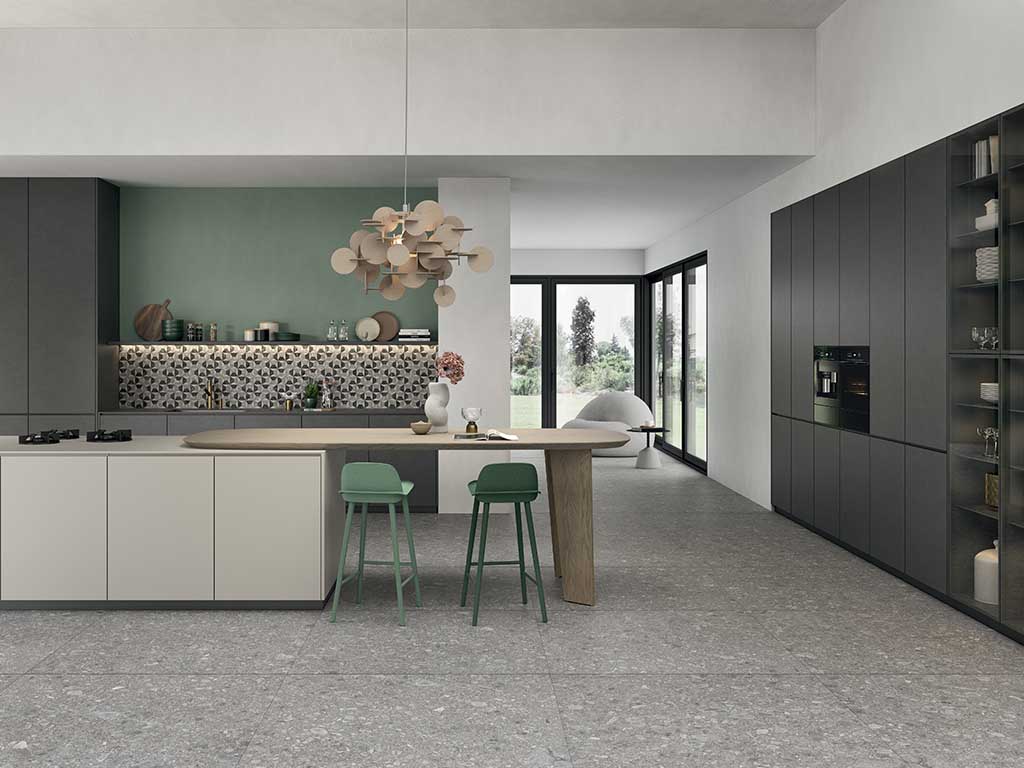 To this original, sober and transversal version, called Hidden, Lea Ceramiche adds Cluster which, more disruptive, rich and recognisable, identifies with the stone agglomerate and its remarkable decorative potential. The latter surface, brushed and polished, highlights the most characteristic features of Ceppo di Gré in the heterogeneity of the clasts and in the accent colours emerging from the inclusions. The aesthetics of Ceppo di Gré thus open up new application opportunities in residential, commercial and public projects. In addition, in the combined installation the two souls of Side Stone are destined to enhance each other, both graphically and chromatically.
Side Stone is a ceramic collection with a strong design attitude: articulated in 3 complementary technologies, it proposes 3 nuances for each of the two graphic interpretations, i.e. a colour that is faithful to the spirit of natural stone(Mid), a lighter one(Light) and a darker one(Dark), all of which can be combined precisely because of the perfect chromatic harmony. A novelty within the novelty, Side Stone is the first collection by Lea Ceramiche to use the exclusive and innovative Panariagroup SafeTouch technology that allows for high anti-slip (R10B) and roughness-free characteristics in a single soft, versatile and easy-to-clean surface that maximises possible uses. The integration of porcelain stoneware, Slimtech laminated stoneware and L2 thick stoneware in a single collection, together with the combination of variants and colours, makes Side Stone an extensive set of design tools that are perfectly integrated with each other and allows for cladding from the garden to the kitchen island, combining design, performance and that great personality that has always characterised the Lea Ceramiche proposal.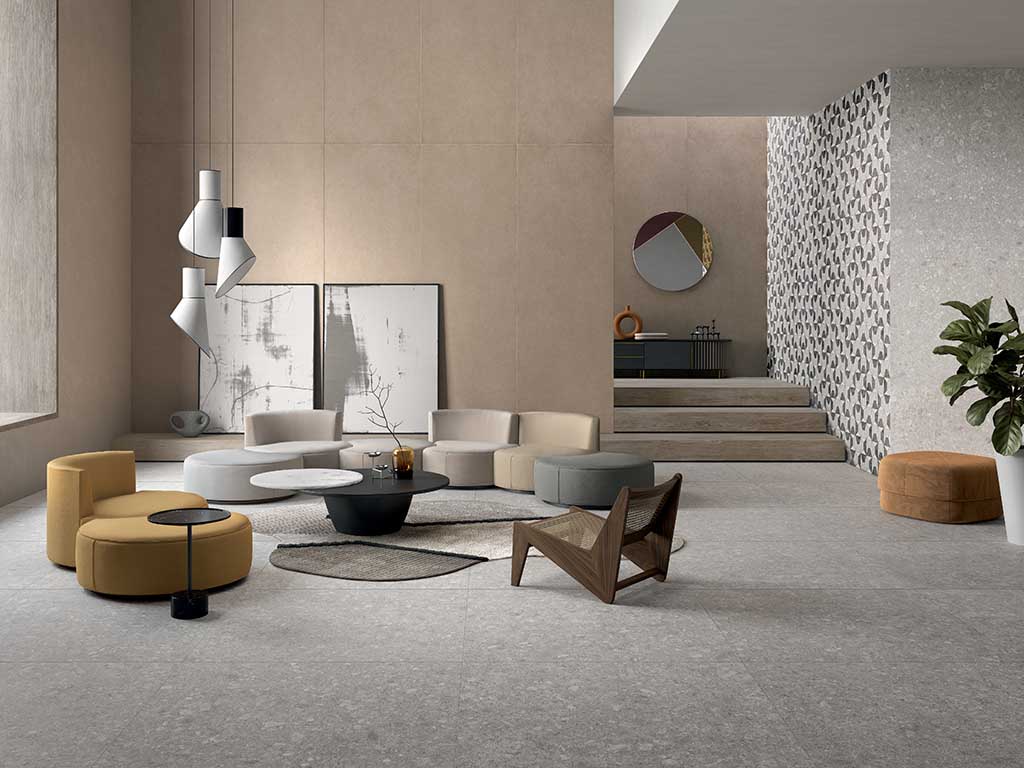 LEA CERAMICS
Lea Ceramiche is the perfect synthesis of visionary design and technological performance, and is a partner of creativity anywhere in the world, for any type of architectural project that seeks distinction through a unique and recognisable style. Continuous innovation, absolute reliability of performance and the ability to dare have made Lea Ceramiche an undisputed protagonist of world architecture, allowing it to sign significant and prestigious partnerships with internationally renowned designers and project professionals.
The company's ability to innovate is based on continuous experimentation that, thanks to the development of production systems and cutting-edge technologies, allows Lea Ceramiche to offer its customers a wide range of products of the highest quality, so much so that in recent years it has received prestigious international awards for both its excellent technical performance and design content. Constant and considerable investments aimed at obtaining, every season, an offer of collections with great personality, have given rise to Slimtech, the revolutionary laminated stoneware with an ultra-thin thickness of 3.5, 5.5mm and 6mm and extra sizes up to 100×300 cm and 120×278 cm, suitable for uses that are today inaccessible to traditional ceramics. leaceramiche.it

PANARIAGROUP
Lea Ceramiche is part of Panariagroup Industrie Ceramiche S.p.A., an Italian multinational group, world leader in the production and distribution of ceramic surfaces for floors and walls in the premium segment of the market. With almost 1,700 employees, more than 10,000 professional customers, and 7 production plants (3 in Italy, 3 in Portugal and 1 in the United States), Panariagroup is a reference player in its sector and boasts a geographical distribution of sales 80% focused on foreign markets.
Specialised in the production of porcelain stoneware and laminated porcelain stoneware, through its own commercial brands (Panaria Ceramica, Lea Ceramiche, Cotto D'Este, Blustyle and Maxa the Italian ones, Margres, Love Tiles and GresArt the Portuguese ones, the American Florida Tile and Bellissimo, the Indian brand), Panariagroup offers high quality and prestige solutions for all the needs of residential, commercial and public architecture. Panariagroup is a reality of international dimensions present in Italy, Portugal, United States, India and operating in over 130 countries worldwide with a wide and capillary sales network.