Nicolas Yazigi's work is the perfect example of the search for creativity and perfection, but above all of continuous experimentation with innovative materials. HIMACS cannot fail to be a part of this: not only does it allow designers to explore new creative frontiers, but it also matches perfectly with traditional materials.
As a carpenter and interior designer, Yazigi used his experience to create a perfect harmony between indoor and outdoor, with a kitchen full of surprises, thought out down to the smallest detail. The kitchen project also included a bar area and an outdoor table, all made of HIMACS in the Marble finish.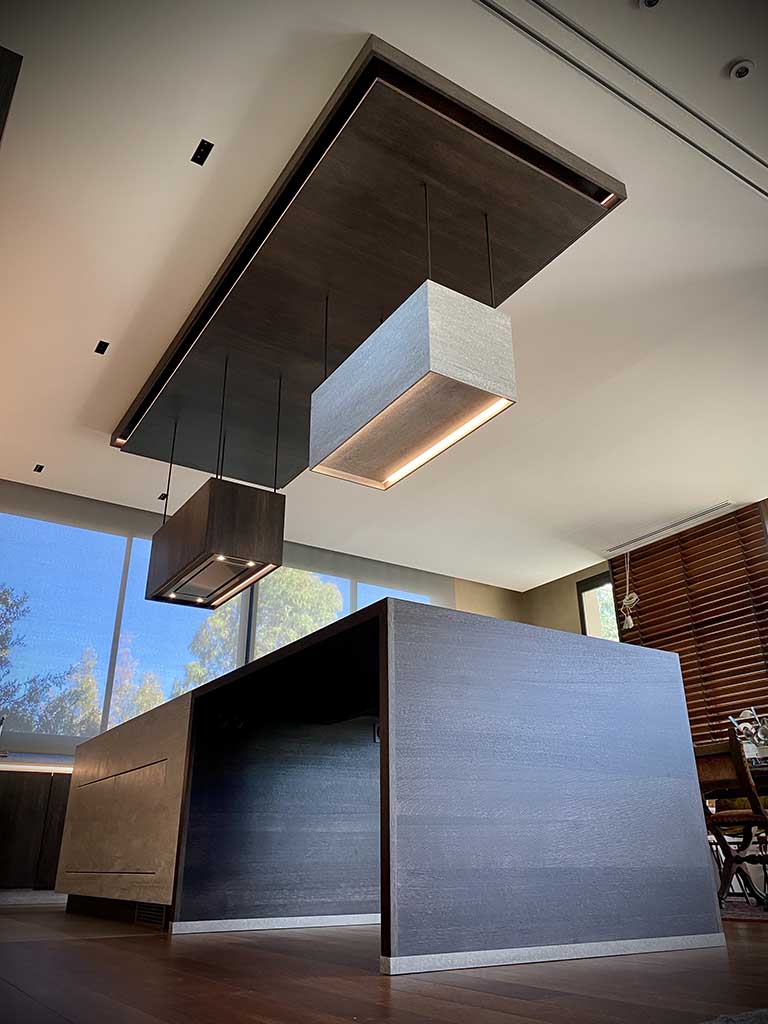 The kitchen, between design and technical skill, HIMACS
This kitchen, open to the living room, offers a convivial atmosphere created by the table extending from the central island, capturing the eye with its elegant lines and the play of materials between HIMACS and oak. The dramatic 4-metre island features a functional part made entirely of HIMACS. This appears to be carved from a single block and includes an integrated hob, drawers and flush storage elements with vertical sides. The snack table, in wenge-coloured oak, lends a special allure to the whole, also adding a touch of warmth and 'tying' the kitchen to the earthier tones of the living room. Perfectly in line with today's increasingly connected world, the worktop of the island has an extra feature: a compartment inside, which encloses electrical sockets and in which smartphones and tablets can be left charging, keeping them safe from splashes.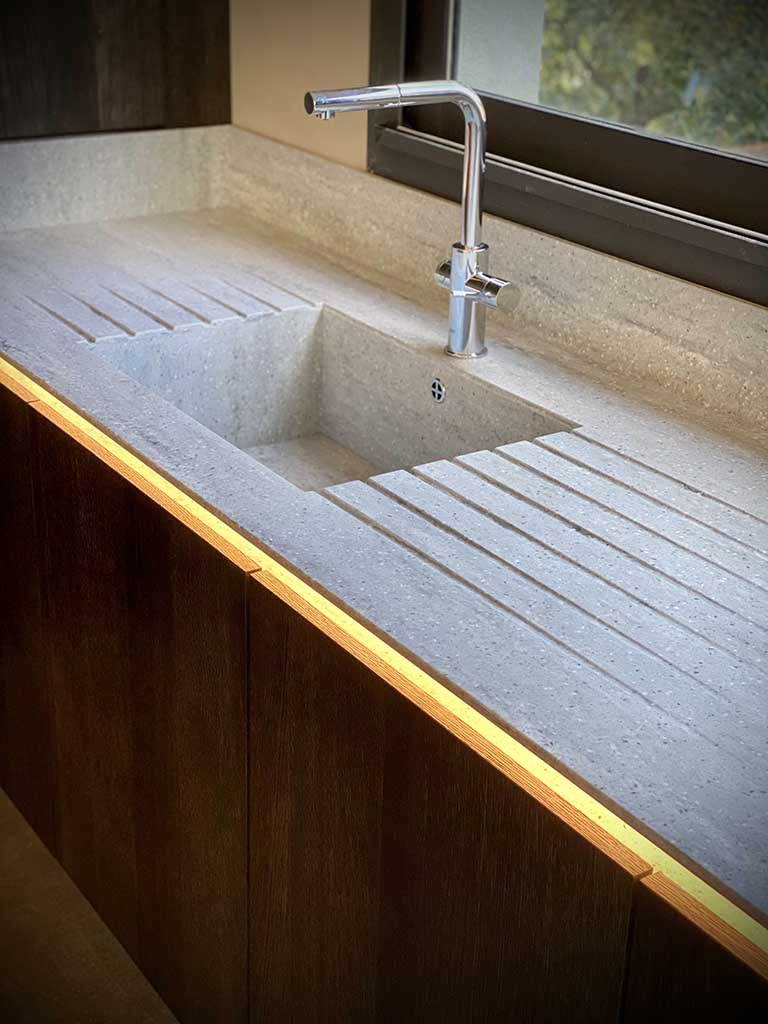 Nicolas Yazigi's client had requested "a sufficient number of electrical sockets both in the island and in the splash guards, but without installing the standard plastic ones. As I continued to discover the incredible possibilities of HIMACS, I decided to push the boundaries in search of a flawless design without compromising safety. I therefore created a recess in the material to have space for the cables (phase, neutral and earth), then fixed the socket to the back of the box'. As for the functionality outside the island, nothing was left to chance. Two niches have been concealed behind the doors, each with a removable HIMACS frame: both include a splash guard with electrical sockets for small kitchen appliances. Thanks to the hygienic properties of HIMACS, the worktops offer a smooth surface, perfect for preparing meals and extremely easy cleaning. Moreover, thanks to the material's non-porous nature and the absence of visible joints, dirt and bacteria do not penetrate. This makes it the ideal choice for the kitchen environment, where no compromises can be made when it comes to hygiene.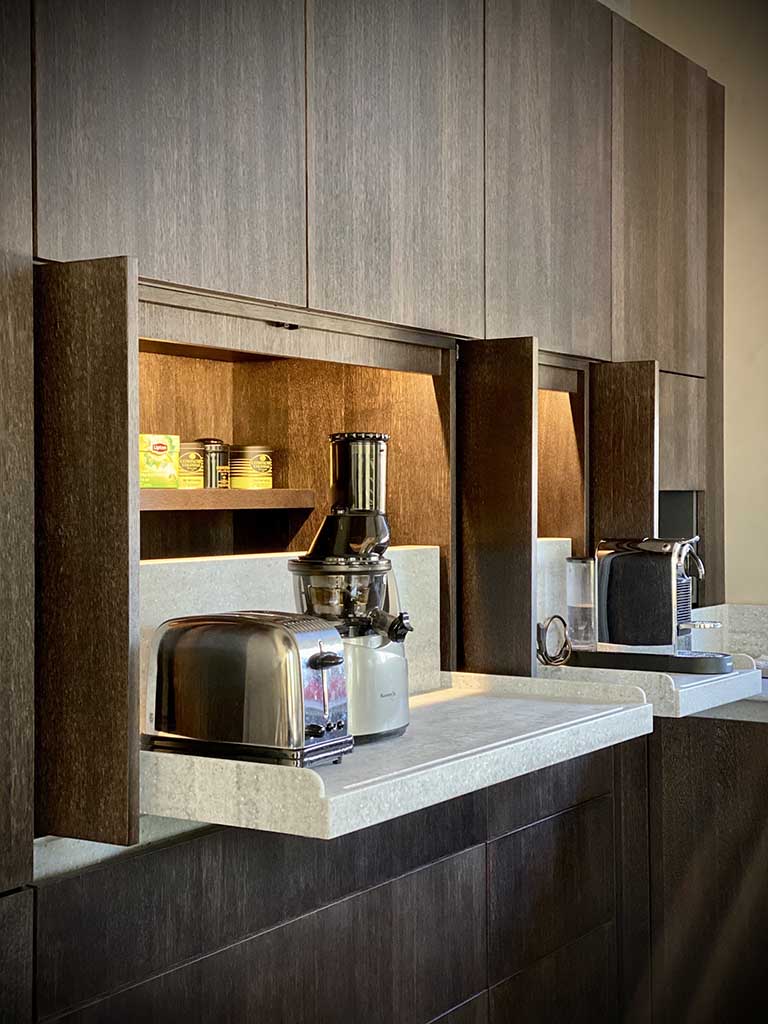 The thermoformed sink has been combined with a splash guard with no visible joints for optimal hygiene. Another detail is the LED strip that runs around the underside of the worktop. It not only adds the finishing touch, but also matches the HIMACS worktop with the oak kitchen furniture. The plinths are also made of HIMACS; they can therefore withstand moisture from floor cleaners.
Let there be light!
Lighting is often reduced to a mere technical element in the kitchen, which is difficult to reconcile with the design, not least because of the electrical wiring. Here, Nicolas Yazigi has once again demonstrated his ingenuity. Two rectangular pendant lamps face each other: one is made of oak and the other of HIMACS, in keeping with the kitchen theme. There are no visible cables thanks to a clever system used to hang them from the oak ceiling light. Another notable detail is the HIMACS frame above the chandeliers, which reflects the LED lighting.

Open bar
For the bar and terrace table, the starting point of the project was the use of the same material chosen for the adjacent indoor kitchen. HIMACS was one of the very few materials suitable for this job, due to its non-porousness, high levels of hygiene, ease of cleaning and resistance to weather and UV rays. The bar was completely made of HIMACS. Nicolas Yazigi acknowledges that 'the constraint was to ensure that the joints did not interrupt the HIMACS grain pattern. A project that required specific bonding technology, which had to be reinforced to provide the necessary strength so that the unit would withstand the weather all year round"
The 2m x 2m table, with its elegant and airy design, has a perfectly smooth and weatherproof top. Stabilising such a large piece was a real challenge. The HIMACS table top rests on four steel legs, created in collaboration with a local blacksmith. Nicolas Yazigi said: "This project was a challenge for me. HIMACS can be used in many fields, offering unparalleled creative freedom and durability. It inspires us to push our limits and I continue to discover this every day'.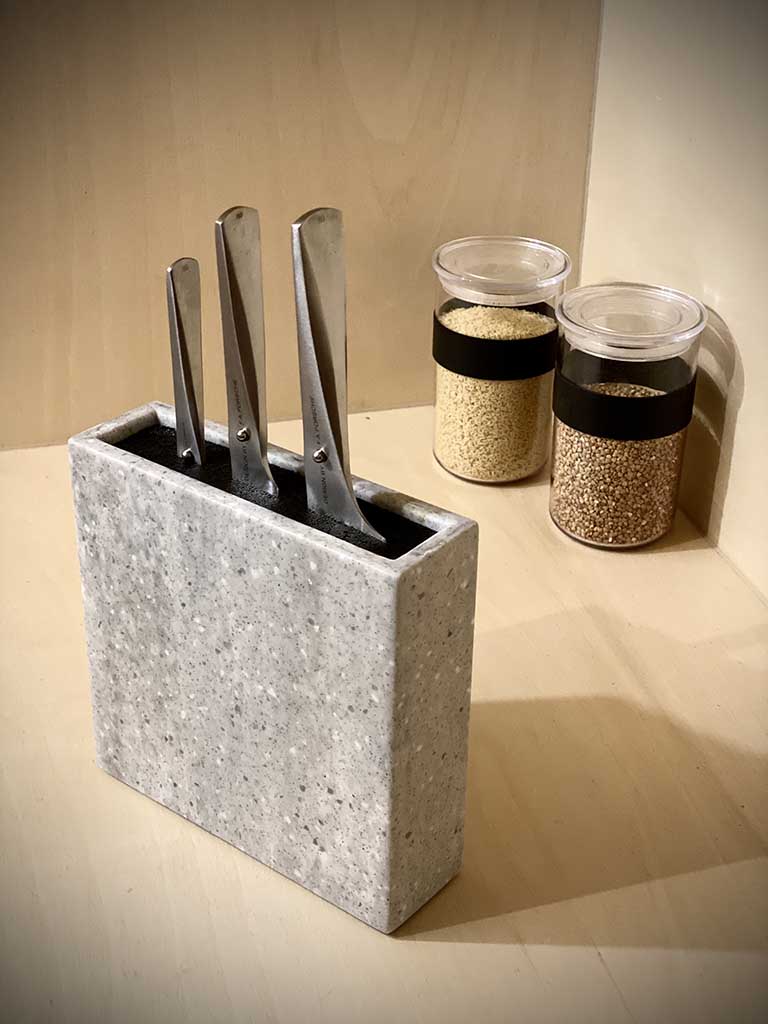 HIMACS Natural Acrylic Stone
HIMACS is an acrylic stone of the highest quality that can assume any shape. It is a material used in architecture and interior design to create sculptural, high-performance forms. Anything is possible with HIMACS: facades, wall or kitchen cladding, bathrooms and furnishing surfaces, in commercial complexes, private spaces and public premises. HIMACS is composed of acrylic, natural minerals and pigments that together create a smooth, non-porous surface with no visible joints, meeting the highest standards in terms of quality, aesthetics, construction, function and hygiene, for greater results than conventional materials.
HIMACS lends itself to endless applications on surfaces and cladding and is a true source of inspiration for creative minds all over the world. Zaha Hadid, Jean Nouvel, Rafael Moneo, Karim Rashid and David Chipperfield, among others, have realised extraordinary projects with HIMACS. Always on the cutting edge of innovation, LX Hausys recently presented two new products. The first is HIMACS Ultra-Thermoforming, an innovative formula that pushes the limits of solid surface moulding to a whole new level with 30% more thermoplastic properties: the greatest innovation in the history of Solid Surface since its inception in 1967. The second, HIMACS Intense Ultra, combines the best of both worlds: Intense Colour Technology and Ultra-Thermoforming.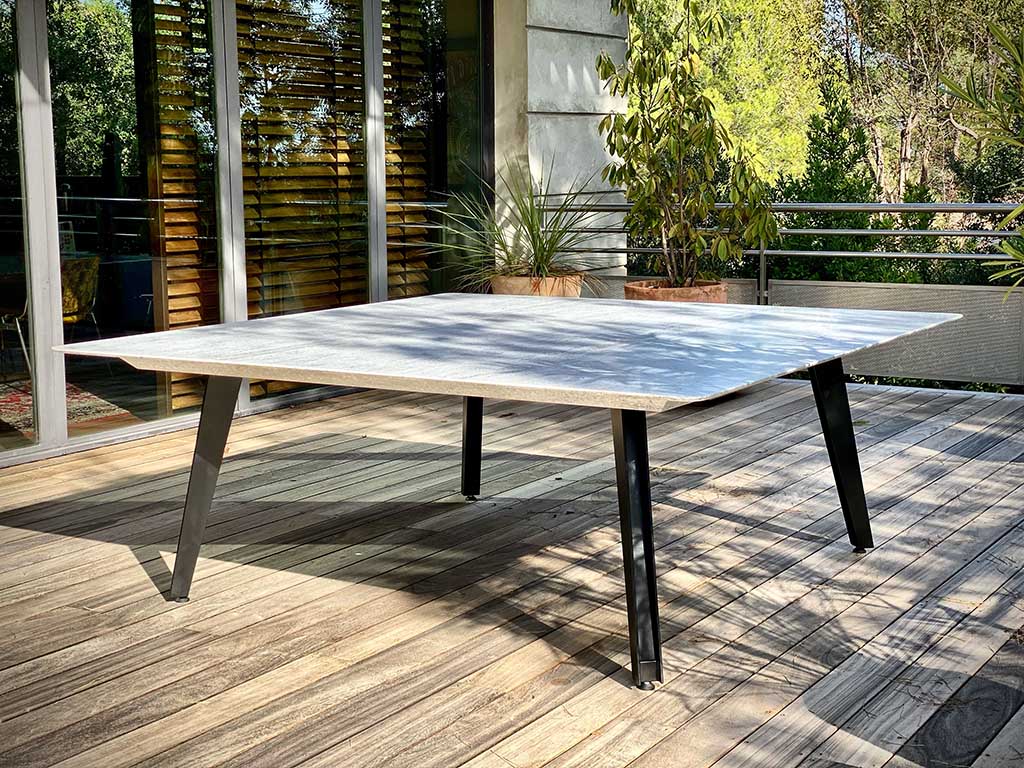 HIMACS, conceived and produced by LX Hausys, involves a very simple heating process and features three-dimensional thermoplastic moulding properties, enabling designs with no visible joints and offering a virtually unlimited range of colours that, in some shades, exhibit a special translucence when exposed to light. HIMACS is a material that is almost as robust as stone, yet can be processed like wood; it can be cut, chamfered, drilled or sanded.
HIMACS is manufactured using state-of-the-art technology, the advanced thermal treatment(thermal cure). The temperature reached during the production process distinguishes HIMACS from other acrylic stones, creating a more compact compound with an even more homogenous, robust and durable structure, with a higher degree of strength and better thermoplastic formability. From a hygienic point of view, HIMACS does not absorb moisture, is extremely stain-resistant, easy to clean, maintain and repair.
Countless international certifications confirm the outstanding qualities of HIMACS with regard to the environment, hygiene and fire resistance. – It is the first Solid Surface material on the market to have obtained ETA (European Technical Approval) certification forexterior façades – in the shade Alpine White S728. HIMACS offers a 15-year guarantee, the longest on the market, for products manufactured and distributed by a member of the HIMACS Quality Club network of authorised manufacturers and distributors. HIMACS. Because Quality Wins. himacs.eu