Enhance your kitchen experience with the Maris Quiet by Franke: the perfect mix of silence, functionality and aesthetics. Nowadays, modern homes often have open-concept kitchens directly connected to the living area, creating an ideal meeting place for cooking, eating and spending quality time with loved ones. However, this multi-use space can get quite noisy with the clang of pots and pans, the hum of kitchen appliances, and other loud sounds that risk impeding relaxation and enjoyment.
But with the right design, the kitchen can also be a quieter, more comfortable environment for cooking and entertaining. The most effective solution for finding tranquillity in this social space par excellence is to choose Franke Home Solutions' premium novelty, the Maris Quiet bathtub, an innovative model capable of reducing noise. Here, then, the kitchen becomes quiet while remaining a stimulating and entertaining space where creativity and productivity can flourish.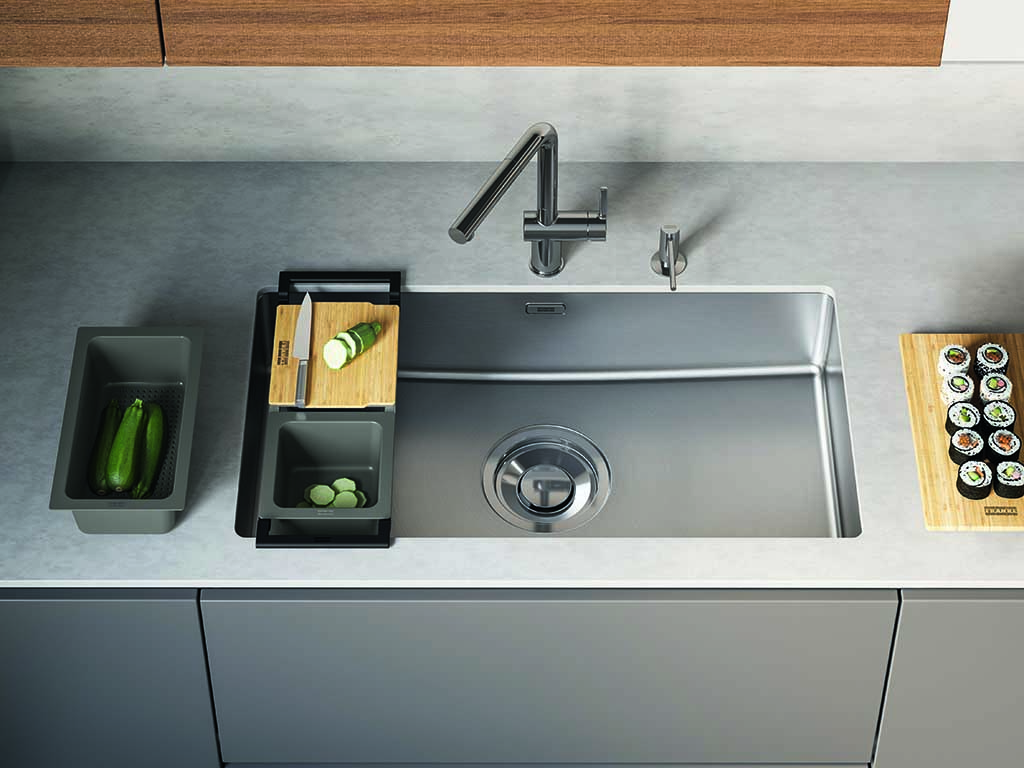 The Maris Quiet by Franke: an innovative solution for enjoying the peace and quiet of a truly silent kitchen. The new Maris Quiet by Franke, made entirely of stainless steel, is large and spacious and has been designed to ensure peace of mind, hygiene and safety. The basin features Franke's exclusive Quiet Pad System, a double coating that reduces noise by 25% when washing dishes. Normally, sinks produce up to 80 dB of noise when the water hits the bottom of the tub and this can be annoying in a quiet environment such as the home. However, thanks to Franke's innovative Quiet Pad technology, the noise is reduced to as low as 60 dB, for a more serene and definitely more pleasant kitchen experience. The Maris Quiet by Franke: a premium solution for a comfortable kitchen experience that becomes a space for enjoyment.
The new Maris Quiet tub features an easy-to-clean basket strainer that collects residual dirt and prevents clogging of the drain and any unwanted odours. Its large 7-inch drain, one of the product's main features, is designed to collect waste quietly and efficiently: made of the highest quality materials, it is easy to clean and maintain, as the basket can be removed effortlessly, along with any food residue. In this way, the risk of clogging is avoided and the tub remains in excellent condition for many years.
Thanks to its innovative features, Maris Quiet offers unprecedented convenience and really allows you to enjoy cooking without worrying about unwanted odours or clogged filters. Whether preparing meals for the family or entertaining guests, the Maris Quiet tub offers a unique experience and is a must-have for all modern kitchens.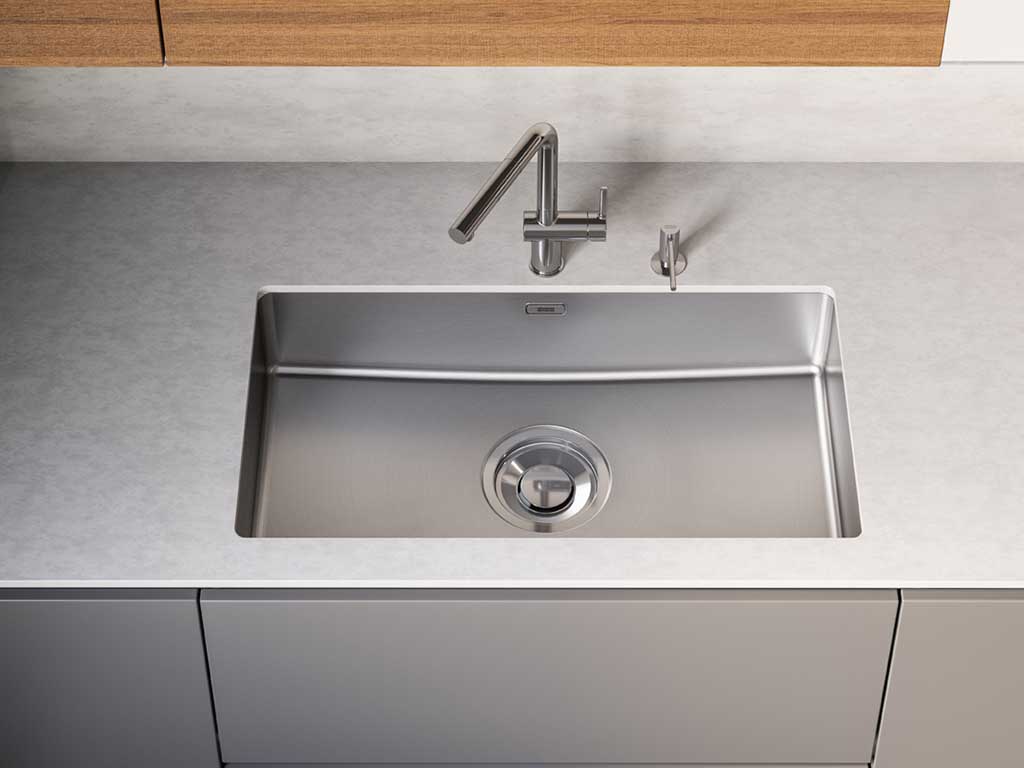 Experience tranquillity in your kitchen with the Maris Quiet bath by Franke, designed to provide unparalleled convenience . Maris Quiet is available in two sizes: the regular 50 cm version and the larger 82 cm version. This second option gives you plenty of space and allows you to comfortably wash dishes and pans while at the same time preparing food for cooking. Being able to wash many dishes at once allows you to complete kitchen tidying tasks more quickly and efficiently and experience a more sustainable routine.
Edoardo Pontoni, Head of Global Category Management Sinks & Accessories at Franke Home Solutions, commented: " At Franke, we believe that every kitchen should be a space that encourages creativity and productivity, without any disruption. That's why we designed the Maris Quiet bowl, a premium sink that perfectly combines tranquility, functionality and aesthetics. With our exclusive Quiet Pad System and easy-to-clean drain kit, the new Maris Quiet tub offers unparalleled convenience and ease of use, allowing you to focus on what really matters: time spent enjoying yourself in the kitchen."
Franke Home Solutions is a division of the Franke Group and the world leader in intelligent systems and solutions for the home kitchen. The division is active worldwide and employs around 4,500 people in almost 30 countries, generating total sales of more than CHF 1 billion. The product range covers all areas of the kitchen – from food preparation and cooking to purification, cleaning and air treatment – and expands throughout the home. Franke Home Solutions offers consumers an unlimited home experience – simple, hygienic and environmentally friendly. franke.com