Frag, all the novelties of the 2023 collection, designed by Gabriele and Oscar Buratti, with a sinuous and elegant design.
Myon, Design: Gabriele and Oscar Buratti, Frag
Myon is a family of tables and coffee tables characterised by constructive simplicity and shapes with a strong geometric matrix. The graceful strength of its design translates into slender circular tops that contrast with solid, imposing cylindrical bases. The dining tables, harmonious in their generous shapes, are characterised by compositional symmetry between top and base. Available with oval and round tops, each in two sizes, they represent an invitation to conviviality. The round table consists of an imposing central cylindrical base on which the top rests, 160 and 180 cm, while the oval top, 240 and 280 cm, is supported by a double cylindrical base. The coffee tables, on the other hand, are interpreted with an off-centre base with respect to the top and are available in different sizes and heights, making Myon a coffee table for front or sofa side use. The entire family is offered with a glossy lacquered finish and a dynamic colour palette of narcissus yellow, oriental red and silk grey, conveying a lively, playful and contemporary spirit.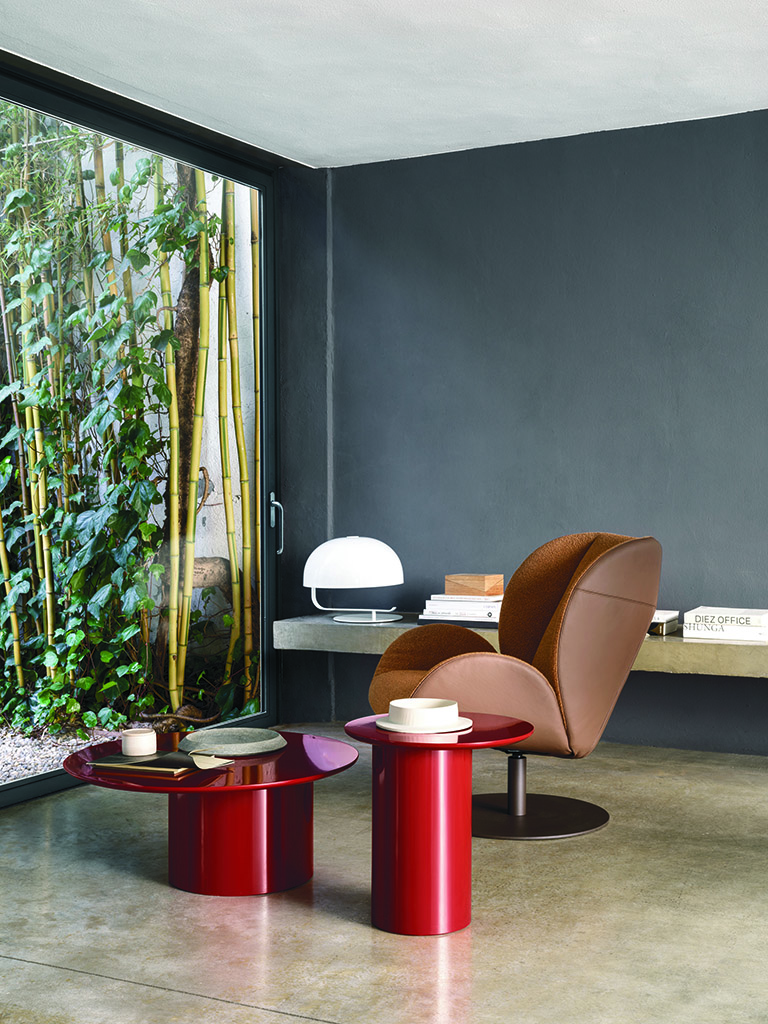 Siloe, Design: Gabriele and Oscar Buratti, Frag
Siloe is a seating family composed of chair, armchair and stools with a sober and harmonious design. The entire family is distinguished by a soft seat supported by a structure whose legs join in a cross design. The backrest binds to the seat with an ironic curvature and extends beyond the seat as if to protect it. Chair and armchair are offered in two versions, one with a tubular steel frame, severe in its lines but refined in its thicknesses, and one with an ash wood frame, stronger and more rigorous to the eye. In the small armchair, the legs extend to create the support for the particular armrests, upholstered in the metal version, which in their curved design seem to want to embrace the person sitting down. The stool, made with a wooden frame only, is available in two heights and is completed by a footrest with satin-finish stainless steel inserts.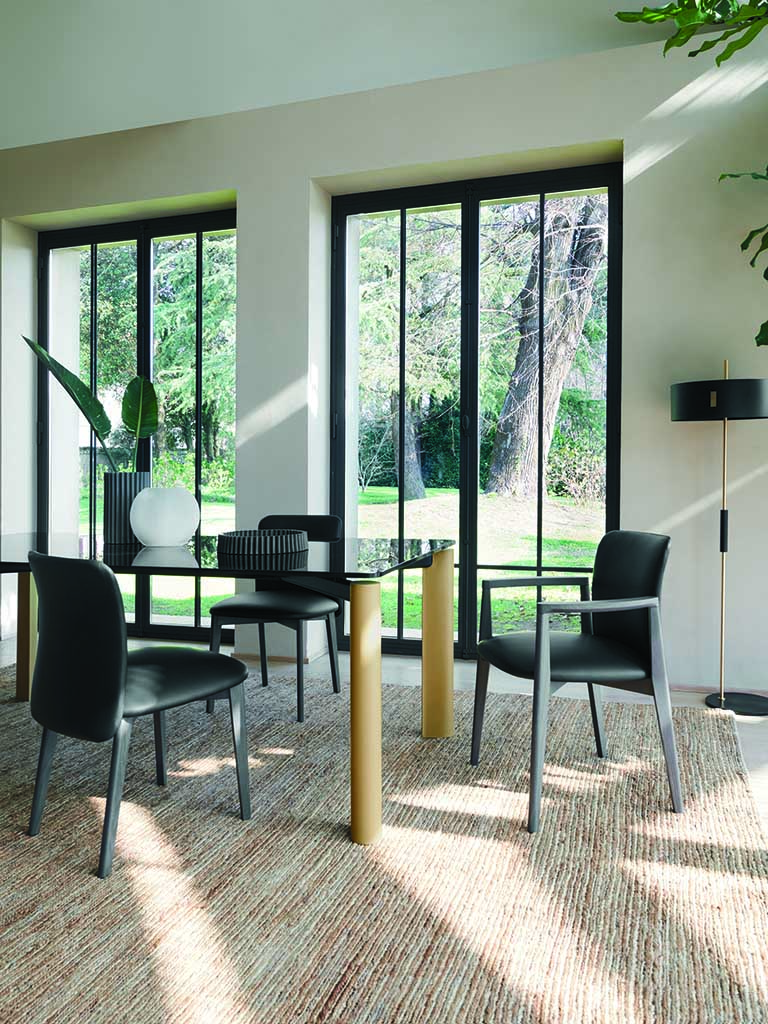 Syren, Design: Gabriele and Oscar Buratti; Frag
Syren is an armchair that strikes a balance between softness and lightness. The tubular metal frame acts as a support for the wide leather band that wraps and contains the upholstered elements. The comfortable seat is composed of a single structural cushion, very voluminous and with a strong aesthetic presence. The backrest and armrests, on the other hand, are designed as mobile, soft cushions that adapt to the body for a feeling of total comfort. The metal frame, on the other hand, stands out for its lightness and slender profiles. A contemporary rigour, drawing inspiration from the past, defines Syren, revealing its personality in the details and finishes: the black painted metal frame, light to the eye but solid, supports the leather band and accommodates the seat cushion, backrests and armrests available in all the leathers and fabrics in the catalogue, making Syren an ideal armchair for refined residential interiors. frag.it