The history of FIMA (Fabbrica Italiana Miscelatori Accessori) runs parallel to that of bathroom furniture and interior design and is based on three precise values that sum up its design philosophy: #Green #Quality #Design. The company – founded in 1960 by Carlo Frattini – has a dynamic, international and thoroughly contemporary character that finds expression in unique and innovative solutions under the banner of design, quality and functionality with a particular focus on the environment and eco-sustainability. On the strength of this approach, FIMA Carlo Frattini constantly progresses and renews itself, as demonstrated by the high level of design and quality of production, the continuous investment in research, the strong national and international expansion, and the professionalism of the company team.
#GREEN
An eco-sustainable company, powered by self-generated energy and able to manufacture products that are safe for health and the environment with a low environmental impact. In line with this philosophy, the factories have been designed for more efficient management of the various processing phases with state-of-the-art machinery and systems to minimise consumption. In addition, the production site is powered by solar energy, generated thanks to the photovoltaic system, and is equipped with a 'zero impact' galvanic plant, capable of working with Trivalent Chromium, which, unlike hexavalent chromium (currently used in 90% of cases), is free of carcinogenic elements, produces no waste and significantly reduces waste rates.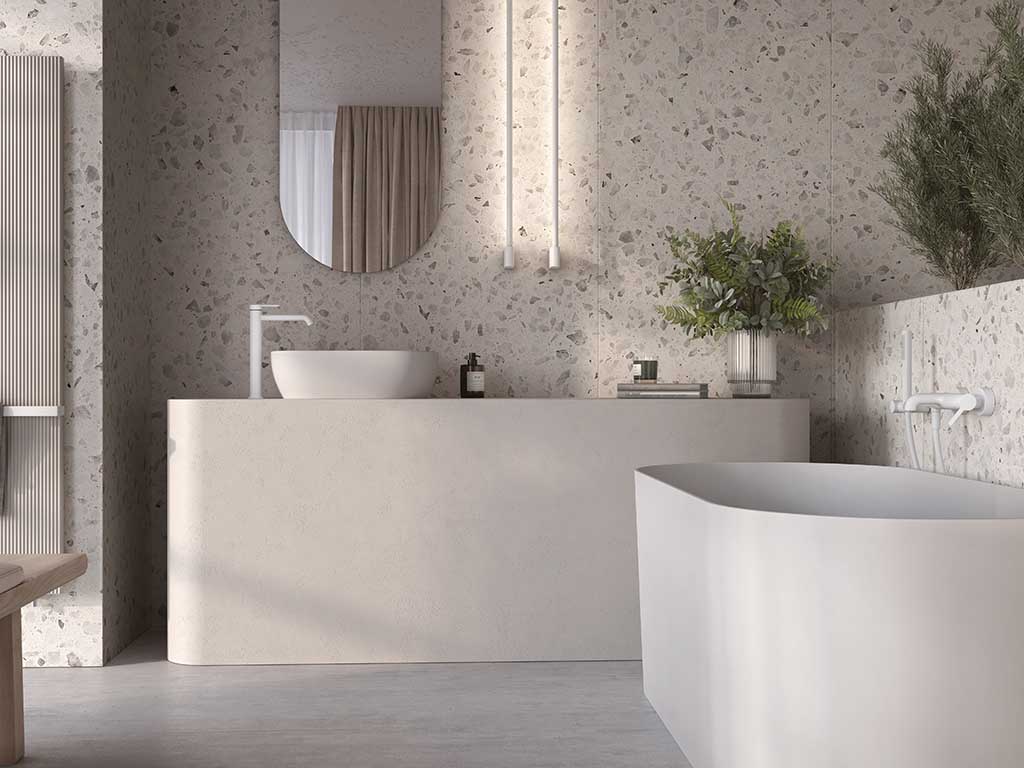 Thefocus on sustainability also affects the products in terms of both materials and components and packaging. Thebrass used for all recessed bodies is ADZ, i.e. it has a minimal lead content, guaranteeing on the one hand a higher quality in terms of resistance to erosion over time and on the other hand a lower lead dispersion in water. All the brasses used are part of the DWD list – Drinking Water Directive – the European standard that regulates the use of materials in contact with water and guarantees a low level of impurities and reduced lead content.
Fima Carlo Frattini products are designed to guarantee an optimal experience and ensure a rational use of water: in fact, each showerhead is equipped with a flow rate limiter of a maximum of 12 litres/minute while all series are designed to work with WSC cartridges (Water Saving Cartridge) that reduce water waste or ESC cartridge (Energy Saving Cartridge), which, thanks to the cold water opening in a central position, reduces energy consumption by avoiding the waste of hot water. Further evidence of the attention paid to the environment is the packaging: the boxes are produced from 95% recycled material and are in turn 100% recyclable thanks to the use of uncoated natural cardboard and therefore not subject to chemical processes that drastically reduce the possibility of reuse.
#QUALITY
The best materials and state-of-the-art technology to guarantee daily use that is impervious to the passage of time. Fima Carlo Frattini embraces a global approach to quality that derives from a focus on technological innovation, adopting state-of-the-art industrial processes and choosing the best raw materials. The dynamic approach and the drive for continuous improvement have led to the development of a new chrome plating process that raises the bar of quality excellence by making trivalent chrome even more effective: FIMA TECH CHROMIUM.
The result is a product that performs better in terms of aesthetics and quality: greater brilliance and definition even for series with special processes and a high resistance to corrosion, reaching values that far exceed regulatory standards. Furthermore, all products are subjected to meticulous and strict controls at every stage of processing and are designed to comply with all the strictest international regulations. Further evidence of this total quality philosophy is the 7-year warranty on all production. The concept of quality also includes rigorous care in service, a very important element of the strategy that is expressed through highly professional assistance and technical support. Not only that, the company has always guaranteed extremely fast response times. All pluses that make FIMA Carlo Frattini known and appreciated worldwide also in the contract field.
#DESIGN
Unique products, designed to maximise comfort of use and with an unmistakable Made in Italy touch. Convinced of the power of creativity, design and new technologies, the company has taken an innovative and constantly evolving approach over the years. This attitude has led it to interpret and anticipate the present and future needs of the market, proposing products at the forefront of design and technology. Studied to maximise comfort of use and characterised by a unique style, they are designed by an in-house team of designers under the Art Direction of Davide Vercelli and by well-known names in design such as Giuseppe Bavuso, Sergio Castiglia, Meneghello Paolelli Associati, Marco Preti and Hans Thyge Raunkjær. An offer that is characterised by an unmistakable Italian style and a great stylistic breadth, ranging from contemporary to classic, and aimed at different targets, always guaranteeing high standards of quality and innovation .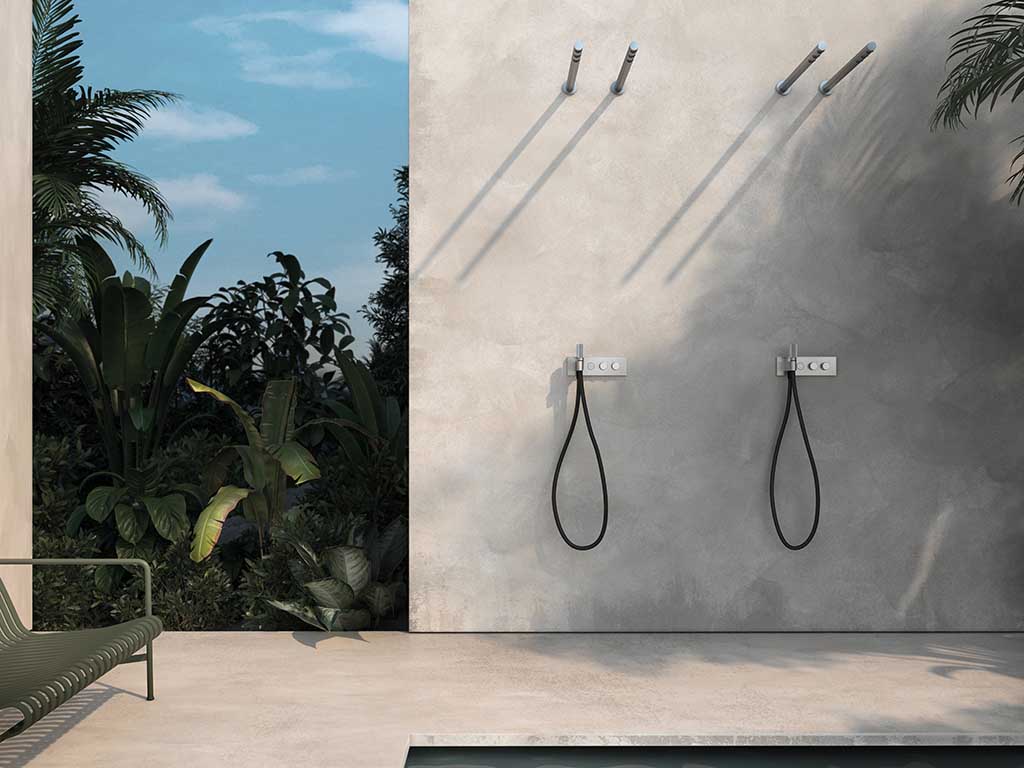 Laproduzione FIMA Carlo Frattini is therefore extremely complete and articulated and includes a line of products for the kitchen, bathroom and shower that stand out for research and innovation. Solutions ranging from distinctive design, the result of constant research aimed at high design, to those with more minimal lines, ideal for the contract sector. Within this range are FIMA Kitchen, the exclusive collection of products dedicated to the contemporary kitchen, FIMAWellness, the line of shower systems designed to make the bathroom the environment of well-being, and the new Fima Outdoor, a collection for outdoor living that creates new rhythms and unprecedented rituals of well-being through a functional and aesthetically appealing design language. Extraordinary prizes were awarded to Fima Carlo Frattini's design:
IF Design 2021 to the Switch shower system.
IF Design 2020, German Design Award 2019, Good Design Award 2019, Design Plus powered by ISH 2019 to the SO mixer.
Selection for publication in the ADI Design Index 2018 assigned to the Moove shower head.
Selection for publication in the ADI Design Index 2017 and Design Plus powered by ISH 2017 to the Nu shower head.
"Red Dot" at the Red Dot Award: Product Design awarded in 2017 to the Skinny mixer.
Design Plus powered by ISH in 2015 to the Cloud shower head and in 2011 to the Fluid and Sfera collections.
Special mention at the German Design Award 2016 to the Cloud shower head.
Designer Kitchen & Bathrooms Awards 2015, in the category 'Innovation Material', to the Texture Collection.
Good Design Award 2011 to the Fluid collection. fimacf.com