FAP Ceramiche – one of the leading manufacturers of ceramic floor and wall tiles – is characterised by a constant process of investigation and experimentation, which is nourished by a virtuous dialogue with craftsmen, and which aims to recreate the beauty of imperfection. Aesthetic and chromatic research are at the service of a sophisticated material and "irregular" effect, which thus becomes the distinctive note capable of infusing warmth and emotion into the collections.
For those who love to dare and let themselves be seduced by settings with an urban imprint, FAP Ceramiche proposes a range of solutions in which the charm of oxidised metal becomes the perfect expedient to give life to new and daring combinations, in full raw chic style . Surprising colours ripple the surfaces of ceramic slabs that become immediate protagonists, giving the space personality and an appeal with a metropolitan flavour. Metal-effect porcelain stoneware also has special qualities of resistance and durability: it does not alter over time and is easily washable.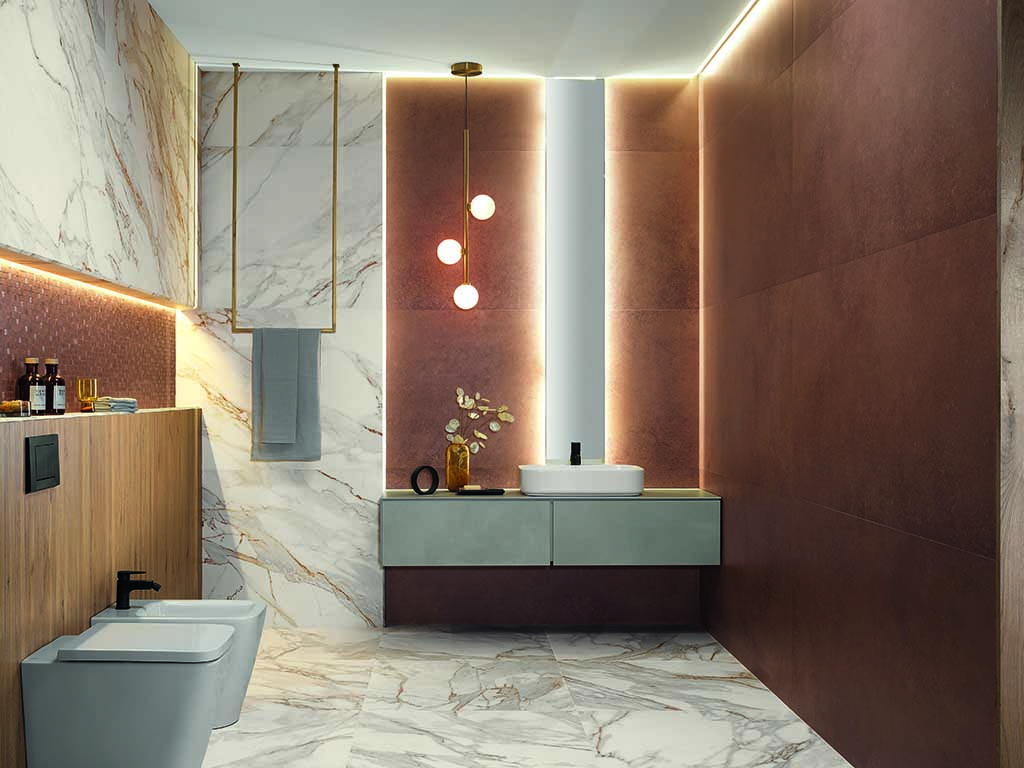 Its industrial aesthetics are ideal for interior design projects dedicated both to residential spaces – lofts and open spaces, to embellish the living area but also the bathroom or kitchen – and to commercial environments, where the great aesthetic impact of the metal effect is combined with the performance in terms of resistance to treading and ease of maintenance typical of porcelain stoneware. In a precious interplay of balances, the decorative power of the oxidised surface finds its maximum expression in the large size: the Oxide slab, 120×278, thus becomes the perfect ally for the creation of refined evocative settings.
The colour palette ranges from the darkest and most decisive nuances of metal(Iron), through the characteristic rust-coloured hues(Corten), to more trendy shades such as Rust and Blue Rust, in which unprecedented colour accents emerge from acid-etched and chemically treated copper slabs. There are many expressive possibilities offered by the rough beauty of Oxide, which combines sublimely with other FAP collections, for combinations with great contemporary appeal. Like the one, for example, with the Ylico series, in which cement – a material commonly associated with qualities such as strength, weight, staticity – goes beyond its essence, becoming as delicate and light as a dress.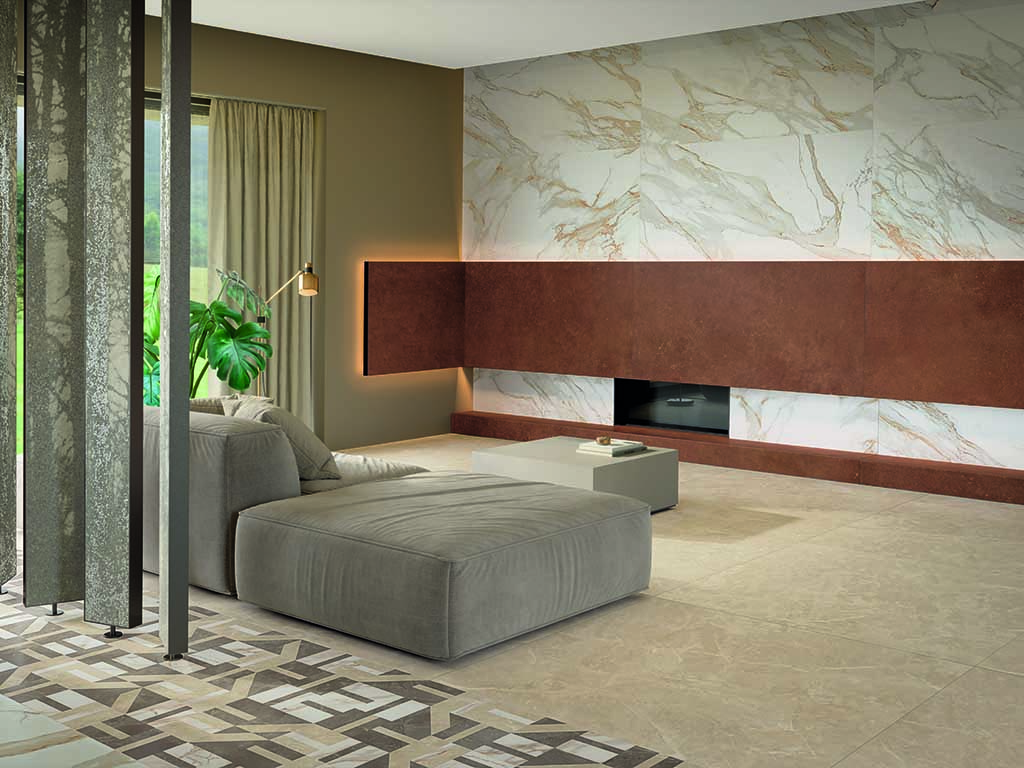 Daring and flawless mixes are the result of the marble effect of Roma Gold, a collection in perfect balance between classicism and eclecticism, extremely versatile in terms of effects, styles and formats. The appeal of oxidised metal can also be released through the walls: warm and enveloping environments come to life thanks to the Corten variant in the 80×160 size of Roma Stone. With its instinctive and eclectic character, it is a series characterised by four different aesthetics: Marble, Stone, Corten slabs and matt & glossy decors inspired by nature. Finally, the raw and imperfect beauty of the rust effect is also reawakened through the original Deco Rust finish, 80 x160 by Sheer, a complete and composite range of textures, textures and material suggestions.
Thanks to its refined oxidations, Deco Rust resonates like an antique jewel, giving off vintage vibrations that go perfectly with white and minimal surfaces, for spaces of great charm. FAP's oxidised surfaces, enlivened by light that gives iridescences and unexpected movements, add a touch of glamour to even the most traditional wall coverings, proving to be the ideal answer to the need to create spaces of great scenic and contemporary appeal.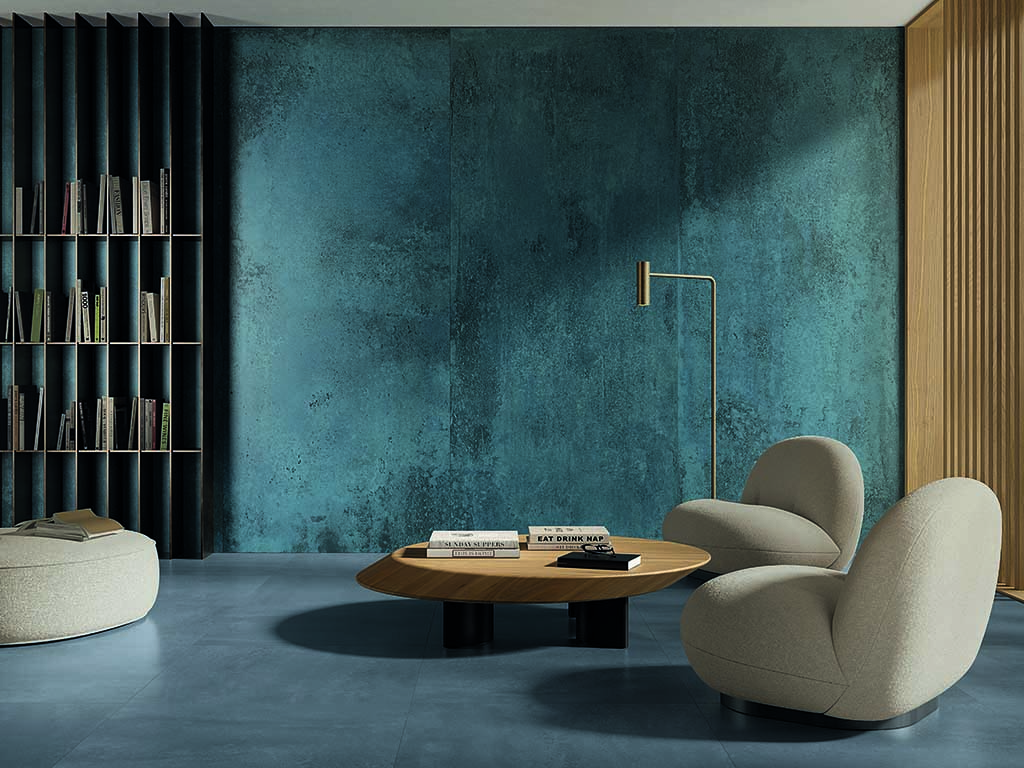 FAP Ceramiche
FAP ceramiche, one of the main players in the production of ceramic wall tiles, offers a catalogue with over 30 collections whose common thread is the ability to realise the needs of those who seek inspiration to furnish their homes with white-body and porcelain stoneware proposals. The research into styles, materials and finishes that the company has always carried out is made possible by the versatility of the ceramic material, which allows infinite possibilities for customisation and which FAP, following the most current trends, declines through glamorous colours and decorations. Ceramic is unalterable over time, does not wear out and is easy to lay. Another important feature is the ease of cleaning, which is also a guarantee of maximum hygiene. FAP ceramiche tiles are produced exclusively in Italy in a production context characterised by certified working conditions, with environmentally friendly technologies and raw materials that guarantee absolute safety. fapceramiche.com