The beauty of art and the goodness of food together with Barilla's know-how meet in Parma, at the Group's headquarters. In Barilla comes Echinoidea, the art installation designed by GG-loop and realised by Rubner Haus that connects man and nature through a space in direct dialogue with the outdoors. It does so in the gardens of the largest pasta factory in the world, where imagination, fantasy and art join the concreteness of "savoir faire" and the production of good food. The opening event was attended by the top management of the Barilla Group, the partners GG-loop, Rubner Haus and Artemide and all the Barilla People present during the day.
Echinoidea interprets an organic space, whose function recalls the ancient archetype of the shelter that welcomes people inside. It is, in fact, a modular wooden shell that offers visitors a contemplative and enveloping experience together with a new perspective, that of the outdoor gardens of the Pedrignano pasta factory. The work has in fact been installed in the gardens of the Group's headquarters between the works of Pietro Cascella and Arnaldo Pomodoro and has been made available to all Barilla People , who can experience the installation to carry out their work outdoors, or as a space for gathering, or they can simply admire its beauty. Those who walk around the Group's offices today, as well as in the outdoor spaces, can also enjoy a permanent exhibition composed of over 300 pieces, personally selected by Pietro Barilla, which embrace the history of 20th century art, touching on artistic currents and movements from pointillism to geometric painting, from surrealism to abstract and harmoniously integrating painting and sculpture in a mix of rare intensity.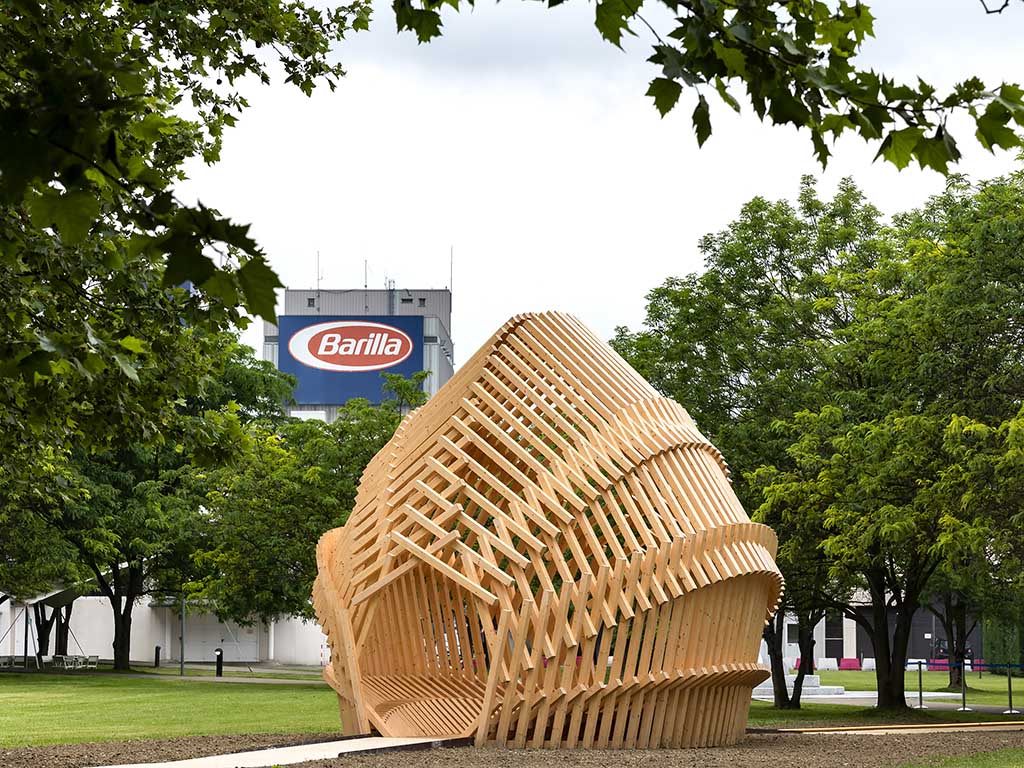 "We are delighted to welcome the Echinoidea art installation to our company gardens and to make it available to all our people," said Paolo Barilla, Vice President of the Barilla Group. "Barilla has always combined art and imagination with know-how and the joy of food for a better life. It is a bond that has given rise to signature communication campaigns and enriched our offices and our pasta factory with paintings and sculptures. With Echinoidea, Barilla people will enjoy an unparalleled experience where nature and beauty meet in the name of sustainability".
"Thanks to Interni, Rubner Haus and Artemide, the thousands of visitors to Fuorisalone 2022 welcomed Echinoidea as an installation ambassador of an important message of environmental awareness, more complete and profound than sustainable making: the pavilion represents a way of designing, building and living that aims to restore a balanced and harmonious relationship between Man and Nature. Conceived according to the biophilic approach, Echinoidea nourishes in the visitor his innate propensity towards every living system through a holistic multi-sensorial experience," continues Giacomo Garziano, founding architect of the GG-loop studio. "Barilla has immediately shown itself to be extremely sensitive to this issue. We are very honoured that Echinoidea is welcomed into the collection of the historic Italian brand, and grateful that our sculpture can continue to live, communicate, envelop and inspire future visitors to the garden."
"Today begins a new life for Echinoidea in a new home," emphasises Martin Oberhofer, managing director of Rubner Haus. "It is the happy epilogue of a path undertaken to show the structural, aesthetic and sustainable performance of wood, an elective material for a new architecture with a low ecological impact. Placing it in this garden, after the work has fulfilled its function during the INTERNI exhibition, is part of that concept of circular economy which, in reuse, extends the life cycle of the work, helping to reduce waste to a minimum and generating further value. We are happy that Barilla wanted to welcome it among its works of art by making it available to its people". "Artemide's light is a circular energy that sustains life in all its places and times, and in the Echinoidea installation it makes the environment even more welcoming with dynamic scenarios that dialogue with nature, following its rhythms for a positive relationship between people, spaces and the environment," concluded Carlotta de Bevilacqua, President & CEO Artemide .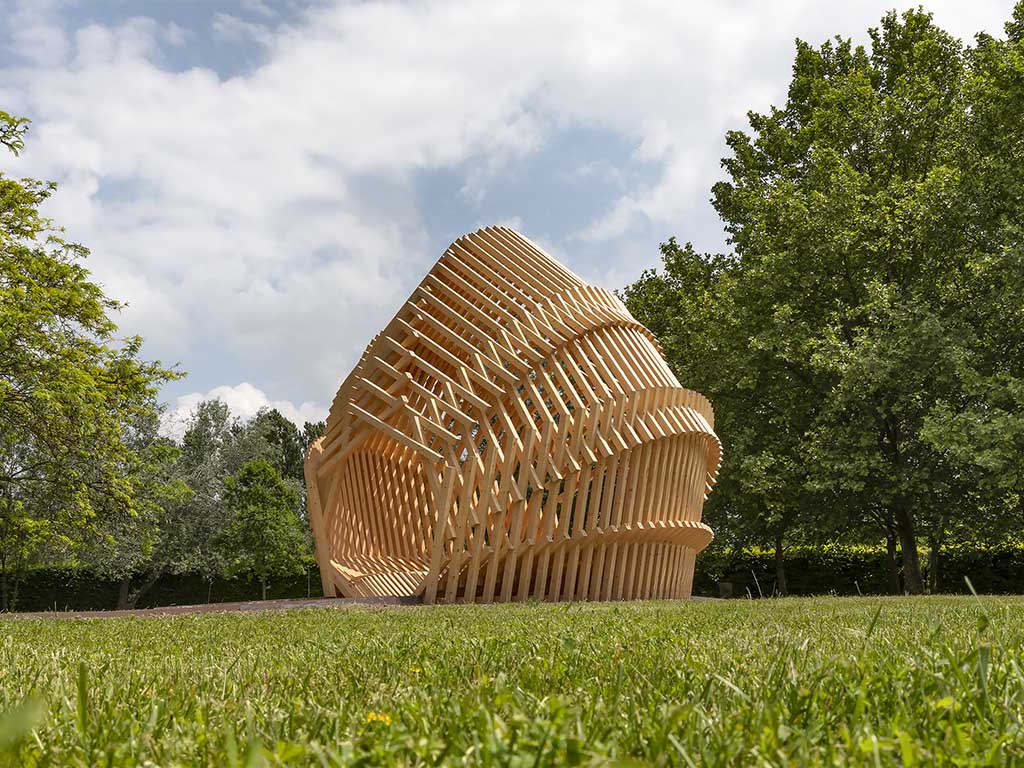 FOR 146 YEARS, BARILLA HAS BEEN COMBINING IMAGINATION AND FANTASY WITH THE CONCRETENESS OF 'SAVOIR FAIRE
"Art is a beauty to be shared"so liked to repeat Pietro Barilla, who took over the company together with his brother Gianni after the First World War. After a trip to the United States, Pietro Barilla realised that the key to success lay not only in the quality of the products, but also in skilful care of the image. Since the beginning of the 20th century, in fact, art and communication have been closely linked to the Barilla Group's entrepreneurial vision, in the wake of a vocation to respond with innovation to the needs of every age. Thus the offices and the Pedrignano pasta factory in Parma immediately took on the appearance of a fascinating museum: an art collection within the grounds of the world's largest pasta factory characterised by an unusual combination of the beauty of knowing how to produce good food and the shapes of paintings by Boccioni, De Chirico, Magritte, Guttuso, Morandi, Chagall, Picasso and sculptures by Rodin, Moore, Marini and Manzù .
Barilla has been a pioneer of communication and art in Italy and the world for 146 years. Throughout the 20th century and up to the present day, Barilla has continued to explore the relationship between different forms of art and communication, putting advertising at the forefront of its commitment to quality and joy. Protagonist of a journey of goodness through customs, art, and the continuous changes of society, Barilla has immortalised this journey between different art forms within its Historical Archive, entirely digitised, in which the Group's historical heritage is kept, through testimonies of life, projects, choices, strategies, products, and the people who have worked in Barilla.
ECHINOIDEA: AN ENVELOPING SHELTER BETWEEN DESIGN, TECHNOLOGY AND SUSTAINABILITY
Echinoidea draws inspiration from the concept of the 'primitive hut', introduced by Vitruvius, which explores the origins of architecture and the anthropological relationship between man and the natural environment as a fundamental basis for the creation of architecture. It is a parametric system consisting of 503 wooden beams for a footprint of 6x6x6m, making the pavilion modular, easy to assemble and highly sustainable and recyclable. During production, Rubner Haus' design approach, oriented towards a high level of prefabrication, made it possible to reduce construction time and avoid unnecessary waste of material, bringing the ecological footprint of the installation to zero.
The work offers visitors a shelter, a shell within which they can be enveloped in an immersive experience. Inside, the light of Artemide, which proposes a futuristic vision and a new way of interpreting and experiencing light, makes the environment even more welcoming with RWB linear profiles that disappear, integrating themselves into the structure to leave space only for the dynamic and beaming light effect. Added to this minimalist yet scenic presence are BIG's Gople Outdoor, large white, light and resistant diffusers that fit freely and flexibly into spaces, moving from the inside to the outside of Echinoidea to support the interaction between nature and shelter, suggesting new situations and relationships between people and the environment each time.

The Barilla Group
Barilla is a family-owned, unlisted company headed by brothers Guido, Luca and Paolo Barilla. It was founded by their great-grandfather Pietro Barilla, who opened a bakery in Parma in 1877. Today Barilla is famous in Italy and worldwide for the excellence of its food products. With its brands – Barilla, Mulino Bianco, Pan di Stelle, Gran Cereale, Harrys, Pavesi, Wasa, Filiz, Yemina and Vesta, Misko, Voiello, Academia Barilla, First, Catelli, Lancia, Splendor, Tolerant, Pasta Evangelists and Back to Nature – it promotes a tasty, joyful and healthy diet, inspired by the Mediterranean diet and the Italian lifestyle. When Pietro opened his shop 146 years ago, the main aim was to make good food. Today that principle has become Barilla's way of doing business, with more than 8,700 people working for the company and a supply chain that shares its values and passion for quality. The Group's commitment is to offer people the joy that good, well-made food can give them, made with selected ingredients from responsible supply chains, contributing to a better present and future. Since 1987, a historical archive has been collecting and preserving the history of the company's 146 years of life, which today, thanks to the museum portal, is a resource accessible to all and bears witness to the journey of a Made in Italy icon and the changes in Italian society.
GG-loop
GG-loop believes that architecture, as a response to a spatial demand, cannot simply be functional. Every space must tell a story and act as an extension of its user. GG-loop approaches every design with this paradigm in mind, articulating a vision centred on biophilic, regenerative and environmentally friendly design. GG-loop's biophilic approach sharpens the understanding of the relationship between human beings and Nature. Furthermore, this vision of the firm aims to raise awareness of the importance of biophilic architecture as a response to the current climate condition. Following principles of biomimicry found in Nature, the studio's projects organically change, interact and evolve according to the needs of their users. To optimise workflows and have a complete overview of every aspect of a project, GG-loop uses BIM and parametric design technologies to directly transform geometric information into construction. Through a participatory design strategy with each stakeholder, each project aims to provide positive impacts on society and support long-term goals of conservation, self-sufficiency and regeneration. The ultimate goal is to develop design solutions that give back to the planet and can serve as a benchmark for the design, real estate and urban development sectors. The first project realised by GG-loop, the multifaceted House-Museum 'The Seed of Time', achieved global recognition and set the studio's standard in conception and execution. Other completed projects include 'Freebooter' and 'Mitosis', international benchmarks for biophilic architecture. The firm has won numerous architectural awards such as the Frame Award (NL), the World Architecture Festival Award (UK) and the Best of the Year 2019 Award (NY). gg-loop.com

Rubner Group
Founded in Chienes, in the province of Bolzano, from a water-powered sawmill, the Rubner Group employs about 1400 people, has 18 plants in Italy, Austria, Germany and France, and 55% of its revenues are developed outside Italy. The solutions range from houses and doors to the design and realisation of large structural works made of glulam such as multi-storey buildings, schools, warehouses, industrial plants and offices, shopping centres, congress centres, gyms, stadiums, warehouses and warehouses, hotels. The Rubner Group companies cover the entire production chain: the wood industry in which RUBNER HOLZINDUSTRIE is active, a company specialised in the production of sawn and semi-finished fir products; NORDPAN, which produces and markets high quality solid wood panels, single and multi-layer and in the widest range of sizes and qualities; large engineered wood structures, presided over by RUBNER, which represents the most dynamic and technologically advanced sector of the Group; single and two-family wooden houses for which RUBNER HAUS is the main interlocutor on the Italian market with over 25.000 architectures built using the various components of the tree – wood, cork and wood fibre – for healthy and sustainable living; Holzius pure wood houses which, thanks to a patented technique, is able to build wooden walls and floors without the use of glue and metal parts. Finally, the wooden doors in which RUBNER TÜREN has earned a reputation as a specialist in the production of high quality 'made-to-measure' solutions for interiors and exteriors, and the windows of RUBNER FENSTER, which specialises in the design and construction of solid wood and wood-aluminium windows and doors.
Artemide
Artemide, a leading lighting company, has always been synonymous with innovation and Made in Italy, with products that are considered icons of contemporary design at an international level. Founded in 1960 by Ernesto Gismondi, Artemide is based in Pregnana Milanese. Its products are distributed in almost 100 different countries. With 5 production units in Italy, France, Hungary and Canada, a glassworks and an innovative R&D facility supported by prototyping and testing laboratories, Artemide is ISO 9001, ISO 14001 and ISO 45001 certified. Since 2019 it has adhered to the United Nations Global Compact and since 2018 has transparently testified to its path with the certified Sustainability Report. Artemide's collections represent a unique intersection of values: the human and responsible approach to light is combined with design and material know-how, in an encounter between state-of-the-art technology and ancient knowledge, the perfect expression of sustainable design. Innovative vision, research, dialogue with great architects are the basis of sustainable projects capable of illuminating the future with the same strength over time.