Dornbracht launches Flow Reduce, the new water-saving shower solutions. Ecological, economical and efficient.
Dornbracht expands its range of shower solutions with new water-saving versions. As of today, in fact, a large part of the range of overhead and rain shower heads, side jets and hand showers, as well as shower systems will also be available in reduced water flow versions. An important step towards sustainability: the new Flow Reduce variants allow water savings of up to 54 per cent compared to normal versions, without compromising on comfort.
Protecting the environment
In private households, drinking water consumption is mainly for personal hygiene, and the potential savings are particularly significant: for example, a shower lasting only six minutes requires around 84 litres of water, the equivalent of about eight dishwasher cycles. Thanks to the new FlowReduce from Dornbracht, consumption can be reduced by around half. An ideal solution especially for environmentally conscious customers who can thus make their daily ritual sustainable with an additional advantage: the reduced water consumption also reduces energy costs.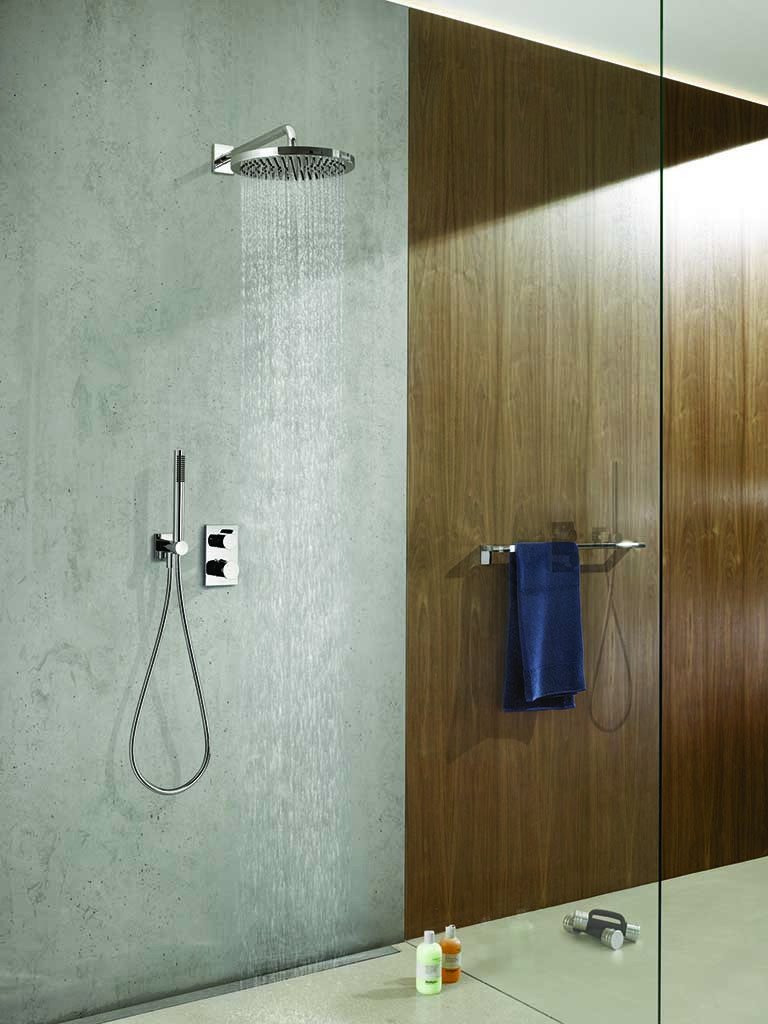 A quality experience, without compromise
Even with a lower water flow rate, the new shower solutions ensure the comfort under water that is typical of Dornbracht thanks to the fact that the diameter of the nozzles remains unchanged. The water flow therefore remains powerful and abundant for washing your hair and for everyday hygiene. The water falls on the body like a natural rain shower, without pressure and as light as a feather: the jet is composed solely of water, without added air.
FlowReduce+ for maximum water conservation
Thanks to the expertise of x-tra Service, the company's department dedicated to custom production, in addition to the standard and reduced-flow versions, Dornbracht also offers the FlowReduce+ version for specific products, which saves around 66% water compared to the normal versions.
Dornbracht in brief
Headquartered in Iserlohn, Germany, Dornbracht is a global manufacturer of high-quality fittings and accessories for the bathroom, spa and kitchen. Founded in 1950, it distributes its products in more than 125 markets. Thanks to its special care in design and constant attention to responding to the needs of users, Dornbracht offers products characterised by the highest technical and aesthetic quality, capable of lasting over time. It constantly expands the scope of its established expertise in design, rituals and experience related to water, setting new standards for the industry: designing – and cultivating – a new way of living are at the heart of its mission. The brand is internationally synonymous with design competence; it has always been a professional partner for the world of architecture thanks to its high quality standards, as the claim 'Leading Designs for Architecture' underlines. dornbracht.com