Bryanston, Hyde Park, designed by the late Uruguayan architect Rafael Viñoly, is a first-class residential complex with unparalleled views of London's Hyde Park. Dornbracht collections, designed by Sieger Design, complete the luxurious project.
The Bryanston is located right in the heart of the English capital and consists of two main elements: the podium, with its graceful stepped terraces, and the tower, with 18 storeys and panoramic views of Hyde Park and the city. The building houses 54 flats and a range of amenities for residents, including a business suite, spa, gymnasium and children's play area.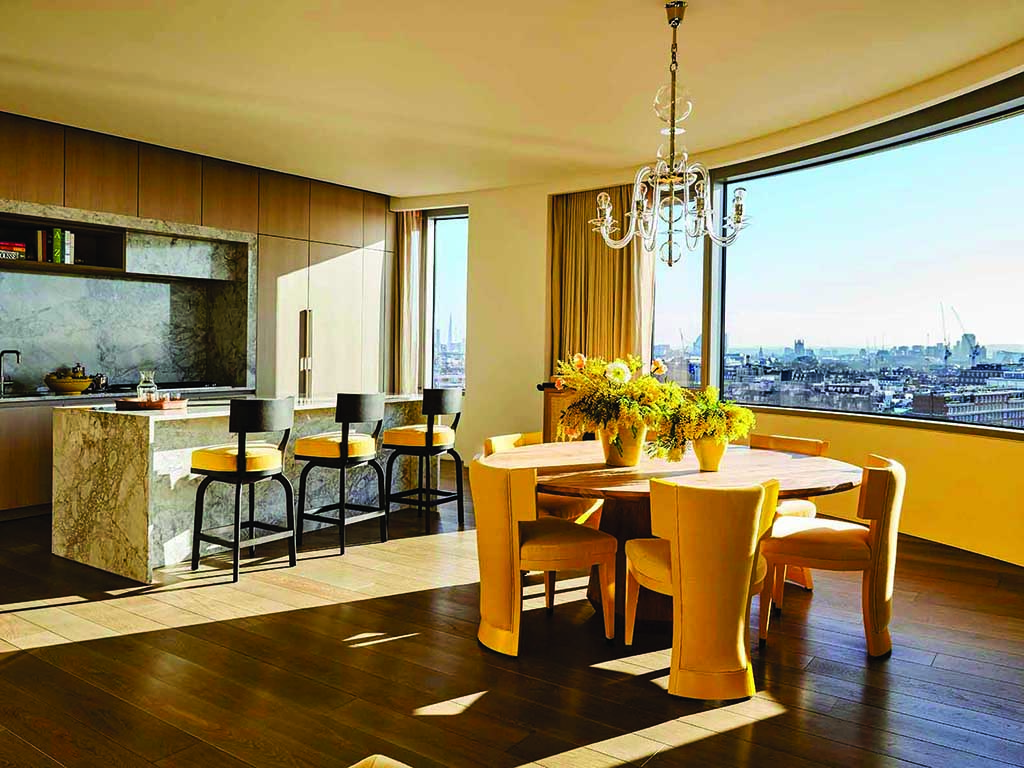 The interior design was inspired by neighbouring Mayfair houses. The spacious flats are individually designed and rich in refined details: ten-metre high ceilings and generous proportions create a sense of openness, with fluid transitions between different rooms. Floor-to-ceiling windows fill the rooms with natural light. The materials used echo the warm blue-grey tones reflected in the panoramic view of the city. The flat bathrooms have been designed as intimate spaces, offering a relaxing break from the hectic city life. The design of the master bathrooms is shaped by large natural stone slabs with subtle veining and discreet geometric brass elements. The washbasins are enhanced by custom Dornbracht taps in a chrome finish with MEM's minimalist handles, complemented by matching shower solutions. The flowing, minimalist aesthetics of the faucets lend calm and balance.

Dornbracht in brief
Headquartered in Iserlohn, Germany, Dornbracht is a global manufacturer of high-quality bathroom, spa and kitchen fittings and accessories. Founded in 1950, it distributes its products in more than 125 markets. Thanks to its special care in design and constant attention to responding to the needs of users, Dornbracht offers products characterised by the highest technical and aesthetic quality, capable of lasting over time. It constantly expands the sphere of its established expertise in design, rituals and experience related to water, setting new standards for the industry: designing – and cultivating – a new way of living are at the heart of its mission. The brand is internationally synonymous with design competence; it has always been a professional partner for the world of architecture thanks to its high quality standards, as the claim 'Leading Designs for Architecture' underlines. dornbracht.com