Outdoor spaces are being enriched with increasingly exclusive and high-performance architectural elements and furnishings. Two aspects that prove necessary to satisfy complex and evolved comfort requirements, as well as to withstand weather conditions that are not always favourable. Materials and technology thus become a priority in order to be able to offer a state-of-the-art product suitable for the outdoor environment. The material effect is what Del Conca is most looking for because it reinforces the dialogue with the surrounding landscape and nature. This is especially evident in the case of the surfaces: terraces and walkways become a continuum with the home, paths leading to outdoor oases of relaxation immersed in greenery, such as the swimming pool area in the classic and widespread skimmer version – where the water level is about 10 cm below – or in the more evocative overflow type.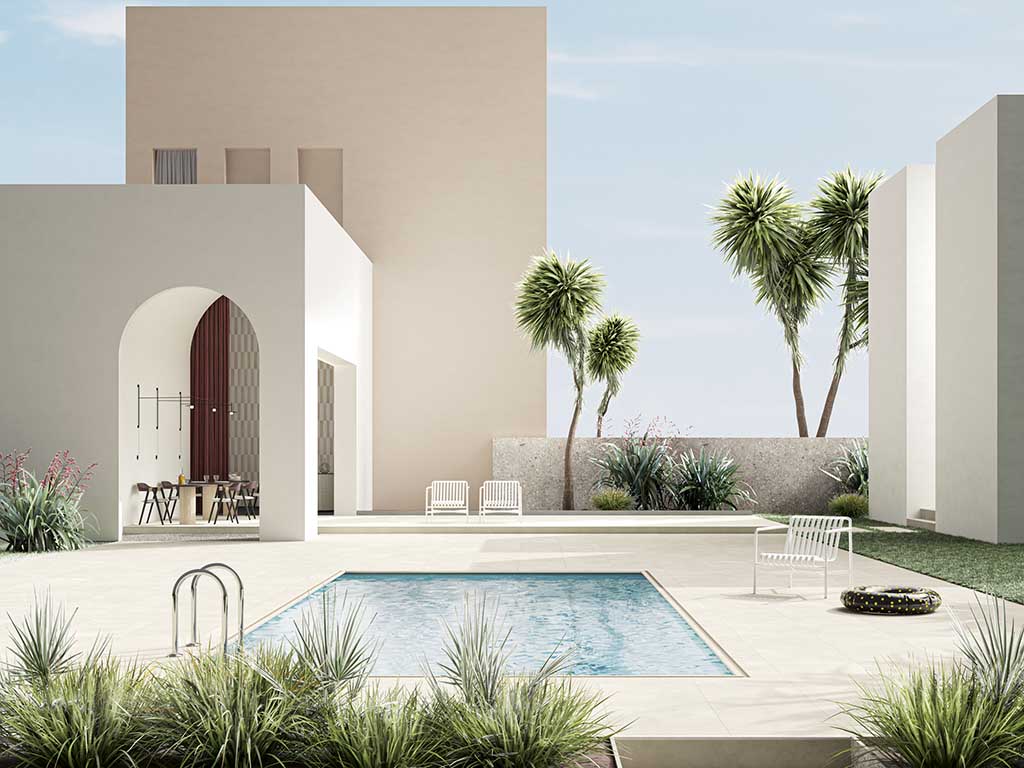 Porcelain stoneware is an ideal material to create the flooring around the pool perimeter and the pool surround: it is non-slip , waterproof, frost-proof, and resistant to chlorine and acids for floor cleaning. Ceramica del Conca proposes several collections in the two2, 20 mm version, suitable for outdoor use and coordinated with pieces such as grooved gratings, linear gratings on pvc, internal and external gripping edges.
If the swimming pool is an infinity pool, the choice of porcelain stoneware flooring in 20 mm thickness due2 is even more relevant, not only for its technical characteristics, but also for the colour of the surface since it has a significant impact on the shades reflected by the water. Ceramica del Conca's extensive due2 proposal is characterised by a multiplicity of formats and effects of great visual impact: from the Lavaredo2 collection – intense and sophisticated, inspired by Luserna stone – to the marble effect of the Boutique2 proposal, which with its chromatic veining is bright and brilliant, to Timeline2, a cement effect with a contemporary, austere and refined flavour that is also perfectly suited to more classic settings.
Available formats:
Timeline2: 60×120 cm and 60×60 cm formats;
Boutique2: 60×90 cm format;
Lavaredo2: sizes 120×120 60×90 60×60 cm.
CONCA GROUP
With four production plants located in Italy, the United States and the Republic of San Marino, the Del Conca Group has a production capacity of over 20 million square metres of ceramic and porcelain floor and wall tiles per year. A trading company, Produco, and the Cino Mularoni Foundation, which is mainly involved in social and cultural activities, complete the Group's corporate structure. Surface effects, versatility of formats, thicknesses, complements and decorations constitute a set of solutions capable of satisfying the most evolved trends in interior design, 82% of which are aimed at the international market, led by the USA and Europe. Over the years, production has been flanked by special projects and collaborations with important artists, such as the capsule collections signed Milo Manara, Monkey Punch, Giugiaro Architettura, Guido Crepax and Felix the Cat, and Del Conca House, a proposal of unique and elegant furnishings, made with the large ceramic slabs in earth, sky and water shades.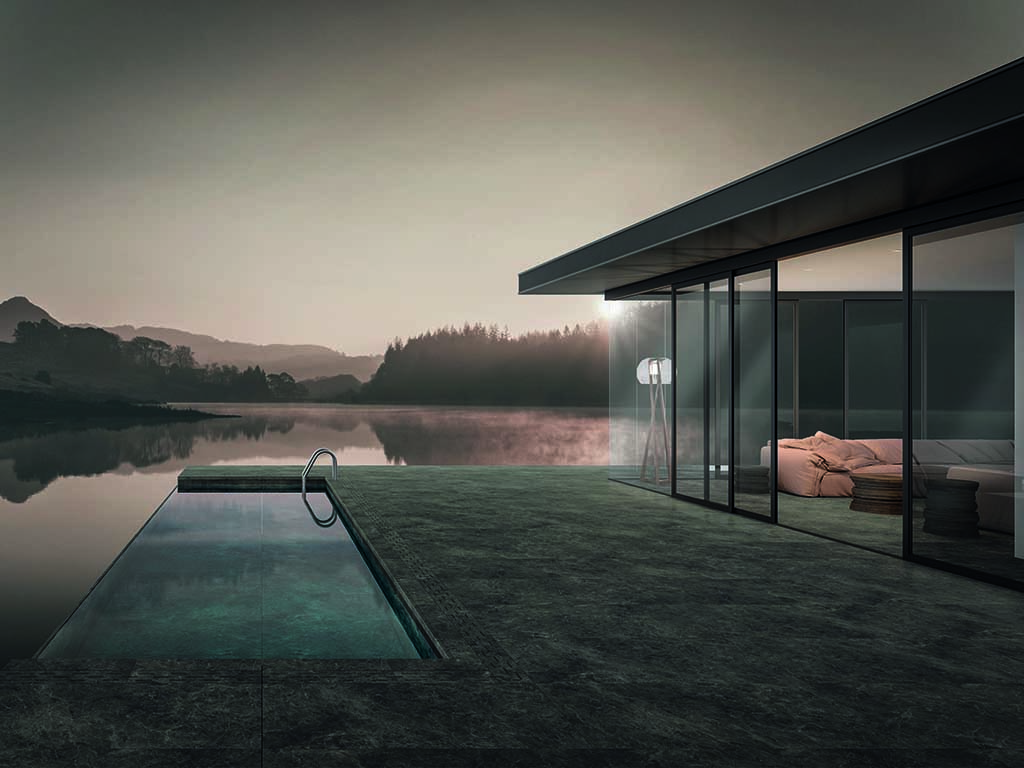 In 2021, after two years of Research & Development and a 2 million euro investment, Gruppo Del Conca will launch Dinamika Deep Surfaces, with the aim of revolutionising the concept of traditional ceramic surfaces thanks to a unique technology. Respect for the environment, natural resources and the containment of energy consumption have always been key objectives that the Group follows with constancy and attention: from the complete internal reuse of industrial water produced during its own and third party processing cycle, to the progressive reduction of CO2 emissions, to the recovery in the production cycle of production waste, up to the differentiated management of waste. Over the years, Del Conca has accompanied and supported young talents in various sporting disciplines, from motorcycling to football, becoming Official Partner of the Italian National Football Team until 2010. In 2018 it became title sponsor of TEAM DEL CONCA GRESINI MOTO 3, which became world champion. Not only sponsorship but also philanthropy: the Del Conca Group deploys human and economic resources to promote multiple solidarity projects all over the world: since 2008, the company has been constantly supporting the construction of schools, family homes, water networks, health centres and hospital wards in the world's poorest countries. There has been no lack of support for the populations severely affected by the earthquake in Italy in 2012 and 2016. delconca.com