The refined Akris flagship store in Washington DC is designed by David Chipperfield Architects: a boutique with minimalist tones, meticulous architectural and lighting details, whose design concept embodies the philosophy of the prestigious fashion house founded in Switzerland in 1922 and features Grassi Pietre di Vicenza stone as the protagonist in the choice of materials.
As part of the project, David Chipperfield Architects intended to enhance the materiality and high craftsmanship of the Akris collections through solid, three-dimensional architecture and a light display system capable of defining a space in which carefully selected materials become the protagonists. All display elements are deliberately reduced to a minimum: a series of taut cables support shelves and hangers with the aim of displaying the products as if they were magically suspended inside an architectural box of limestone and wood.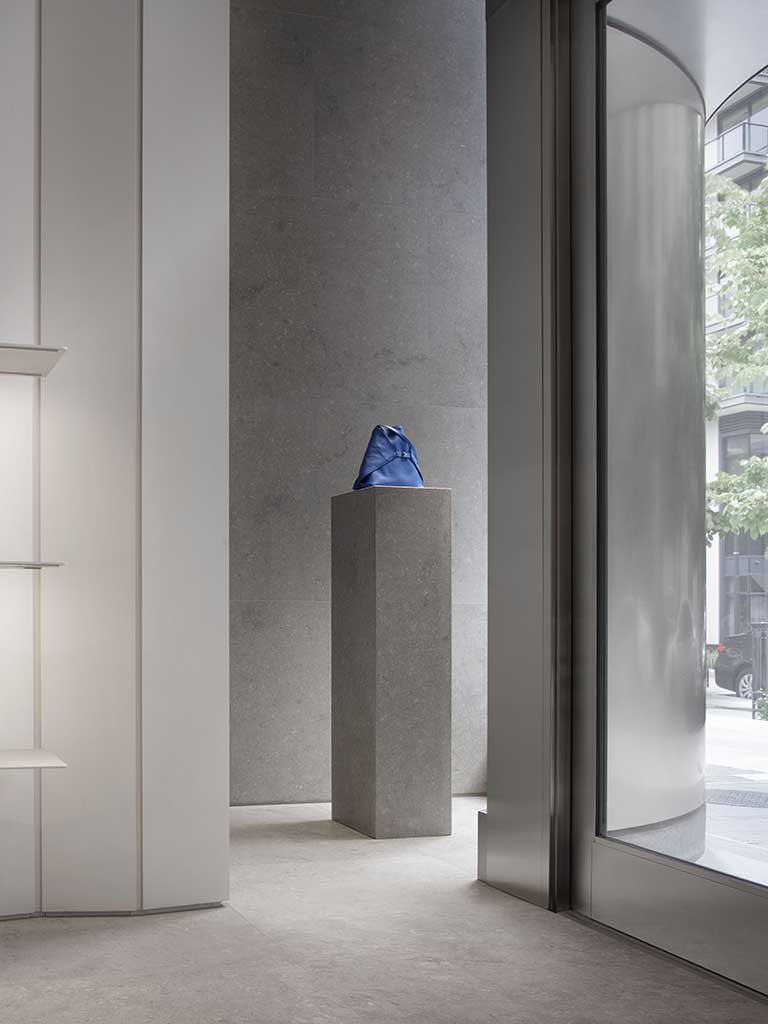 Located in the city centre, not far from the White House, the store is characterised by a chromatic harmony where Grassi Pietre's Pietra di Vicenza has been used for the floors, cladding, columns and part of the ceiling (with reduced thickness and coupled with honeycomb slabs to guarantee safety) to which it gives the warm and soft architectural imprint that distinguishes it. Selected in the Grigio Alpi honed declination, it expresses the peculiarities of natural stone in the particular texture reminiscent of an abstract painting, enhanced by the high number of macrofossils and the typical light grey colour that blends perfectly with the furnishing context of the boutique.
All the material supplied was carefully selected and processed starting from the scanning of the slabs on which nesting was carried out before cutting, to allow a clear pre-visualisation of the project in order to comply in detail with what was defined with the Chipperfield studio. The same brand also designed the store in Ginza, Tokyo, which follows the design and materials defined by the Chipperfield studio. davidchipperfield.com

Alpine Grey
In recent years, modern architecture has rediscovered Grigio Alpi, a Vicenza stone with a typical light grey colour characterised by a high number of macrofossils. Slabs of Grigio Alpi appear to the observer as an abstract and dynamic painting.
Finishes: honed, brushed, bush-hammered, sandblasted, striped, rolled, barked, rock finish, spiked, time worn, tumbled.
Grassi Stones
Grassi Pietre has been extracting and processing Vicenza Stone from its own quarries in the Berici Hills (VI) since 1850. Thanks to its century-long experience, the company carries out work on all types of marble and stone, operating as a stone contractor within complex projects involving the use of different types of materials, and is in fact an excellent interlocutor for architects and designers. With a view to respecting the raw material, the company also proposes Pietranova, an agglomerate of cement and Pietra di Vicenza stone waste that, in addition to a remarkable technical-aesthetic yield, allows for a partial recycling of the main processing waste and a recovery of quarry waste that would otherwise have no use.