The Cosentino Group, world leader in the production and distribution of innovative and sustainable surfaces for architecture and design, presents Pietra Kode, a newDekton® collectionof ultra-compact, high-performance surfaces by Daniel Germani.
With Pietra Kode Dekton® reinterprets the timeless beauty and natural, elegant design of three classic stones: Vicenza stone, Travertino marble and Ceppo di Gré. The molecular structure of each of these stones has been broken down and recoded in a contemporary key thanks to the exclusive ultra-compaction process of Dekton® by Cosentino that enhances their properties and optimises their technical performance to offer high-performance surfaces for the world of architecture and design. A material that does not deteriorate, totally inorganic, with exceptional hardness and resistance, suitable for the most extreme conditions and for any application, from facades, floors and walls to worktops for bathrooms and kitchens, both indoors and outdoors. The only surface in its sector that completely minimises its environmental impact, with carbon neutral emissions throughout its life cycle and committed to circularity, as enshrined in its Zero Waste certification.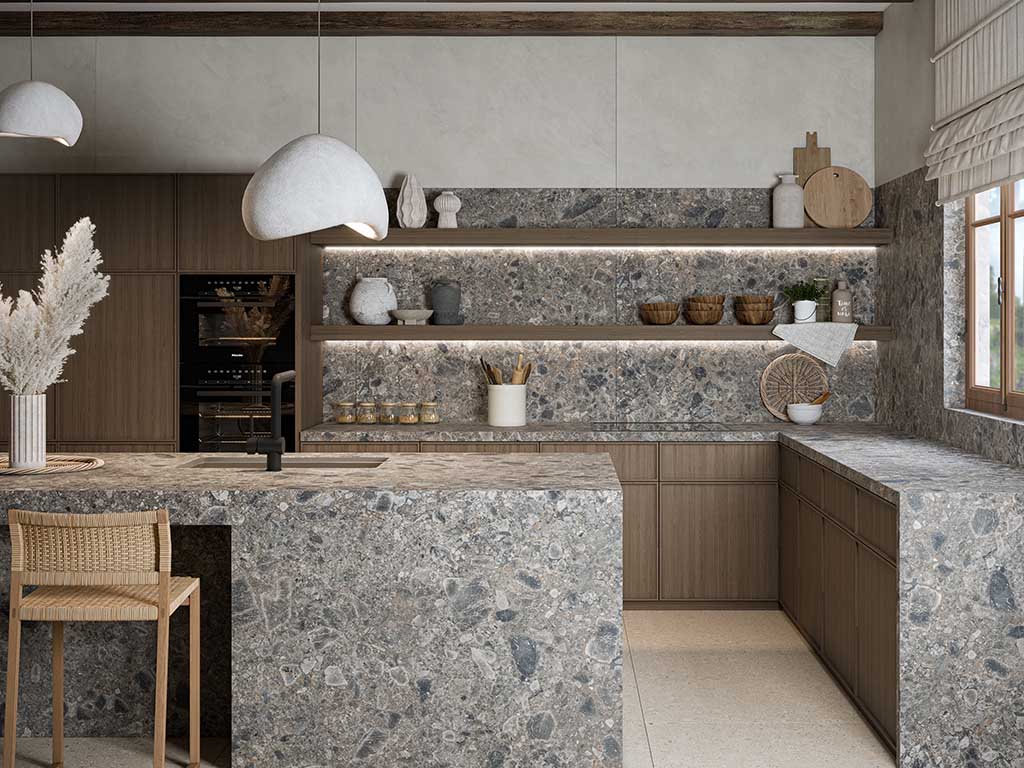 The newDekton® Pietra Kode collection is composed of three series – Vicenza Kode, Travertine Kode and Ceppo Kode – declined in seven colour shades characterised by nuances that create a sensory experience that goes beyond the visual one and that maintain the beauty code of the stones they are inspired by, which, evolved over the centuries, links classicism with contemporaneity . "For this collection, I spent a lot of time decoding the history of each stone in Italian architecture and reinventing it into a contemporary design with all the advantages of Dekton," said Daniel Germani. "Pietra Kode is a collection that enhances luxury in small, understated details. It is designed with the future in mind and complements any space in a way that will not go out of fashion."
VICENZA KODE
The series comes in four warm and versatile colours, ideal for both indoor and outdoor applications, giving naturalness and continuity to spaces through neutral tones that evoke the earth and coexist in perfect harmony with cream, wood or taupe shades. The uniform design makes them particularly suitable for applications where continuity of design is required through a reminder of this on the edge.
VK01 Nebbia is inspired by the texture of Alpine Grey, with a fine-grained cream-white base punctuated by warm dove-grey hues.
VK02 Ivory expresses a light beige shade in an extremely natural finish inspired by the stone of the same name, which is characterised by fossil shells.
VK03 Grey boasts a combination of grey colours and warm shades reminiscent of the timeless beauty of Palladian architecture.
VK04 Grafite reinterprets the texture of dark, fine-grained limestone by combining an elegant mix of black and grey interspersed with whitish and reddish flecks.
TRAVERTINE KODE
The series, available in two colours with a light base punctuated with dark tones, recreates the stone with which Rome was built, which made classical art shine and inspired Renaissance architecture, proposing a technologically advanced material that maintains the beauty and sobrietỳ of the classical style.
TK05 Sabbia is characterised by the grain pattern that runs through each piece in a random and colourful way, enriching it with shades perfect for a rustic or natural style. This eye-catching recoding of the colour of natural stone enhances the strength of its original design.

TK06 Marmorio takes its cue from the porous striped Navona Travertine, giving an elegant, luminous and light appearance to any project.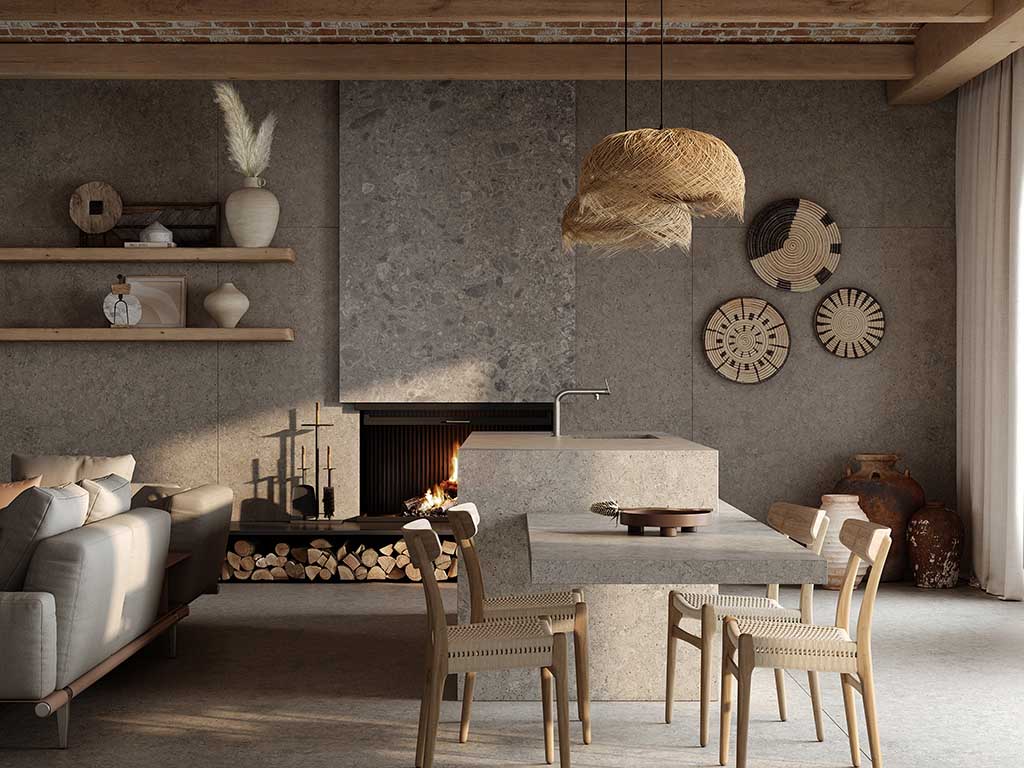 CEPPO KODE
The series is available in a single colour CK07 that recreates the characteristic blue-grey multiform structure of the Ceppo di Gré stone, often used in architecture in Milan. An unmistakable pebble pattern that is ideal for both indoor and outdoor use and whose timeless design makes it a perfect choice for classic or modern environments, as a complement to a rustic style or as a focal point in industrial and avant-garde settings.
Dekton® by Cosentino
Dekton® by Cosentino is a revolutionary and innovative ultra-compact surface for the world of architecture and design. A sophisticated blend of glass, latest-generation porcelain materials and quartz obtained from more than 20 natural minerals and produced using exclusive Sintered Particle Technology (SPT). It has exceptional technical properties: fireproof, high resistance to ultraviolet rays, scratches, stains, thermal shocks and high water repellency. Produced in large-format sheets (up to approx. 320 cm x 144 cm) and in five different thicknesses (0.4 cm, 0.8 cm, 1.2 cm, 2 cm and 3 cm), Dekton® allows for a wide range of outdoor and indoor applications: ventilated facades, floors, wall coverings, tops and furnishings for kitchens, bathrooms, living rooms, washbasins and shower trays. Dekton® is the only zero-impact surface in its category: Cosentino has offset 100% of CO2 emissions during the entire life cycle of the product, making it Carbon Neutral.
As part of Cosentino's commitment to sustainability and a circular economic model, all Dekton colours incorporate 15 to 85% recycled materials from the product manufacturing process. In 2016, Cosentino obtained an environmental product declaration for Dekton. In 2020, Dekton, achieved Carbon Neutral certification for its entire colour range, distinguishing itself as the only carbon neutral surface. Dekton' offers a 25-year warranty.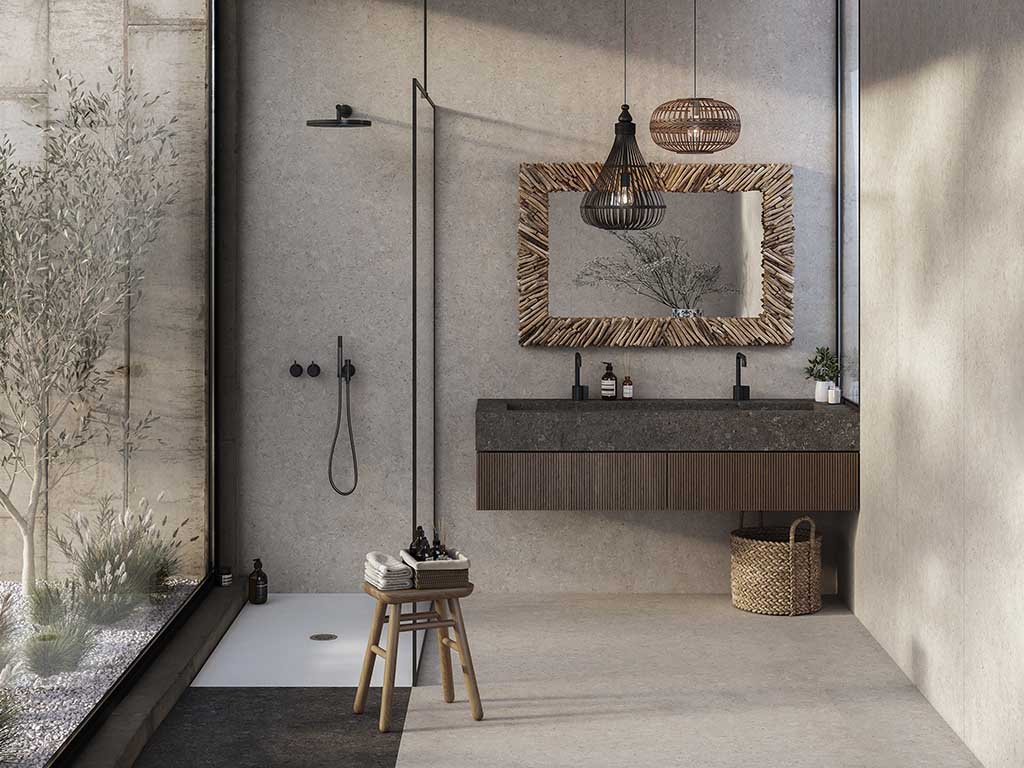 Cosentino Group
The Cosentino Group, a family-owned Spanish company with headquarters in Almeria, Spain and over 5000 employees, is a global market leader in innovative and technologically advanced surfaces for the world of architecture and design. The Group's strategy is based on international expansion, research, innovation and sustainability of products and production processes. It distributes its Silestone®, Dekton® and Sensa® by Cosentino® brands in 30 countries through a network of 140 sales and distribution facilities, 6 of which are in Italy. The Group has 8 production plants (7 in Almeria and 1 in Brazil) and 1 intelligent logistics platform in Spain. cosentino.com