With a view to offering increasingly complete solutions in line with current trends for a customised wellness room, Ceramica Cielo is expanding its freestanding bathtub range. The company, famous for its mastery in working with ceramics, chooses an innovative, soft-touch material for its bathtubs : LivingTec, designed to meet the highest standards in terms of quality, technology and environment. Born from the creative flair of Andrea Parisio and Giuseppe Pezzano, Ceramica Cielo's bathtubs are the perfect result of a balanced mix of tradition and innovation, which has always distinguished the work of these two designers.
Ottavia and Ophelia – Belonging to the I Catini collection, they rest on a structure with metal feet and reinterpret ,in a contemporary key, the "baignoire". With classic and essential lines, the former, the latter is instead enriched by a comfortable backrest and an edge that serves as a practical support surface. Both are available in Matt White, Brina and Arenaria finishes.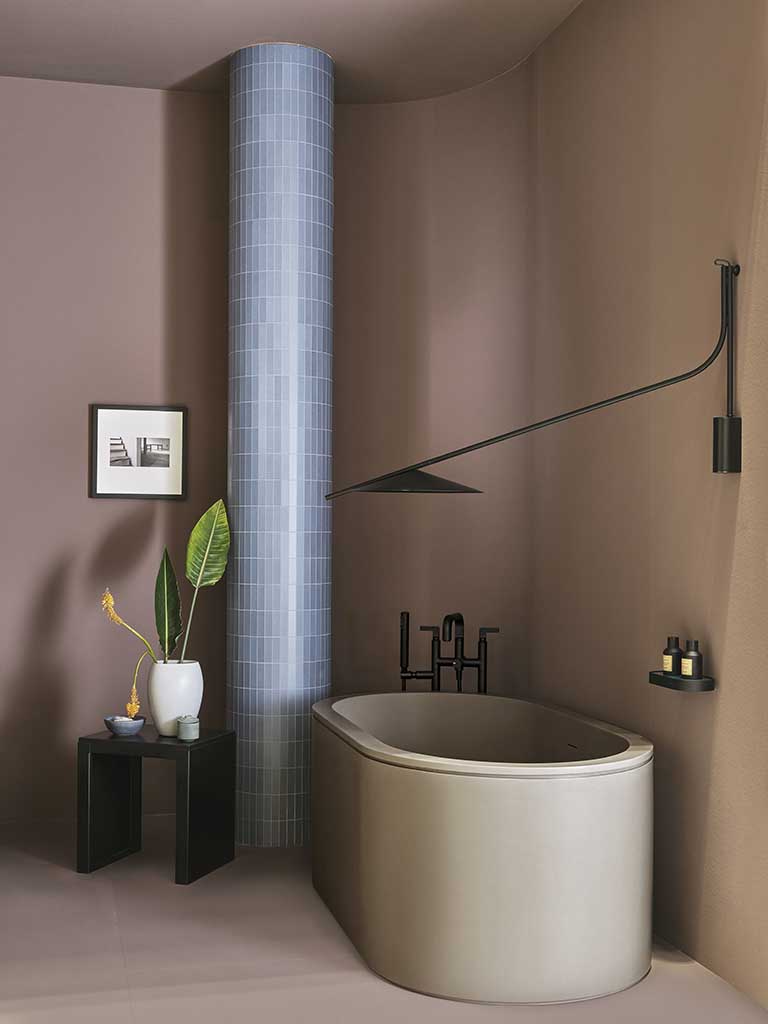 Cibele – With a strong aesthetic impact, this freestanding bathtub is characterised by ample and enveloping shapes and finds its maximum expression when placed in the centre of the room. It is distinguished by its lacquered wooden outer shell, available in the 8 'Terre di Cielo' nuances or in the prestigious natural oak, bleached, grey and black essences.
Cibele L – Made entirely of LivingTec, this is the most essential version of the Cibele bathtub. Available in matt white, brina and sandstone finishes.
Febe – Rigorous design and versatility are the main features of this flat-bottomed bathtub that can be positioned either in the centre of the room or at the edge of the wall, also transforming into a practical shower. Distinguished by its asymmetrical edges and a practical shelf on one side, n useful for storing soaps and perfumes, Febe is a small bathtub for maximum comfort.
Dafne – Compact and functional, it is a bathtub with rounded shapes perfect for those who are looking for a solution that fits into small spaces but do not want to give up comfort and relaxation. Ceramica Cielo, a company in continuous growth and evolution, is once again the spokesperson for a unique and elegant style thanks to design solutions and avant-garde materials capable of satisfying the most demanding customers, both in the residential and contract sectors.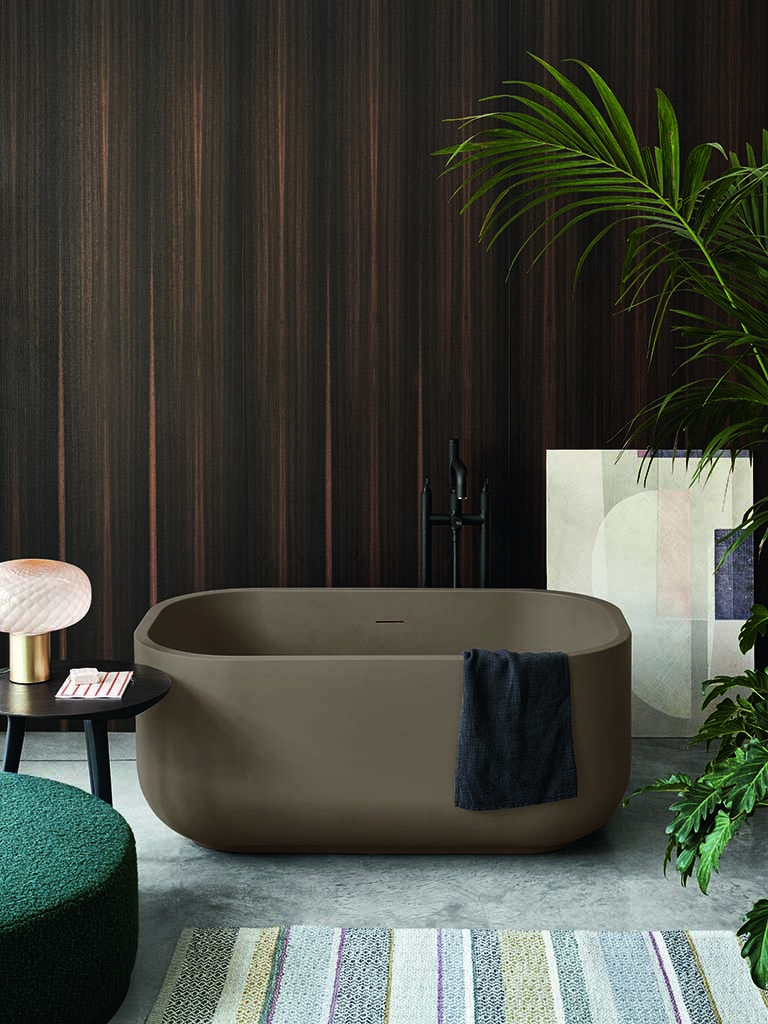 CERAMIC CIELO
CIELO is based in the district of Civita Castellana. The distinctive feature of CIELO products is the sophisticated and unique style, made of pure, essential lines that design the bathroom in an unmistakable way through a current and modern mood, capable of enhancing the bathroom as a place of wellbeing connoted by a glamorous soul, rich in contaminations from interior design. The success of this strategy, which sees the designers Andrea Parisio and Giuseppe Pezzano at the helm of the Artistic Direction, is testified not only by the numerous references signed all over the world, but also by the important international recognitions achieved. Among the latest are the Archiproducts Design Awards (ed. 2022, 2021, 2020, 2019 and 2018), the Red Dot Design Award: Product Design (ed. 2021, 2017, 2014, 2012), the German Design Award (ed. 2016, 2015, 2013): Excellent Product Design, the ICFF Editors Awards 2015, the Good Design Award (Ed. 2016, 2014, 2012) publication in the ADI Design Index (Ed. 2014, 2013, 2012), the MIAW: MUUZ International Award 2014. ceramicacielo.it