Casarialto and Summerill & Bishop have joined forces to create a fascinating collection of handmade borosilicate glass candleholders, Iris and Lotus
The meeting between the two brands dates back to 2021, when they began taking their first steps together to collaborate on a commercial level. The naturalness with which the relationship has continued over the years, combined with the values of excellence and authenticity of the two brands, now leads to the launch of this limited edition collection designed by Summerill & Bishop and produced by Casarialto.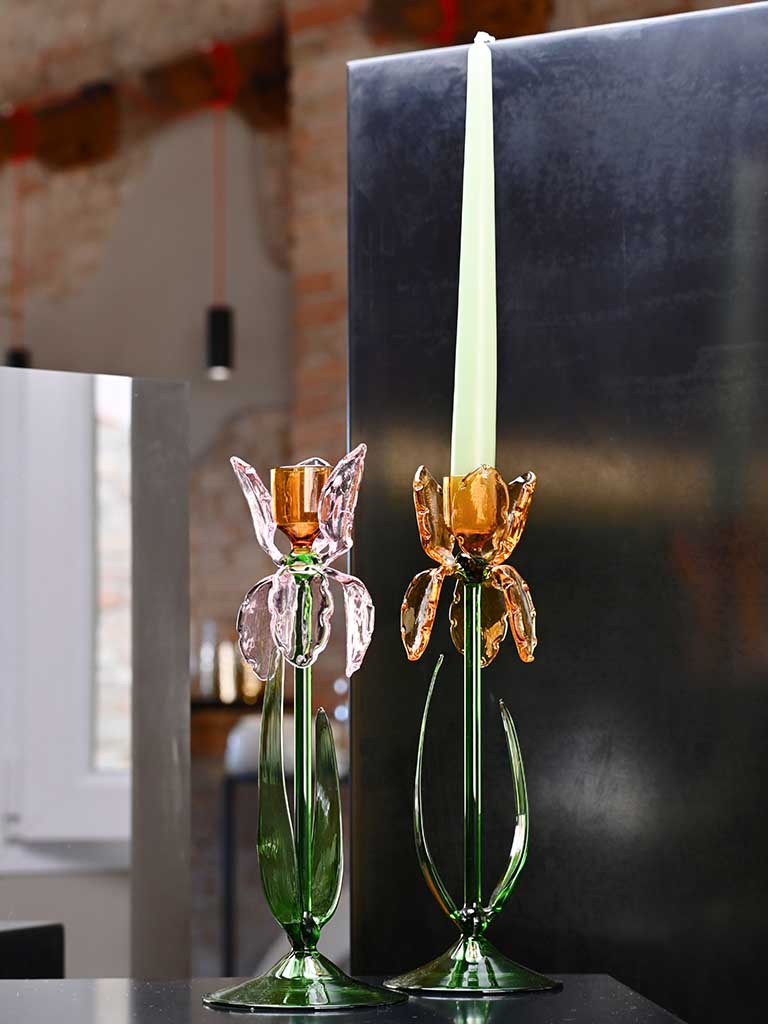 THE COLLECTION
A combination that respects brands not only for the suggestions behind the design of the two elements but also for the excellence and savoir-faire behind their creation. Created ad hoc to a design by the British brand, the collection consists of two candleholders inspired by the ethereal beauty of nature, depicted in the forms of iris and lotus flowers. Combining expertise and a refined aesthetic, this collection celebrates the timeless charm of nature, evoking a sense of enchantment through the delicate petals of the iris and serenity through the design of the lotus flower.
The pieces, meticulously handmade using lampworking and glassblowing, are an expression of the mastery and refinement of Italian craftsmanship, of which Casarialto is a spokesman. The master craftsmen have worked borosilicate glass, a transparent and brilliant material, very light but incredibly resistant, to give life to these unique creations, the result of the countless trials necessary to obtain the desired result. A fascinating and delicate phase in which the material is moulded by human skill and the creations only idealised on sketches finally take shape. A journey in which Casarialto is always at the craftsman's side.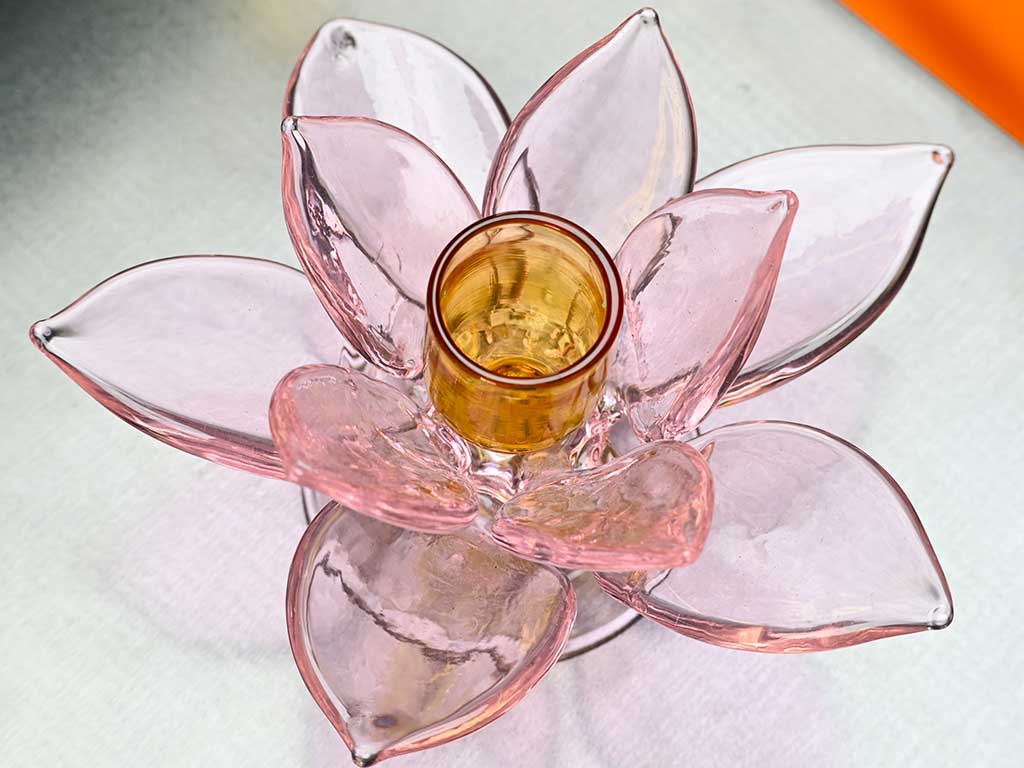 Iris candleholders
Available in orange and pink
Size: height 26 cm – base 9.5 cm Lotus candle holder
Available in pink Diameter 12 cm
ABOUT CASARIALTO
Casarialto was born in 2008 from the fusion of international design knowledge and a skilful use of craftsmanship: a journey through tableware and furnishing accessories that gradually define and deepen the Venetian passion for glassmaking. Since 2020, with the Casarialto Atelier project, he has been co-creating unique pieces in collaboration with Italian craftsmen, thus redefining the marriage of innovation and tradition. casarialto.it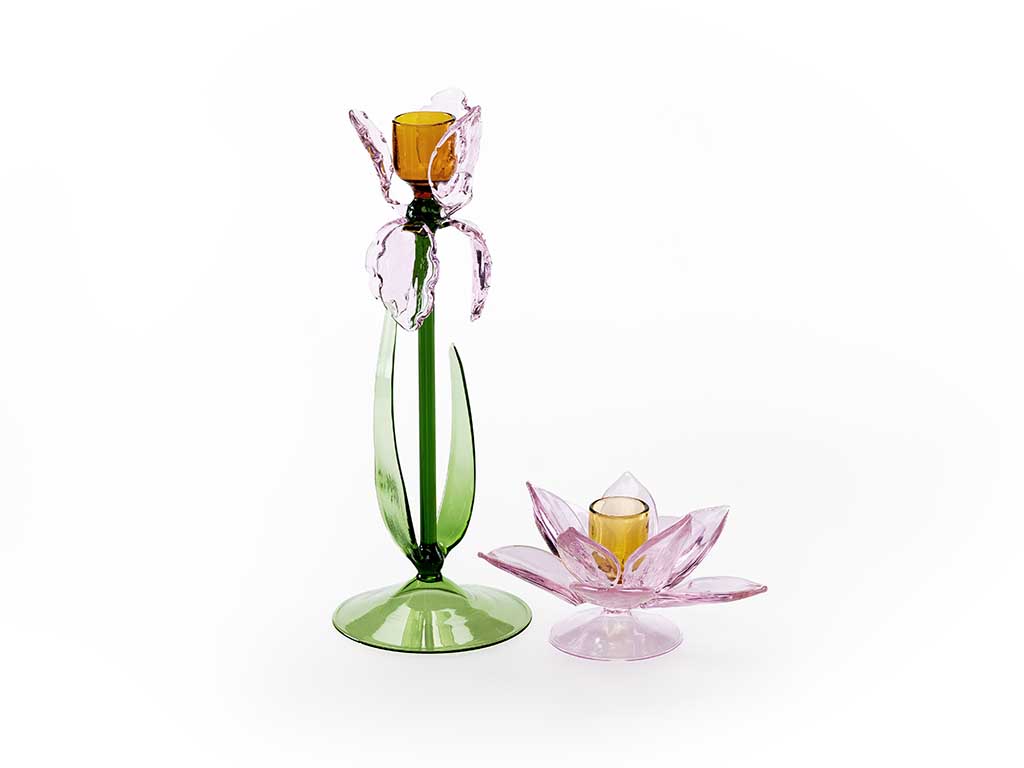 ABOUT SUMMERILL & BISHOP
Summerill & Bishop was founded 50 years ago to design and create the world's most beautiful tablecloths. With the firm belief that the tablecloth represents the true fabric of life, Summerill & Bishop's mission is to bring friends and family together around the table, inspiring conversation, connection and debate. The London flagship shop and the shop located in the heart of Belgravia are two special places created by the owners, where customers can find a unique gift, a decorative object or that perfect table accessory. Known for its bold and beautiful collaborations and fine linens, the shop is the premier destination for tableware. The brand is a favourite among style experts and has several major retailers worldwide, including Matches Fashion, Liberty, Selfridges and Fortnum and Mason.