The personal trait of Silvia Musetti and Federica Lazzati/Studio Salaris in beWall wallpapers. The desire to interpret the spaces of those who choose them, to dress a room with stories, imagination, elegance and fantasy, be it the result of lines and geometries or of explosive landscapes, is a distinguishing feature of beWall wallpapers. This is why the brand collaborates with young creatives who bring their own world, their own experience, and give it back through decorations and patterns in various nuances. Becoming a practical living wallpaper mirrors who lives in the home, through a stylish detail or an entire wall.
This is how new decors are born, like those conceived by Silvia Musetti, one of the first artists to design for beWall. Originally from Sanremo, at the age of 18 her enthusiasm and passion for design and art brought her to Milan to attend the IDI Academy. Today, in addition to collaborating with various companies, she loves experimenting, researching and representing everything that attracts and fascinates her from the world of art and the sensations she feels coming from the world around her, translating them into her work. The result, as seen in the new Flowers collection, is a work of great lightness, where macro flowers in pastel tones bloom gently flooding the room with beauty, almost as if they were impalpable fabrics moved by the wind. Also by Silvia Musetti, another novelty, Vibrazioni, a collection also perfect for contract spaces: a geometric wallpaper that plays with pleasant contrasts giving them a strong suggestion that almost recalls the rays of the sun refracting on the surface of the sea.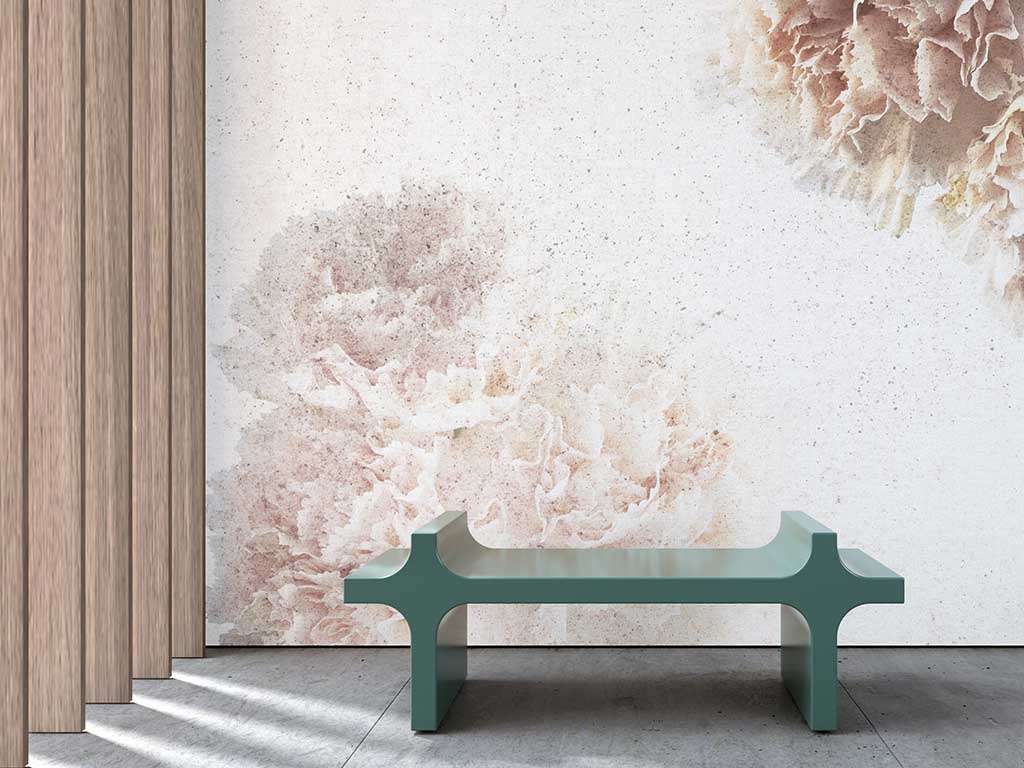 Of a completely different atmosphere is Oasi Urbana, born on a sheet of paper, from the colours and creativity of Federica Lazzati and Studio Salaris. Because Federica Lazzati paints: on anything, whatever surface or support makes it possible. A graduate in painting and restoration, she works mainly on interiors, painting walls and pictures. Travel, experiences and confrontation with different cultures have forged a path that has led her to create a solid and ductile identity. She lives and works in Milan, collaborates with architects and designers, and her work is often linked to the real or imaginary world and especially to nature, an inexhaustible source of inspiration. The idea of the Urban Oasis stems from a naturalistic inspiration combined with the environment in which we live every day. Spaces marked by a metric made of asymmetries and geometric shapes that blend together. The veiled tones of the colours tell the pictorial gesture and the chromatic desaturation suggests the definition of an urban reality.
A world without limits, that of beWall, free to be interpreted in a different and personal way, free to adapt to time thanks to continuous technological innovation, free to be universally recognisable in its aesthetics. All beWall wallpapers can be printed on a variety of supports such as vinyl/TNT, characterised by a refined and textured texture, on fibreglass that allows them to be laid in damp or outdoor environments, on ecological paper, such as ecopaper or ecomais, which in addition to a high-value finish, espouse an important theme such as respect for the environment, or on a support with sound-absorbing and sound-insulating properties that improves the acoustic comfort of rooms. silviamusetti.com