Salina, Spillray Plus, Lik Plus and Orchid Plus furnish indoor and outdoor spacesin perfect visual harmony without stylistic interruptions . Presented at Euroluce 2023, the new Axolight collections tell a vision of light and design inspired by modern socio-cultural and architectural trends. With the introduction of the new Salina lamp and the technical evolution of three best-selling collections – Spillray, Lik and Orchid, which become Spillray Plus, Lik Plus and Orchid Plus respectively – Axolight embraces the "from into out" concept, setting itself a clear objective: to go beyond the idea of "what's in" and "what's out" and to move its own style approach to light outwards.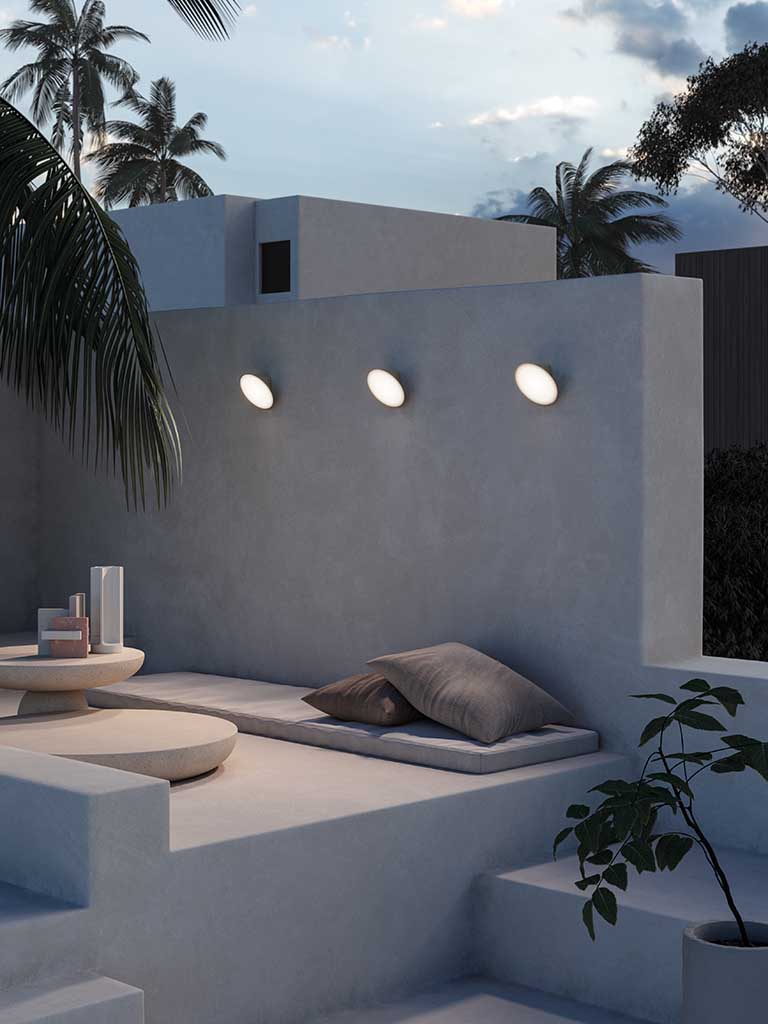 The new Axolight lamp collections are conceived as durable emotional goods, where design merges with utility and the quality of a long-lasting luminaire. Salina, Lik Plus and Orchid Plus are also distinguished by the innovative DIM TO WARM technology that makes it possible to decrease the luminous flux while varying the LED colour temperature towards a warmer tone. This technology is ideal for residential and hospitality environments to ensure the right atmosphere in porches, loggias and terraces, where activities and related lighting needs change throughout the day.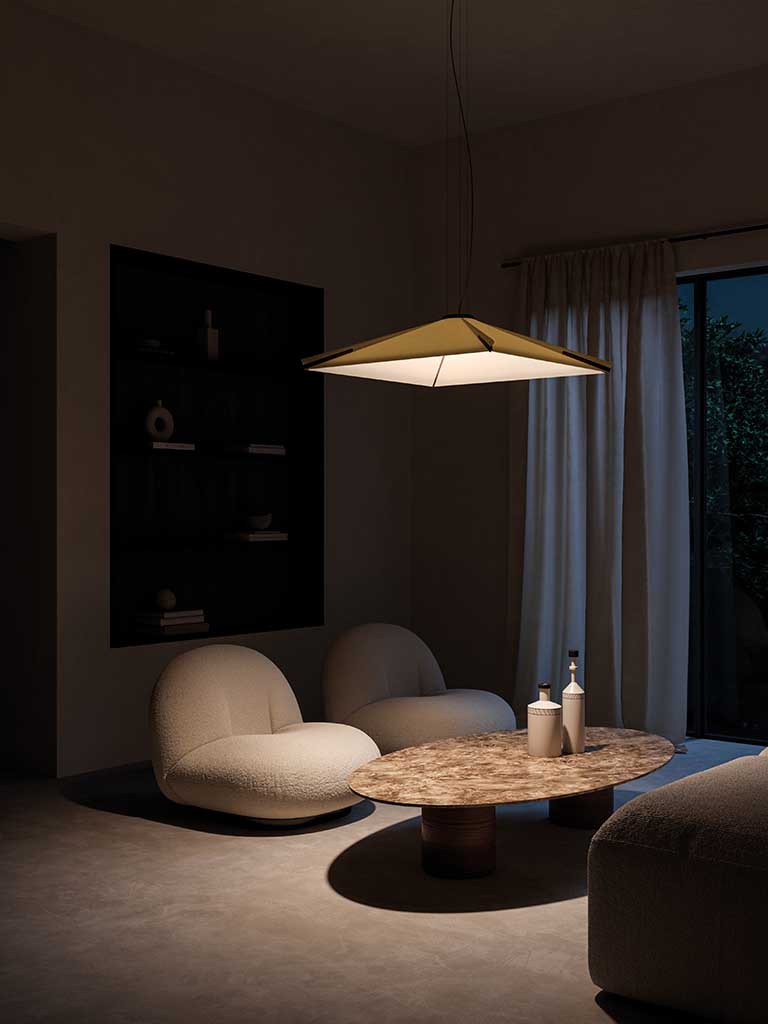 SALINA
Conceived by designer Francesca de Giorgi, Salina is an outdoor and indoor fabric lamp with four pinces and metal details that make it move in a play of shadows and light. The particular material that covers it in three colour variants – Kvadrat fabric in Vanilla, Granite, Rose Sand – is suitable for indoor spaces with a high degree of humidity (such as bathrooms or spas) and outdoor environments (porches, loggias, terraces, gardens). Equipped with the innovative DIM TO WARM technology, Salina changes light intensity in favour of a warmer light, respecting the natural balance of the environment.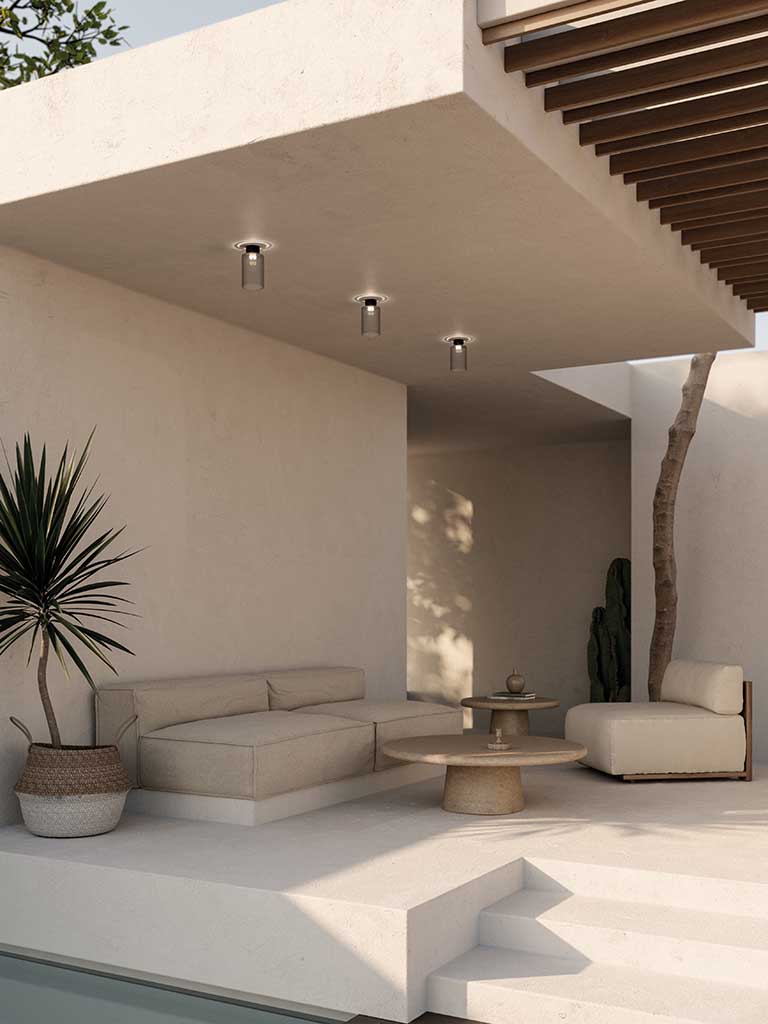 LIK PLUS
Designed by designers Serge and Robert Cornelissen, Lik Plus is a metal wall lamp, available in two colours – desert white and greige – that combines the essential simplicity of form with the high technology of the elements. Lik lends itself to creative and versatile use, appearing on the wall individually or in groups, depending on interior and lighting requirements. Equipped with the innovative DIM TO WARM technology, Lik Plus offers the possibility of varying the light intensity throughout the day while changing the colour temperature.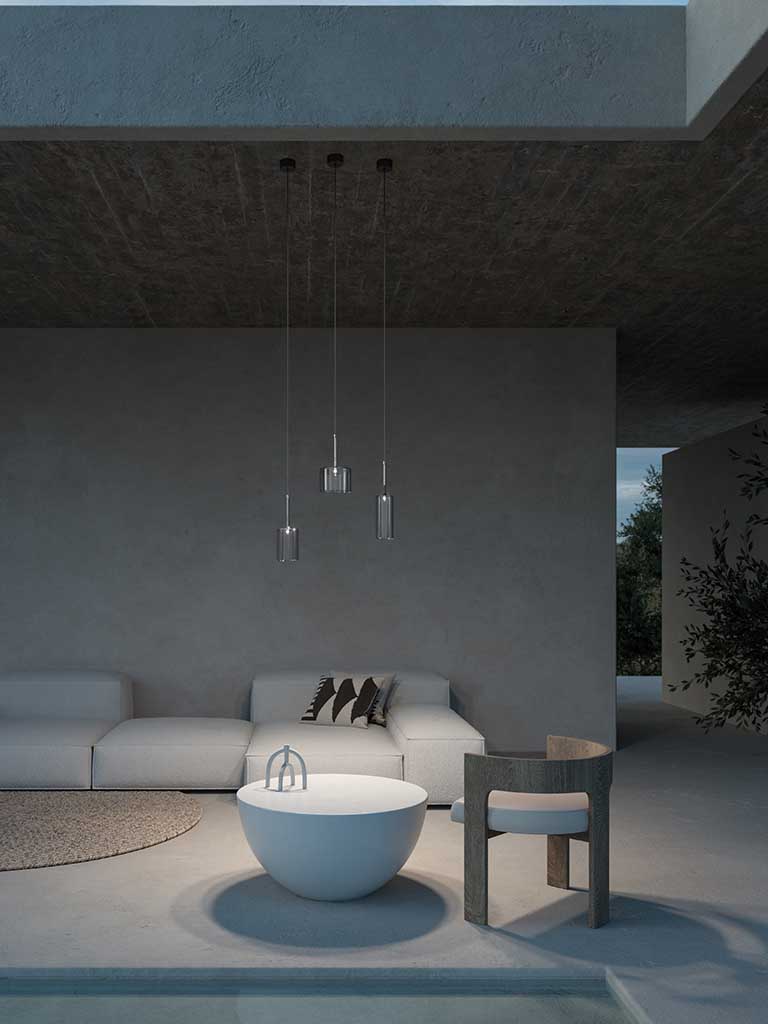 ORCHID PLUS
With its stems and buds it evokes the enchantment of nature: we are talking about Orchid Plus, the lamp created by Austrian designer Rainer Mutsch, available as a pendant, wall, ceiling, floor and table lamp in desert white, greige and lagoon aqua finishes. The funnel-shaped diffusers made of aluminium give off both direct and soft beams of light, with dimmable LED technology that prevents overheating, thus ensuring maximum duration of the light source. The hi-tech soul of Orchid Plus also emerges in the use of DIM TO WARM technology, which decreases the luminous flux while increasing the LED colour temperature.
SPILLRAY PLUS
Conceived by designer Manuel Vivian, the Spillray Plus lamp is a glass pendant that enhances spaces with its refined silhouette. It is available in single versions, in-line compositions (6 or 10 lights) or in clusters (3 to 12 lights). The glass diffuser – transparent or in shades of crystal, red, grey and bronze – filters the light reflecting off the chrome-plated metal frame, helping to create sophisticated plays of light. The glass is removable in order to allow perfect cleaning of the lamp and a different use depending on the season. The design of interiors and exteriors is now part of one fluid process, in which the care of the outdoor space, just like the indoor one, must manifest a defined style, its own identity. With the launch of Salina, Spillray Plus, Lik Plus and Orchid Plus, Axolight offers continuity to architectural, light and furniture design, creating two environments – indoor and outdoor – in perfect aesthetic and visual harmony! axolight.it