Arrital: AK_04 is a project that continues on its path while maintaining the initial objectives: Research – Design – Technology – Emotion. Precious materials characterise the compositions with elegant and evocative atmospheres. The kitchen as a multifunctional space is the environment in which the accomplishment of several simultaneous actions becomes possible.
The main topic of Ak_04, one of the iconic kitchens of the Arrital style designed by Franco Driusso, is the greater compositional flexibility given by the wide choice of porcelain stoneware finishes for4 fronts and tops, a feature that also allows monolithic compositions to be created, and by the wide range of woods, lacquers, Fenix decors and glass. Completing the collection are the complements dedicated to the living area, such as the Kontena sideboards, the Vertical bookcase and the GEM display cabinets, which allow the living and kitchen space to merge through combinations of aesthetic and functional design. Ak_04 offers a wide range of accessories: the Toah table covered in 18 stoneware finishes on a glass support, the new Fly Box complement for better access to the corner base units, and the cantilevered snack tops with concealed supports and Focus On LED lamps for precise and dynamic lighting in the desired work area.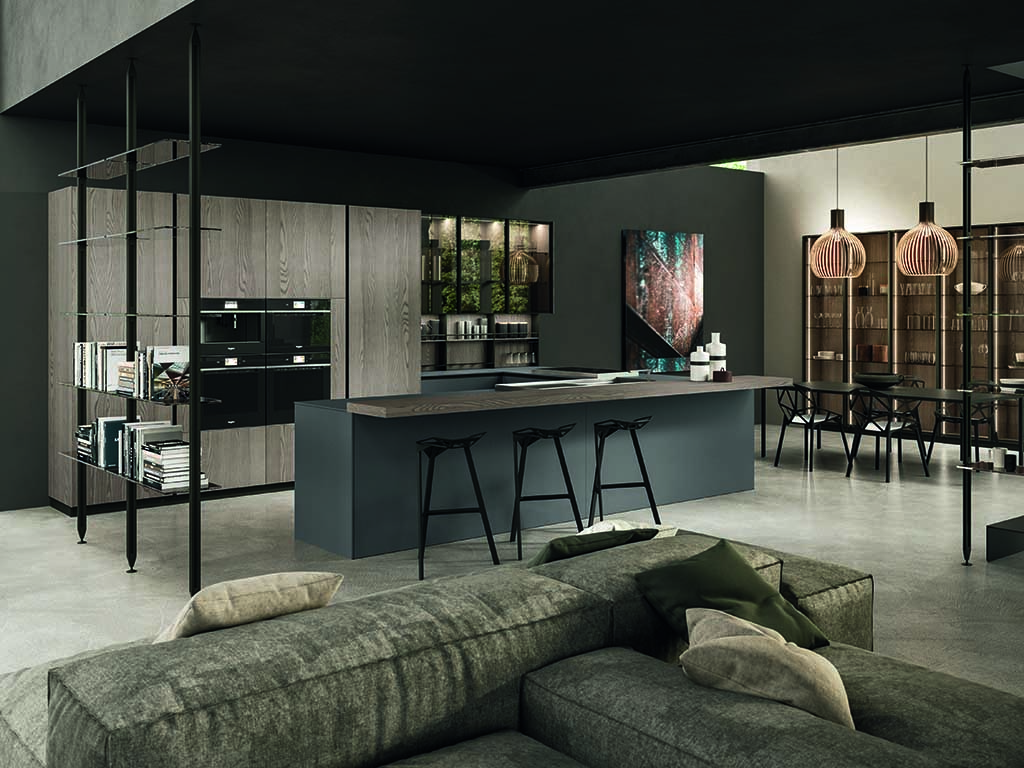 The extruded aluminium frame with integrated handle, designed without visible joints and protected by an international patent, remains the key element of the Ak_04 project due to its lightness, solidity, and reduced thickness. Conceived from the beginning to support multiple materials, continuous research guarantees constant product innovation, confirming it as an open project characterised by the exclusivity of the materials and refined design.
Open-space composition with working peninsula.
The base units and top in Fenix Ntm® Grigio Bromo finish feature a cantilevered snack top in brushed Olmo Grigio essence with concealed supports.
The MIZU sink and KASAI hob feature
a
stainless steel
perimeter frame
that protrudes from the worktop
.
The wall cupboards, organised with 75 cm modularity, present solutions with pull-out accessories that support the appliances and perfectly organise the interior spaces and facilitate their use. The dining area is defined by the lacquered PLATE table and the wall-mounted GEM display cabinets with the entire body veneered in Grey Elm. Fumè Bronze glass shelves and flush-fitted interior lighting make this a comfortable and attractive dining corner.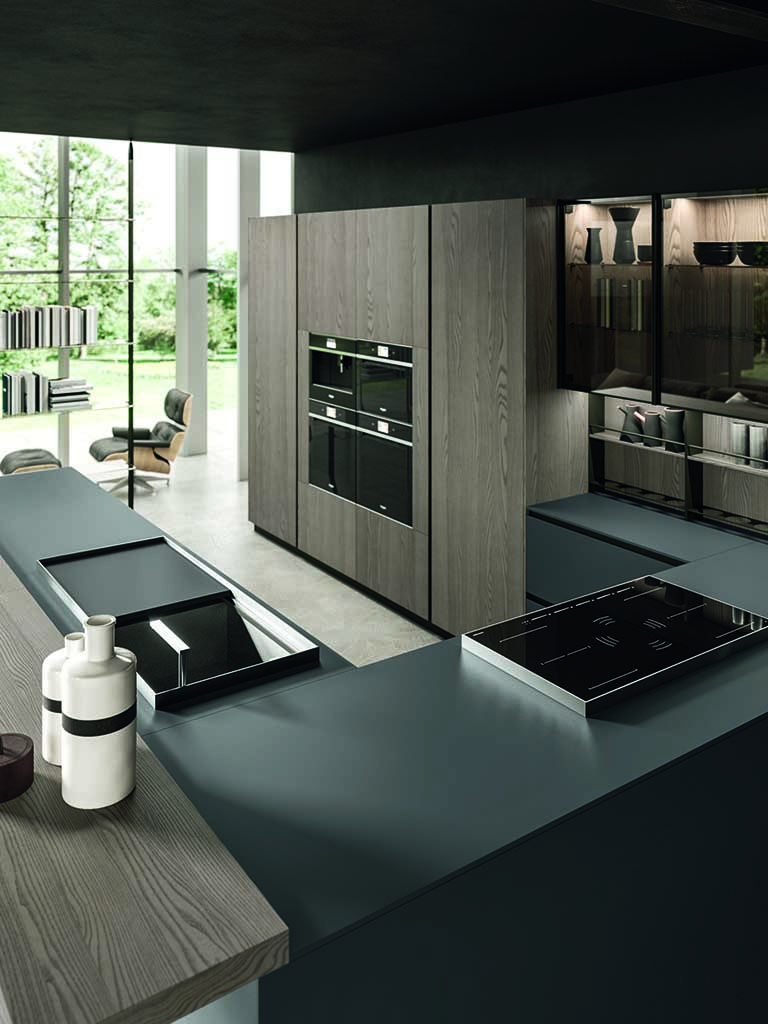 The KONTENA sideboard in the h.68 cm version with groove and door with STEP handle profile features a drop-down opening with LED lighting integrated in the mechanism as standard. The corner solution exploits the new Fly Box extraction system to allow quick and easy use of the corner compartment. The 60 cm built-in dishwasher is combined with the practical 15 cm side compartment lined in stainless steel and dedicated to the indispensable cleaning accessories; a single 75 door joins the two elements. arrital.it