In Arredo3's new solutions, the kitchen becomes increasingly modern, essential and refined. The continuous search for details and attention to the design and aesthetics of each project represent Arredo3's stylistic signature, which is reflected in the presentation of new collections of accessories, exclusively designed for its kitchen models.
Among the most trendy proposals are some solutions that combine wood and ceramics in a harmonious way, to create a delicate balance of contrasts, a play of materials that aspires to meet the taste of the female world and reflect its character. They are combined with some soft shapes that soften any context.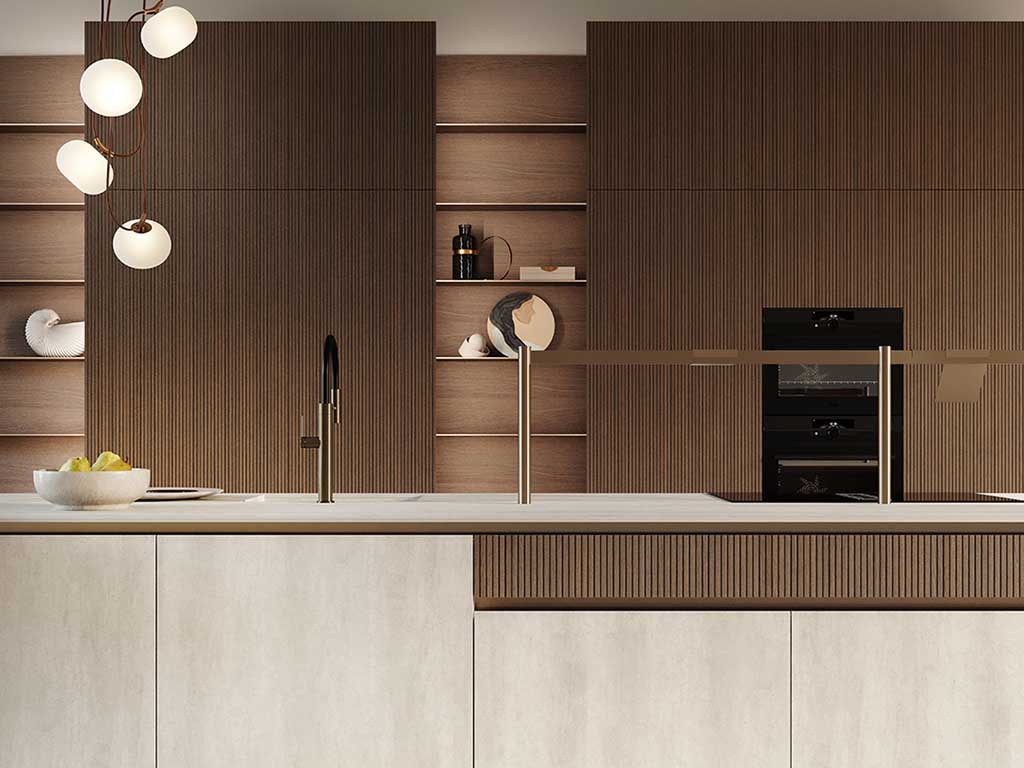 Elegance and exclusive accessories, as well as a strong focus on sustainability, can be found in the kitchen island that unites two Arredo3 models, Glass 2.0, a design project with sustainable finishes, and Asia, characterised by a love for the milled effect. Large, sustainably manufactured ceramic slabs are combined with details of great technical mastery, such as the grooves of the millerighe finishes that add depth and value to the surfaces in a striped succession of voids and solids.
The style of Glass 2.0, the most sought-after model among Arredo3's proposals, can be seen in the island's bases in Laminam pietra di Savoia with a champagne frame, while the wood of the Asia model makes its appearance in the milled walnut finish, with its refined milled grooves, reserved for the drawers and tall units with the Lateral door, which reaches down to the floor to cover the plinth. The composition draws some elements from Arredo3's Gaia eco-sustainable furnishing, which provides eco-friendly materials and accessories across its models. This is the case of the equipped bridge for the island top, made from a round section profile of champagne aluminium, a 100% recyclable material, and the Laminam pietra di Savoia used for the base, top and snack top, obtained from largely natural pre-consumer recycled materials, combined with glass and a minimum of fibres.
The electrified deck – which can be equipped on request with shelves, roll and spice racks, integrated light with touch control and USB socket – and the snack top are part of the Tuttotondo collection of accessories, designed exclusively for Arredo3 and centred on soft shapes. Soft lines and exclusive design also for the snack top support, taken from the Arco collection. Arredo3's aesthetic attention to detail is also evident in the choice to include the Gessi 316 mixer tap in a champagne finish, perfectly matched to the other accessories.
Glass 2.0 and Asia with Tuttotondo Snack top with Arco support.
Arredo3 kitchens can be customised either with accessories designed exclusively for the company, or by combining modules of different models, as in this composition with Glass 2.0 base units and Asia tall units.
The refined milled walnut finish is chosen for the Lateral doors of the tall units chosen for the Lateral doors of the tall units, which elegantly hide the plinth from view the plinth, and for the drawer of the island, taken from the asia model and inserted on the bases of the Glass 2.0 model.
Summary of Glass 2.0 and Asia finishes: bases in Laminam pietra di Savoia on champagne aluminium frame, top in Laminam pietra di Savoia. Boiserie, Tuttotondo snack top and Arco support in Asia walnut. Lateral columns and island drawers in Asia walnut millerighe. Tuttotondo equipped bridge, boiserie shelves, grooves and plinths in champagne aluminium. arredo3.it