The home that Alf DaFrè is presenting at Salone 2023 has anenveloping and delicate atmosphere with neutral sand tones and warm terracotta colours. The new 2023 proposals inspire day and night settings that reflect theidea of contemporary, light and refined living that belongs to the Veneto-based company's filosofia.
Around the natural textures of wood revolve tone-on-tone palettes and touches of pastel shades that colour fabrics and accessories. After 70 years of history and continuous innovation, today Alf Group is a solid 4.0 reality. The short-run production, entirely located in the factories of Francenigo di Gaiarine, Cordignano and Vallonto di Fontanelle (TV), boasts the latest technologies and systems that guarantee compliance with global standards of sustainable development. As always, there are many new products. Many products are the result of collaboration with designers who have interpreted the company's contemporary vocation in a highly personal way: Enrico Cesana, Gordon Guillaumier and Bruna Vaccher.

NEW DAILY PROJECTS Alf DaFrè
DAMA sideboard_design R&D Alf DaFrè
Refined and unconventional, the Dama sideboard takes its name from the three-dimensional chequered finish that characterises two of the four doors, adding to the composition a fine decorative effect played on the full/empty alternation. Special details are also the angular opening of the side doors and the upper groove created by the slight landing of the top with respect to the geometry of the cabinet. Details that tell the double soul of Alf DaFrè: the technical soul of a 4.0 company and the artisan soul linked to its history and the tradition of the territory. Shell in Natural or Classic Walnut. Top in Natural or Classic Walnut / Neolith Himalaya Crystal Ultrasoft ceramic. Base in Nickel or Moka shine. Two dimensions: cm 207.8 x 52.2 x h78.4 and cm 156 x 52.2 x h 78.4
ESSE table_design R&D Alf DaFrè
An essential yet expressive table. The base consists of two symmetrical curved elements in high-density polyurethane that support the glass or fashion wood top imagined in two sizes. The metal base is available in a nickel or brushed lead finish, the top can be in fashion wood / grey transparent glass or transparent glass / Neolith Himalaya Crystal ultrasoft ceramic. Dimensions: cm 220 x 110 x h 75.2 – cm 280 x 120 x h 75.2
SOBI armchair_design Gordon Guillaumier
SOBI is a varied upholstered collection composed of sofas, single chaise longue and now also armchair and ottoman. Continuing in the research, already undertaken with the Raku collection, towards a sofitted and domestic dimension of comfort. SOBI has consistent volumes and soft, organic shapes. Also in the armchair, the upholstered back embraces the compositional elements – the padded base and comfortable seat and back cushions – in a natural and harmonious way, inviting relaxation. Like the rest of the SOBI family, it can be upholstered with the entire range of fabrics, leathers and faux leathers in the catalogue. Dimensions: 87 x 85 x h 71 cm
POLS table _design Gordon Guillaumier
Rigorous and expressive, the POLS fixed table has a contemporary essentiality and a material and crafted dimension that looks to tradition. The composition is characterised by the particular 'interlocking' between the tubular legs and the horizontal elements of the structure that protrude slightly from the geometry of the table. The top is made of amber fused glass. Its textured and delicately shaded surface reveals the refined simplicity of the solid wood structure with a Biscotto Oak fashion wood finish. Two dimensions: cm 235 x 102 x h 73.2 – cm 180 x 102 x h 73.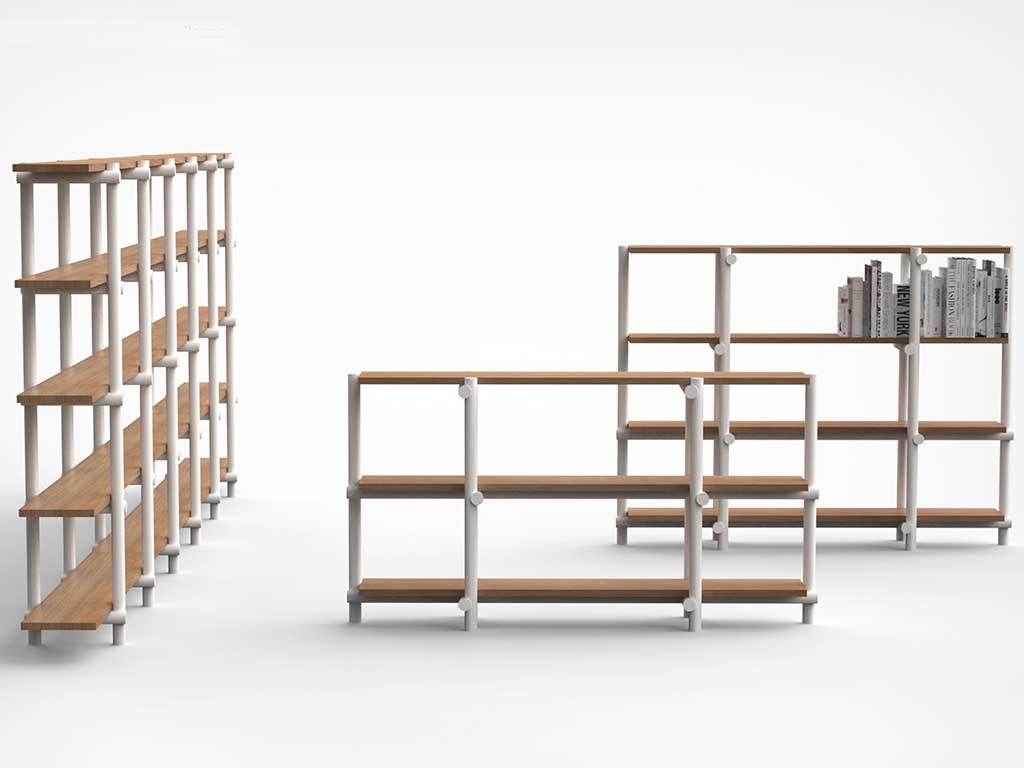 STIKS chair_design Gordon Guillaumier
Conceived to affit the POLS table and inspired by the same constructive idea based on the juxtaposition of tubular elements and solid wood, the STIKS chair has a light and comfortable image thanks to the enveloping shape of the backrest that embraces the entire volume of the chair. Distinctive in its relationship between the different compositional elements, which seem delicately juxtaposed, STIKS features a solid wood frame with a Biscotto Oak fashion wood finish, and an upholstered seat and backrest. Dimensions: 57 x 52 x h 73.9 cm
RODS bookcase _design Gordon Guillaumier
RODS was created as a passe-partout system for the living area because of its simplicity and lightness. The design concept is based on the idea of a 37 deep upright element which, due to the section of the metal tubing and the type of connection between the elements, evokes a continuity of language with the POLS table and STIKS chair. Imagined in 3 dimensions to offer the freedom to compose linear bookcases or developed in different heights, the upright modules – end fibers, dividing shoulders, horizontal connection tubes – are made of Moka Shine painted metal. The shelves are available in fashion wood Rovere Biscotto or Amber shaded glass. Dimensions: right/left end side and dividing shoulders h cm 89.5 x d cm 37 – h cm 127.5 x d cm 37 – h cm 165.5 x d cm 37; central tube cm 75.5 / connecting tube cm 81.5 / right/left end tube cm 20
LAND sofa_design Enrico Cesana
LAND is a modular and sectional system of upholstered seating that lends itself to infinite configurations thanks to the multiplicity of upholstered elements, also conceived in two widths – maxi by 110 cm and mini by 85 cm – to offer maximum freedom of composition. The concept of LAND is based on the idea of a simple base that accommodates the seat/back cushions and comfortable additional support cushions. The special feature, in addition to the great flexibility, is the possibility of replacing the upholstered seat with a functional support surface that adds movement to the continuity of the composition. Dimensions: fixed sofa: cm 220 x 101 x h 93 – cm 270 x 101 x h 93; right/left end element: cm 110 x 101 x h 93 – cm 135 x 101 x h 93 – cm 170 x 101 x h 93 – cm 220 x 101 x h 93, centre element: cm 85 x 101 x h 93 – cm 110 x 101 x h 93 – cm 170 x 101 x h 93 – cm 220 x 101.4 x h 93, corner element cm 133 x 100 x h 93 – cm 220 x 100 x h 93, end chaise longue right/ds cm 110 x 158.2 x h 93 – cm 135 x 158.2 x h 93, pouf cm 85 x 101 x h 35 – cm 110 x 101 x h 35
ADAMO extending table_design Bruna Vaccher
Functional, light and contemporary, ADAMO is distinctive for its balanced proportions and the rounded lines that define all the compositional elements. The tapered legs fit into the undercounter frame with its curved profile. The slim top is characterised by rounded corners with a balanced and classically harmonious effect. ADAMO is perfect in combination with the Tina chair. The structure is made of fashion wood. The top is offered in fashion wood / Neolith Himalaya Crystal ultrasoft ceramic / resin. Dimensions: 160 x 100 x 75.2 – cm180 x 100 x 75.2 – cm 200 x 100 x 75.2

NEW NIGHT PROJECTS Alf DaFrè
Special focus on the night area, which will be the protagonist of a new catalogue. Sophisticated design, customisation and green research are the objectives inspiring the new projects for the night area
tIAKI bed_ design R&D Alf DaFrè
TIAKI is a textile bed with upholstered headboard and sommier platform. Versatile and ergonomic, it is characterised by the possibility of folding and swivelling the upholstered headboard to suit every style of relaxation. TIAKI has a sober and fresh image that fits easily into any living style, playing on the different colours and textures of the fabric, leather and eco-leather covers. Also available with storage unit. Dimensions: cm 119/149/169/181/189/209 x 227 x h 117 – cm 183.5 x 232 x h 117 – cm 215.5 x 244 x, h 117 – cm 223.5 x 232 x h 117
DEFILÉ bed group_design R&D Alf DaFrè
DEFILÉ was born from the idea of creating an equipped bed that does not need any other accessories. The Groove boiserie behind the actual bed is in fact a wall that can be equipped with shelves and drawers. Two side wings in matt lacquered Moka shine underline the idea of an independent and functional bed area.
SUITE SYSTEM_design Enrico Cesana
Not just a bed but a true modular system that gives a wide choice of configurations and combinations of finishes. Five platforms are available to match the upholstered panels and boiseries equipped with practical metal shelves. There is a wide choice of sizes, also with storage units. Today the system is enriched with new details and accessories. The upholstered headboard is available in a normal or bold version, more soffied and full-bodied. Shelves and book pockets add new elements of comfort to the system.

NEW ELEMENTS AND SYSTEMS Alf DaFrè
System Day collection_new DIKO sideboard
Day collection is a versatile system dedicated to all rooms in the home, offering total freedom of composition. Storage units, shelves, backs, benches and drawer units to create traditional modules or new compositions that play with solids and voids. Even the multiple finishes adapt to different tastes and needs. Today, the system is enriched with the new freestanding DIKO storage module, a functional sideboard that can have many expressions and many lives, offered in 2- or 4-door versions, also with the addition of a glass shelf. Infinite choice of colours and finishes: matt lacquered oak, fashion wood, glossy and mica lacquered. Dimensions: 98.8 x 45.5 x h 146.6 cm and 98.8 x 45.7 x h 130.6 cm (version with glass shelf)
MIXER system_new corner washbasin
A super new feature is the iconic MIXER system that has evolved over the years by integrating more and more specific functions. Perfect for different rooms in the home thanks to the flexibility of the compositional elements, MIXER interprets the cupboard as an architectural element, with fascinating finishes and sophisticated details. In 2023, the system will also accommodate the washbasin – with storage units and accessories – following the growing trend to include some bathroom elements in the bedroom.The composition presented at the Salone represents an absolute preview of the new project: the centre of the composition – closed by transparent Display doors – houses a Frappuccino ceramic washbasin and a large mirror. A small revolution in the idea of a suite interpreted by the mere presence of a multifunctional wardrobe system.
POKER system_new interior organisation and new corner opening
Of the various Alf DaFrè wardrobe systems, all distinguished by great versatility, Poker represents the most complete and multifaceted evolution thanks to the functions it contains. Over the years the system has grown thanks to the addition of special modules designed precisely for new functions complementary to "containing". Today it can be a wardrobe, storage room, home office, dressing table. alfdafre.it