Fabrizio Cester's graphic sign for Albed's new 2023 is fluid, unusual and cultured. The Venetian architect signs a collection of doors with sinuous profiles and moves away from the idea of coplanar concealed systems: the desire is rather to rethink the jamb as an element to be designed, with its own identity and proportions studied down to the smallest detail.
This is how the "Morbida" family was born, with a visible frame which, starting from the point where it meets the wall, bulges towards the door panel, with an elegant aluminium profile camber, selectable in different finishes with a metallic effect or lacquered in RAL colours. The frame, shaped and protruding, can therefore be made in the same colour as the wall or the boiserie – to become a direct continuation of it -, or in contrast: in both cases it enhances the theme of the opening and invites you to cross its threshold, thanks to its curved volume projected outwards.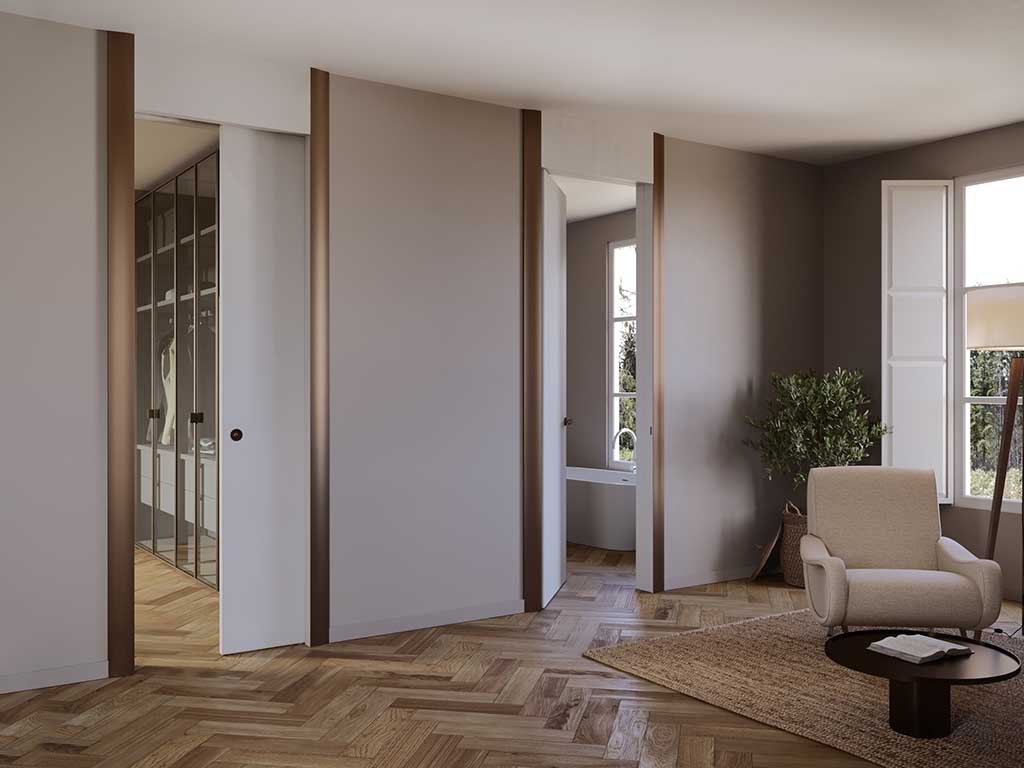 Inside, the door panel can be customised in the more than 90 material proposals in the Albed catalogue: in glass, wood essences or glossy and matt lacquered, and can open up to 180° when pulled and 90° when pushed. A combination of aesthetic research and functionality, Morbida offers a 'made-to-measure' solution, dimensionable in width up to 100 cm (single panel) and in height up to the ceiling. It is ideal for installation in residential and hospitality contexts and can be enhanced with a handle socket from the company's catalogue, with or without a lock. albed.it
Albed
The story of Albed began in 1964, over fifty years ago, and today the brand offers customised technical solutions, in aluminium and glass, for interior architecture. Hinged doors, retractable, sliding, partitions, walk-in wardrobes and furnishing accessories: the Albed catalogue is designed to meet specific project needs; it is born from problems to propose the best solutions. The internal management of the production cycle and the company's know-how, place Albed as an ideal partner for designers, to whom it is able to offer a completely tailor-made service.