The exploration of matter and surfaces. Patricia Urquiola designs the Cenote column washbasin and the Bloque system for Agape.
Magnetic and sensorial, the washbasin series Cenote designed by Patricia Urquiola continues to explore the expressive potential of clay with the new column model. Agape 's incessant and patient research around the bathroom, the most intimate space in the home, focuses on the warmth of the material and the precious contribution of craftsmanship, which give shape to a beauty that is always unique.
Cenote a Colonna. Sculptural elegance.
In Cenote a Col onna, the circular basin and the column with its linear design come together in a material and architectural continuity. Both elements are made of natural or dark refractory clay modelled by hand on a lathe, with unpredictable surface variations. "The pedestal version completes the family, allowing the washbasin to be placed in the middle of the room with a sculptural effect that enhances its personality and elegance. Fundamental in this case, as in the entire series, is the craftsmanship component which, together with the essential architectural composition, emphasises the sensory vibrations of the refractory clay," explains Patricia Urquiola.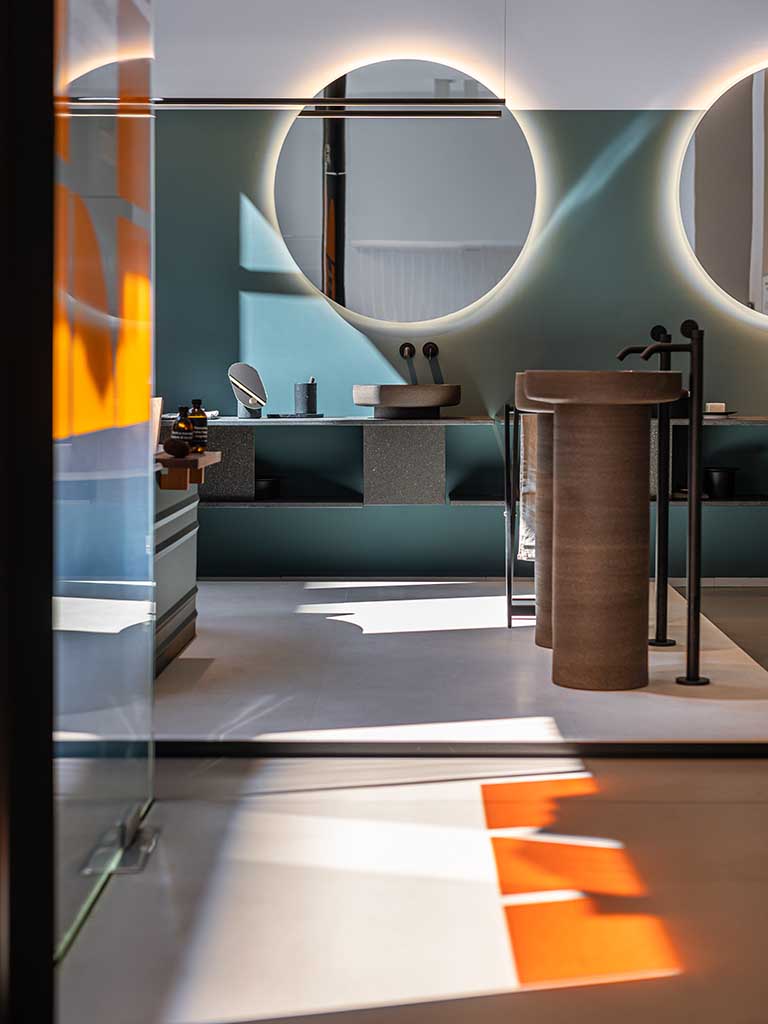 Architecture of the emotions.

Departing from the usual decorative styles that characterise the bathroom environment, the pedestal model also surprises and catches the eye, bringing new emotions into the bathroom environment. The outer surface is deliberately left rough, while in a play of contrasts the inside of the basin is glazed and polished. The washbasins come in two sizes and two exterior finishes: natural earth or dark earth, both with a transparent enamelled interior or creamy white for the natural earth version and blue for the dark earth version.
Bloque system. Surface tectonics.

The research into material, undertaken with Cenote, continues with the Bloque countertop and storage system. Patricia Urquiola enhances the sensory appeal of stone and wood with a visually very open compositional rigour. The rhythm is marked by juxtaposed and perpendicular tops, in an original staggered movement between surfaces. "Bloque" is a minimal 'trace' warmed by the materiality of some of the finishes proposed, such as lava stone. Its compositional essentiality was created as a counterpoint to the Cenote washbasins, with their rough refractory clay shapes, but it makes it easy to combine the system with other bathroom elements or to customise the dimensions of the horizontal tops," says Patricia Urquiola.
A ductile and open design.
The modularity of Bloque is declined with widths from 80 to 220 cm and 20 cm intervals, but the compositions provided by the abacus can be further combined with each other, simply by placing them side by side, to obtain larger widths. The system can accommodate all Agape countertop washbasins and, due to its ductility and essentiality, can also leave the bathroom and be freely placed in other rooms of the home and contract spaces. A special and universal gesture at the same time.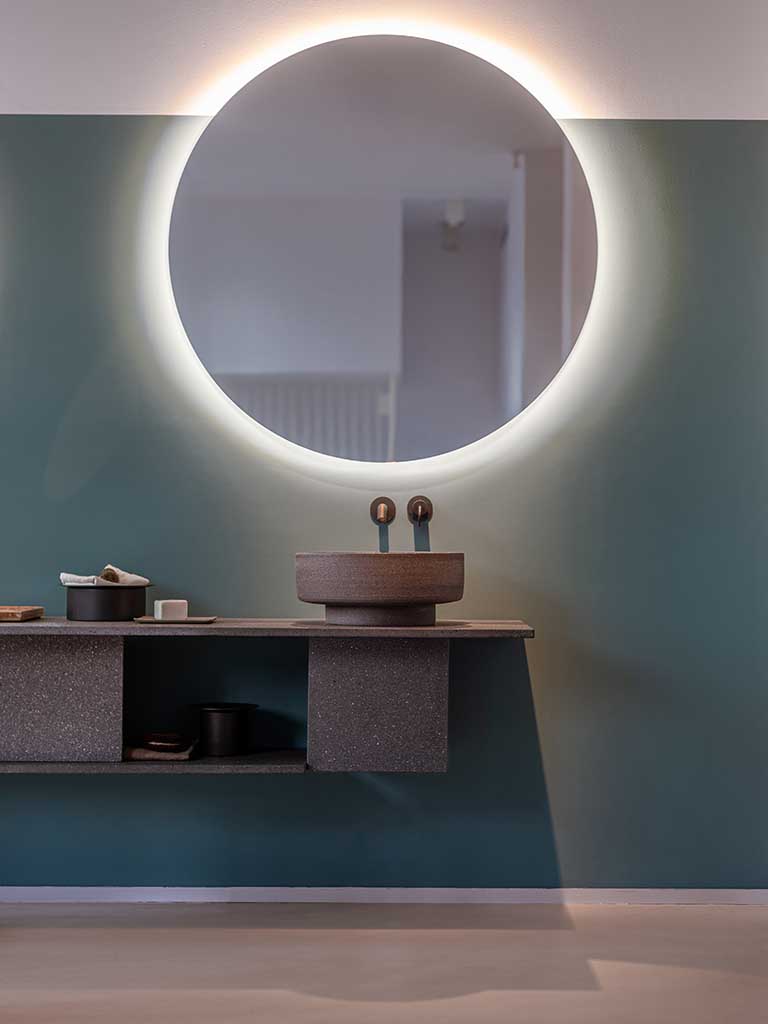 Agape
For 50 years Agape has been design culture. The brand, founded by the Benedini family, has hundreds of products for every functional need in the bathroom environment. Washbasins, faucets, furniture, bathtubs, lights, accessories designed by masters of contemporary design and architecture. Timeless objects capable of establishing an intense relationship with the space that welcomes them, which become elements of Agape's architectural vocabulary. International by nature, Agape is deeply linked to Mantua, a Renaissance city and extraordinary architectural workshop, where its headquarters are located. agapedesign.it
Patricia Urquiola
She studied architecture and design at the Universidad Politécnica de Madrid and at the Politecnico di Milano where she graduated with Achille Castiglioni. She founded her studio in 2001, specialising in the areas of industrial design, architecture, art direction and strategic consulting. He is on the Advisory Board of the Milan Polytechnic, the scientific committee of the Milan Triennale and is an honorary member of Altagamma. patriciaurquiola.com